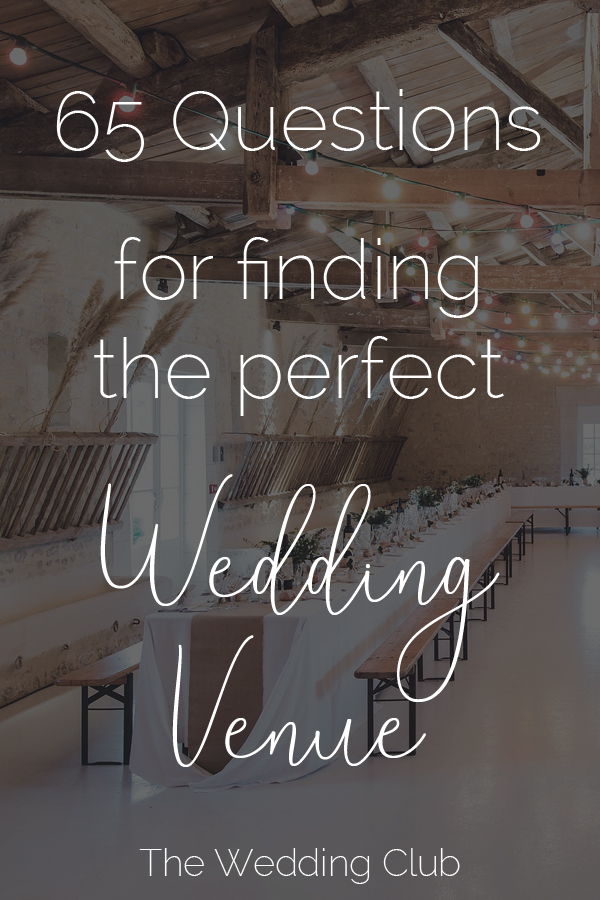 You have found a venue for your special day, and suddenly along the line, something distasteful pops up: They don't have an in-house caterer and hiring someone professional will probably cost you more!
So, now you have to start all over in finding a venue that meets your requirements.
Here is a list of questions to ask the venue, before you place your booking deposit (and regret it later on)…
63 Questions for finding your perfect Wedding Venue

A few things to mention before we get started…
You have to make an appointment to get all of the possible information. Try aiming for an appointment during a Saturday, early in the morning, while the staff at the venue are busy preparing for a wedding. The wedding coordinator, if they have one, can show you around and also show you some options. Note: Not all wedding venues will allow appointments on wedding days.
Another thing, some venues pretend to be fully booked, so that they can over-charge interested clients. They may put you on a waiting list at an additional fee, and will contact you when a date opens up – little does the client know that there is no wedding taking place on that date. A venue which is almost fully booked, will appeal more to paying clients, because it may seem that it is a popular venue to get married at. Fortunately, you can politely ask the venue if they are fully booked or if they have possible discounts.
You need to compare venues before you decide on a definite one. Even if you have a theme that only goes with that style venue, you might find a better one which can, for example, accommodate more guests, have cheaper packages, or includes certain suppliers (such as photographers, DJ's, or even the wedding cake). We have gladly created the necessary sheets for you to Compare all of your Wedding Suppliers – this means you get to match over 40 different suppliers and their pricing, packages, etc.
A final thing worth noting is that some venues will allow only their own suppliers. Even, if you have your wedding cake made by a cake specialist or top baker/pastry chef in your area, your venue might have a pastry chef of their own, which you have to use. No exceptions. Ask the venue coordinator for their vendor list.
Let's dive into the list of questions!
General questions
#1  |  Do you have any available dates?
This is the golden question, because if they don't have an opening for your wedding day, don't even bother with the rest of the questions. If the venue have plenty of dates available, discuss three possible dates with your fiance. See this post on wedding timelines, where we discuss how to set up a timeline, it includes choosing 3 dates for your wedding day.
#2  |  Which packages and services do you offer?
You may find that some venues have different offers than others. Some of the venues have set packages to choose from or they can tailor certain packages to suit the clients needs. Find out what they are, before you decide on that specific venue.
A package may, for instance, include a caterer, appetizers, drinks, a barman, three waiters and your wedding flowers or the cake for a set price. They might offer extra purchases on this package, or you have to organize the rest of the suppliers on your own.
#3  |  Does the venue provide a venue coordinator?
Also ask if this person's services are provided at an additional fee and what are the costs.
#4  |  Are there any other functions held on the premises on the same day?
This is one of the most important questions that you need to ask. We have recently been to a wedding where there was a year-end function at the same venue. While the ceremony was taking place, you could barely hear what the pastor was saying over the noise of the bongo drums and vuvuzela's!
#5  |  Are the premises open to the public during the wedding?
Another super-important question to ask. If the answer is no, it will avoid so many disasters. At another wedding, while we were sitting outside during the ceremony, random people kept walking past the area, enjoying the scenery at the venue, taking photos of everything (including the wedding) and were obviously not dressed for the occasion.

This will also avoid the dreadful moment of your soon-to-be's ex bursting through the church's doors, screaming "I object!" (luckily it is not legally possible anymore, but still…)
#6  |  What time is the set up team allowed on the premises?
You need to know this, because the suppliers might show up earlier while the venue's staff are still cleaning the previous night's mess. They might charge you for that extra hour of sitting and waiting around.
Questions about guests
#7  |  How many guests can be accommodated in both the ceremony and reception areas?
Some venues can accommodate more guests at the reception area than in the ceremony area or vice versa. If that is the case, it is better to hold one or the other at another venue, or hold the wedding at a larger venue altogether.
#8  |  By which date do you need to know the final guest count?
Venues and suppliers do not work with estimates. They need to know exactly how many guests will attend, including the wedding party, bride and groom and other suppliers (you might want to organize a meal for your late working suppliers, such as the DJ).
Questions about food & drinks
#9  |  Is there a bar available, and will the venue be able to stock it?
Whether the bar will be an open bar or cash bar is completely up to the bride and groom.
#10  |  Does the venue have a liquor license?
Venues without a liquor license may not have any alcohol on the premises, even if it is bought by the bridal couple. You need to double check the Liquor Law applicable in your country before making assumptions.
#11  |  Is there a corkage fee that will be charged if you bring your own wine?
Just like in restaurants, if you don't buy their house wine or any wine provided on the list, you have to pay a corkage fee per bottle. They have to make money off you somehow, right?
#12  |  Does the venue provide any champagne or sparkling wine?
You need something to clink with during toasts…
#13  |  If so, what type of champagne will be provided?
Moët & Chandon might be fancy where some of us come from, but did you know that it is France's cheapest champagne? Also ask the venue for the possibility of champagne (and other wine) tastings…
#14  |  Does the venue provide in-house catering?
Especially newly established venues don't always have this. Although, some new venues started out being restaurants first…
#15  |  Does the venue allow caterers from outside, and what are the terms?
As mentioned at the beginning of this post, you need to check with your venue before bringing in food or drinks from outside the venue.
#16  |  What time will the caterers (if provided) be serving the first course?
You need to know this, to determine the schedule of the reception.
#17  |  Will waiters and bartenders be provided and for how long?
Especially if you are serving plated dinners, even if its just the starters, you will need someone to bring the food to the tables. The bartender, however, will have to be there until the end of the wedding and hiring more than one can get expensive. For a larger wedding, ask your venue if it possible to hire more staff, if necessary.

#18  |  Will welcome drinks and canapés be served?
Most venues provide this, but you should check with them first. Also, ask if you can see their menu if they have different selections for this. Remember to inquire about tastings! Some venues follow newer trends such as tapas and harvest tables… Discuss it with the manager or coordinator of the venue.
#19  |  What type of food can be served at the wedding reception, and how will it be served?
Again, ask to see the menu and ask how the selection works. The venue usually provide both plated and buffet options.
#20  |  Will food be available for the bridal room?
It is important that the bridal party, and especially the bride, eats something before the wedding and also stay hydrated. Ask the venue for info on this.
#21  |  Can breakfast be served the morning after the wedding, especially if guests and the wedding party stayed over?
This is relevant if accommodation is provided by the venue.
#22  |  Will you be able to provide a wedding cake?
What a bonus if they do! One less supplier to source for your wedding. Ask to see pictures of previous cakes and also ask what the options are. Just keep in mind that these cakes are normally more expensive than outside sources.
Also Read:
Questions about the ceremony
#23  |  Is the ceremony area inside or outside?
Ask the venue representative or coordinator to show you around. Different arrangements must be made for different types of areas. If it is outside, ask if shading will be provided. Also ask about a backup plan in case it starts to rain.
#24  |  Will a pastor, priest or officiant be provided?
Although it is rare, some venues with chapels actually have a pastor for weddings…
#25  |  Is there an air conditioner or enough ventilation in the church or chapel?
We don't want a bridesmaid, or bride, to faint, do we?
#26  |  What is the length of the aisle? 
This will determine the length of the wedding entrance song.
#27  |  Are candles allowed?
Some venues don't allow candles or things hanging from the ceiling, etc., etc.
#28  |  Will a registration table be provided at the chapel?
Also ask where this table will be placed.
#29  |  Are rose petals or confetti allowed on the aisle?
Who is going to clean it up afterwards? Certainly not you, in your wedding dress.. Pro tip: Since greenery and natural elements are now in, consider using special leaves and flowers such as bougainvillea blooms as your confetti. Also, many venues are now starting to ban unnatural confetti, because it is such a mess to clean up – and bad for the environment!
#30  |  How far is the ceremony area from the reception area? 
Ask the distance in meters, or in kilometers if the reception is at a different venue. Think of those guests who cannot walk far, and the elderly.
#31  |  Are there any restrictions regarding photography or videography in the ceremony area?
Most Catholic churches do not allow any photography or videography in the church, for example…

Questions about the reception
#32  |  How many hours are included in the package?
This will be from set up time to closing time. Ask for a general outline or schedule example if they have one. (Remember to book additional hours with the DJ, too!)
#33  |  Is there an option to purchase additional hours and at what cost?
Establish whether or not you can decide on the day of your wedding, because you don't know how long you still want to dance on your wedding night…
#34  |  Are there any noise restrictions?
This will not be a problem if the venue is in a rural or distant area, far from a residential area.
#35  |  What time should the wedding guests and couple vacate the wedding venue premises?
Everyone needs to leave at some point…
#36  |  Will the venue be able to provide extra tables for the gifts and the cake, or for suppliers to use?
You need to put the gifts somewhere safe and out of the way. Remember to allocate a bridesmaid to take care of the gifts during and after the wedding.
#37  |  Are tables and chairs provided, as well as extra chairs for suppliers?
You cannot expect your DJ to stand the whole evening, so make sure there's a chair for them.
#38  |  What type of chairs and tables is provided?
Are the tables round, square, rectangular? What size? What type of chairs? Tiffany? Wimbledon? So many options…
#39  |  How many guests can be seated at a table (maximum)?
Don't put more people around the table than the maximum. Guests will get annoyed and leave after eating. Especially if they have to rub elbows with someone they barely know.
#40  |  Are chair covers provided if necessary?
If the venue's chairs are an eyesore or worn out, you might want to cover it up.
#41  |  Will cutlery and crockery be provided?
Most venues have them in abundance, but ask to see it. Check the quality and quantity of their stock. If you are not satisfied, ask if you can bring in your own cutlery and crockery from a supplier.
#42  |  Are table cloths and table runners/overlays provided if needed?
If the tables are unsightly, cover it up. Ask to see which ones they have available (the tables and the linen!).
#43  |  Do they provide napkins if it is needed?
What type and color? Check if its clean and if it will match your color scheme.
#44  |  Is there enough ventilation and air conditioning inside the reception area?
Guests will appreciate the cool air after a hot dance.
#45  |  Is there an allocated children's area or playground on the premises?
This is relatively new, since most people just let their children be, at weddings. But, children can get difficult when tired, hungry, not getting enough attention, you get it.. Also a quite popular trend nowadays is having a children's table at your wedding. So ask what the venue has available, which brings us to the next question…
#46  |  Will someone be available to babysit?
Someone needs to keep watch, since children have a mind and curiosity of their own. If they don't have anyone available, get someone you know and trust to keep an eye.
Also Read:
Questions about fees and finances
These questions are self-explanatory, so read through them and ask your venue about them.
#47  |  What is the pricing on your packages and services?
#48  |  Does the package include the gratuity/tip for staff members?

#49  |  By when do you need the deposit to confirm the booking?
#50  |  What are your payment terms and conditions?
#51  |  Are there any additional charges that I should know about?
#52  |  What is your cancellation policy?
Questions about suppliers
#53  |  Which suppliers will be provided by the venue, and which will be the responsibility of the bride?
Like previously discussed, determine this with the venue first, before you get a family member to do the music, or your aunt to do the catering, etc.
Questions about accommodation and rooms
#54  |  Is there a bridal room available in which the bride can get ready, or change into her departure outfit?
#55  |  Is there a groom's suite available?
#56  |  Are there any accommodation on the premises or nearby in which guests or members of the wedding party can stay over?
Questions about sound, audio and lighting
#57  |  Which sound, audio and lighting services can be provided by the venue?
Ask the venue about this for both the ceremony and the reception. Also, ask if you can bring in a musician to entertain the guests while they enjoy their welcome drinks.
#58  |  Is there a back-up plan for each of these services in case something malfunctions?
What is worse than a wedding that ends abruptly because of no music? Make sure that there is a definite plan B (and even a plan C) in case something goes pear shaped.
Other questions
#59  |  How many restrooms are provided?
If you have 200 guests and there is one restroom for the men and one for the ladies, you need to consider other options.
#60  |  Is there someone to maintain the restrooms during the wedding?
Some venues only clean the restrooms before the wedding and not during the wedding as well, which can get nasty.
#61  |  Are there any renovations planned for the venue, before the date of my wedding?
We went to a wedding where the ceremony was held at a lovely outdoor venue, surrounded by… Oh, what's that? Rubble. Yes, a lot of rubble and building material everywhere. I hope the photographer had some mad Photoshop skills… Make sure that the venue has no renovation plans, at least not until after your wedding day.
#62  |  Has the venue received any special awards or recommendations and what are they?
This might convince you to choose the venue over others.
Again, this might be helpful in deciding on a venue. But this should not be the only deciding factor.
#64  |  Does the venue have permits and insurance?
Check that the venue is covered by insurance and have all of the necessary permits.
#65  |  What does Google say?
Google reviews, and Facebook (if the venue has an active Facebook page), will also help you decide if the venue is worth it.