If you're seeking a modern and creative touch for your wedding, then you're in the right place.
In this blog post, we'll explore the charm of acrylic in weddings, looking at how you can use acrylic for decorations, signage, and even entire wedding themes.
Acrylic wedding ideas have gained popularity among couples looking to add a contemporary twist to their big day. This versatile material allows for endless creativity, whether it's in the form of stylish acrylic centerpieces, elegant acrylic invitations, or even acrylic table settings.
The clear and sleek appearance of acrylic brings sophistication to any wedding, making it a great choice for those aiming for a chic and modern look.
Join us as we delve into the beauty of acrylic and see how it can enhance the style of your wedding, creating an enchanting event that will leave a lasting impression on you and your guests.
The Allure of Acrylic: A Modern Wedding Trend
In the ever-evolving landscape of wedding planning, couples are constantly seeking innovative ways to make their big day stand out. Enter acrylic, a modern wedding trend that has taken the industry by storm. Its allure lies in its ability to seamlessly blend contemporary elegance with timeless sophistication.
Acrylic, also known as Plexiglas or acrylic glass, is a transparent thermoplastic material that offers a unique set of qualities perfect for weddings.
Its main appeal lies in its clarity, which allows it to adapt effortlessly to any wedding theme or style. Whether you're going for a minimalist, glamorous, rustic, or vintage aesthetic, acrylic can be customized to suit your vision.
Transparency and Elegance
One of the most striking features of acrylic is its transparency. This clarity adds an air of sophistication to your wedding décor, invitations, and accessories.
Acrylic centerpieces, for instance, provide an unobstructed view of the table setting, allowing your guests to fully appreciate the details. This transparency also gives a feeling of lightness, making it perfect for creating a sense of openness in your wedding space.
Versatility and Customization
Acrylic's versatility knows no bounds. It can be molded and shaped into various forms, from sleek and minimalistic to ornate and intricate.
This flexibility makes it ideal for a wide range of wedding elements, including signage, seating charts, cake toppers, and more.
You can also personalize acrylic items by engraving your names, wedding date, or meaningful quotes, adding a sentimental touch to your special day.
Beyond its aesthetic appeal, acrylic is a practical choice. It is durable, shatterproof, and weather-resistant, making it suitable for both indoor and outdoor weddings.
Its longevity ensures that your acrylic wedding keepsakes can be cherished for years to come, serving as a lasting reminder of your love story.
A Contemporary Love Story
As couples continue to seek unique ways to express their love and individuality, acrylic has emerged as a symbol of modernity in the wedding world.
Its ability to seamlessly blend into any wedding style while adding a touch of contemporary allure makes it a trend that's here to stay. In the following sections, we'll explore how to incorporate acrylic into various aspects of your wedding, from décor to stationery, to create a day that's both stylish and unforgettable."
Acrylic Wedding Decor: Transparency with Elegance
Acrylic wedding decor is the epitome of transparency with elegance. This trend brings a touch of modern sophistication to your wedding day, allowing light to dance through clear acrylic centerpieces, ceremony arches, and seating charts.
The beauty lies in its ability to seamlessly blend with any color palette or theme, providing a canvas for your imagination to run wild. With acrylic, you can achieve a look that's both glamorous and airy, creating a captivating atmosphere that leaves a lasting impression on your guests.
Acrylic Wedding Invitations: Clear and Chic
Transparent invitations offer a contemporary twist on traditional paper invites, instantly setting the tone for a modern and stylish wedding.
The sleek and see-through design not only captures attention but also provides a unique glimpse into your love story. With acrylic, your invitations become a work of art, combining clarity and sophistication to make a lasting impression on your guests, ensuring they're as excited about your big day as you are.
Acrylic Centerpieces: The Perfect Table Focal Point
Acrylic centerpieces are poised to be the perfect table focal point at your wedding. These transparent gems not only add a touch of modern elegance to your reception but also serve as conversation starters.
Whether filled with vibrant florals, floating candles, or whimsical LED lights, acrylic centerpieces effortlessly capture the essence of your theme while allowing guests to enjoy unobstructed views across the table.
They strike the ideal balance between subtlety and grandeur, making them the centerpiece your guests won't forget.
Acrylic Signage: Stylish Communication at Your Wedding
Acrylic signage is the embodiment of stylish communication at your wedding.
These clear and elegant signs effortlessly guide your guests, whether it's a welcome sign at the entrance, a beautifully scripted seating chart, or personalized table numbers.
The transparency of acrylic complements any wedding theme while adding a modern touch of sophistication. These signs not only serve a functional purpose but also double as stunning decorative elements, setting the tone for a memorable day filled with clear and chic charm.
Acrylic Wedding Themes: From Minimalist to Glamorous
Acrylic wedding themes offer a spectrum of possibilities, from minimalist to glamorous, making them a versatile canvas for couples to paint their dream wedding.
Whether you're envisioning an understated and contemporary celebration with clean lines and transparent accents or aiming for opulence with crystal-clear luxury, acrylic seamlessly adapts to your vision.
This trend allows you to explore the full range of your creativity, enabling you to craft a wedding theme that's uniquely yours, regardless of whether you prefer sleek simplicity or lavish grandeur.
DIY Acrylic Wedding Ideas: Adding a Personal Touch
Adding a personal touch to your wedding is a beautiful way to make the day even more memorable, and DIY acrylic wedding ideas provide the perfect canvas for your creativity.
Here are some inspiring DIY acrylic projects to consider for your big day:
Acrylic Table Numbers: Create your own acrylic table numbers by purchasing blank acrylic sheets and customizing them with your wedding date and a stylish design. These elegant table numbers not only guide guests but also serve as stylish decor.

Acrylic Place Cards: Craft personalized acrylic place cards for each guest. You can handwrite names or have them professionally etched or printed. Attach a small stand, and these double as keepsakes for your guests.

Acrylic Wedding Favors: DIY acrylic wedding favors are a delightful way to express your gratitude to guests. Think custom acrylic keychains, coasters, or mini photo frames featuring your names and wedding date.

Acrylic Guest Book: Instead of a traditional guest book, create an acrylic alternative. Have guests sign clear acrylic sheets with metallic markers or paint pens. After the wedding, you can display these heartfelt messages in your home.

Acrylic Ceremony Backdrop: Craft an acrylic ceremony backdrop by assembling clear acrylic panels into an arch or wall. Add floral arrangements, greenery, or fairy lights for a romantic touch.

Acrylic Cake Topper: Make a statement with an acrylic cake topper featuring your initials, names, or a sweet message. It's a simple yet effective way to personalize your wedding cake.

Acrylic Photo Booth Props: Create fun and Instagram-worthy acrylic photo booth props. Think oversized glasses, speech bubbles, or props related to your love story.

Acrylic Centerpieces: Design your acrylic centerpieces by arranging flowers or floating candles in clear acrylic boxes or vases. The transparency of acrylic allows the beauty of the contents to shine through.

Acrylic Wedding Signs: Craft your own acrylic wedding signs with special messages, quotes, or directions for guests. These signs can be hung at strategic points throughout your venue.

Acrylic Seating Chart: Design an acrylic seating chart that matches your wedding theme. Use acrylic sheets and vinyl decals or hand-painted calligraphy for a stunning presentation.
When working on DIY acrylic wedding ideas, remember to plan well in advance, allowing time for design, production, and any necessary revisions. Whether you're aiming for a minimalist, rustic, or glamorous wedding, incorporating these personalized acrylic touches will add a unique and heartfelt dimension to your special day.
Choosing the Right Acrylic for Your Wedding
When it comes to incorporating acrylic into your wedding decor, signage, and accessories, selecting the right type of acrylic is key to achieving the desired look and ensuring durability.
Here are some essential considerations to guide you in choosing the right acrylic for your wedding:
1. Cast Acrylic vs. Extruded Acrylic
Cast Acrylic: Cast acrylic is a premium option known for its superior clarity, making it an excellent choice for items like wedding invitations and signage where transparency is crucial. It's more expensive but worth the investment for high-visibility elements.

Extruded Acrylic: Extruded acrylic is a cost-effective alternative that offers good transparency but may have slight variations in clarity. It's a suitable choice for centerpieces and less prominent decor elements.
The thickness of acrylic sheets can vary, typically ranging from 1/16 inch to 1 inch or more. Thicker acrylic provides added stability and can be used for items like acrylic tables or ceremony arches, while thinner acrylic is ideal for stationery and smaller decor items.
Acrylic is available in clear and various colored options. Clear acrylic is versatile and timeless, but colored acrylic can add a pop of personality to your decor. Consider whether you want a glossy or matte finish, as it can affect the overall aesthetic.
Acrylic can be customized through techniques like laser engraving, vinyl decal application, or hand-painted designs. Depending on your design preferences, choose the acrylic type that best accommodates your desired customization method.
5. Durability and Weather Resistance
If your wedding includes outdoor elements, such as an alfresco reception, ensure the acrylic you choose is weather-resistant and can withstand potential rain or sun exposure. Cast acrylic tends to handle outdoor conditions better.
Acrylic comes in various price ranges, so consider your budget when making your selection. Keep in mind that some items, like acrylic centerpieces, may require larger quantities, impacting the overall cost.
For eco-conscious couples, it's worth looking into recycled or sustainable acrylic options to minimize your environmental footprint.
8. DIY vs. Professional Production
Assess whether you'll be creating acrylic elements yourself or relying on professional services. Some intricate designs or large-scale pieces may be best left to experienced acrylic fabricators.
Acrylic vs. Glass: Making the Best Material Choice
Choosing between acrylic and glass for your wedding decor is a crucial decision. Here's a brief comparison to help you make the right choice:
Offers exceptional clarity, perfect for modern themes.
Lightweight and durable, less likely to break.
Budget-friendly and easy to customize.
Ideal for outdoor weddings or DIY projects.
Exudes timeless elegance and sophistication.
Feels substantial and luxurious.
Known for clarity and longevity.
Considered more environmentally friendly.
Your choice should align with your wedding theme, style, and budget. Acrylic is versatile and cost-effective, while glass radiates classic charm and durability.
Acrylic Wedding Ideas for Every Season
The beauty of acrylic is its versatility, making it a fantastic choice for weddings in any season.
Whether you're planning a springtime garden wedding, a romantic winter wonderland affair, or something in between, acrylic can seamlessly blend into your seasonal theme. Here are some creative acrylic wedding ideas tailored to each season:
Acrylic Floral Arch: Welcome guests to your spring wedding with a stunning acrylic floral arch adorned with fresh blossoms and greenery.
Pastel Acrylic Invitations: Choose acrylic invitations in soft pastel shades to reflect the delicate colors of spring.
Acrylic Tablescapes: Incorporate acrylic into your table settings with clear chargers and place cards for an elegant, garden-inspired look.
Acrylic Seaside Decor: Host a beachfront wedding with acrylic signage, centerpieces, and escort cards in beachy pastel hues.
Acrylic Chandeliers: Hang acrylic chandeliers adorned with seashells or starfish for a beachy and breezy vibe.
Acrylic Coolers: Keep guests refreshed with acrylic beverage coolers filled with refreshing drinks.
Acrylic Candle Holders: Create a cozy atmosphere with acrylic candle holders, reflecting the warm hues of fall.
Acrylic Leaf Decor: Incorporate acrylic leaves into your decor, from aisle runners to table centerpieces.
Acrylic Pumpkin Place Cards: Personalize mini acrylic pumpkins as place cards, adding an autumn touch to your tables.
Acrylic Ice Sculptures: Embrace the winter chill with acrylic ice sculptures, elegantly lit to create a frosty ambiance.
Acrylic Snowflakes: Decorate your venue with acrylic snowflakes, perfect for a winter wonderland theme.
Acrylic Hot Chocolate Bar: Set up a hot chocolate bar with acrylic signage and clear mugs, providing warmth and comfort to your guests.
Remember that acrylic's transparency complements each season beautifully, allowing you to incorporate seasonal elements while maintaining a chic and modern aesthetic.
Whether you're celebrating amid blooming flowers, sandy shores, falling leaves, or glistening snowflakes, acrylic can elevate your wedding decor to match the magic of the season.
Budget-Friendly Acrylic Wedding Tips
Acrylic wedding decor exudes elegance and modernity, but it doesn't have to break the bank. Here are some savvy tips to incorporate budget-friendly acrylic elements into your wedding:
1. Prioritize Essential Items:
Identify key acrylic pieces that will have the most impact. Focus your budget on items like invitations, signage, and centerpieces, which guests are more likely to notice.
2. DIY Decor:
Embrace your creative side by crafting your own acrylic decor. With a little time and effort, you can make personalized acrylic signage, table numbers, or even seating charts.
3. Rent Instead of Buying:
Many wedding rental companies offer acrylic decor items like ceremony arches, chuppahs, and even acrylic ghost chairs. Renting can be significantly more cost-effective than purchasing.
4. Mix Materials:
Combine acrylic with less expensive materials like wood or paper. For example, use acrylic table numbers with wooden bases or pair acrylic signage with rustic wooden easels.
5. Opt for Smaller Pieces:
Choose smaller acrylic accents, such as acrylic place cards or acrylic cake toppers. These details can have a big impact without the associated cost of larger items.
6. Shop Sales and Discounts:
Keep an eye out for sales, discounts, and clearance items at craft stores or online retailers. You may find affordable acrylic pieces that suit your wedding vision.
7. Consider Vinyl Decals:
Instead of engraving or printing on acrylic, use vinyl decals for customization. They are more budget-friendly and still offer a polished look.
8. Reuse and Repurpose:
After your wedding, find ways to repurpose acrylic decor in your home or gift it to friends and family as a lasting keepsake.
9. Buy in Bulk:
If you need a large quantity of acrylic items, buying in bulk may provide cost savings. This is particularly helpful for items like favor keychains or coasters.
10. Borrow from Friends and Family:
Check with friends and family members to see if they have acrylic decor items you can borrow for your wedding. Borrowing can be a budget-friendly option, and it can also add sentimental value to your celebration.
Did you find this post as exciting as we did? Share these pins with others on Pinterest!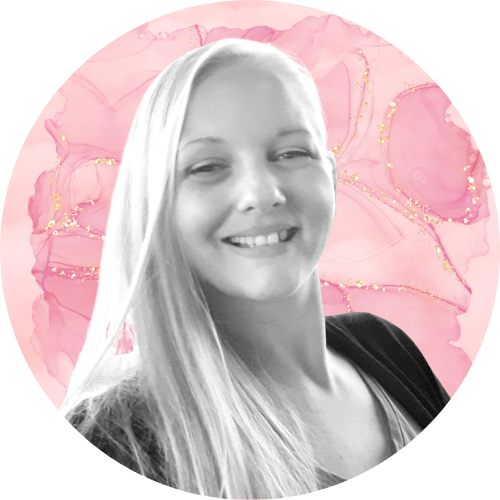 Born in Johannesburg, South Africa, Tanya has been an active contributor and planner in the wedding industry since 2016. When not writing useful content for brides and wedding professionals, she can be found designing templates for her Etsy shop, TWCprintables.