This page contains affiliate links, which means that I will earn a commission – at no cost to you – if you decide to buy something through that link. For more info, please read my disclaimer & privacy policy page.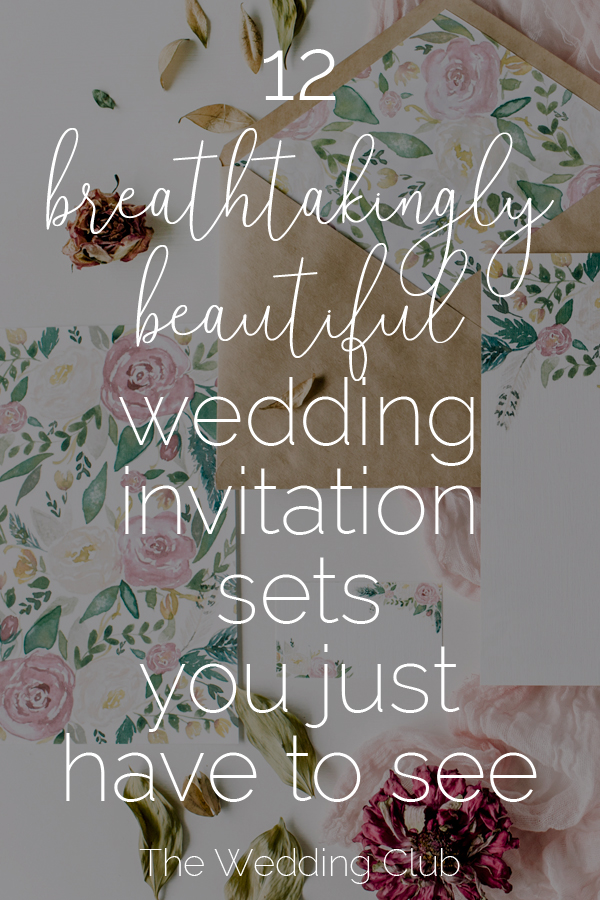 I'm just sitting here, thinking about something truly amazing: How lucky we are!
We are living in an age where we have technology at our fingertips (literally). I mean, how easy is it to plan your entire wedding with the help of digital tools and resources, especially your wedding invitations and stationery?
That's why this post was created: The following invitations and sets are created and sold by reliable designers from CreativeMarket.
We scouted for invitations that are in line with the newest trends.
12 Breathtakingly Beautiful Wedding Invitations you just have to see
Before we get started with the list, here are some wedding invitation and stationery tips:
1  |  Be mindful of your save-the-dates
Sending out save-the-dates is a formality, especially if you're going to invite guests who stay far away or even abroad. With that said, you probably know by know how wedding costs can add up.
What people don't realize is that sending these out can cost a lot of money, which could've been spent elsewhere.
It's the design, the envelope, the postage fee, airmail, tracking, insurance – just to name a few things.
If your budget allows for a save-the-date fridge magnet or laser cut wooden coaster, then by all means!
But, the reality is that most couples have a tight wedding budget, and sending out a save-the-date is a luxury.
Rather look for free, online alternatives which cater for this.
A fun idea: Record a video where you and your fiancée make the announcement + the date, and send it to all your loved ones via email or Whatsapp.
2  |  Always proofread as many times as possible
You know when you type something out on your laptop and proofread it at least 50 times… Then when it comes to printing you still spot a few mistakes?
With wedding invitations its even worse.
And remember, if you are using stationery services or a printing shop, they won't proofread it for you – they will just design and print!
Checking for spelling errors is your responsibility.
3  |  Sample everything before you decide
Sometimes a stationery set can look great on screen when it has been designed, only for you to find out how it really doesn't match your style once it arrives.
Also remember that screen colors differ slightly than print colors, so sampling your stationery (i.e. print a sample of each item) will help you decide.
It also gives a clearer idea of how it will look when you send out your wedding invitations.
4  |  Be cohesive in choosing your design
It is better to match your stationery items, than having it look like a third grader put it all together.
A cohesive design looks more luxurious, stylish and elegant.
A side note: You don't have to choose the same floral print for every item from the envelope to the RSVP card… Rather match this floral print with a single tone color envelope.
5  |  Make sure about wedding invitation wording and etiquette
There is a way to word your invitations, and it all depends on who is paying for the majority of your wedding.
For example, if the bride's parents are paying for the majority of the wedding, their names come first: "Edward & Julie Smith invites you to the wedding of their daughter…"
This is one tradition that has never changed and won't change any time soon. In a way, you are paying respect to the person(s) who pays for your wedding, by putting their names first.
6  |  Double check print sizes for wedding stationery
It is important that you match similar sizes for your wedding invitations sets, for the simple reason that everything should fit into the envelope.
7  |  Keep your budget in mind
It is a known fact that wedding stationery amounts to one of the larger expenses in your wedding budget.
And like we mentioned before, we are aware that many couples have a small wedding budget, and simply cannot afford to spend $800 on wedding invitations.
There are many ways around this, however, and one of them is to send out invitations via email.
8  |  Spell names correctly across all designs
Even thought there is a common way of spelling a certain name, some parents have decided to give their children alternative spellings to said common name. It can be frustrating for people who have these alternative spellings, because everywhere they go, their name is spelled wrong.
So, rather do your family and friends a favor by double-checking the spelling.
9  |  Be clear on who the invitation is for
Older generations will always understand that the person to whom the envelope is addressed to, is the one who is invited. Unless it says "and family", "and partner" or "+1".
It seems that nowadays, it is more common that people just assume they can bring someone along – without checking with the couple.
If you are very clear on your guest count, and your budget simply can't allow for uninvited guests, you need to contact single guests and make it clear.
You can mention something along the lines of "if someone RSVP's "no" to the wedding, you will let them know and they can bring a partner along".
10  |  Stay on point
Even though you're walking on a cloud and want to declare your fairy tale love story to everyone – keep it for the wedding day.
Make sure your invitation covers all the important details for your wedding, such as the date, time, place, formality, etc.
There's no need to write a 3-page letter for your invitation.
11  |  Give a glimpse of your wedding style
You can give your wedding guests a subtle hint on the style of your wedding by incorporating it into your wedding stationery design.
Use the same colors as your wedding scheme, and if you have a theme for your wedding, portray it in the design.
Guests will love to guess what your wedding will look like. 🙂
12  |  Always mention a dress code
The lingering question on many a guests' mind when it comes to your wedding day is: "What should I wear?"
Help them decide on their outfit by stating what the dress code is.
13  |  Send out save-the-dates and invites at the right time
This is one thing you should never delay!
Send out save-the-dates no later than 6 months before the wedding, and the invitations no later than 3 months. This gives you ample time to check if guests have received the invitation.
Also very important: Never send save-the-dates out to guests who you're not going to send an invitation to.
14  |  Include additional info where necessary
If your wedding is at a remote location, be sure to include a map.
If guests who travel far need accommodation, make some recommendations by including a separate info sheet in the envelope.
15  |  DIY wedding stationery – should or shouldn't I?
The number one suggestion everyone makes when it comes to your wedding budget, is to DIY as many things for your wedding as possible.
It can save you some money in some cases, but not always.
When you start looking at all the costs of items needed to complete a project, the time you have to set aside to complete it and a few test runs or instructions to nail it perfectly…
It might be more expensive and time consuming to make your own wedding stationery, than just getting someone to do it for you.

Now, let's get to the list!
Beautiful Wedding Stationery from CreativeMarket designers
The following invitations are all digital, meaning you have to edit and print them yourself, or email them to guests. This method might save you some money on your wedding budget.
1  |  Aurora Wedding Invitation Suite by Alice Bluefox
Two things are for certain when it comes to wedding trends that are here to stay: Watercolors and Greenery. We adore that this invitation suite can be printed on craft paper, too, so that it has a more rustic look.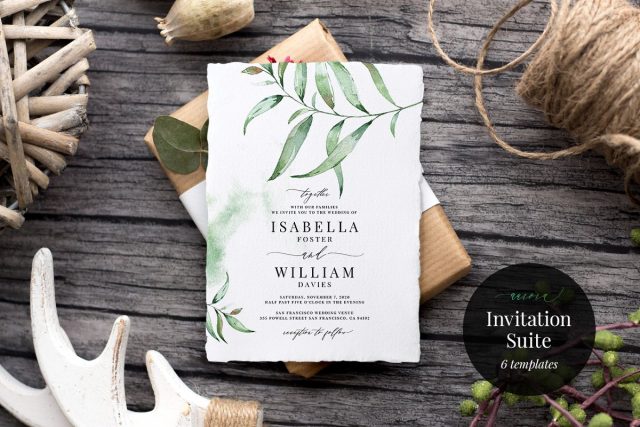 2  |  Peach and Grey Floral Wedding Suite by KlapauciusCo
All pastel hues, paired with grey, makes a wedding style look much softer than bold colors.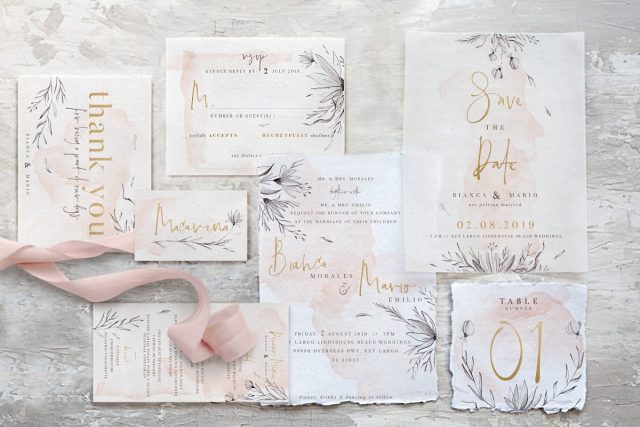 3  |  Flamingo Summer Wedding Invitations by Artcoast Studio
Whether you like bold tropical hues and themes, or subtle watercolor types, it is one trend that looks good on any occasion.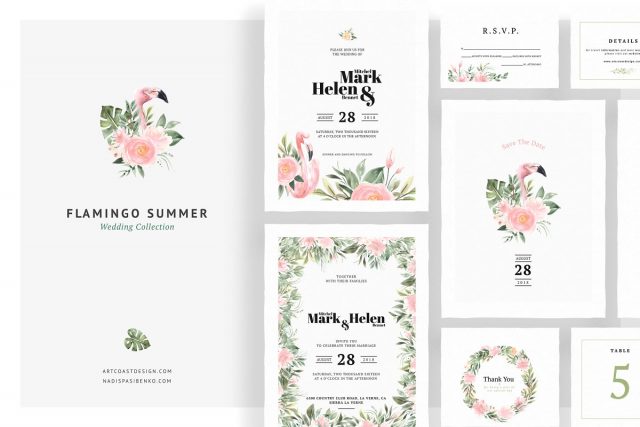 4  |  Boho Wedding Invitation Package by le-genda
If you have a bright and colorful personality, then this is your style! Match this bright floral theme with soft hues, or something metallic to give it a more luxurious feel.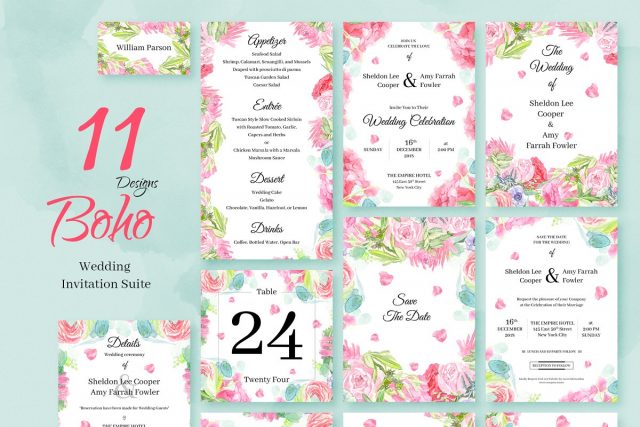 5  |  Elegant Floral Wedding Suite by Azka Creative
This beautiful set is floral, yet clean and elegant. It fits in well with the minimalist Scandinavian theme which has been a trend for the last 2 years or so.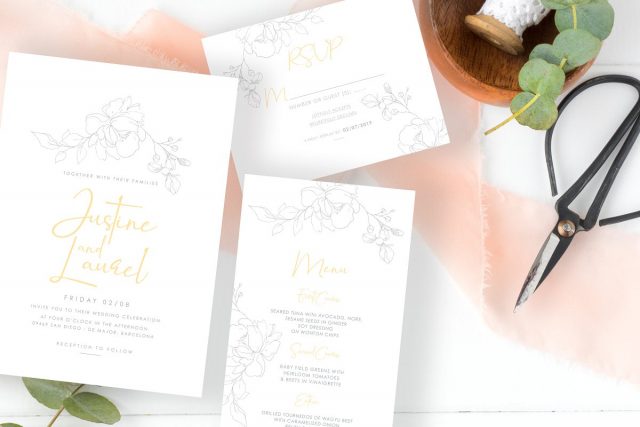 6  |  Set of watercolor wedding cards by Karma
The thing we love most about this set is that it is easy to add your own details and text. No fancy editing software needed. You can even edit this one in MS Paint! 🙂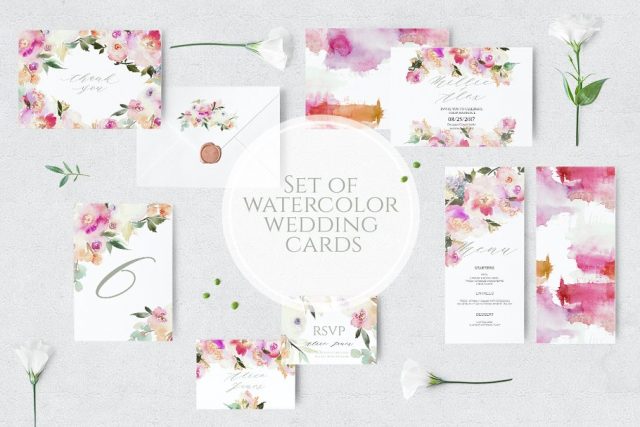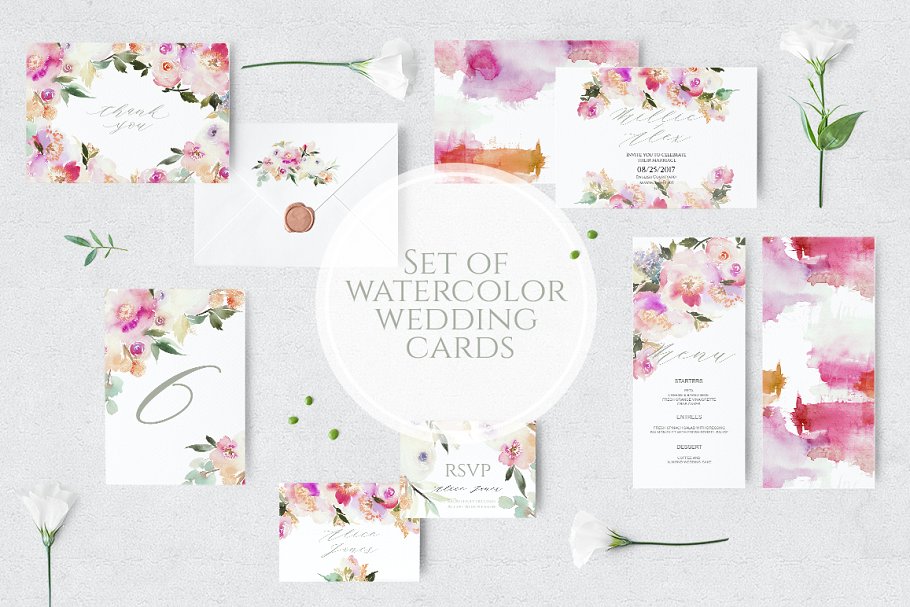 7  |  Bronze & Peach Wedding Invitations by Artcoast Studio
Here we are with the watercolor and greenery again!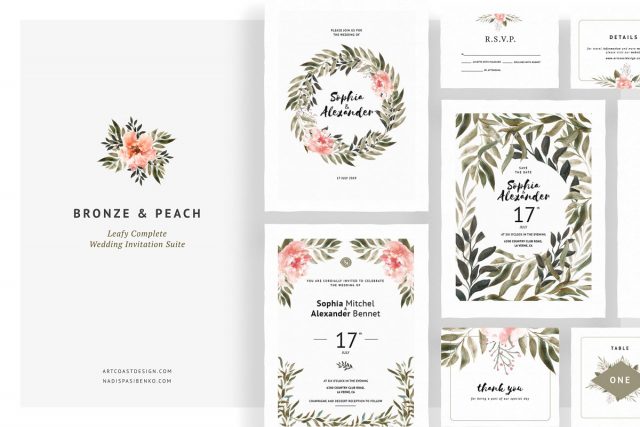 8  |  Coral Wedding Invitation Suite by Cinderheart Designs
As you probably already know by now, Living Coral is 2019's color of the year. And even though 2019 may fly along, we believe that coral is a wedding trend that will hang around for a while.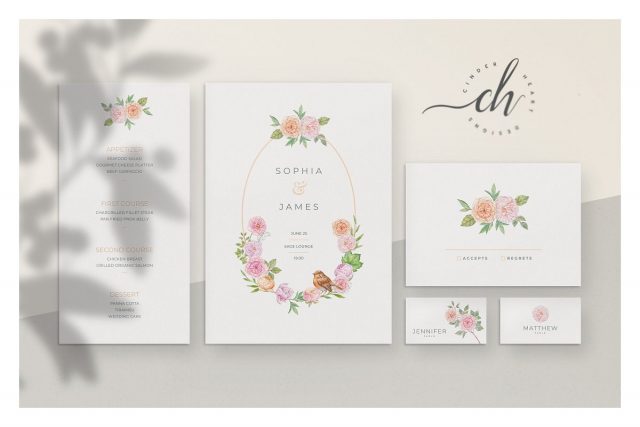 9  |  Burgundy Wedding Invitation Set by Clementine Creative
We are in love with this beautiful burgundy invitation set. It will look stunning with any Navy Blue wedding theme!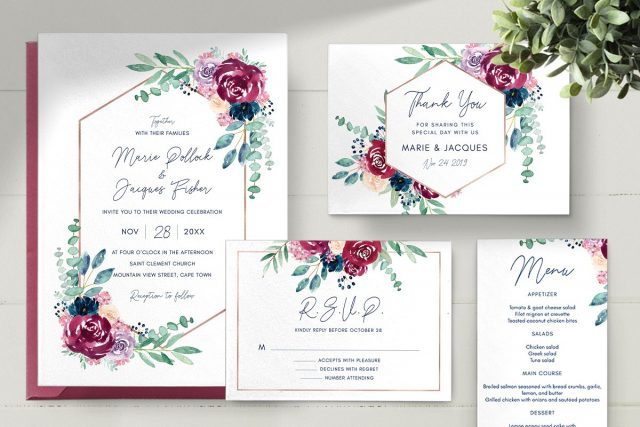 10  |  Elegant Floral Wedding Suite by KlapauciusCo
"Back to Basics" has become a wedding trend a while back already, and it is more popular than ever. Think earthy colors, Scandinavian details and raw elements.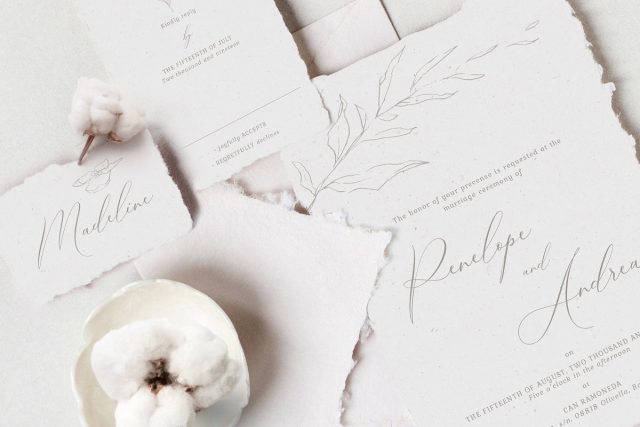 11  |  Wedding collection in Dusty blue by Alewiena
Floral and geometric goes hand-in-hand when you're trying to achieve a modern wedding look. Opt for a matching stationery set like this one.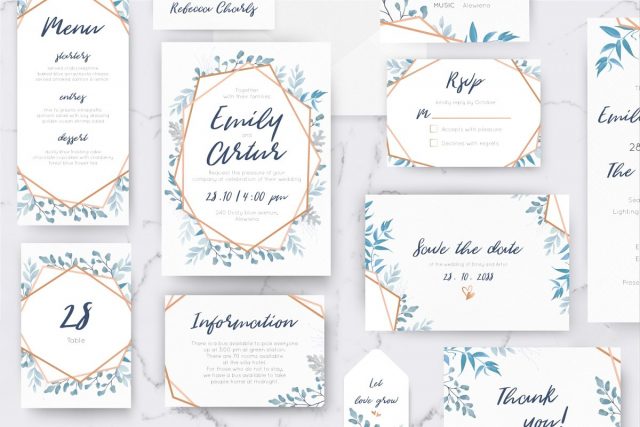 12  |  Modern Eucalyptus Wedding Suite by Azka Creative
If you want more neutral colors present, without losing the geometry-meets-floral look, go for grey and gold. Adding a shade of dusty pink will soften the look a bit. We love this set!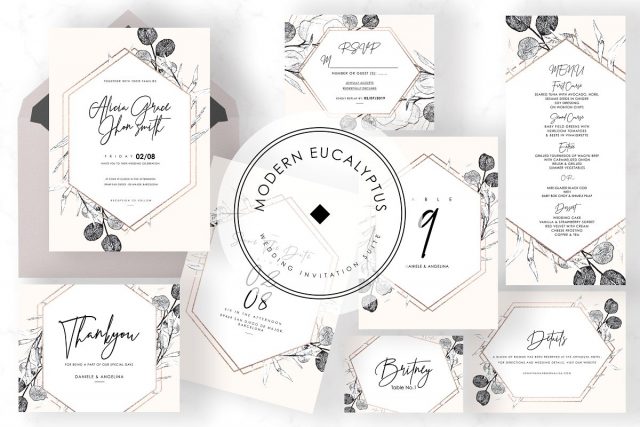 The Wedding Club is a CreativeMarket Affiliate