This page includes affiliate links, meaning at no extra cost to you, I might make a small commission if you decide to buy something. You can read my full disclosure here.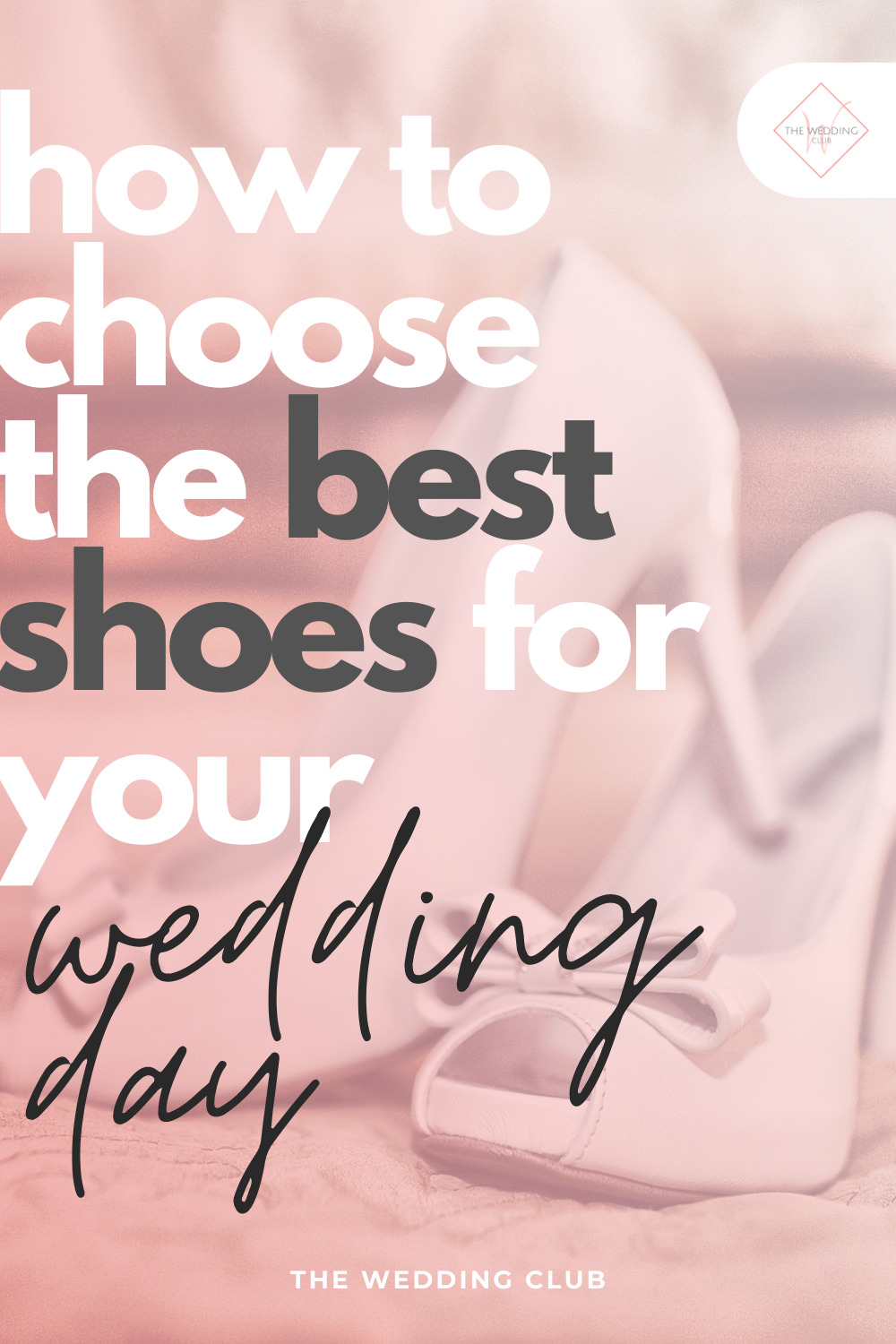 Slipping your feet into your wedding shoes before walking down the aisle is just one of those magical moments on your big day!
Remember: You will wear your wedding shoes all day long (and all night).
Make sure you choose the right wedding shoes you'll feel comfortable in until the last wedding guest leaves.
Of course, you can also have wedding shoes for the day, and slip into a different pair in the evening.
We have created this post to help you choose your wedding shoes, as well as a few helpful tips!
How to choose the best shoes for your wedding day
Before you go shopping for your wedding shoes…
Now, before you head out on that quest to find the perfect pair, we have a few tips for you: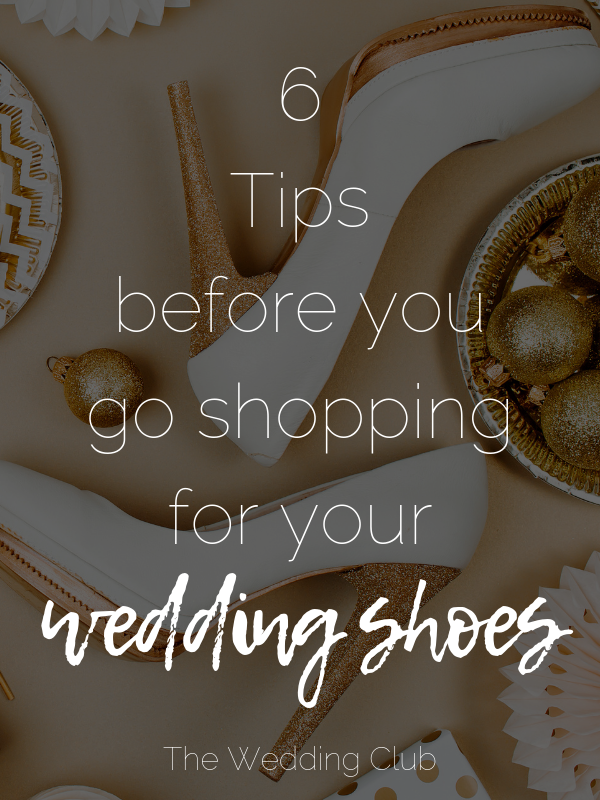 1 | Know your wedding budget
As soon as the term "wedding" is slapped in front of an item, you can be sure that a few zeros will be added to that price tag…
The same goes for wedding shoes – so be prepared!
If you haven't worked out your budget for your wedding shoes – or other items – yet, plan it all out with our helpful Wedding Budget Planner.
2 | What is your wedding dress style?
Pick your wedding shoes according to your wedding dress style – never the other way around!
Do you perhaps have a floor length dress with a long train? Will you guests be able to see your expensive new wedding shoes?
Pro tip: The cost of shortening a wedding dress via a seamstress can be one of those unforseen expenses. Opt for higher heels instead if you only need to shorten your dress a little bit.
3 | Consider your height when choosing your wedding shoes
When you are choosing something with a high heel, will you be taller than the groom? This can make for some awkward wedding photos…
If your groom's height isn't an issue, again, consider the length of your wedding dress.
4 | Do you have a prominent wedding theme?
Clueless about choosing your wedding shoes? Consider your wedding theme…
For example:
Vintage type theme: leather shoes, rounded pumps
Barn wedding: Cowboy boots
Classic wedding: court shoes, strappy heels
Sexy wedding style: stilettos, platform heels
5 | Save some wedding shoes ideas to decide which look you're going for
A great treasure trove full of beautiful wedding shoes ideas is, of course, Pinterest. Create a wedding shoes board and save all of your ideas!
You can also download a local shopping app and favorite some items. If the app doesn't have this feature, simply add them to your cart and revisit them later.
6 | What will the weather be like on your wedding day?
If your wedding falls into the colder seasons of the year, make sure you choose warmer shoes such as boots.
For hot spring and summer months, go for airy or strappy shoes so that you can keep your feet cool.
Let's have a look at all of your different wedding shoes options:
12 Types of wedding shoes to choose from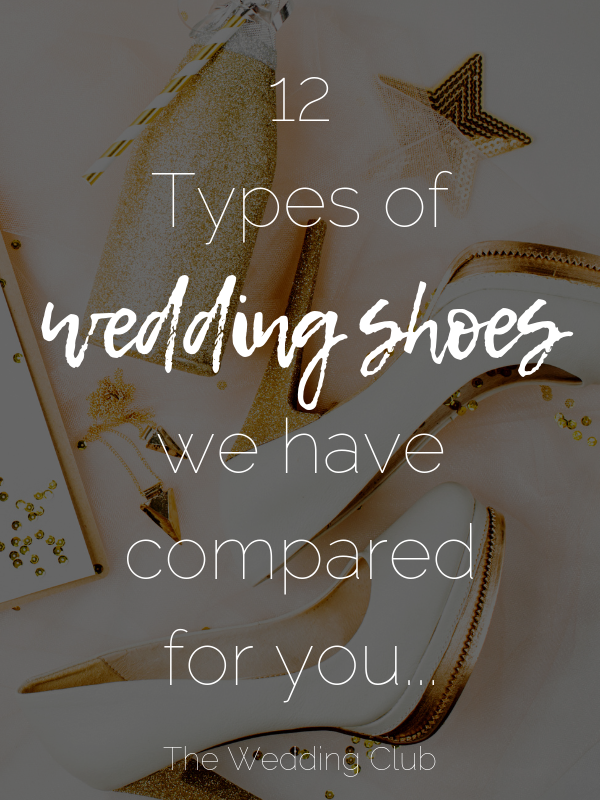 1 | The Pump
A classic, thin heel.
The most popular kind of wedding shoe chosen by most brides.
Comfort: 7/10
Dancing: Yes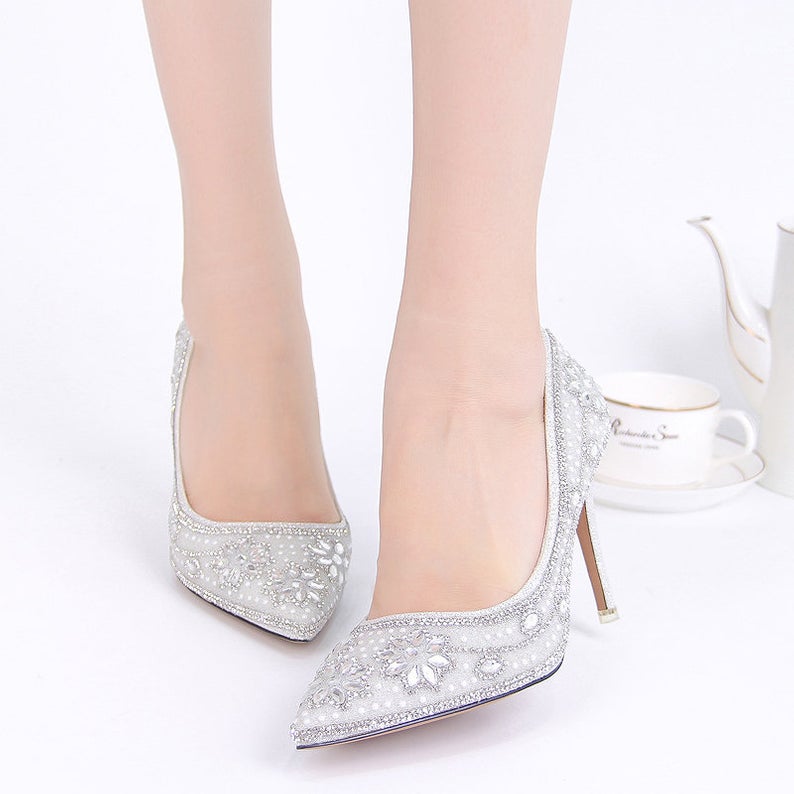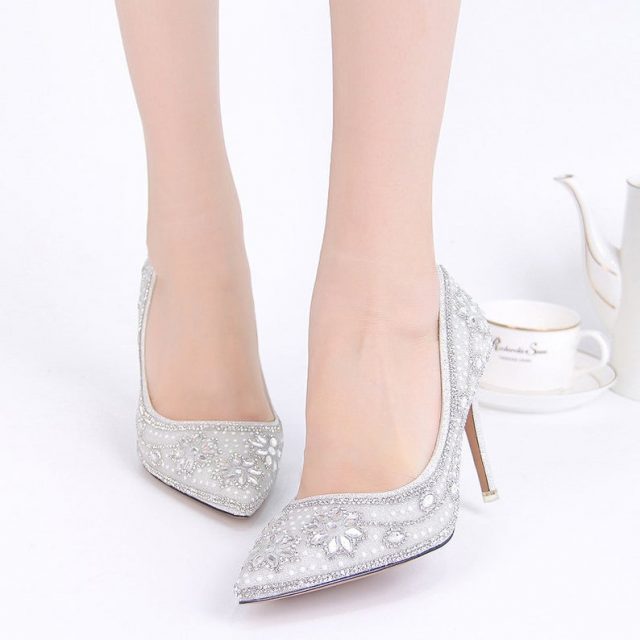 2 | The Peep Toe + Open Toe
Similar to a pump.
Peep toe: Normally two toes stick out at the front of the shoe.
Open toe: Most of your toes stick out.
Comes in various heel types.
Comfort: 7/10
Dancing: Yes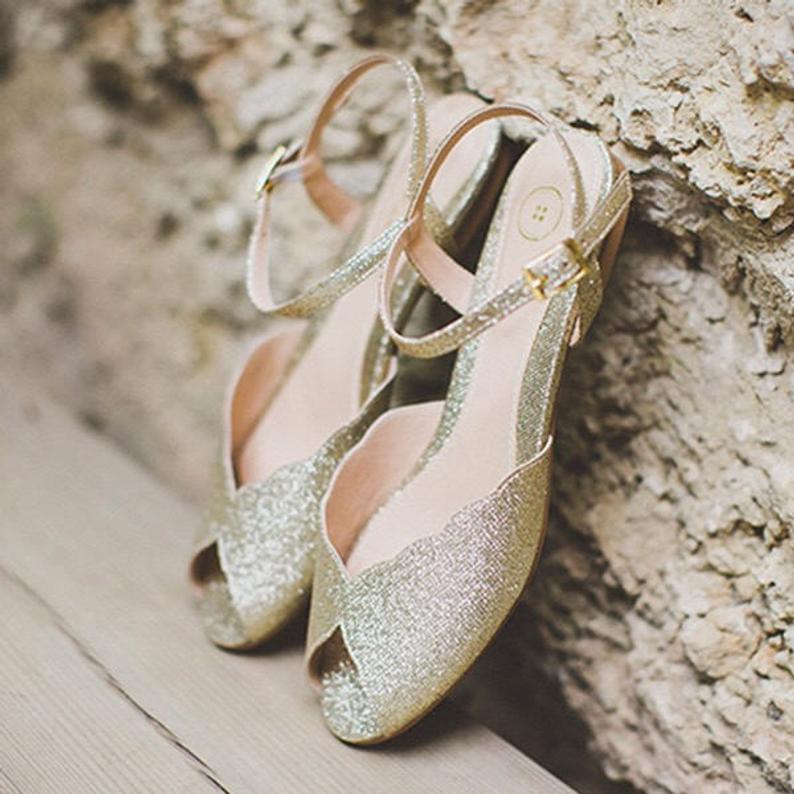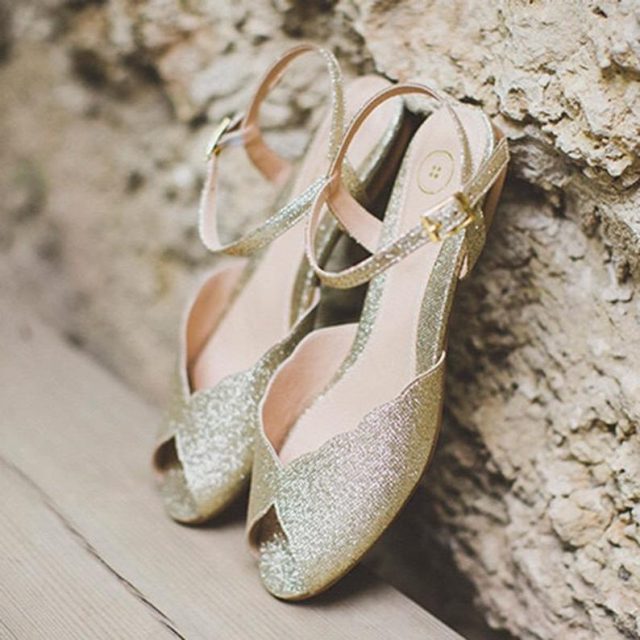 3 | The Stiletto
The design is like that of a pump, but the heel is much higher.
If you're not used to this kind of shoe, your feet will most definitely hurt after a while.
Comfort: 5/10
Dancing: Possible (with lessons)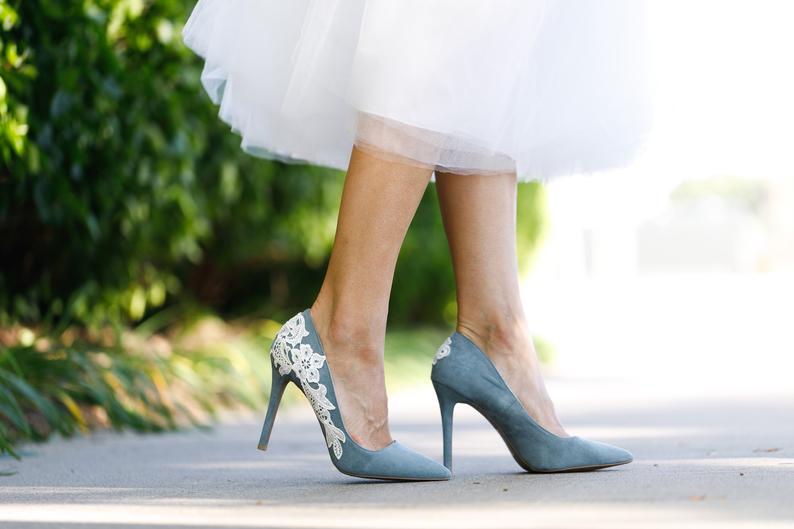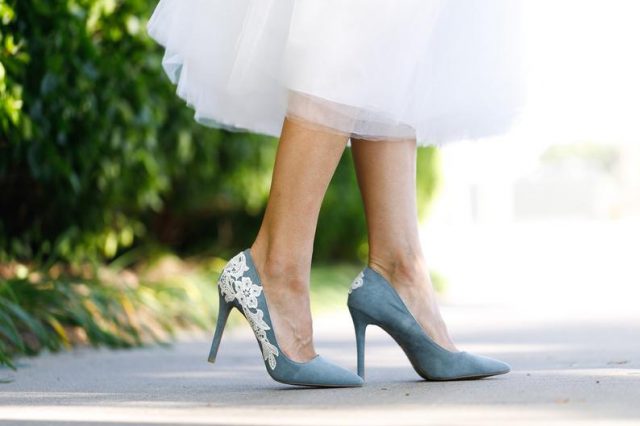 4| The Platform
Dangerously high shoes.
Made a return to the fashion scene around 2010.
Also known as "stripper shoes".
If you like this style, consider buying backup dancing shoes, too!
Comfort: 3/10
Dancing: No (unless you have the balance of a prima ballerina…)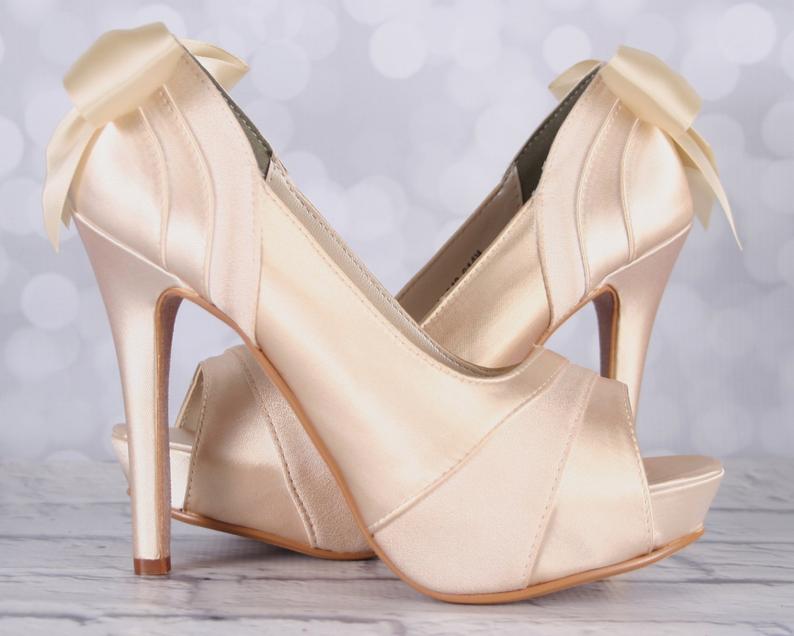 5 | The Kitten
Very short, thin heel.
Good choice if you don't want flats or pumps.
Comfort: 8/10
Dancing: Yes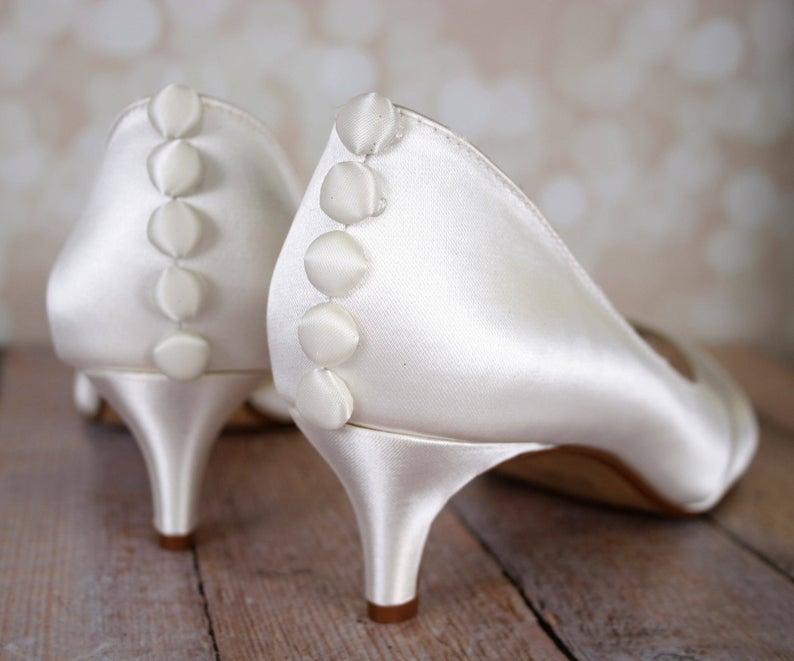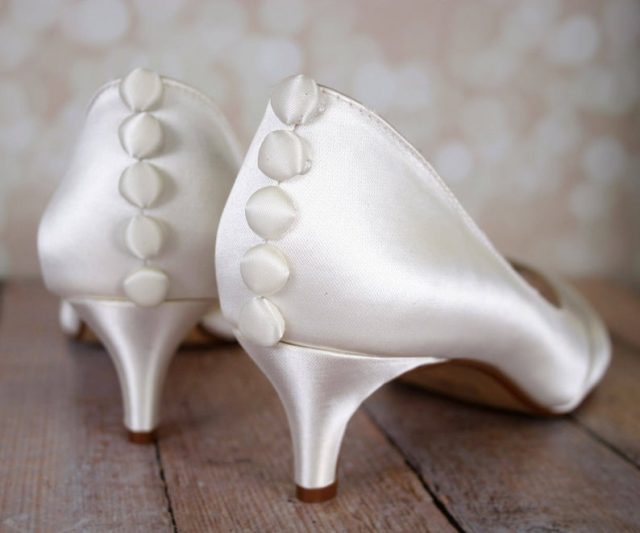 6 | The Chunky
Pumps that have a very thick heel.
It's less straining on your feet.
Can wear them for a long time.
Comfort: 9/10
Dancing: Yes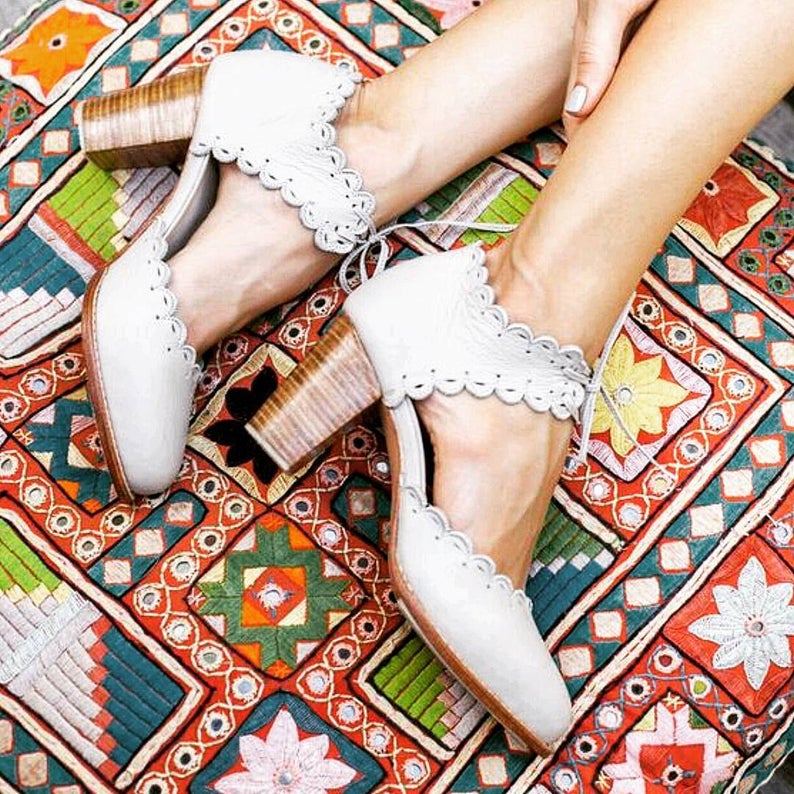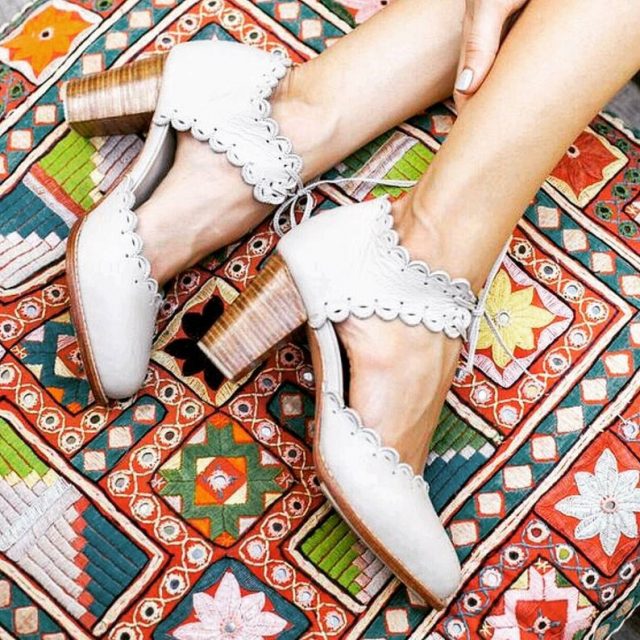 7 | The T-Bar
These are quite common among professional dancers – for freestyle, Latin-American and ballroom.
If you know you're going to be dancing for hours, these might be the perfect choice!
Comfort: 8/10
Dancing: Yes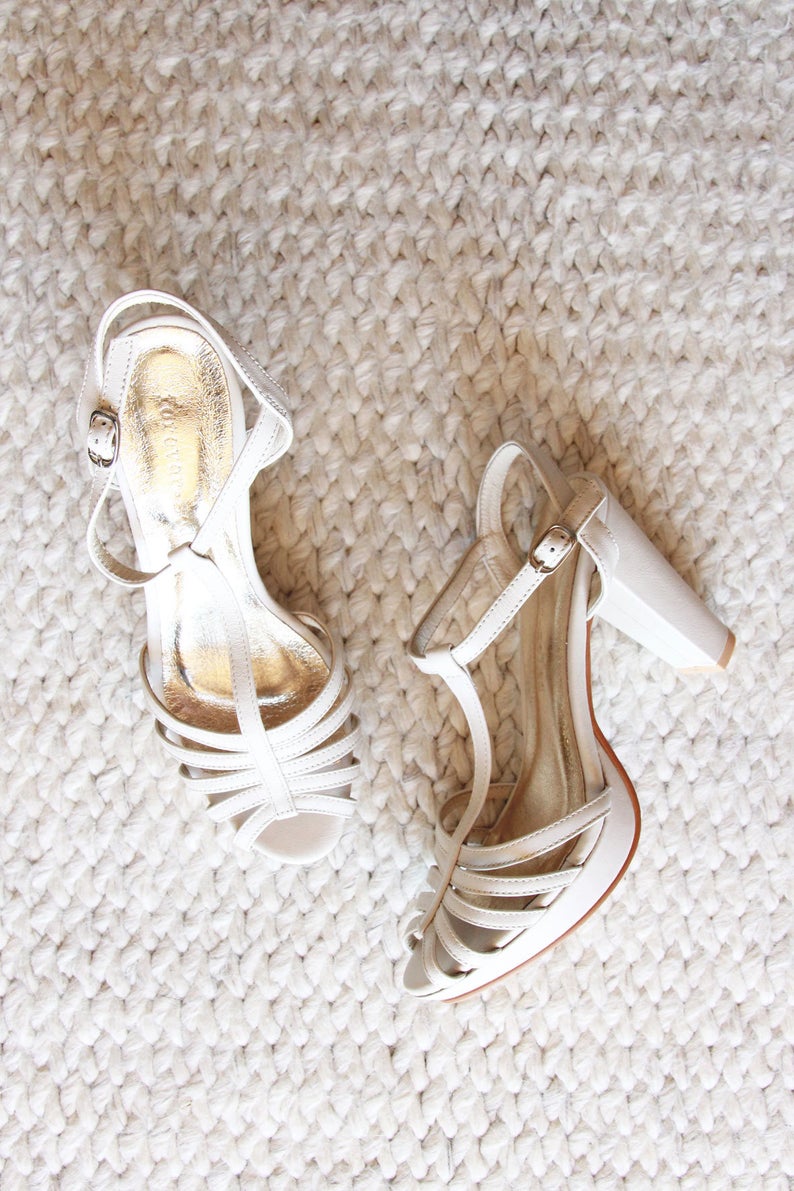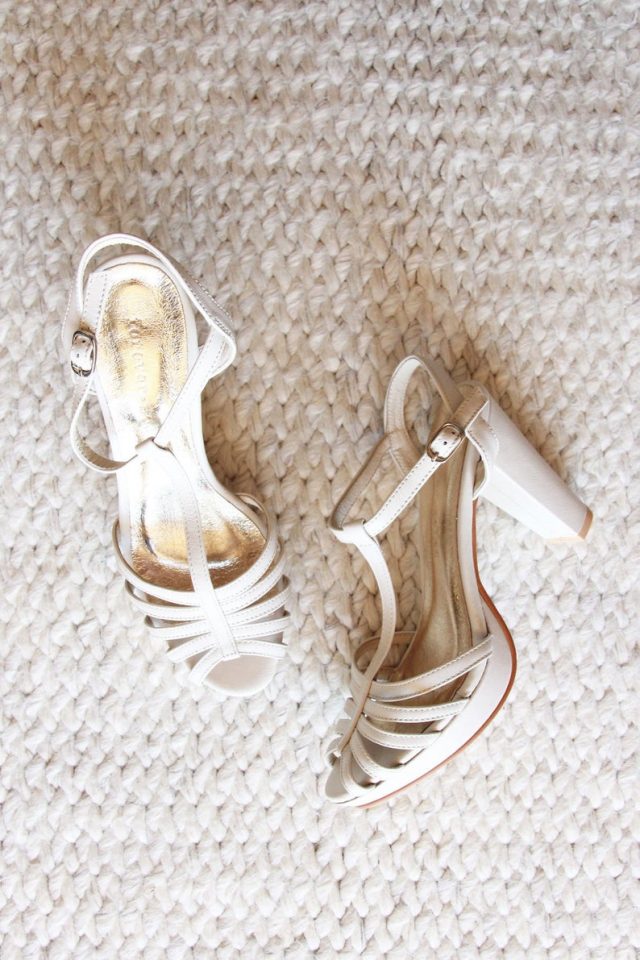 8 | The Wedge
These shoes come in different heights.
Shorter heels can be less straining on your feet.
They give more support to the arches of your feet, because there isn't a gap.
Comfort: 9/10 (for shorter heels)
Dancing: Yes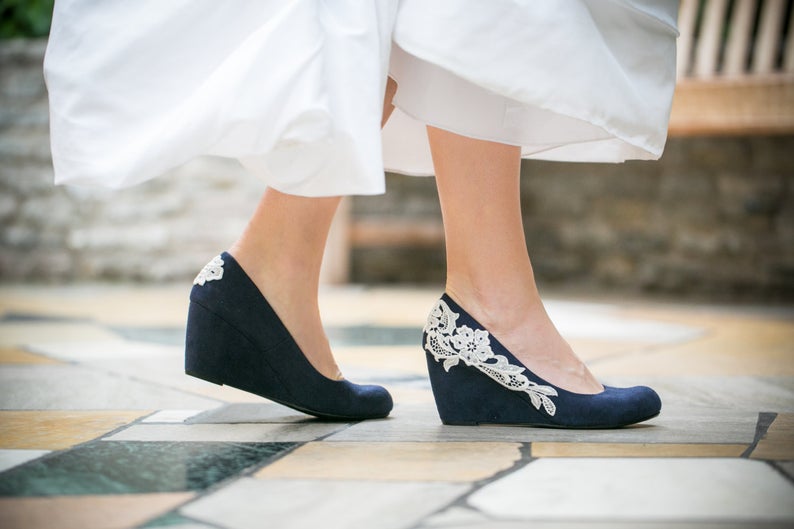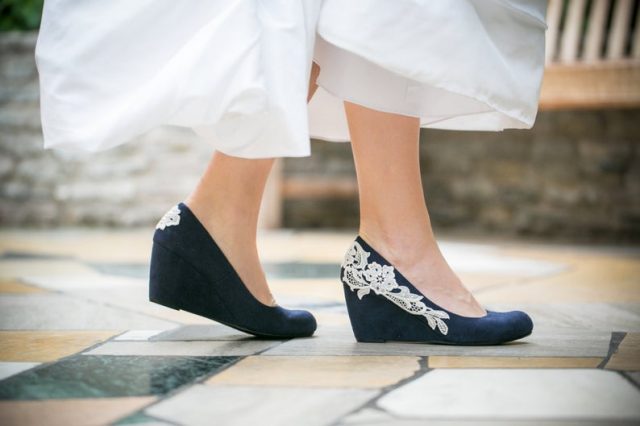 9 | The D'orsay
This is what classic wedding shoes are made of.
They are usually more expensive, because they look super elegant.
Comfort: 7/10
Dancing: Yes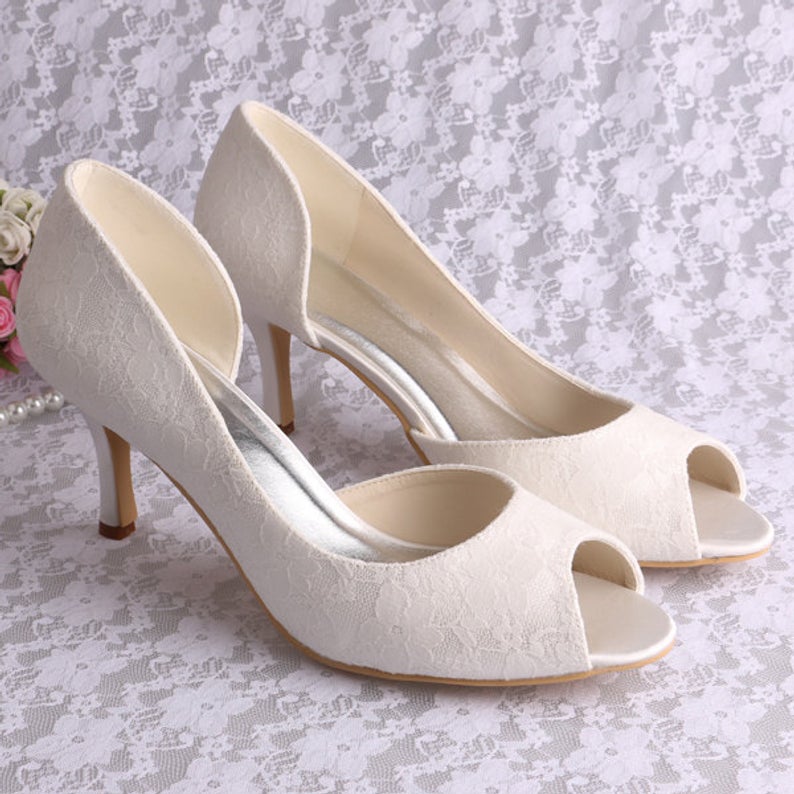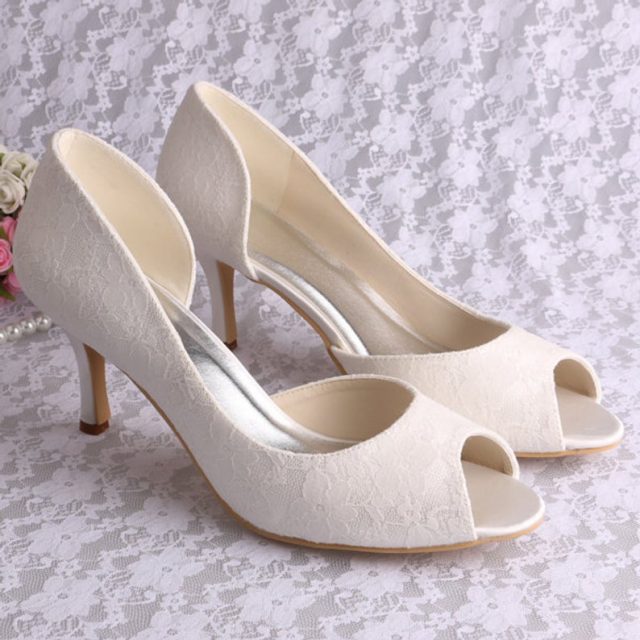 10 | The Flat
Not the most popular choice of wedding shoe.
The wedding shoe industry has caught on and started to provide beautiful choices!
This option is perfect for bohemian and outdoor weddings.
Comfort: 10/10
Dancing: Yes, if correct height for Groom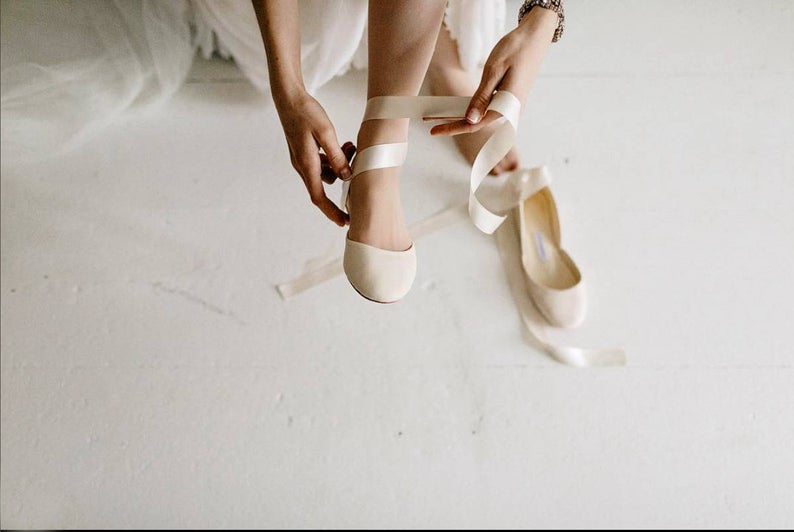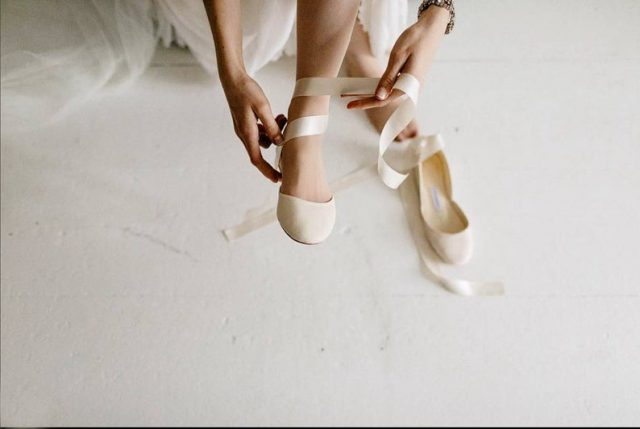 11 | The Mary Jane
They're flat, or have a low heel, but with a strap (and sometimes a clasp or buckle on the side).
These shoes made a comeback along with the vintage wedding trend.
Comfort: 10/10
Dancing: Yes, if correct height for Groom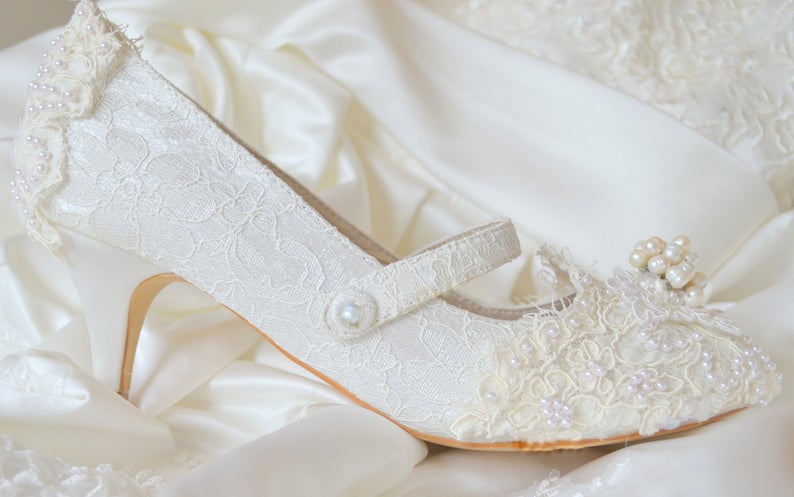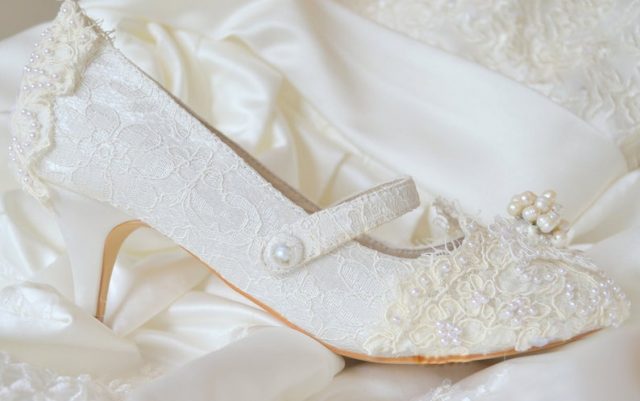 12 | The Ankle Strap
It gives you better support and control over your wedding shoes – especially higher shoes.
Will make you feel more confident in high wedding shoes.
Comfort: 8/10 (depends on height of shoe)
Dancing: Yes, depending on height of shoe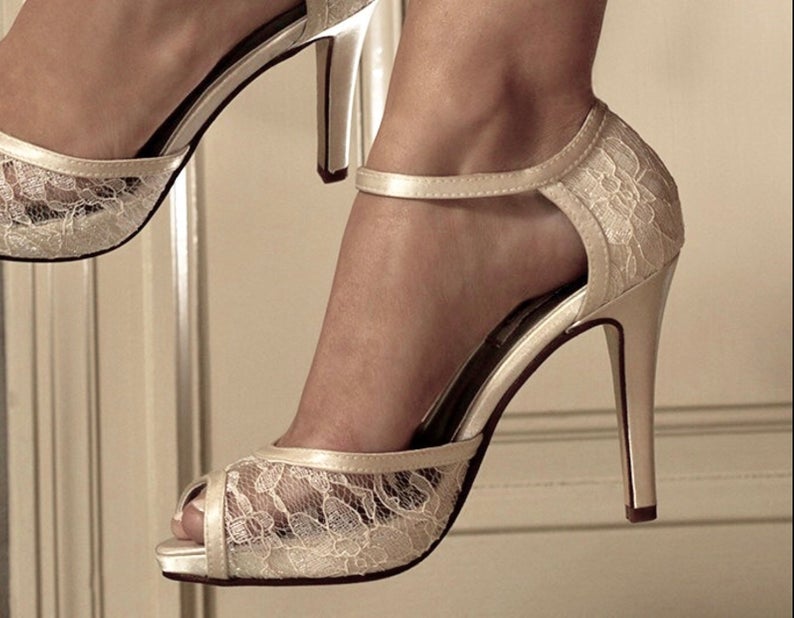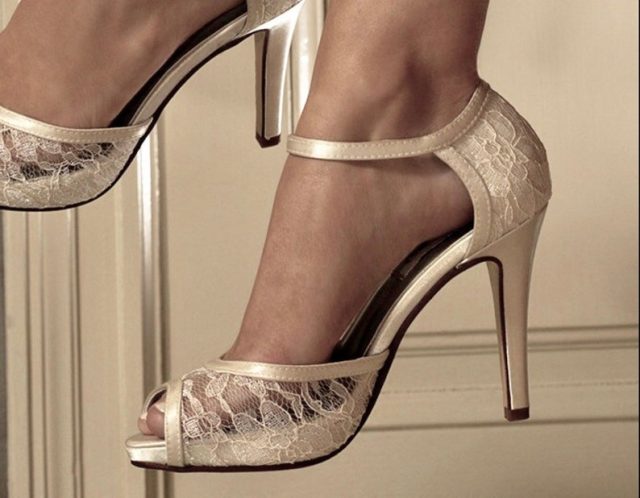 Have fun with your wedding shoe shopping! And remember: Choose a pair that you can possibly wear to another elegant event, to get the most out of it!
Pro tip: Always consider how comfortable your wedding shoes have to be, and how long you will be on your feet, before you buy them!
*The Wedding Club is an Etsy Affiliate*