This page includes affiliate links, meaning at no extra cost to you, I might make a small commission if you decide to buy something. You can read my full disclosure here.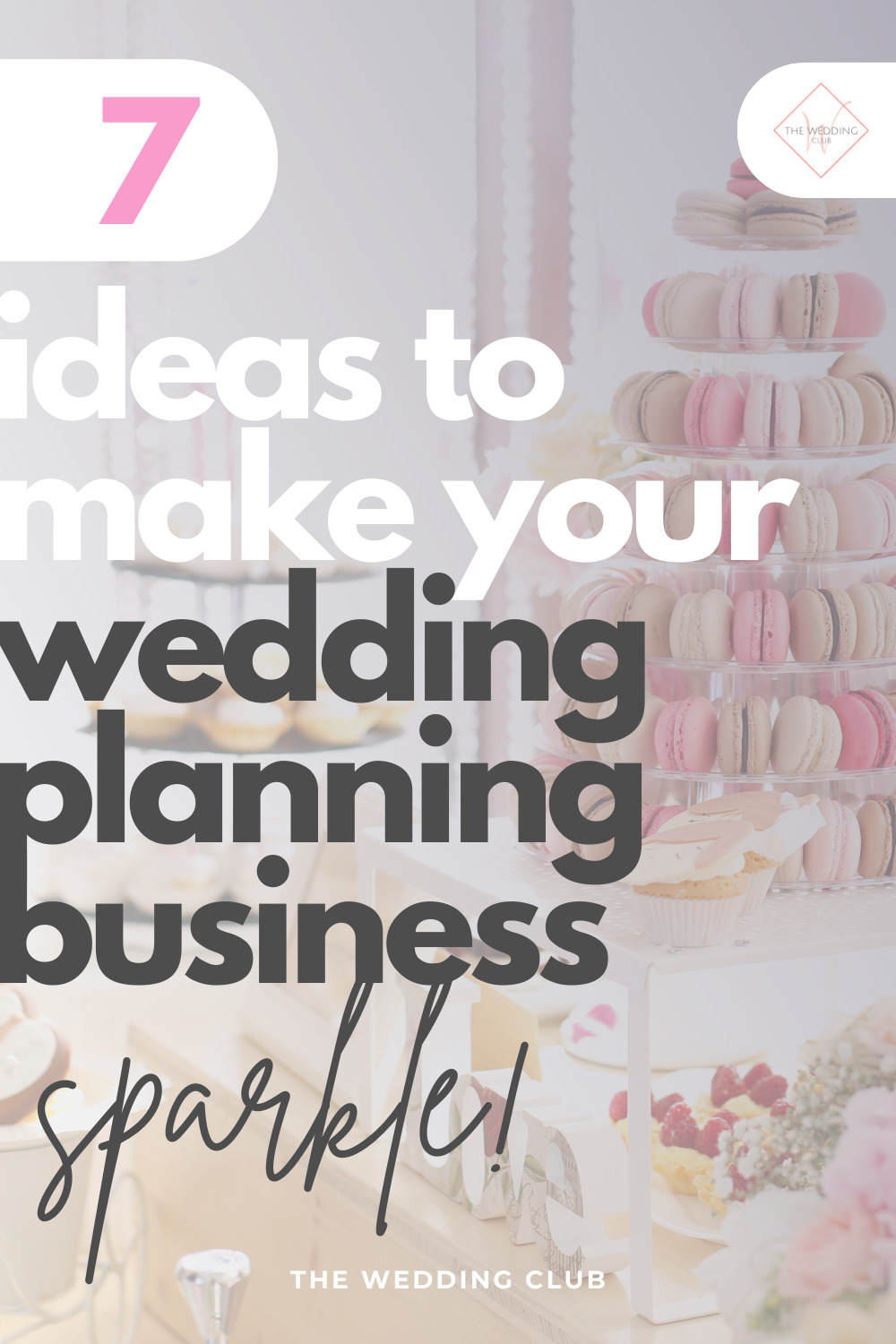 It is challenging: The wedding industry is becoming more and more competitive and saturated. On top of this, many brides prefer to use experienced, longer established wedding planners.
The key is to make your wedding planning services sparkle and let it stand out!
We have created this post of top tips for wedding planners, to make your business thrive!
7 Ideas to make your wedding planning business sparkle
1 | Have different tiers in your wedding packages
You probably realize by now that not all couples are able to afford elite wedding planning services.
Which is why you should be able to provide different pricing options at different levels. For example, you should have entry-level packages with basics. And also higher level packages that provides more services to your clients.
Also, have the option of add-ons. These are additional services that can be added to any package, at a certain additional price.
A few examples of these add-ons are:
RSVP and guest list management – where you help your clients to manage all of their guests' RSVPs, the guest list, and so on. It is a tedious job. That's why you can ask extra for it.
Budget setup – help your clients to set up a wedding budget and manage it the correct way.
Logistical services – definitely charge extra for running errands for a bride. And, if she wants you to deliver certain things in person, be sure to quote for it in addition to the original package.
New type of add-on: DIY wedding services. This is if you have a client who needs you to make paper flowers, fold paper cranes, make custom decor items, stationery, etc. You can charge an hourly rate/labor costs and costs of equipment to make everything.
Finally, always provide the option of tailoring a package to suit a certain client's needs. They will feel more comfortable to work with you if they realize you will change certain packages and service you provide.
2 | Make your clients feel important and special
Another way to stand out from the crowd an let you business sparkle, is by the magic of having a great welcome package. Your welcome package should include professional stationery of your services, terms and conditions, and so on. You can either give it to prospective clients, or, you can give it to a client which agrees to work with you. You can then also include your proposal for their wedding in the package.
Another way is to send out personal e-mails and updates throughout the wedding planning process. Clients will appreciate the effort you make to keep them up to date with what's happening with their wedding details.
Finally, you can make the effort to meet your clients at a cozy, welcoming place, such as a trendy coffee shop or restaurant. With the right atmosphere, you and your clients can relax and discuss their wedding plans with ease.
3 | Have your branding in place
One of the main purposes of branding a business is recognition! If your branding is unique, consistent and portrays what your business does, people will start to recognize you.
You can include your branding in various places such as your e-mail header and signature, on social media, and with print media such as business cards, banners and flyers.
Also, make sure you are active on social media, by frequently posting new updates, promotions and competitions on your accounts.
You should also consider having a website and a blog for your business. Having a professional website with your entire business portfolio on there will convince clients to work with you. Also, having a blog and writing articles will show that there is an actual person behind the site. (plus it generates traffic to your website!)
Finally, don't underestimate the power of corporate branding. Start small, with something useful or an item that people will see/use on a daily basis. Stuff like pens, key chains and notebooks will subconsciously "print" your business name and branding into their brains… 🙂
4 | Showcase yourself and your hard work
One of the best ways to show new clients what you can do is through your wedding planning portfolio. Your portfolio should consist of photos of weddings, behind the scenes, testimonials and recommendations.
Use social media to showcase this is through either Facebook or Instagram (or both!). When I client wants to see your work, give them your social media handle. Alternatively, you can create a website to show all of your hard work and direct people there.
Also, make sure you join exhibitions and fairs. These events are gold mines when it comes to finding new brides to work with, and other suppliers to network with. Make your booth stand out with your branding, and invest in marketing. Make sure you get someone to help you chat to exhibition goers, and don't forget your enthusiasm at home! 🙂
5 | Provide a little extra through your business
Wedding businesses are seasonal. During slow months, make sure your provide other products or services for clients, so that you still have a type of income.
A great idea to build client trust is to e-mail updates to past and future clients. You can send out articles or links to your blog about new trends, updates, behind the scenes of your business, and so on.
You can also provide new tools and resources to help them with some of their wedding planning aspects. Be sure to include a "tools and resources" page on your website/blog, too!
You can also give more by writing helpful articles on your blog. This will help your potential clients to see that you're up to date with the latest happenings, and that you know what you're talking about.
6 | Collaborate with other wedding professionals
An important key to the success of your business is to network. Make sure you network and meet up or collaborate with similar service providers. Or, anyone in the wedding industry who can be helpful or become a useful contact.
Make sure you both benefit from each others' businesses, and that new contacts aren't just there to fill up your address book.
Also make the effort to build a recommendation list with others. This way, whenever a client is looking for a certain supplier or service, you can recommend those on your list, and others can do the same for you.
Be sure to promote others' work as well. Once they see you include them on your social media, or tag them in some of your posts, they will be more likely to do the same for you.
7 | Make yourself + your business memorable
One way to create brand recognition is to have an arsenal of innovative ideas. Build up your database of ideas to suit every type of budget, style and bride. Make sure you create a Pinterest account (even if its a private one) to which you can save most of your ideas.
To make yourself even more memorable, go above and beyond for all of your clients. Be accommodating, even if potential clients go with someone else in the end. They might send other people your way.
An easy way to create a memorable business is by having a unique style and branding. Make sure your branding suits your business, and easily portrays what you do. For wedding business branding, you can use shades of pink, pastel colors and florals, for example. Be creative!
You should also make a point of being punctual and professional at all times. Clients value it when business owners look organized and put together. That's why you should always be on time, and always deliver on promises, no matter what! Failing to do so will harm your business.
Pro tip: Make your mantra: "always under-promise and over-deliver". Never the other way around!
Finally, keep in contact with past clients. You can do this by e-mailing special promotions and coupons to them, or make it personal by sending out loyalty promotions to them. This way, they won't forget about your business, and might recommend you to their friends and family.
You're well on your way towards a thriving wedding planning business! And, by using our tips, you will get there even faster.
Our final tip for you: The fastest way to building a business is by really putting yourself out there – be visible: online and in real life!