This page includes affiliate links, meaning at no extra cost to you, I might make a small commission if you decide to buy something. You can read my full disclosure here.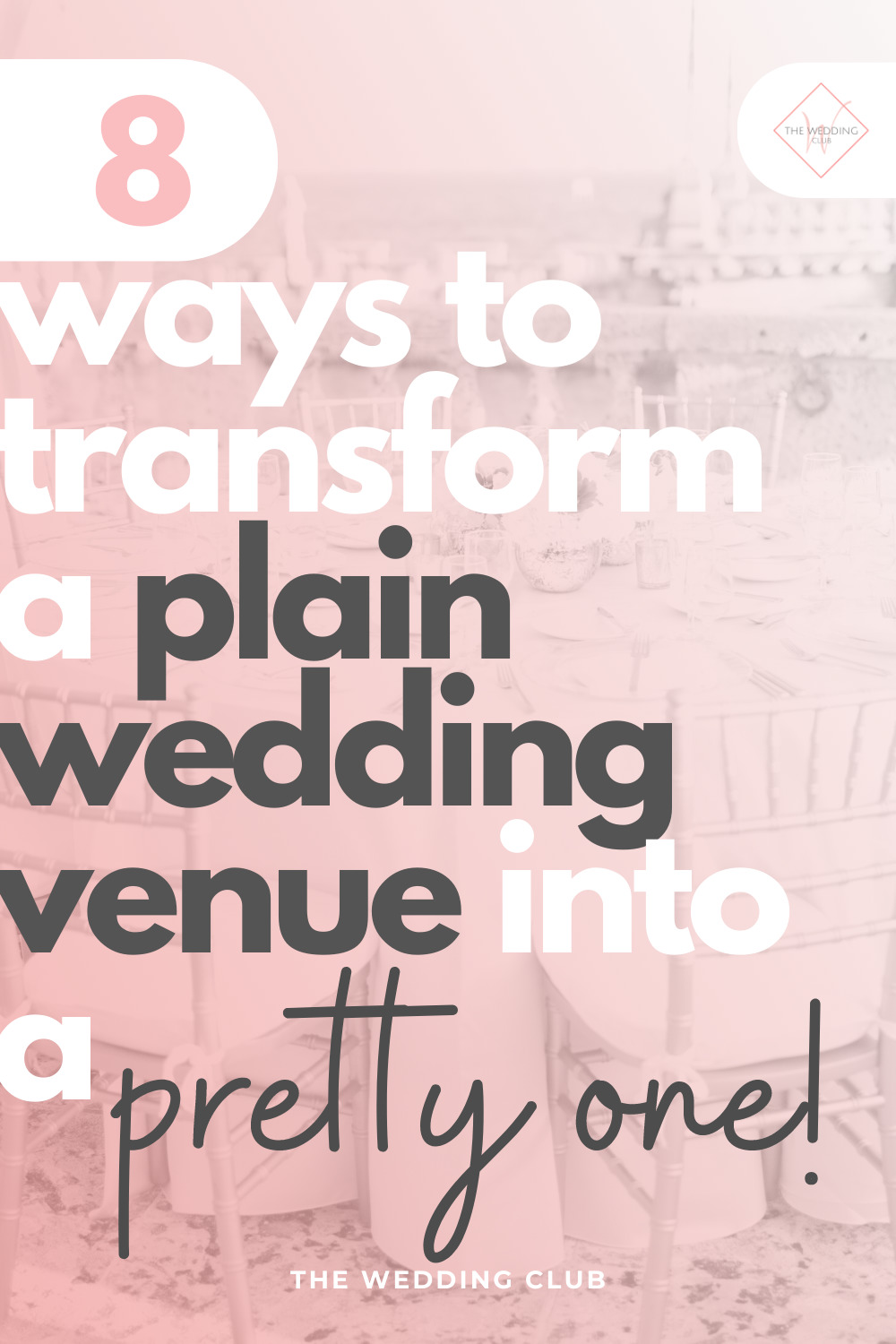 If you have started your wedding planning journey already, you might have noticed that the wedding venue market is a crowded place. Every second person and his dog are now starting their own wedding venue of some sort, because, yes, it is a profitable business.
However, not every venue owner has a keen eye for "the wedding factor"…
Beautiful, breathtaking venues are naturally more expensive.
Why?
One, they know every bride wants to get married there, so they always have clients. Two, they are fully booked, which means that they can now ask any price they want.
But what if you have found the best located venue, and they didn't make any effort to turn it into a beautiful wedding venue?
Read on for some tips!

8 Ways to Transform an Unappealing Wedding Venue into a Breathtaking One
What makes a wedding venue beautiful?
Before you go on you venue scouting adventure, you need to know what you are looking for, especially if you don't have an eye for a pretty wedding venue.
Know this: Nearly any venue can be transformed if you already know what look you're going for.
Also, one venue might be beautiful to one bride, and unappealing to the next.
If you're specifically looking for a rustic farm-style venue, then you should locate a venue with a suitable setup. If it's the ideal location, but lacks certain elements, you can always make a plan to hire those things for your wedding day.
The same goes for any other wedding style you wish to use.
Let's dive right into the 8 ways you can transform your venue!
1  |  Draping
We're not talking about the brightly colored draping in the school hall when you had your prom night.
We're talking about the magical drapery of white and cream tulle, chiffon and sheer voile… No, we didn't just make those words up 🙂
Fabric used for draping at weddings
There are a few fabrics to choose from, and you also have to make sure that the length is correct. Measuring for draping is key to get the look you want.
Tulle – stiffer than other fabrics, so it's best to use this for the cake table or bridal table.
Chiffon, Voile and Satin – these are all better suited for ceiling and wall draping. It's much softer to use and they come in various colors.
If you're not up for the task of draping, you can hire a company or team that specializes in draping.
Why use draping?
The main reasons to use draping at your wedding is to:
cover up walls and unsightly things at a wedding venue
give the venue a softer look and feel
make the venue look more elegant
make the atmosphere and look of your wedding more romantic
use any wedding style you want – because full-on draping is like a blank canvas! You can then use any theme, style and color scheme for your wedding, because the venue doesn't have a certain style anymore.

2  |  Decor Elements
Wedding decor is the one thing you can use to make the wedding's look and feel come together.
When working on your wedding style, theme and color scheme, think about what you can include in your decor. Also think about where you will be able to place all of your decor items.
For example, if you're going for a vintage theme, maybe include a few strings of pearls in your centerpieces, or a few old suitcases at the gift table.
With a boho wedding theme, you can include a few natural elements such as feathers and dried flowers.
Pinterest is full of ideas for weddings, so if you already know what your style is, go ahead and search for decor, styles, elements, colors and so on.
Also Read: The Ultimate Collection of Wedding Design & Style Tips
3  |  Flowers
Flowers, even fake ones, are synonymous to beautiful weddings. This is the ultimate go-to wedding element that you can really play around with.
Flowers can be added anywhere and everywhere, provided that you have a budget for it.
Flowers are a big expense of planning a wedding. If you haven't set up your wedding budget for flowers yet, consider using our Wedding Budget Planner Kit to help you set up and manage your wedding budget correctly.
Even faux and paper flowers can be used to make a venue more attractive. You can place giant paper flowers outside in the gardens or the lawn. Smaller flowers can be used inside and as a backdrop for your guests to take photos in front of.
Which brings us to our next tip…

4  |  Backdrops
Any backdrop, big or small, can be used to cover up an eyesore at the venue, or to simply just bring more pizzazz to your wedding.
Also, a backdrop can be used as a photo booth background or prop for wedding guests to take selfies in front of, or photos of each other.
You can also use a backdrop behind the bridal table, or all around the venue walls. The great advantage is that you can then incorporate nearly any theme or style into your wedding.
If you want to create a backdrop, you can use nearly anything. From flowers, balloons and greenery, to giant hoops, draping and arches. Add some sparkle by including string lights to your backdrops.
5  |  Lighting
There is simply nothing more romantic and whimsical than the perfect lighting at a wedding. Soft lighting creates a certain ambience that you only ever experience on wedding evenings.
The best methods to bring about this type of lighting is by including lots of candles in your decor and by bringing in some string lights or fairy lights.
Candles can be added nearly anywhere at both your reception and ceremony venues. Use it in floral arrangements, candelabra and on tables. You can also add candles in lanterns and place them either inside or outside along paths.
Fairy lights can be strung along beams, walls and outside in trees. You can also include them in your draping.
Also, when looking at lighting, and if your venue (and budget) allows it, some venues' lighting can be replaced by chandeliers 🙂
6  |  Furniture
Hire in additional furniture for both indoors if there is space, and outside. Your guests will love to lounge about as they enjoy the special evening with you.
You can get couches and ottomans for outside, and make it even more special by adding free standing draping around the furniture to create "booths" or "lounges".
Don't make it too private, though!
You still want your wedding guests to dance and mingle with each other to get the event going.

7  |  Structures
If you want to go even bolder with making your venue more appealing, consider adding larger structures outside.
You can hire a tent-and-pole structure to create your reception venue. Or, you can use a big marquee tent as a ceremony hall or for your reception (or both!).
Some venues have giant structures in place, such as pagodas, domes or giant arches. You can turn this into a feature by dressing it up with flowers, greenery, draping and string lights. Let your photographer include this feature in your wedding photos.
Also Read: 63+ Questions to ask your wedding venue coördinator
8  |  Features
Additional features can also be used to spice up an unappealing venue.
However, you should definitely have a look at your budget first before deciding on including this for you wedding day.
Features can include things like ice sculptures, water features, potted plants and things like arches.
9 Things you should know when choosing your wedding venue
Though each and every venue is different, here are some things you should know before you choose your wedding venue.
1  |  Your venue coördinator
It is very important to consult your venue coördinator about any changes or additions you want to make to the venue.
The venue coördinator is the person in charge at the venue, who you will correspond with about all of your wedding arrangements. This is NOT your wedding planner. The venue coördinator also makes sure that all of the behind-the-scenes logistics, such as food, goes smoothly on your wedding day.
Venues don't just allow any bride to make any changes she wishes, that's why you should speak to your coördinator first about what is allowed, and what isn't.
2  |  The use of candles
Although venues have insurance in place, like most larger businesses do, not all of them allows the use of candles, because it is a huge fire risk.
Consult your venue coordinator about the use of candles in your decor and at your reception venue. Also ask about what decor they already have in stock for you to hire.

3  |  Accessibility
Not all venues are wheel chair and disability friendly. You should definitely take this into account if you have a large guest list and if you know of guests who will need special requirements at the wedding venue.
We once did an event for a large birthday party at one of the wedding venues in the area. The couple decided to do a cowboys-and-indians themed party, and even hay bales were hired in from a local farm.
One of the structures was a set of barn doors that is free standing, but had a piece of wood that goes onto the floor underneath. It certainly wasn't wheel chair friendly, and even though we have informed the couple about this, they didn't care much about it.
We had to take turns to move the barn door stand as two people, both in wheel chairs, wanted to go in and out of the venue hall. And it was, to our regret, the only door to use which didn't have a set of stairs.
Take this scenario into account when deciding to hire in structures and features which might make your venue hall exits inaccessible to disabled guests.
4  |  Costs involved
Before you go on a hiring spree for props, features, structures, draping and the likes, have a look at the expenses.
If it works out more expensive in the end than just getting the perfect wedding venue, you should definitely rather go for the latter.
PS. If you still don't have a decent wedding budget in place, have a look at our Wedding Budget Planner Kit, which will help you to create a wedding budget and manage it properly.
5  |  Guests won't always notice
You might think that your ideal venue needs a bit of TLC, but not many of your guests will actually notice all of the effort you put into making the venue more appealing.
Even at the perfect venue, guests barely even notice what the centerpieces, flowers and decor looks like.
They care more about food, dancing and the atmosphere.
So, before you decide on splurging on extras, for one day, and to make something look more beautiful, think about what else you could do with that money in stead.
6  |  Transport and cleaning up afterwards
Most brides tend to forget about the giant task of cleaning up after the wedding.
Normally, the venue staff takes care of all the things that needs to be tidied up for the venue.
But if you've hired marquee tents, structures, extra decor and so on, all of it needs to be cleaned up and returned to the owners.
Also, if you're on a tight budget, you might not be able to afford professional cleaning services or a team that can help you with this.
Think about this before you hire in a ton of extras.
7  |  Insurance
We've already talked a little bit about venues having insurance, but this is really important, especially if you want to "transform the venue".
Check with your venue coordinator to see if they cover most things, because anything can go wrong.
You definitely don't want to remember your special day as the day your giant outdoor flower podium collapsed and damaged some property.
8  |  Visibility
If you're going to make an effort to add additional things to your wedding venue, consider how much of it will actually be seen in broad daylight.
Considering when your ceremony ends, plus cocktail hour, and then the actual time your wedding guests will get to enter the reception hall.
Some things, like table decor for example, needs extra lighting to be seen in the dark. Also, don't forget that the venue might dim the lights later on in the evening when guests want to dance and mingle.
9  |  Will guests actually use it?
If you decide to hire furniture and booths, or props for your wedding day for guests to enjoy, think about how many of them will actually use it.
Also think about things like the weather, before you hire outdoor furniture and lawn games. And then take into account the space needed for all of these extras.
Maybe your guests will rather dance and be inside the reception hall, than lounging outside on the couches and ottomans.

There are so many different things you can do at a wedding venue, to turn it into the ideal place for your special day. Remember to look on Pinterest for some spectacular ideas, especially for draping.
Don't forget to follow our social media accounts for updates and get notified of new helpful posts!
Now Read: How to find the perfect wedding venue