This page contains affiliate links, which means that I will earn a commission – at no cost to you – if you decide to buy something through that link. For more info, please read my disclaimer & privacy policy page.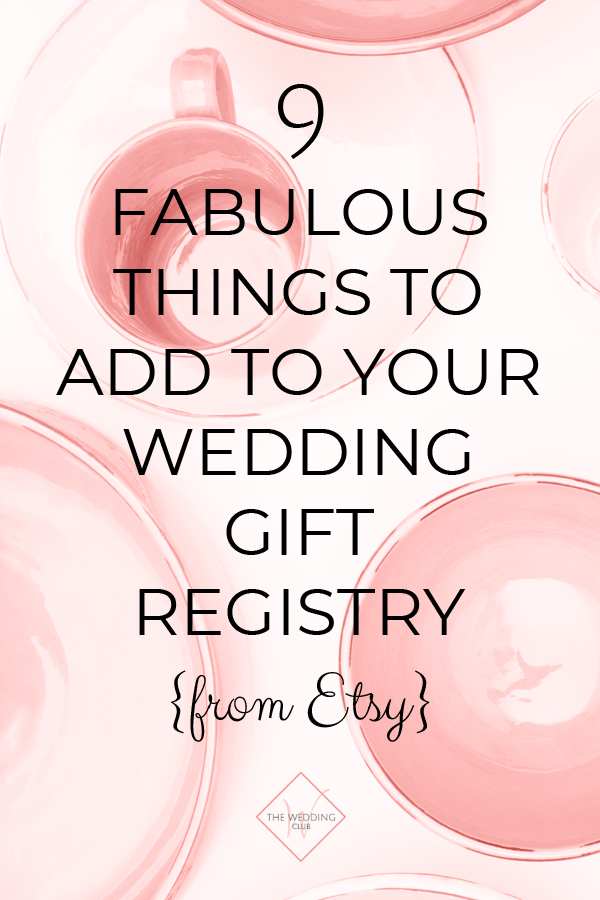 Setting up your wedding gift registry is one of the more fun things to do when you're planning your wedding, along with discussing your wedding budget. (just kidding!)
Even so, it is important that you actually do set one up. Purely because most of your wedding guests will have no clue what to get you.
This is when they default to the usual gifts that you buy for a newlywed couple. Do you actually need another set of serving tongs? Or a cute "his & hers" [insert cliché item here]? I didn't think so…
Except! If those things come from a very special place called the Etsy Design Awards. Then all you should say is "yes" – all the way!
For the first time ever, Etsy is showcasing only the best handmade and unique items from designers and creatives around the globe, with superb shops, this year. These include (among plenty others) wedding items, home décor items, fashion things and gorgeous must-haves!
This is perfect for the bride who is a little clueless about what to add onto her wedding registry list + the bride who already owns everything.
Let's dive right in!
9 Fabulous things to add to your Wedding Gift Registry from Etsy
If you love to entertain guests in style, then you should definitely add special dinnerware and crockery to your wedding gift list.
I love the idea of bringing signature items to the table, especially if they are handmade and unique! Add something rustic, such as this gorgeous ceramic set from WurzelWeltRaum, and serve equally rustic and artisinal dishes to add flair to your dinner party.
2 | Jewelry holders & dishes
Since you have acquired new (and probably expensive) bling, take care of it when you wash the dishes or do your evening routine.
Ring dishes are a great way to keep your special jewelry safe – also, making it part of your home décor is an added bonus. Opt for something spectacular, such as this glass succulent wedding ring holder by Waen. The best part: there are many colors to choose from! ​
Whether you're the extreme tree-planting, organic soap-using, plackard yielding environmental activist of the year…
or not…
You really should consider contributing in one way or another – just by making small changes to your lifestyle.
For example, replace plastic drinking straws with reusable alternatives, such as these simply stunning glass straws by BrookDrabotGlass. They come in various colors, with a cleaning brush and gift box. Quaint!
Since we are on the topic…
You can support the cause even further (if you want to), by adding more eco-friendly items to your wedding registry.
Such as these awesome Ethical Magic Sliders by EatingTheGoober! Remember to mention shoe sizes on your wedding registry for you and your hubby. (Not to mention how perfect they are for your honeymoon!)
Most people forget that there are some couples who love to be outdoorsy and in nature. And there's a whole new world of wedding gifts to add to your list in this department – if this is you!
Make your garden all cute and pretty with something unique, like this Bee Hotel from Wuddl. Multiple colors to choose from. (I don't know about you, but I think this is truly worth an Etsy Design Award! How innovative!)
6 | Useful items for your wedding registry
Obviously you can't add hundreds of décor items to your wedding registry (what a shame), so make sure the items that you do add, serve a purpose.
I love practical things that are also nice to look at. For example, something as simple as you & hubby's daily water routine can be carried out by this lovely Ceramic Water Jug by Maribray. Handmade and gorgeous, I'd say!
7 | Ultra special memorabilia
This is definitely something unique to add to your wedding gift registry. Help guests to get you something special to remember the day by.
 Kudos if you can hang it in the house for them to see every time they come and visit. Like this Paper cut personalized wedding venue by ThePaperRosesCo. Plus it comes framed and ready to hang!
If you and/or hubby are the artistic (and travelling) kind, why not add something to your wedding registry in this category?
Guests would love to know that they've gotten you something that you are actually using! How about this beautiful and practical Artist's brush leather roll by Pliplopcom?
9 | Pets are family, too...
Pet-loving wedding guests will appreciate that you've added something on your wedding gift list for the fur-babies!
I have seen so many cute pet related gifts that I adore, I had difficulty in deciding which one to feature here. But I must say, my all-time favorite is this custom ceramic pet portrait figurine by RyabaVoshCeramics. Send your pet photo along to this Etsy shop owner to have your special pet figurine made! #StoleMyHeart
More wedding registry favorites for the home
You will soon realize, as you pick items for your wedding registry, that it will consist mostly of things for your new home (and life) as a newlywed couple together.
With that being said, there's no such thing as an "incorrect" wedding registry list. If you feel you want to add mostly décor items – do it!
Have a look at a few additional items I've added here, from the Etsy Design Awards Finalists!
How to set up your wedding gift registry
1. Choose your gifts by price range
You can't really add only the highly priced, top-of-the-range kind of items to your wedding registry. Not everyone can afford it. You might get one of those items on your list, if you're lucky.
The best way to handle this is to add gifts by different price ranges: Decide on the number of gifts per price range, based on your total wedding guest count.
I have created the Price Range cheatsheet and added it to the wedding registry kit – this will help you work out the right number of gifts to add to your list.
2. Add what you really need
It's easy to get caught up in all the pretty things for your home / new lifestyle together. But think of the things you really need, not just the stuff that you want.
Rather add the kind of gifts that will be useful, such as a kitchen appliance or curtains for the guest bedroom. Of course you can add some luxuries too, if you really want to.
The challenge is to figure what it is that you really have a need for, and add it to the list. In the wedding registry kit, I have added a list of over 30 common items you might need, as well as a list of unique wedding gift ideas.