Congratulations on your upcoming nuptials! Your big day is fast approaching, and we know you want every detail to be just right. When it comes to selecting your wedding venue, it's like finding the perfect puzzle piece that completes the picture of your dream wedding. But we get it – the process can feel a bit overwhelming. That's why we're here to help you navigate through the exciting world of wedding venues with ease and confidence.
Picture this: you, your beloved, and your loved ones gathered in a place that reflects your unique style and sets the stage for unforgettable memories. It's not just about finding any venue; it's about discovering the one that feels like home, that speaks to your personalities, and effortlessly sets the vibe for a day filled with love and joy.
So, grab a cup of coffee, sit back, and relax as we take you on a journey through the nine essential things you should know when picking your wedding venue. We're going to keep it casual, fun, and informative, giving you the insider tips and tricks you need to make an informed decision without losing your mind.
From funky urban lofts to cozy countryside barns, we've got you covered. We'll help you consider the important factors, like the size of your guest list, your budget, and even that unpredictable weather that might throw a curveball. And hey, we'll share some real-life stories, reviews, and recommendations from couples who have been there and tied the knot.
So, get ready to embrace the adventure of finding your perfect wedding venue. We're here to be your wedding venue besties, offering guidance, inspiration, and a virtual cheerleading squad. Let's dive in, find the venue that makes your heart skip a beat, and create memories that will be etched in your minds forever. It's time to get this wedding planning party started!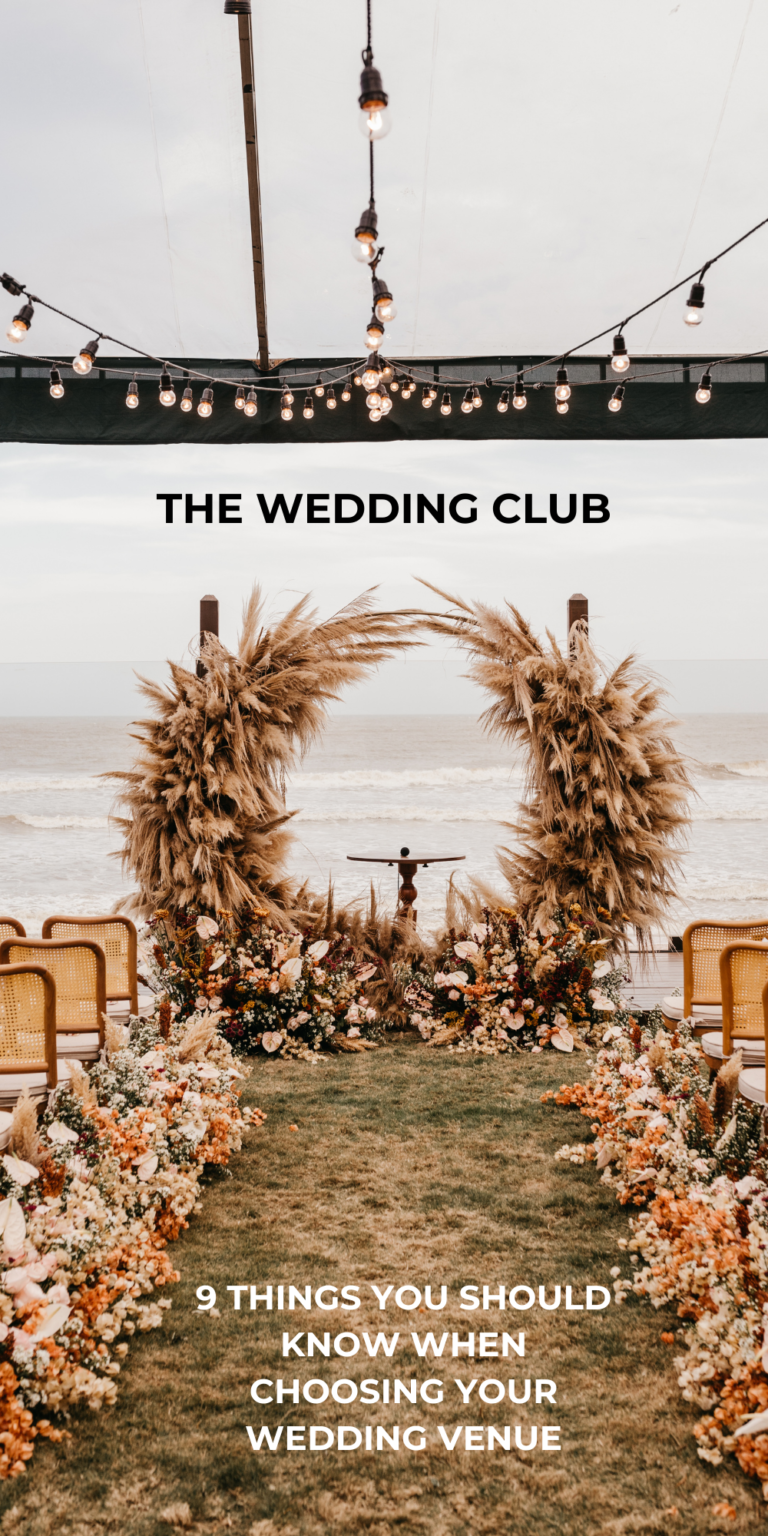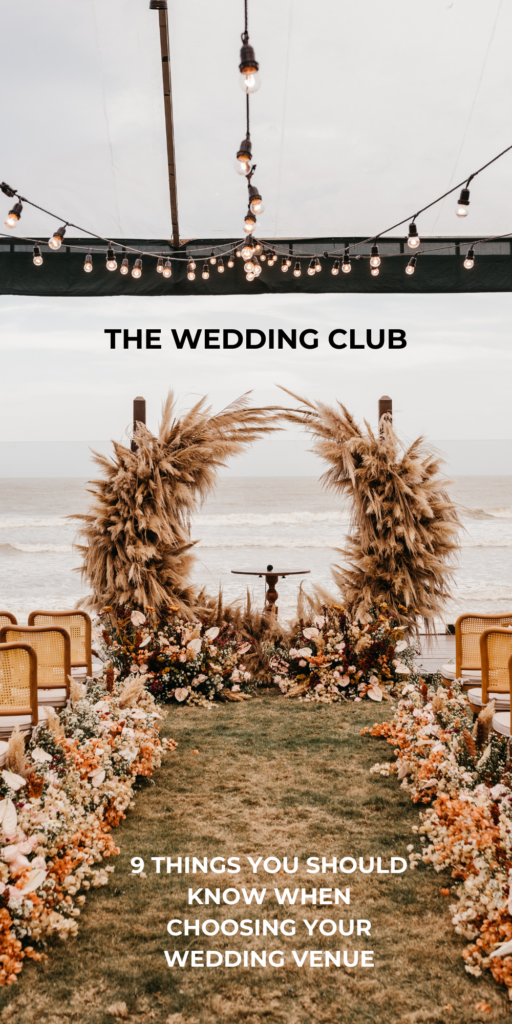 Nine essential tips for choosing the right wedding venue
Though each venue is different, here are some things you should know before you choose your wedding venue.
1. Your venue coördinator
It is very important to consult your venue coördinator about any changes or additions you want to make to the venue.
The venue coördinator is the person in charge of the venue, who you will correspond with about all of your wedding arrangements. Take note: This is NOT your wedding planner. The venue coördinator mainly makes sure that all of the behind-the-scenes logistics, such as food, goes smoothly on your wedding day.
Venues don't just allow any bride to make any changes she wishes, that's why you should speak to your coördinator first about what is allowed, and what isn't.
How do I know if my venue coördinator is any good?
To determine if a venue coordinator is good at what they do, a bride can assess the coordinator based on several things:
Responsiveness: A good venue coordinator will be prompt and attentive in their communication. They should respond to inquiries, emails, and phone calls in a timely manner. Quick and reliable communication is essential for a smooth planning process.

Knowledge and Expertise: A competent venue coordinator will possess a strong understanding of their venue and event planning in general. They should be able to answer your questions, offer guidance, and provide recommendations based on their experience. Their expertise should extend beyond just the venue itself to various aspects of event logistics and coordination.

Flexibility: A good venue coordinator should be flexible and able to adapt to changing circumstances or requests. They should be open to discussing alternative options, accommodating special requests within reason, and finding creative solutions to any challenges that may arise during the planning process.

Attention to Detail: An effective venue coordinator pays attention to the details. They should have a keen eye for spotting potential issues or areas that need further clarification. They should take note of your specific requirements, preferences, and any special considerations to ensure that they are properly addressed.

Organization and Timelines: A competent venue coordinator will have excellent organizational skills. They should be able to provide you with a clear timeline of important milestones, deadlines, and deliverables throughout the planning process. This includes tasks such as contract signing, vendor coordination, and event setup.

Professionalism: A good venue coordinator should conduct themselves in a professional manner. They should be courteous, respectful, and maintain a positive working relationship with you and other vendors involved. They should be reliable and deliver on their commitments.

Problem-Solving Abilities: Challenges and unforeseen issues can arise during the planning process. A strong venue coordinator should possess problem-solving skills and be proactive in finding solutions. They should be resourceful, calm under pressure, and focused on resolving any issues that may arise.

Client Testimonials and Reviews: Check for client testimonials and online reviews of the venue coordinator and their services. Feedback from previous clients can provide valuable insights into their performance, professionalism, and overall satisfaction with their services.

Gut Feeling and Personal Connection: Trust your instincts. A good venue coordinator should make you feel comfortable, listened to, and understood. It's important to establish a rapport and have a positive working relationship with them throughout the planning process.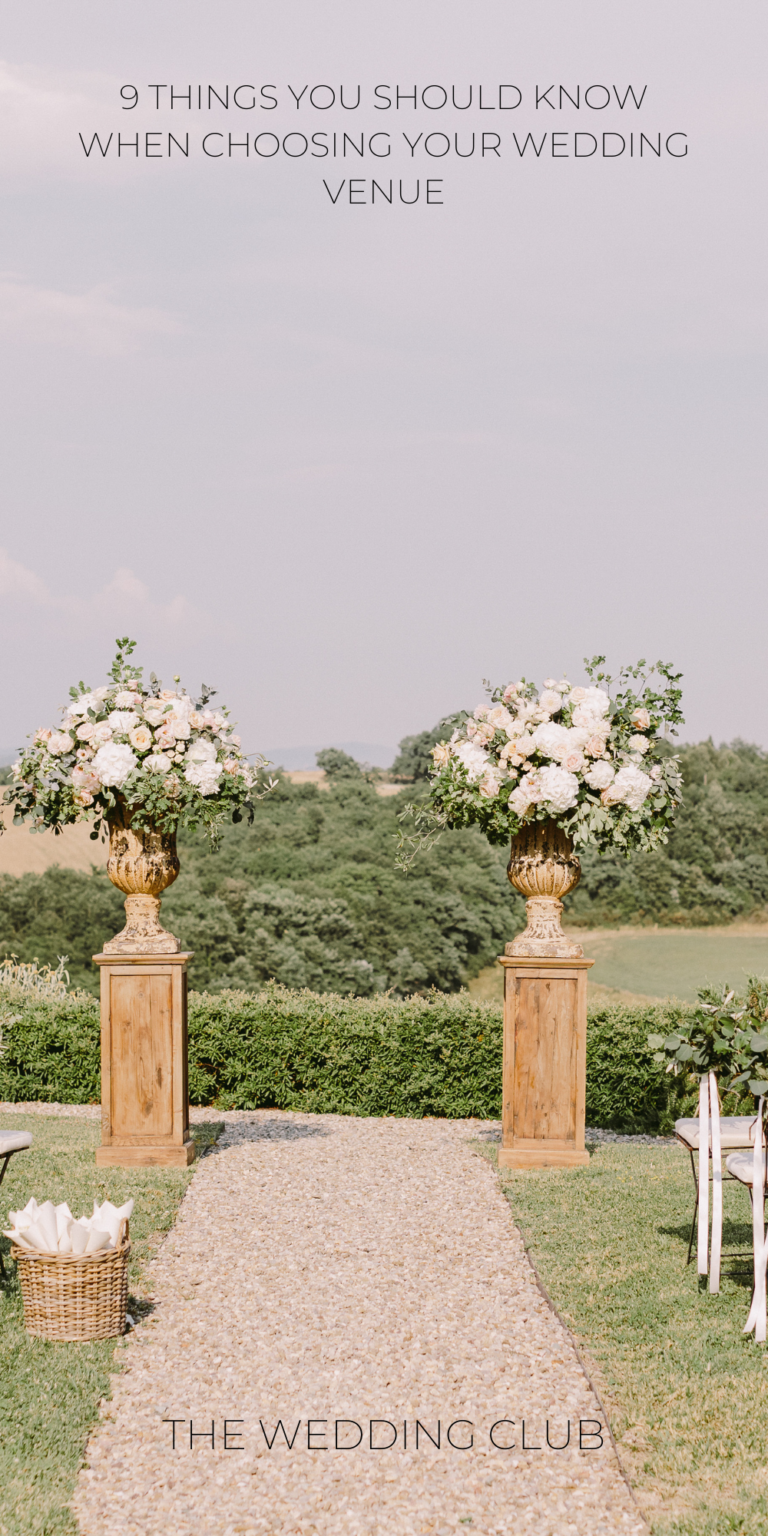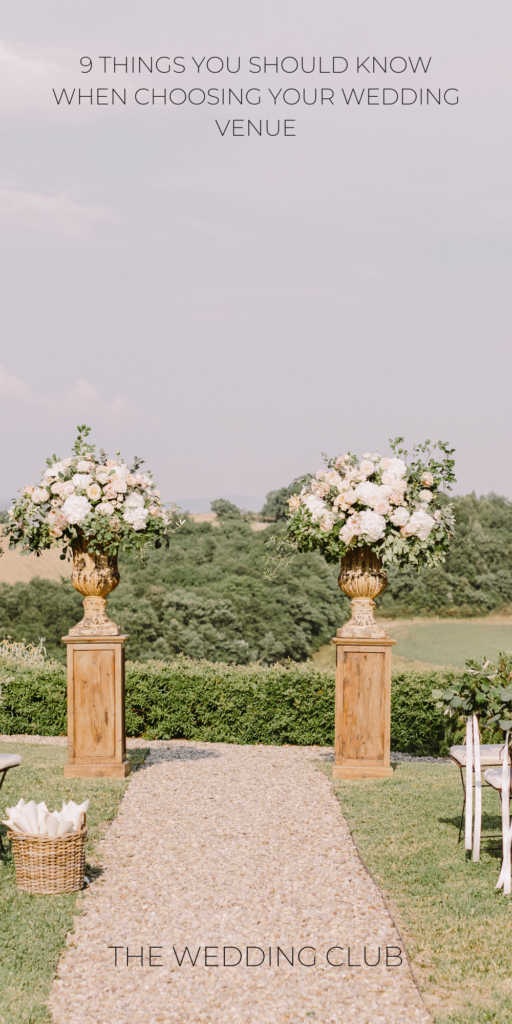 Although venues have insurance in place, like most larger businesses do, not all of them allow the use of candles because it is a huge fire risk.
Consult your venue coordinator about the use of candles in your decor and at your reception venue. Also, ask about what decor they already have in stock for you to hire.
Pro tip: When a wedding venue doesn't allow the use of candles, there are several alternative options that a bride can consider to create a romantic and ambient atmosphere. Here are some ideas:
LED or Flameless Candles are a popular substitute for real candles. They provide a similar soft, flickering glow without the fire hazard. 

Fairy Lights or String Lights

Lanterns: Decorative lanterns can serve as beautiful centerpieces or aisle markers. Opt for lanterns with LED lights or battery-operated candles inside, which provide a soft glow without the risk of open flames. 

Uplighting: Uplighting involves strategically placing colored lights around the venue to create a warm and romantic atmosphere. 

Submersible LED Lights: If your venue has water features, such as fountains or ponds, consider using submersible LED lights. 

Projection Lighting: Projection lighting allows you to display patterns, images, or even personalized monograms on walls or ceilings. This creative lighting technique can set the mood and create a unique atmosphere without the need for candles.

Floral and Greenery Decor: Embrace the natural beauty of flowers and greenery to enhance the ambiance. Use lush floral arrangements, cascading foliage, and floral installations to create a romantic atmosphere without relying on candles.

Fire Pit or Fireplace: If your venue has an outdoor space, consider utilizing a fire pit or fireplace. The warm glow of a crackling fire can add a cozy and intimate ambiance to your wedding celebration.

Crystal or Glass Decor: Incorporate crystal or glass elements into your décor.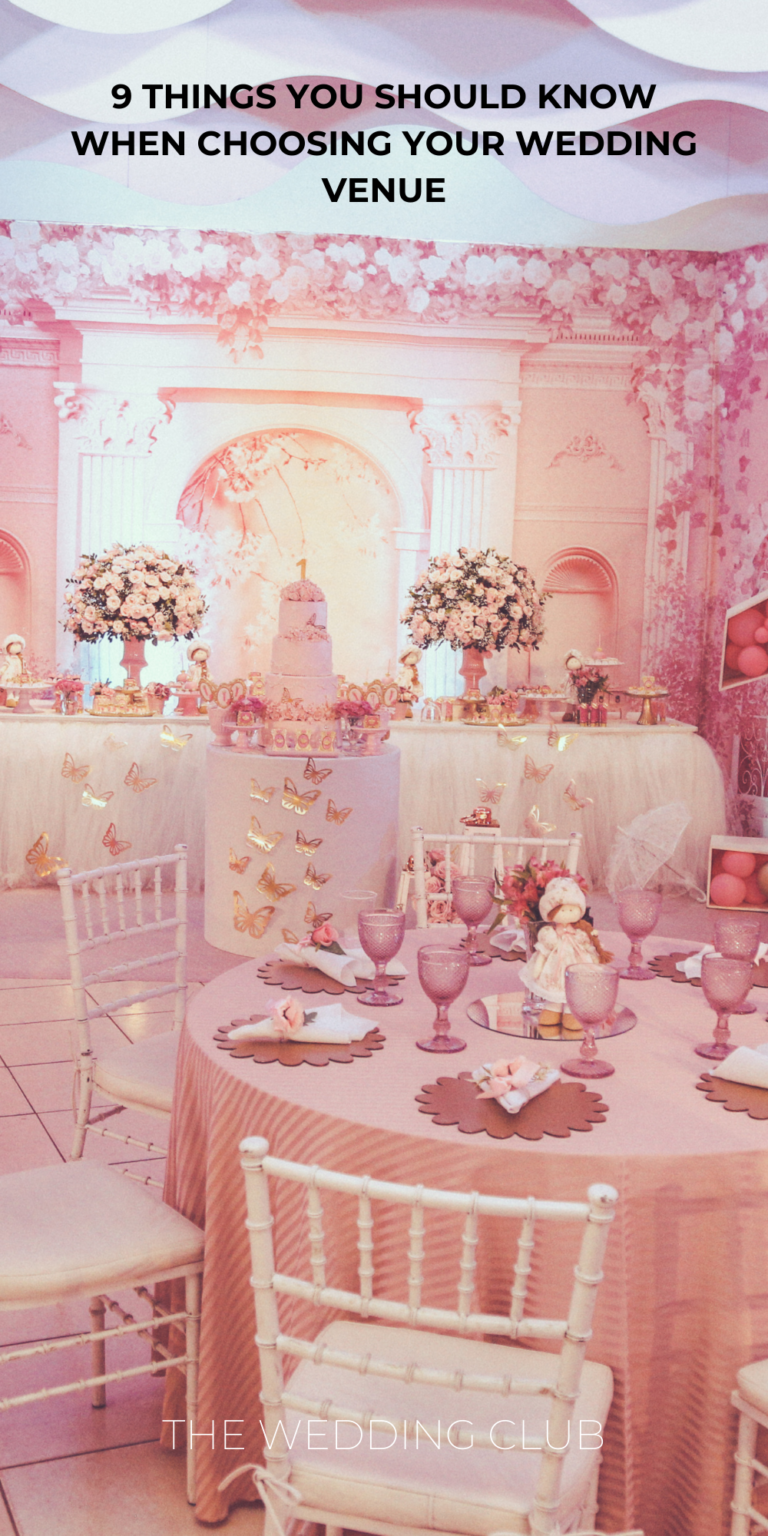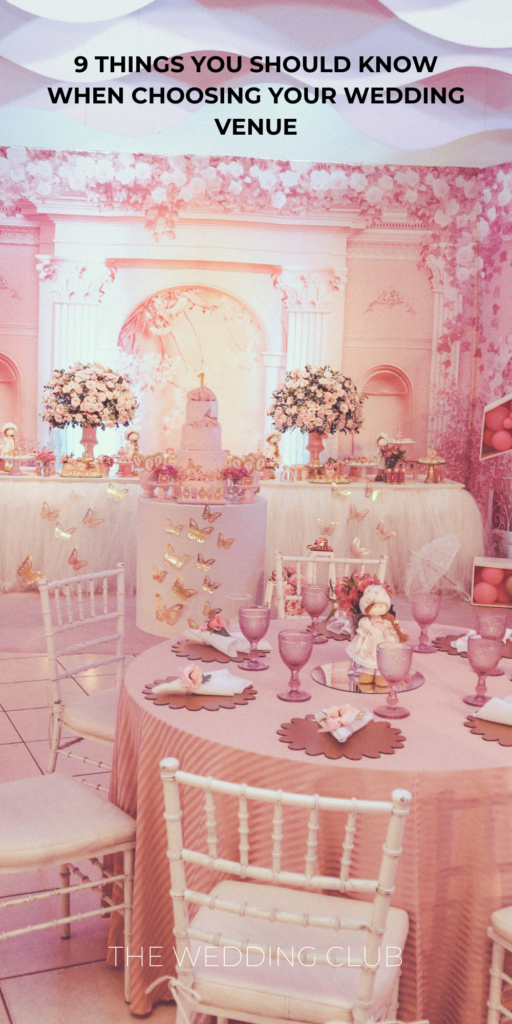 Not all venues are wheel chair and disability friendly. You should definitely take this into account if you have a large guest list and if you know of guests who will need special requirements at the wedding venue.
I once did an event for a large birthday party at one of the wedding venues in the area. The couple decided to do a cowboys-and-indians-themed party, and even hay bales were brought in from a local farm.
One of the structures was a set of barn doors that was free-standing but had a piece of wood that goes onto the floor underneath. It certainly wasn't wheelchair friendly, and even though I informed the hosts about this, they didn't care much about it.
We had to take turns moving the barn door stand as two people, both in wheelchairs, wanted to go in and out of the venue hall. And it was, to our regret, the only door to use which didn't have a set of stairs.
Take this scenario into account when deciding to hire structures and features which might make your venue hall exits inaccessible to disabled guests.
That being said, also take into account if your venue is accessible to these guests, too, and not just when it comes to decor.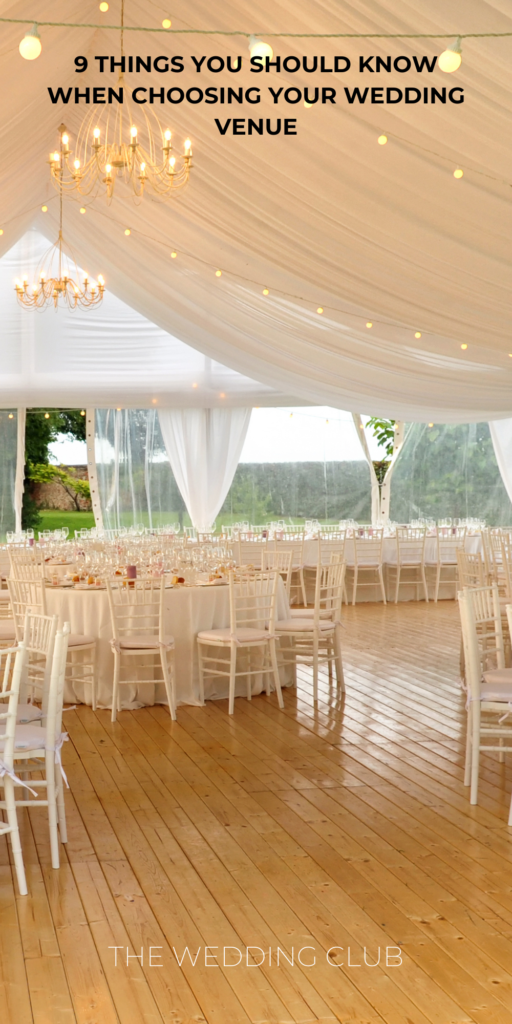 Before you go on a hiring spree for props, features, structures, draping and the likes, have a look at the expenses.
If it works out more expensive in the end than just getting the perfect wedding venue, you should definitely rather go for the latter.
Tip: If you still don't have a decent wedding budget in place, or a wedding planner for that matter, have a look at the wedding planner templates.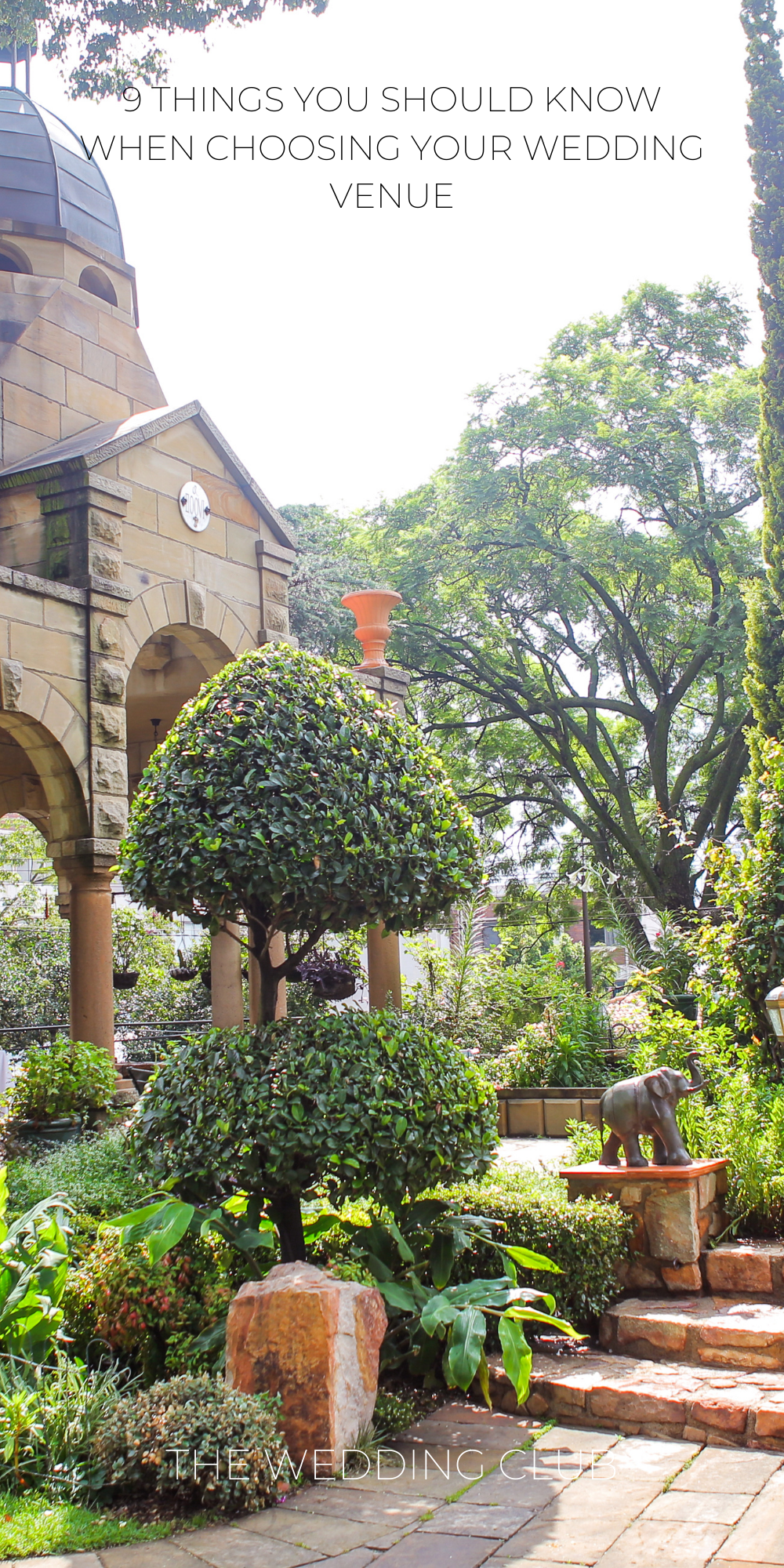 5. Guests won't always notice
You might think that your ideal venue needs a bit of TLC, but not many of your guests will actually notice all of the effort you put into making the venue more appealing.
Even at the perfect venue, guests might barely even notice what the centerpieces, flowers, and decor looks like.
They care more about food, dancing, and the atmosphere.
So, before you decide on splurging on extras, for one day, and to make something look more beautiful, think about what else you could do with that money in stead.
6. Transport and cleaning up afterwards
Most brides tend to forget about the giant task of cleaning up after the wedding. Normally, the venue staff takes care of all the things that need to be tidied up for the venue.
But if you've hired marquee tents, structures, extra decor, and so on, all of it needs to be cleaned up and returned to the owners.
Also, if you're on a tight budget, you might not be able to afford professional cleaning services or a team that can help you with this.
Think about this before you hire a ton of extras. Maybe choose a venue where hiring all the extras isn't that necessary?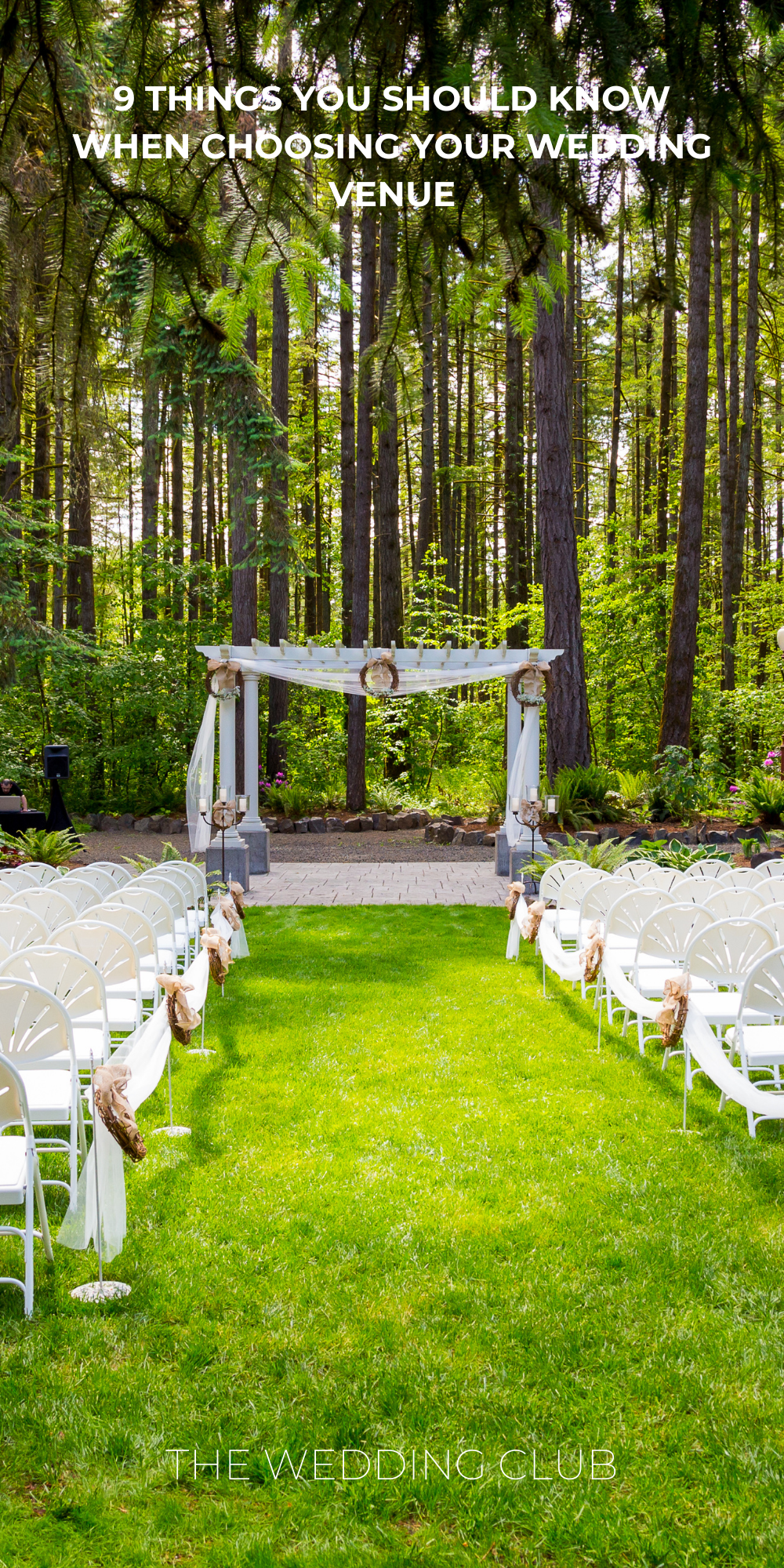 We've already talked a little bit about venues having insurance, but this is really important, especially if you want to "transform the venue".
Check with your venue coordinator to see if they cover most things, because anything can go wrong.
You definitely don't want to remember your special day as the day your giant outdoor flower podium collapsed and damaged some property.
If you're going to make an effort to add additional things to your wedding venue, consider how much of it will actually be seen in broad daylight.
Considering when your ceremony ends, plus cocktail hour, and then the actual time your wedding guests will get to enter the reception hall.
Some things, like table decor for example, needs extra lighting to be seen in the dark. Also, don't forget that the venue might dim the lights later on in the evening when guests want to dance and mingle.
Tip: If you still don't have a decent wedding planner in place, including one that'll help you with choosing the right venue, have a look at the wedding planner templates.
9. Will guests actually use it?
If you decide to hire furniture and booths, or props for your wedding day for guests to enjoy, think about how many of them will actually use it.
Also think about things like the weather, before you hire outdoor furniture and lawn games. And then take into account the space needed for all of these extras.
Maybe your guests will rather dance and be inside the reception hall, than lounging outside on the couches and ottomans.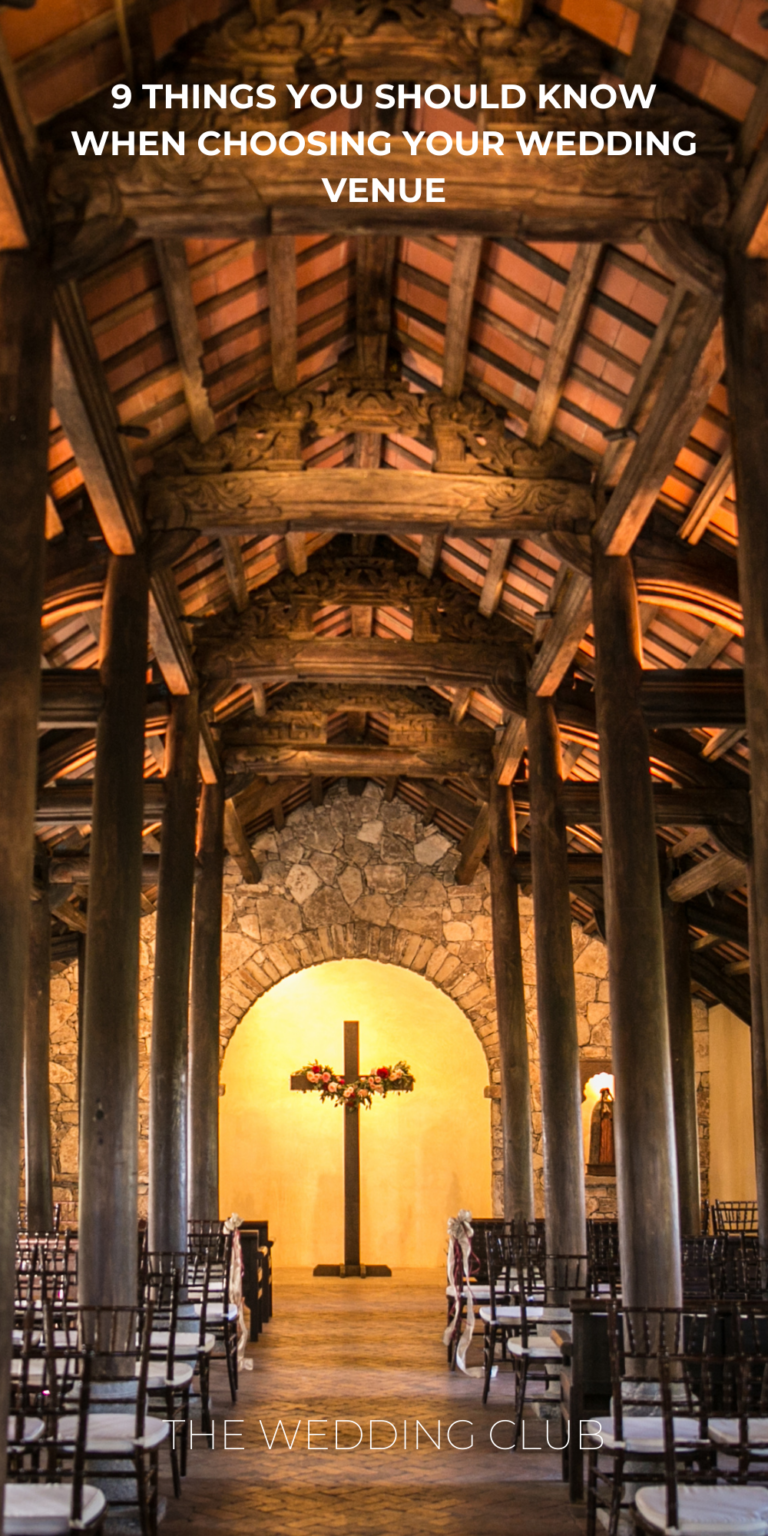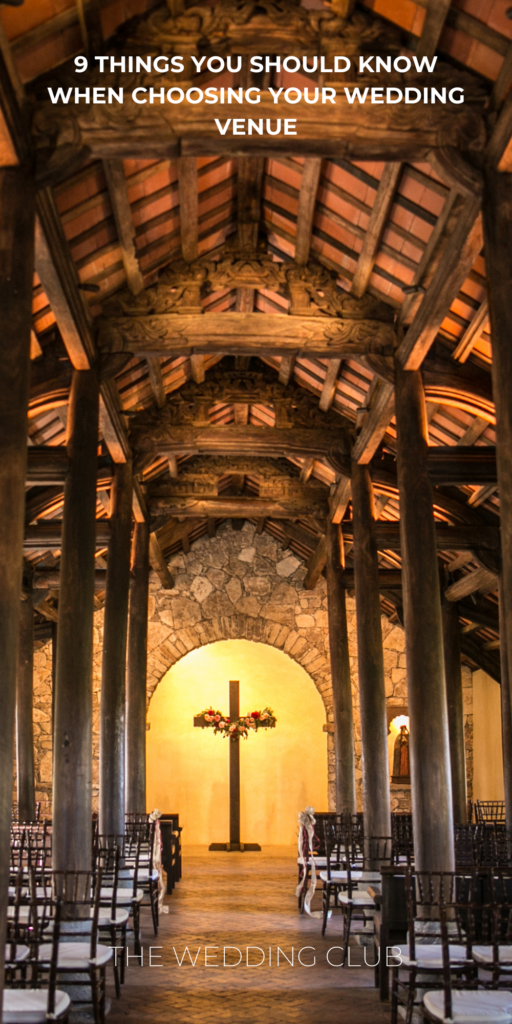 Bonus tips for choosing the right venue
Here are some extra tips to consider when choosing the right wedding venue:
Visit Multiple Venues: Don't limit yourself to just one venue. Visit multiple options to compare and contrast their features, layouts, and overall ambiance. This will help you make a well-informed decision and ensure you find the venue that truly resonates with your vision.
Consider the Season and Time of Day: Take into account the season and time of day you plan to have your wedding. Outdoor venues may be perfect for a spring or summer wedding, but you'll need to ensure there are suitable indoor alternatives in case of inclement weather. If you're having an evening wedding, consider the lighting options and how the venue will appear after dark.
Parking and Accessibility: Assess the parking facilities and accessibility of the venue for both you and your guests. Sufficient parking space or nearby parking options are essential to ensure the convenience and comfort of your attendees. Additionally, consider the accessibility for guests with disabilities and whether the venue can accommodate their needs.
Catering and Menu Options: If the venue provides in-house catering, request a tasting session to sample their menu offerings. Ensure that the cuisine aligns with your preferences and dietary requirements. If the venue allows outside catering, inquire about any restrictions or recommended vendors to ensure a seamless culinary experience.
Venue Restrictions and Flexibility: Familiarize yourself with any restrictions imposed by the venue, such as noise curfews, décor limitations, or vendor exclusivity. Understand their policies and ensure they align with your plans and expectations. Flexibility is also important; see if the venue is open to customization and accommodating any special requests you may have.
Acoustics and Sound System: Pay attention to the acoustics of the venue, especially if you plan to have live music, speeches, or a DJ. A venue with good sound quality and a reliable sound system will enhance the overall experience for you and your guests.
Guest Experience and Flow: Consider the overall flow and layout of the venue. Ensure there is ample space for guests to move around comfortably, including areas for socializing, dancing, and seating. You want to create an enjoyable and seamless experience for everyone attending your wedding.
Venue Coordinator or Event Manager: Inquire about the availability of a venue coordinator or event manager. Having a dedicated point of contact at the venue can be immensely helpful in coordinating logistics, answering questions, and ensuring a smooth event execution.
Budget Considerations: Understand the venue's pricing structure and payment terms. Inquire about any additional fees, such as service charges, taxes, or overtime charges, to accurately evaluate the total cost. Be transparent about your budget and ensure the venue aligns with your financial parameters.
Trust Your Instincts: Ultimately, trust your instincts and choose a venue that truly resonates with you and your partner. Consider the feelings and emotions the venue evokes and whether it aligns with your wedding vision. Your intuition plays a significant role in finding the right venue for your special day.
By keeping these additional tips in mind, you'll be better equipped to choose the perfect wedding venue that matches your style, accommodates your needs, and creates an unforgettable experience for you and your loved ones. Happy venue hunting! Another great way to help you choose the perfect venue is by using the
wedding venue workbook
, which is included in the
wedding planner
.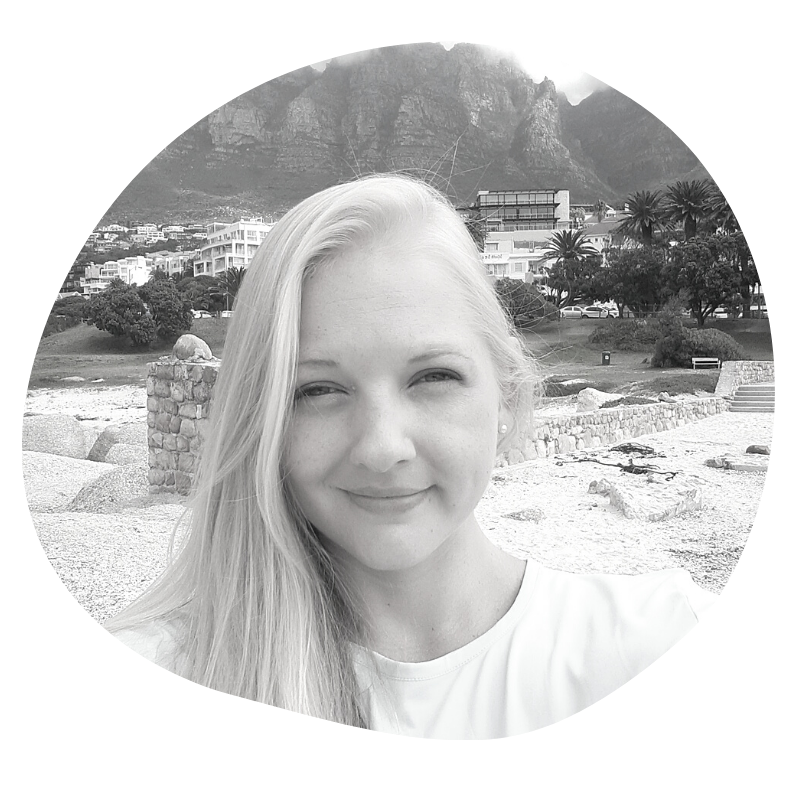 Born in Johannesburg, South Africa, Tanya Viljoen has been an active contributor and planner in the wedding industry since 2016. When not writing useful content for brides and wedding professionals, she can be found designing templates for her Etsy shop, TWCprintables.