The market is flooded with groom gifts, no doubt. So it's only natural that you may struggle to find that one gift that won't end up in a random drawer or a box in the garage.
Finding essential groom gifts, whether you are the bride, a friend, family member, colleague, or whoever, shouldn't be such a challenge in the age of online shopping!
So, let's have a look at some ideas!
13 Essential groom gifts you need to buy right now
First off, before you start your shopping journey, think about what he/they really need. What does a typical day in their life look like? What's their style?
It's not uncommon to try and gift-shop for someone who has everything, really. And personally, I've found, it's easier to shop for women than men unless you buy the usual socks, grooming kits, and what have you.
However, I have discovered an amazing online shop 😍 that fits most lifestyles (and their items are not only for men, so, yay!)
Let's start off with the Out-The-Door-Bundle. It's the type of gift you give to that one person who is always active, out-and-about, commuting or driving where they need to be, and wants to look good while doing it. Simply put, this is the essential groom's gift that has it all, and it will make anyone's morning routine easier.
Okay. Most people will have the basic essentials when going out: wallet, keys, and phone. You can probably add sunglasses to this if you actually remember to grab them (scroll down to see how to solve that problem…) 
The bestseller set includes the Wally Bifold 5.0 (currently a best-selling item sold by Distil Union) and the ever-so-nifty KeyLoop Kit, which just makes life so much easier – and also, gets people to ask you where you got that from…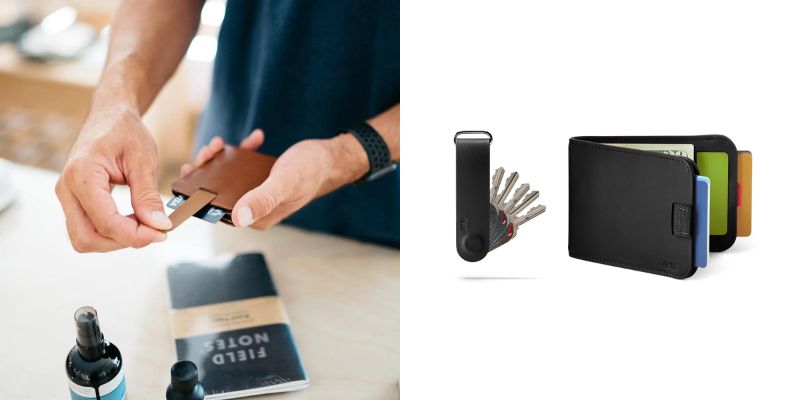 With the KeyLoop Kit, you can "easily organize your keys in a sleek leather cover and swap or share them without any tools required. Magnetic powers also let you stick 'em to any magnetic surface: Plunk it on the mailbox while you sort through bills, or on the fridge while you make a sandwich – it'll be there, ready to grab next time you're headed out the door." – Distil Union
As Distil Union would put it, you don't need to try and find your keys/wallet/item in the couch cushions anymore!
The Ferris system makes mornings 100% (okay, maybe like 88.33%) easier by being that nifty thing you never knew you needed. It is compatible with almost everything else sold by them and ensures that all your daily essentials are in one place for you to easily grab and go. It's modern, minimalist, magnetic, and mountable.
(Now that I think about it, I should probably invest in one, too!) 🏃‍♀️
Distil Union will tell you that these are "problem-solving shades that feel great on your face". And in terms of groom gift ideas, these will look good on a bright and sunny wedding day, too. 
Wait, problem-solving?
Yup! These sunglasses include the MagLock system which means that they have tiny magnets which help them clip onto your shirt, and mount onto anything magnetic (even the Ferris ModStation above).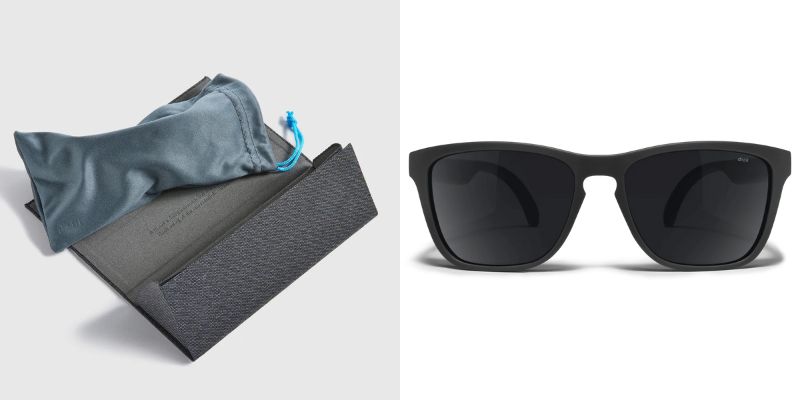 "Meet Folly: The laidback seafarer in an iconic wayfarer style with a keyhole bridge named after Charleston's surf haven Folly Beach. With polarized lenses and a flexible shape-memory frame, these sunglasses will become your ultimate go-anywhere accessory well beyond the summer months." – Distil Union
Yes, I know, we did touch base on this sleek wallet at number 2, but honestly, I thought it deserves a little more limelight in this post.
On the product page, you will find an image comparing your regular fat wallet with this modern one. Because face it: we all know that one guy who could do with some downsizing when it comes to general wallet etiquette.
If that guy just happens to be the groom, this is the gift you should get!
Let's talk about the Wally. Not only does it slim down your pockets, it has enough space for all your money essentials. Version 5.0 features pull-tab card access with the trademark MagLock™ squeeze-to-open card pockets and snap-shut lay-flat design.
And just like Wally, the KeyLoop Kit also deserves its own little spot in this post. It is a total game-changer!
Distil Union mentions that the best keyring isn't a keyring at all…
With this kit, you can easily add, share, and take away keys – no tools required! (And no need to break any nails by trying to open a standard keyring 💅).
It comes in many colors and you can add an additional FobRing to it as well for all those bulky things like car key fobs (see next).
Not all keys are alike. And also, car companies thought it well to make an extra bulky keyfob that's just plain excessive for an already crowded set of keys.
That being said, Distil Union thought it well to add another nifty thing to their awesome KeyLoop Kit (see previous). The FobRing is just as easy to remove from the kit and is quite useful for anything you want to add to your set of keys that isn't a normal, flat key.
They also made the KeyMod FobRing, which has that magnetic thingy we've now come to know and love!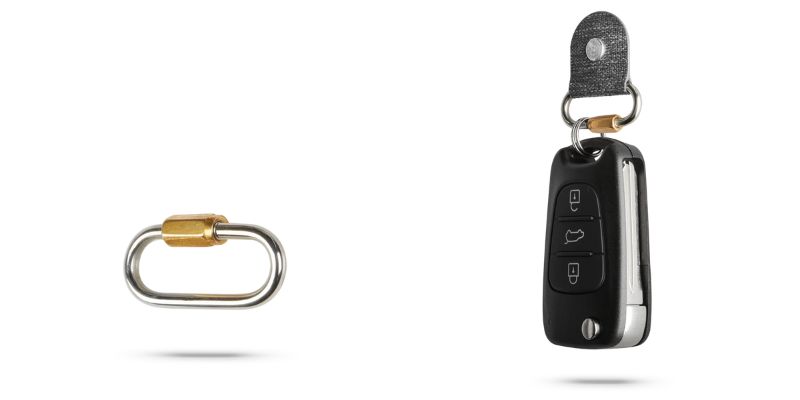 "Custom made for your Ferris KeyLoop, the simple stainless-steel FobRing slides on and off the leather loop for easy key sharing.
The KeyMod FobRing snaps securely into any Ferris cover. The brass hex-nut unscrews for easy on-and-off of your car fob or other large keyrings. Also allows you to strap to a bag or molle panel for an easy Ferris anchor point." – Distil Union
We already had a brief encounter with the Ferris ModStation at number three, but did you know, there is actually a full bundle that comes with all the things you obviously need to have right now?
That's right!
Go full out  and grab this high-in-demand system for any personality type who:
constantly loses or misplaces things
need a catch-all to keep everything in one place
likes modern, minimalist, and sleek gear
wants to stay up to date with the latest trends
likes sustainably sourced leather items that get better with age
has an unhealthy affinity for magnets
never spends money on themselves
doesn't feel the need to replace their wallet/keychain/item that's falling apart
needs some convincing that it's time to replace their sad-looking wallet/scratched sunglasses/item…
(Insert another personality trait here)
This is an easy option as a gift for any type of groom!
"This bundle includes everything you need to get started on that optimized out-the-door routine. For a thoroughly magnetized everyday carry, consider adding a pair of MagLock Sunglasses to "complete the look" as they say." – Distil Union
What better essential groom gift to give than something that can be used every single day?
Think about it. In the last two years of mass changes taking place in workplaces and more people working remotely, more screen time is being spent each day to get things done.
Also, this being a set makes it even more of a thoughtful gift for the groom: In this set, you'll get Distil Union's best-selling Wally Junior with MagSafe, Stanley Stand (see #13), and a pair of Cooper ScreenSavers.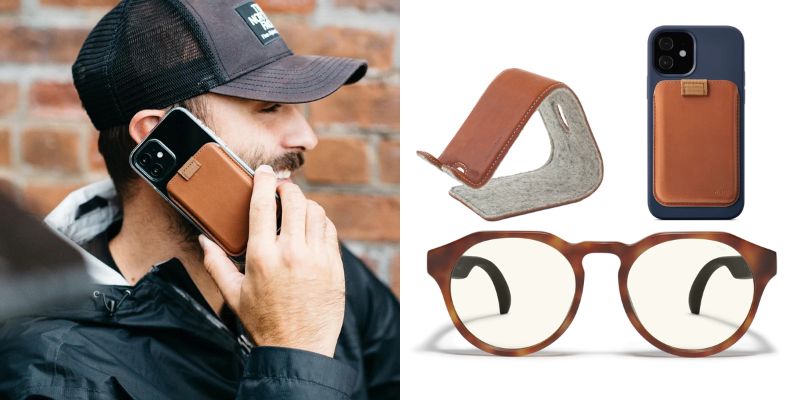 "If you keep your iPhone on you 24/7, this set is right up your alley! Wally Junior gets the Apple MagSafe treatment, lending card-carrying convenience to your iPhone 12 or 13. ScreenSaver™ glasses with blue-light blocking EasyScreen lenses (in our unisex Cooper style) reduce glare and eyestrain caused by one of the many screens you scroll or stare at day and night (hey, no judgment)." – Distil Union
Our star at number ten is the fantastic ModWallet. Not only does it have space for 14 cards (or more if you add the additional card sleeve), it has a self-adjusting money clip and comes in that sustainable leather we've been talking about… Also: magnets.
The stylish rancher shape we've adored for decades. Distil Union has delivered another set of sunglasses embedded with their magnetic MagLock tech and added some scratch-resistant lenses while they were at it.
They're polarized and come with a case.
It is super slick and stylish and makes a great gift for the groom, and possibly the groomsman, too. However, these sunglasses have quite a unisex design, so they suit almost everybody.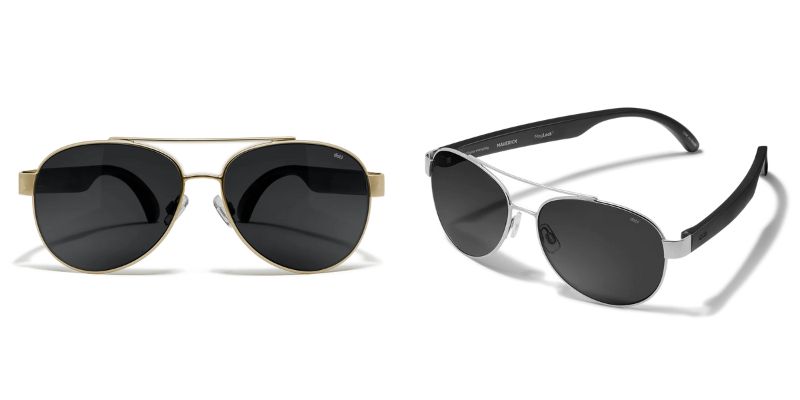 "Cruising the beach, on the go, off the beaten path, or on the back of a bucking bronco (hey, you never know), wear Mavericks with confidence and comfort. And like all of our MagLock™ sunglasses, hidden neodymium magnets clip securely onto your shirt and instantly mount to anything magnetic (like the fridge)." – Distil Union
Many iPhone users will love this, so it is a wonderful gift idea for any occasion and time of year, and not just as a groom's gift. Why not get one for yourself, too, while you're at it?
"Always have your essentials close at hand while protecting your iPhone in a slim bumper-style case with an integrated Wally Pull-Tab™ secret wallet. Simplify your daily carry with the original leather wallet case that no one but you knows is a wallet…" – Distil Union
Even though this one is included in the screen-time set at #9, maybe you'd like to buy it separately or add it to something else as a gift for the groom. 
The Stanley Stand is an incredibly stylish addition to any desk or bedside table and holds your phone while you focus on something else. 
You'll also receive a USB extension cable in vibrant red color with the purchase of this stand.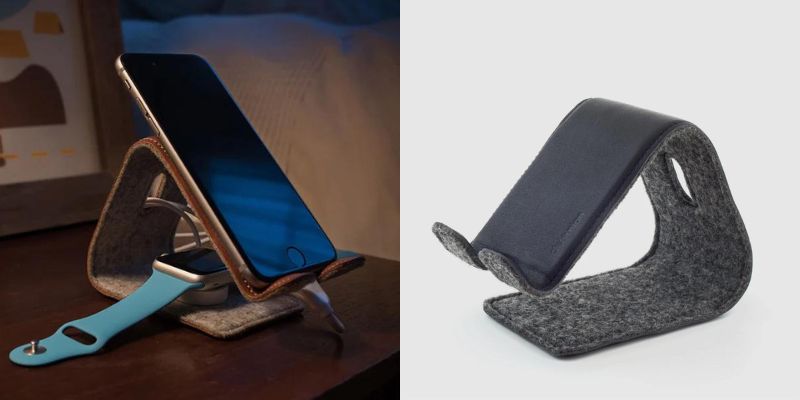 "Create a proper charging station for your phone and smartwatch, complete with organized cables to tidy up your desktop or your nightstand. Stanley is made in the USA with vege-tanned leather and Italian Merino wool. Beneath the luxurious exterior is weighty, flexible steel that bends to your viewing angle." – Distil Union
The Wedding Club says: "Distil Union is the perfect place to shop for groom gifts that are nifty, stylish, and super useful. It suits the lifestyles of those that need to go out the door as quickly as possible. Also, their items are very high quality and durable, with many options for gifts for anyone else in your life, or simply for yourself.
Distil Union is an eco-conscious online store that partners with responsible tanneries, makes use of conscious material choices, and uses mindful packaging and fulfillment processes. They also commit to giving 1% of all sales to qualified non-profits, annually."
🍃🌍🤲