The fairytale wedding theme is one of those magical wedding styles that we all dreamt about as little girls. Most of us had our favorite "princess" looks in mind, such as Cinderella with her white gown. Now, as adults, we obviously want to add a more mature touch to this wedding look, without it losing its magic, of course.
But what exactly counts as a fairytale wedding theme, you know? There is some confusion between the fairytale wedding theme, and the enchanted and magical wedding themes. I'd say the fairytale wedding is more princess-like, with a royalty touch and plenty of flowers. Enchanted wedding themes, including the enchanted woodland theme, includes plenty of moss, whimsical fairy lights, wood elements, glass baubles and drifting flowers. The magical wedding theme will be closer to the fairytale wedding, but with tons and tons of fairy lights.
A fairytale wedding can work out more expensive, because you need to add quite a few elements to give it that wedding style. And, most of these elements will be things like candelabra, columns, golden cutlery and dinnerware, and a lot of flowers for massive bouquets and arrangements. Let's look a bit closer at the different elements and options for the fairytale wedding theme.
What you need to know about the fairytale wedding theme
I have briefly discussed some of the elements commonly included in a fairytale wedding, as well as the differences between a fairytale, enchanted and magical wedding. However, there is no 'norm' for any kind of wedding style, so whatever conveys a fairytale look to you, is all that counts. I can, however, suggest a few key elements that you can consider when creating your wedding style.
You also don't need to go way over the top with your fairytale wedding theme, unless you want to (and have the budget for it). You can emphasize with one key element, like lanterns for example, and bring additional decor items in to complement your wedding style. If you're stuck on finding your ideal fairytale wedding style, look to Disney for some inspiration: roses, paper lanterns, fairy lights, outdoor lanterns, gold items, etc. can all be seen in Disney fairytale movies. 
Styling your fairytale wedding theme is not too challenging — just do your research properly and plan your wedding budget ahead of time, so that you see how much is actually available to get your wedding style across. If you want to know more about styling your wedding, you can read all about doing it like a pro in this post, where I cover basic color theory, and give tons of tips and advice. 
7 Tips on finding a fairytale wedding venue
To save yourself some extra work (and money) on dressing up a venue from top to toe in fairytale elements, rather find a wedding venue that meets your magical demands. Fairytale wedding venues are still alive and well, even if the latest trends lean towards more rustic, minimalist and modern vibes. You don't necessarily have to splurge on your fairytale wedding theme if you have the perfect setting.
1. Find a fairytale castle
I'm not talking about the historical castles dotted along the countryside of some place no-one has ever heard about. There are actually venues that were built in a castle-like style, who is aimed at hosting your fairytale wedding theme, specifically. You can Google "fairytale wedding venues near me" to get an idea of what is currently available in your city, or country.
2. Does it have a garden?
A good fairytale wedding venue will likely also have a garden or area where a stroll is possible — especially in the evening, with fairy lights and lanterns. This will make a lovely evening photo shoot addition to your coffee table wedding album.
3. Equestrian, or not equestrian...
I mentioned earlier how you can hire horses, or get married at an equestrian estate. You don't have to have horses at your fairytale wedding, but horses are somewhat fairytale-like creatures with their own air of mysticism and magic. It's harder to find a venue with all the elements in one place, but do thorough research when scouting for a fairytale wedding venue with horses — you might just be that lucky!
4. Consider a forest wedding venue
Although forest venues are more ideal for an enchanted wedding theme, it can work just as well for fairytale weddings, too. It also depends on how you "dress it up" and if you're planning on having just your ceremony, or your both your ceremony and reception in that space. Luckily, forest wedding venues know about the logistics of setting up a wedding venue in a forest, so the venue coordinator should be able to tell you what will work, and what elements are best to leave out.
5. If all else fails, consider a fairytale-like wedding hall
If it proves quite challenging to find the perfect castle, garden or equestrian estate (I mention all fairytale wedding venue types in the section below), then opt for a standard hall, which can be dressed up, or a venue with a hall specifically for fairytale-like venues. An ideal hall will have embellished details and a few mirrors against the walls. Chandeliers will also be present, as it creates that royal, magical vibe that we aim for with this theme.
6. Check which decor the wedding venue has available
I have probably already mentioned that fairytale weddings can be on the more expensive side of wedding themes, because you likely have to hire a lot of decor, and buy plenty of flowers achieve this style. However, most venues offer additional decor — at extra cost, or as part of the venue hire fee — which you can make good use of. Before booking a venue, ask if you can see the decor they have available, so that you can work out if it will be more affordable than hiring your own decor.
7. Does the venue allow candles, fairy lights, and lanterns?
One of the key elements to a having a fairytale wedding is the use of candles, as well as additional lighting. There are venues who refuse the use of candles, because it poses as fire risk, but you can then make do with the battery operated types which will work just as well. Don't forget to add fairy lights and lanterns, inside and outdoors, to create that magical feel.
11 Fairytale wedding venue types
Let's have a look at some fairytale wedding venue types.
I have briefly talked about this in the previous section, but you don't need the historical type of castle. There are castle-like wedding venues specifically for fairytale wedding themes.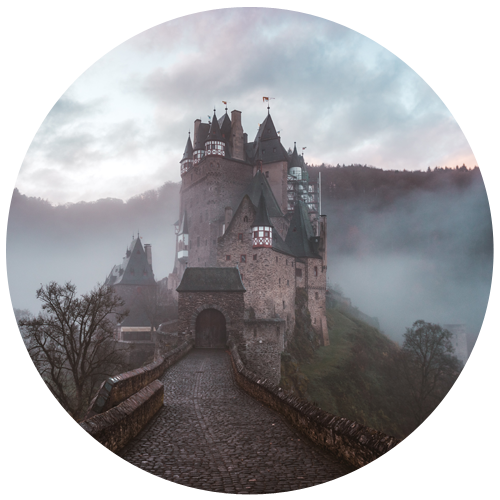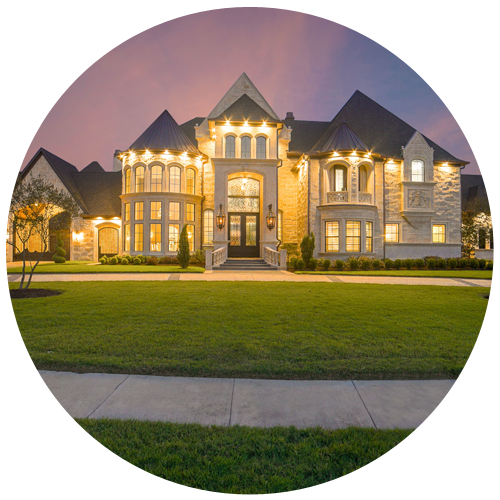 A mansion is a little bit of a step down from a castle, but it can be just as awe-inspiring and magical as the real thing. Depending on the size of the space that will be used for your ceremony and reception, you might have to cap your wedding guest count a little to fit everyone in.
A villa is perfect for smaller fairytale weddings, and there are plenty of gorgeous villas out there that will fit in nicely with your fairytale wedding theme.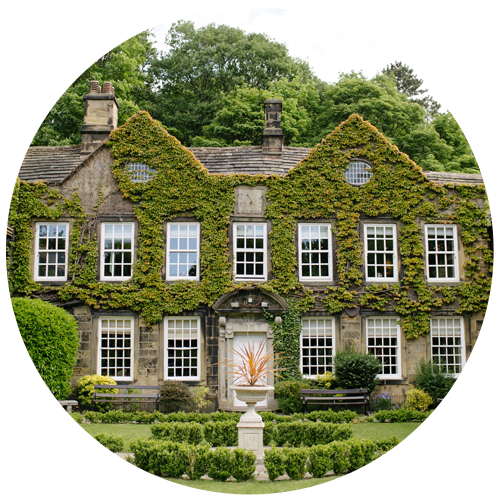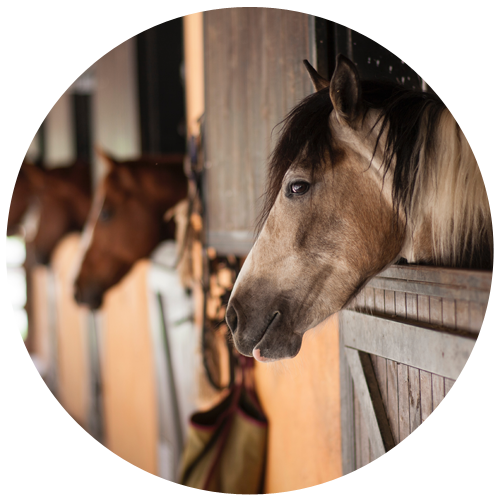 Again with the horses! But an equestrian estate that sells itself as a wedding venue, too, will be quite perfect for your wedding photos. Horses and fairytales go so well together, don't you think?
I briefly touched on the fact that forest wedding venues can lean more towards the enchanted wedding style, but that it is completely do-able for your fairytale wedding, too.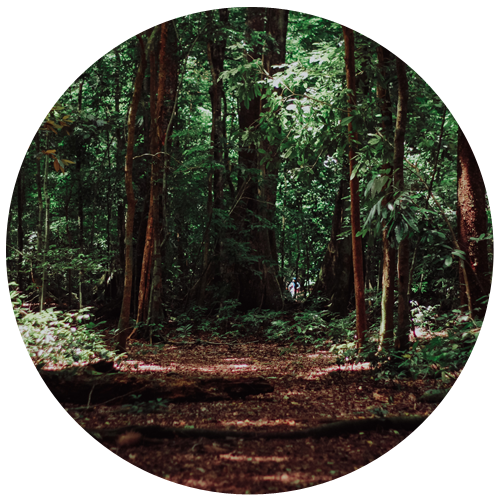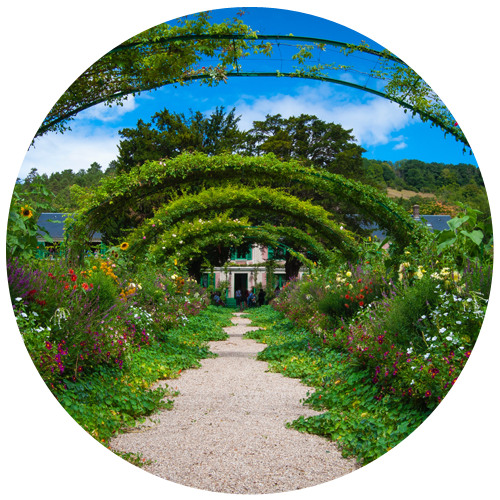 There is an air of whimsical-meets-magical about a gorgeous garden with spring or summer blooms. If you happen to find a garden that suits your fairytale style, consider the season, as well as the outdoor logistics before diving right in.
Though it is more suited for your wedding ceremony, a gazebo adds a great feature to any type of magical wedding theme. And kudos if you can find any fairytale wedding venue type with an added gazebo on the premises.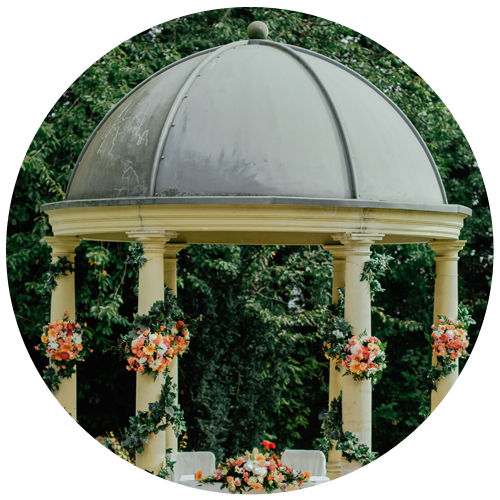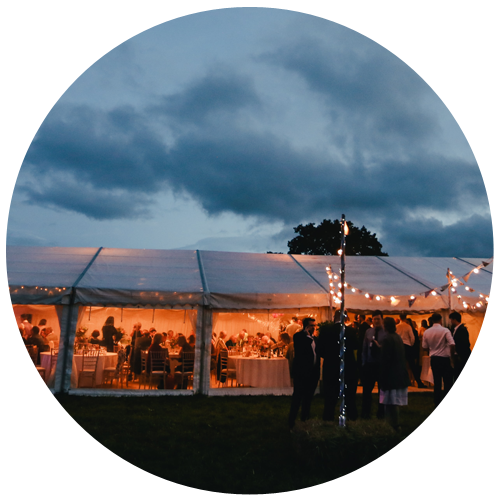 Tented structures and temporary shading can be used nearly anywhere. You just need to find the space to set it up and the logistics to bring in all the other items needed for your wedding style. For a fairytale wedding, a large, green lawn will work just fine. Don't forget about the outdoor lighting!
Getting married in a massive church hall is quite princess-like. And even though weddings and venues are breaking away from traditional ways of getting married, these types of venues will always exist.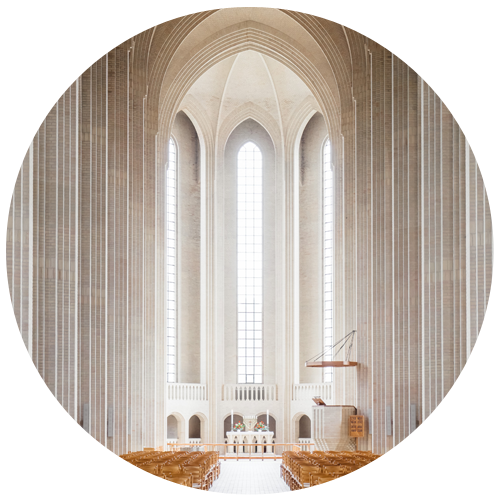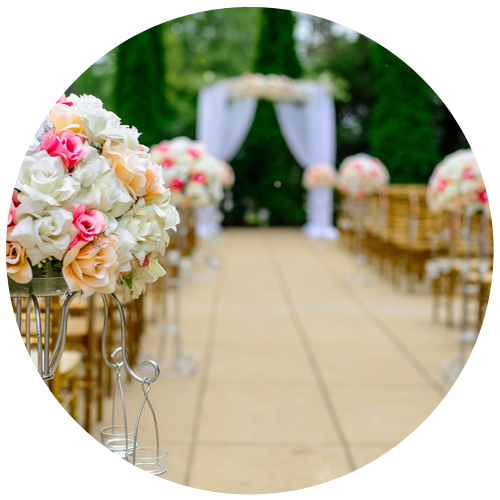 An outdoor terrace is perfect for your wedding ceremony. If you chose a venue that is suited for this, they most likely have a reception area available, too.
Many brides lean more towards outdoor, airy weddings nowadays, but a beautifully embellished wedding hall can be such a perfect setting for any fairytale wedding theme.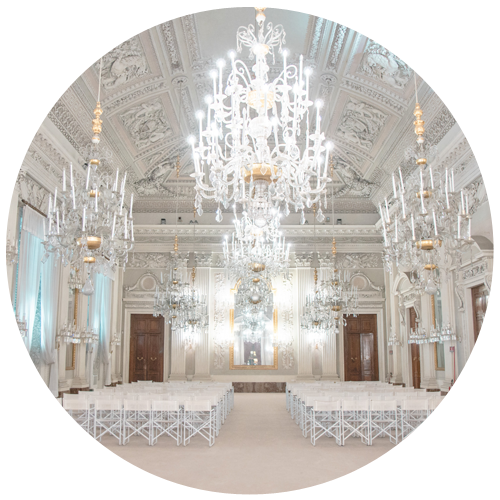 How to style your fairytale wedding
In this section, I cover some of the basics needed to make your fairytale wedding theme come to life. I also mention some ideas and products which can be added to your wedding, to compliment your wedding style. Please note that all items mentioned are affiliate links, which means that I will earn a small commission if you decide to buy anything — this won't cost you anything extra.
Ideal fairytale wedding colors are soft pastels, calm hues and white (or cream), paired with complimentary metallics. Most brides opt for gold details, but rose gold, copper and silver works just as well. You can also make use of clear acrylic details, or if your budget allow for it, crystal.
Send out fairytale wedding invitations
To give your wedding guests a sneak peak of the kind of wedding theme or style they can expect, you can incorporate your fairytale elements in your wedding invitations and stationery.
For fairytale wedding invitations, think floral, romantic elements with a touch of glam. Or go for a full-on metallic look with plain gold, rose gold, or even silver. The fonts on fairytale wedding stationery are whimsical, royal fonts, and even calligraphy works just as well. You can also opt for a full on illustrative wedding invitation, which can include a garden, or some fairytale elements.
Fairytale wedding decor ideas
There is an endless supply of fairytale wedding decor ideas online, which might make it challenging for you to decide what elements you really want to use in your final wedding style. I still stick to what I said about the pastel or soft colors with a complimentary metallic, but you can also go for a more classic "Belle" look: Red roses, white and gold elements. 
If you still need extra inspiration, keep these keywords in mind when doing your search: royal, elegant, magical, princess wedding. I have added a few items below to give you an idea of the possibilities you can use in your wedding. You'd likely want to keep it elegant and modern, so use focal decor items (such as candelabra or lanterns) and build up with smaller, additional items from there.
Add a fairytale wedding aisle runner
Totally optional, as rose petals alone will usually do the trick. However, many brides like the idea of a personalized runner going down the aisle, which she can gently walk on as she approaches her soon-to-be. The ones I have listed below plays around with popular fairytale and Disney sayings, and the two listed from Etsy can be customized with the bride and groom's names, as well as the wedding date.
Give fairytale wedding favors
When it comes to fairytale wedding favors, you can easily add something to each guest's table setting which can compliment the overall wedding look. If you're opting for a touch of gold, add golden wedding favors. If you'd like to bring out a certain color in your wedding flowers, use a specific colored favor such as organza or cotton bags filled with something, candles in colored votives or decorative bottles. 
I always mention how jars and tins filled with edibles or ingredients are always a winner. But if edible gifts aren't your thing, I use the rule of "essentials" when picking out gifts. For example, basic essentials include hygiene, sanitation, warmth, comfort and safety; also anything that triggers the senses (taste, smell, etc). Doesn't sound very sexy, but put this theory to the test: soap favors do very well — plus make your clothes smell good when placed in a cupboard. Candles, and other items that provide warmth are very popular choices for wedding guest favors, especially at a winter wedding. Guests also love usable favors, so for this my #1 pick is always a pretty bottle opener.
Complete your look with fairytale wedding accessories
To add a final touch to your bridal look and your bridesmaids' outfits, add some fairytale wedding accessories. You don't have to wear a massive crown, unless being bold is your thing… You can go for a dainty tiara with fine details and still get that princess feeling.
For added accessories, be on the lookout for anything floral, metallic (gold, rose gold, etc) and lace. Lace gives your look a royal touch, and floral hints at the more fairytale side of your wedding style. I have listed some gorgeous finds below, so get ready to be inspired!
Fairytale wedding bridesmaid dresses
You definitely don't want your wedding to look too 'costume-y'. When picking out your fairytale wedding bridesmaid dresses, make sure that it is toned down just a little bit. It doesn't have to be as plain as the single-colored dresses below, but if your wedding dress isn't over-the-top ballroom style (see the section on fairytale wedding dresses), you definitely still want to stand out. 
Another idea is to play around with the mismatched bridesmaid dress idea. You can go for different shades of a powder blue or light pinks, or lavender. The photos will turn out to be simply stunning! The dresses listed below are just styles of some dresses offered by Kennedy Blue, and are available in more than 20 colors each.
Fairytale wedding cake toppers
Say it with a last, final word before eating cake and hitting the dancefloor! I love cute cake toppers, don't you? You can keep it simple with a single word, or a monogram, or you can hint at your favorite fairytale or Disney movie with a cute saying or quote.
Shop fairytale wedding dresses
From over-the-top ballroom gowns to romantic lace and elegant embellishments, these are some of my favorite fairytale wedding dresses! Simply pick whichever suits your style, personality and wedding budget, and don't be afraid to experiment a little with different dress styles and silhouettes.
Key elements in a fairytale wedding dress are not only limited to handsewn embellishments such as beaded florals and ornaments, but lace and tulle as well. For a modern dress, go for gold detail or metallic detail as an added effect. You can complete your bridal look with floral earrings if your wedding dress is more toned down. Go for minimalist, dainty jewelry if your dress is big, ballroom and over-the-top princess style.
Additional items for your fairytale wedding
Some final touches are key to completing your wedding look. Be sure to make a list of all your items and decor, to make sure that you have covered all the basic. Afterwards, spend a little extra time on the things that might be overlooked, like the guest book for example, or additional decor items. I have added some extras below that might be something you want to include in your fairytale wedding.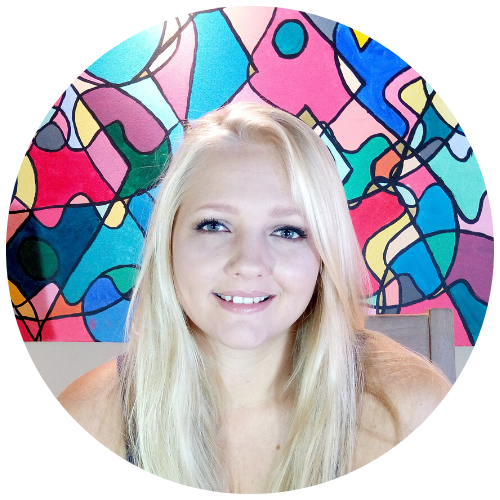 Founder of The Wedding Club
Tanya is a wedding industry pro and content creator. She is passionate about all things wedding, and aims to give useful and actionable info for brides, as well as wedding planners. When she's not planning, researching and writing content, her teacher skills kick in and creating courses and eBooks is the next stop. She also loves drinking chai tea!