Not many brides and couples feel a pressing urge to plan out a complete wedding budget, but it needs to happen…
Besides, your wedding venue budget will take out most of your overall budget set out for your entire wedding, so a decent breakdown and thorough financial planning needs to go into it.
No need to stress, though! In this post, we'll have a look at all the things you need to map out in your wedding venue budget, plus some things to take note of.
This page includes affiliate links, meaning at no extra cost to you, I might make a small commission if you decide to buy something. You can read my full disclosure here.
How to create a wedding venue budget
Setting up a budget is a very important part of planning a successful wedding, and I preach this in almost every post I write – with good reason!
It doesn't have to be this intimidating thing that you put off on your wedding planning, simply because you don't know where to start or what to include. You need to have a budget in place so that you don't overspend, or worse, have to create debt in order to pay for your big day.
Luckily, I have made it so much easier to create a wedding budget, and also one for your wedding venue, by adding these to the massive wedding planner along with tons of other helpful sheets.
Anyway, let's have a look at what your wedding venue budget should include…
The parts of a wedding venue budget
As I mentioned earlier, your wedding venue budget will take out the biggest chunk of money saved up for your wedding. So it's important to factor in what goes into your wedding venue costs so that you can easily manage it.
Create your wedding venue budget overview
Having an overview of all the categories of your wedding venue budget will help to see where all the money will go.
This sheet is also great to work out budget allocation, in order words, how much of your venue budget will be spent on each category.
Determine your venue hire costs
Your wedding venue hire is a very important "supplier" you need to pay for your big day, so this one should be paid for first.
However, that being said, before making your payment to your wedding venue, make sure you've worked through the contract with the venue coordinator to avoid any unsuspected costs. 
Also make sure you go through what the venue hire fee includes, in what it doesn't. Many venues include the catering cost in the fee, others don't. Check for decor (and what kind of decor) and suppliers included, too.
Work out costs of food/catering
Food is going to take up a huge part of your wedding venue budget costs, so make sure to allocate a percentage that will cover it.
Having a buffet instead of plated meals works out cheaper, so if you're on a tight budget, consider this. Couples also opt for plated starters, and the rest as a buffet option, just to make it more classy, but that is totally up to you.
Have a budget breakdown for beverages
Another big part of your budget will go towards beverages. The great thing about this part is that you have many options in terms of what liquor to server, which wines, welcomes drinks, and so on.
Many couples will also include an open bar tab as part of their budget that will be capped at a certain amount. Of course, you wouldn't want to include any expensive, hard liquor included in this tab, so make sure to tell wedding guests beforehand what's included. Que the cute wedding bar sign!
When it comes to wine, consult with your wedding venue to determine what they can provide. If the options are bleak, make sure about the corkage fee before bringing in your own wines. 
Work out venue decor hire costs
Decor hire (as well as flowers – see next) can break your wedding venue budget, so be careful of overspending on all the pretty things you see on Pinterest!
It is wise to choose a wedding venue according to the decor they have available for your to use, and whether or not it is included in the venue hire fee. Also, if they offer a wedding styling service, make sure about the cost of this and if it makes sense to opt-in for it.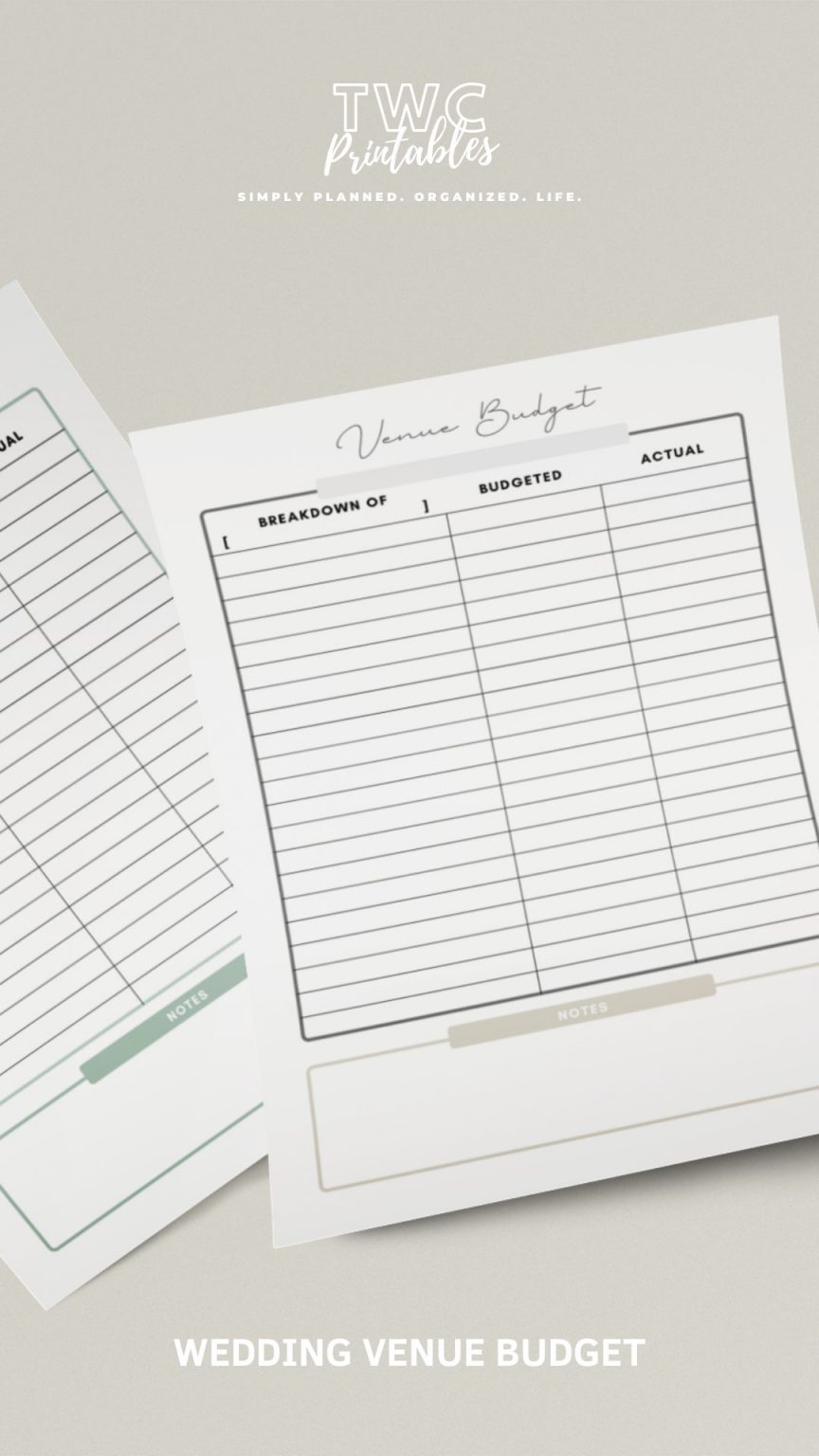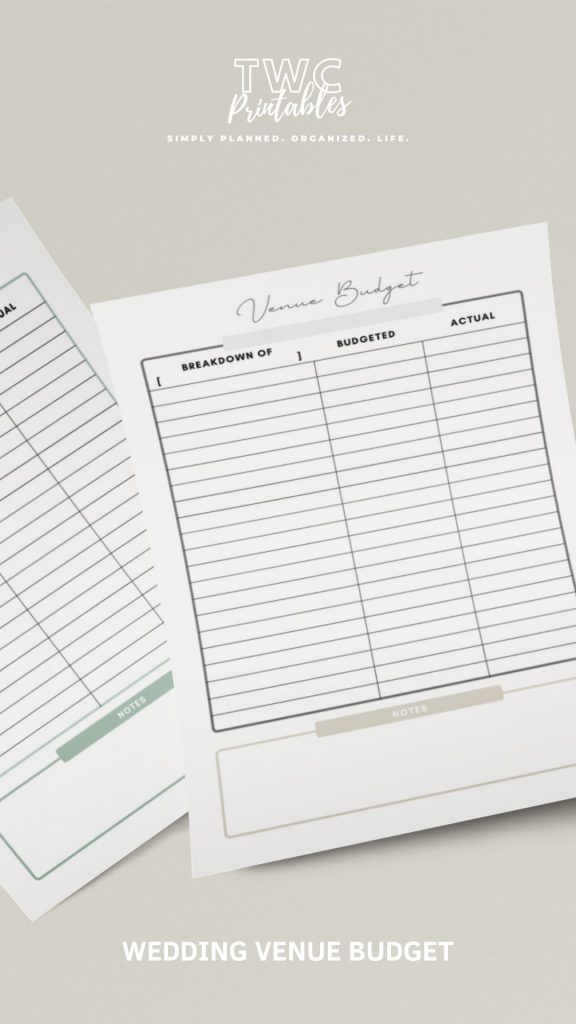 Determine cost of flowers
Just like with decor, flowers can also go overboard, especially if you're going to include many different flowers to work with, and also, whether they are in season or not.
Luckily, there are many alternative floral trends, and the tradition of roses and orchids has fallen away. Your go-to place for floral inspiration that is out of the ordinary is Pinterest and also Instagram.
Good music, along with good food, is what will make your wedding guests stay until the end. So don't skimp on this part of your wedding venue budget.
For this part of the budget, don't just consider the cost of hiring a DJ, but also extras like a backup sound system, additional lighting, and things like a smoke machine or a logo spotlight.
Have a budget for staff hire and gratuity
Where I mentioned the breakdown of your budget in this post, each type of staff hire is a line item on its own. However, to make things easier for yourself, plan everything in this category out onto on sheet.
Make sure to mention which additional staff you need to budget for (that the venue isn't already providing), such as bartenders, waiters, servers, and cleaning staff.
It's also good practice to include a gratuity for the staff if that part isn't already included in the quote.
Do a cost breakdown for rental items
Another part of your wedding venue budget that needs to be taken into account is rental items. In the wedding venue workbook which I have added to the wedding planner, there is a two-page checklist plus additional worksheets just for rental items.
If your wedding venue doesn't have enough chairs or tables for your wedding guests, you need to rent more. Rental items may also include larger things like a marquee tent or gazebo, for example, or smaller items like additional glassware, mugs, or chargers/underplates.
Don't just rent the first needed items you find. Make sure to compare rental costs from various companies.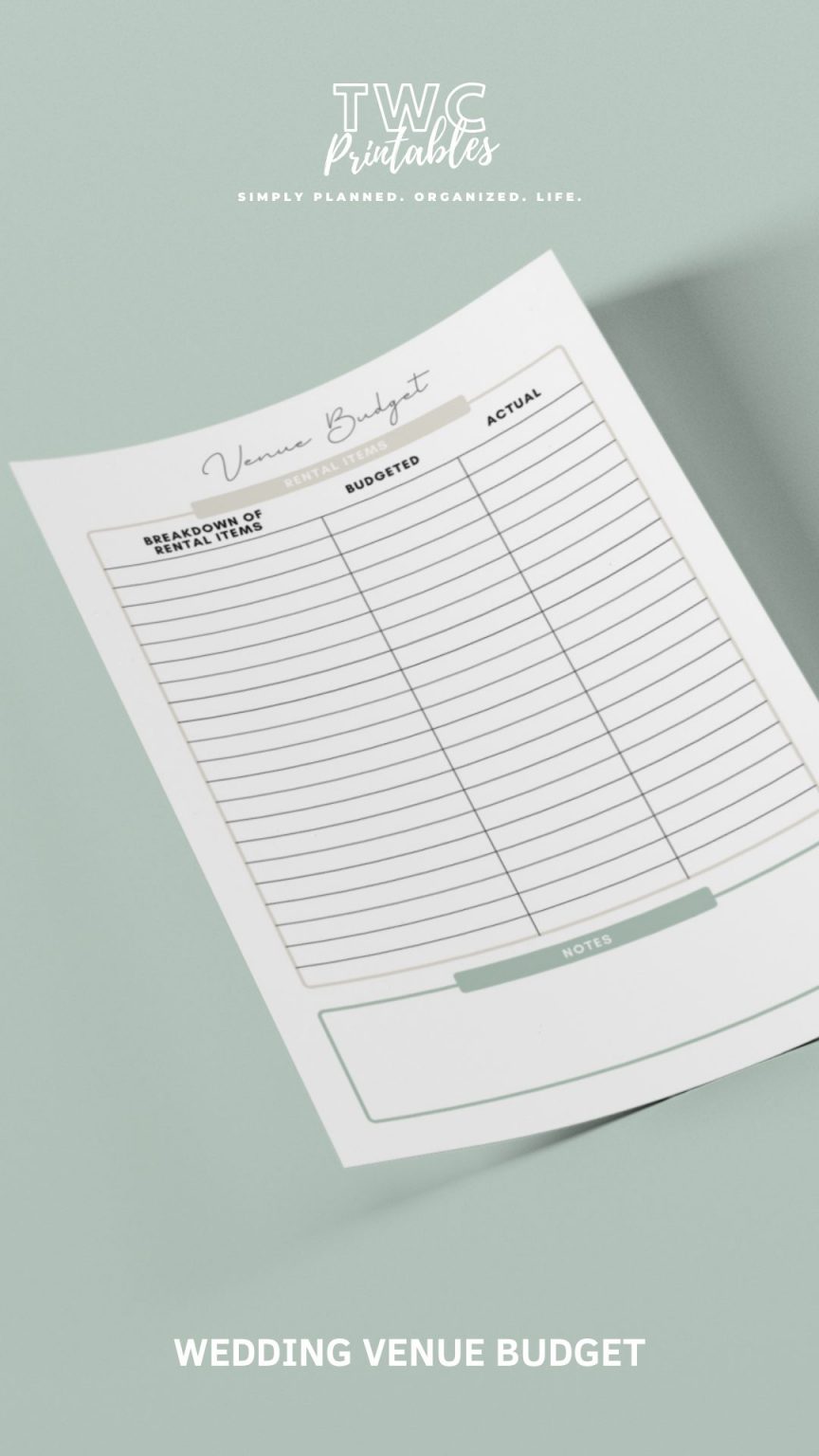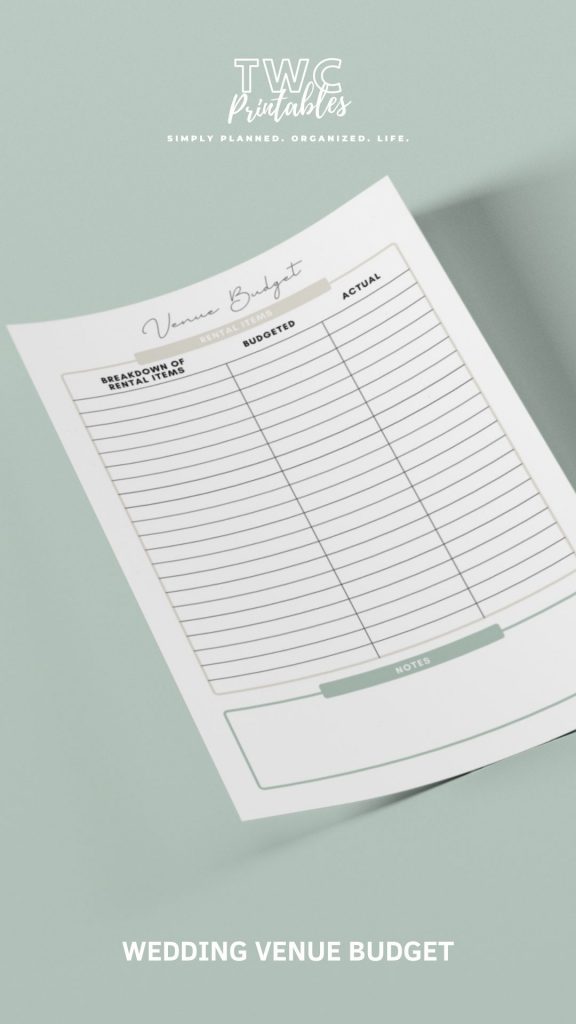 Have a reserved budget for additional costs
And finally, always have a reserved budget, or contingency fund, available to cover costs of all those unexpected items. Wedding venues have tons of hidden costs which you need to be aware of, so make sure you're ready for them!
The Editable Wedding Planner templates are fully customizable in the free version of Canva, and include everything you need – from the wedding budget, guest list, and catering, to planning a bridal shower, engagement party, and more!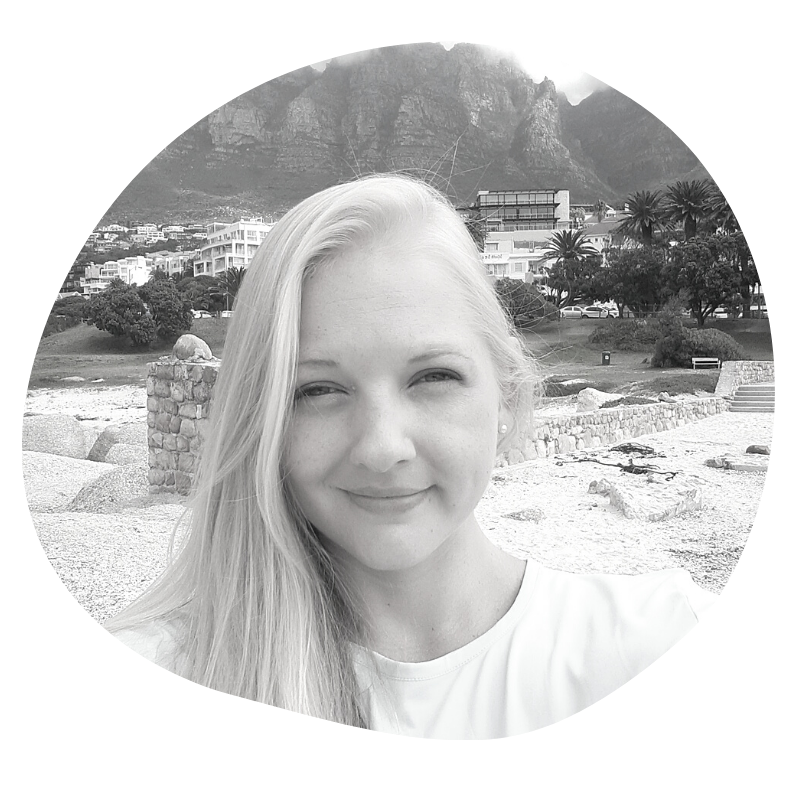 Born in Johannesburg, South Africa, Tanya Viljoen has been an active contributor and planner in the wedding industry since 2016. When not writing useful content for brides and wedding professionals, she can be found designing templates for her Etsy shop, TWCprintables.