This page includes affiliate links, meaning at no extra cost to you, I might make a small commission if you decide to buy something. You can read my full disclosure here.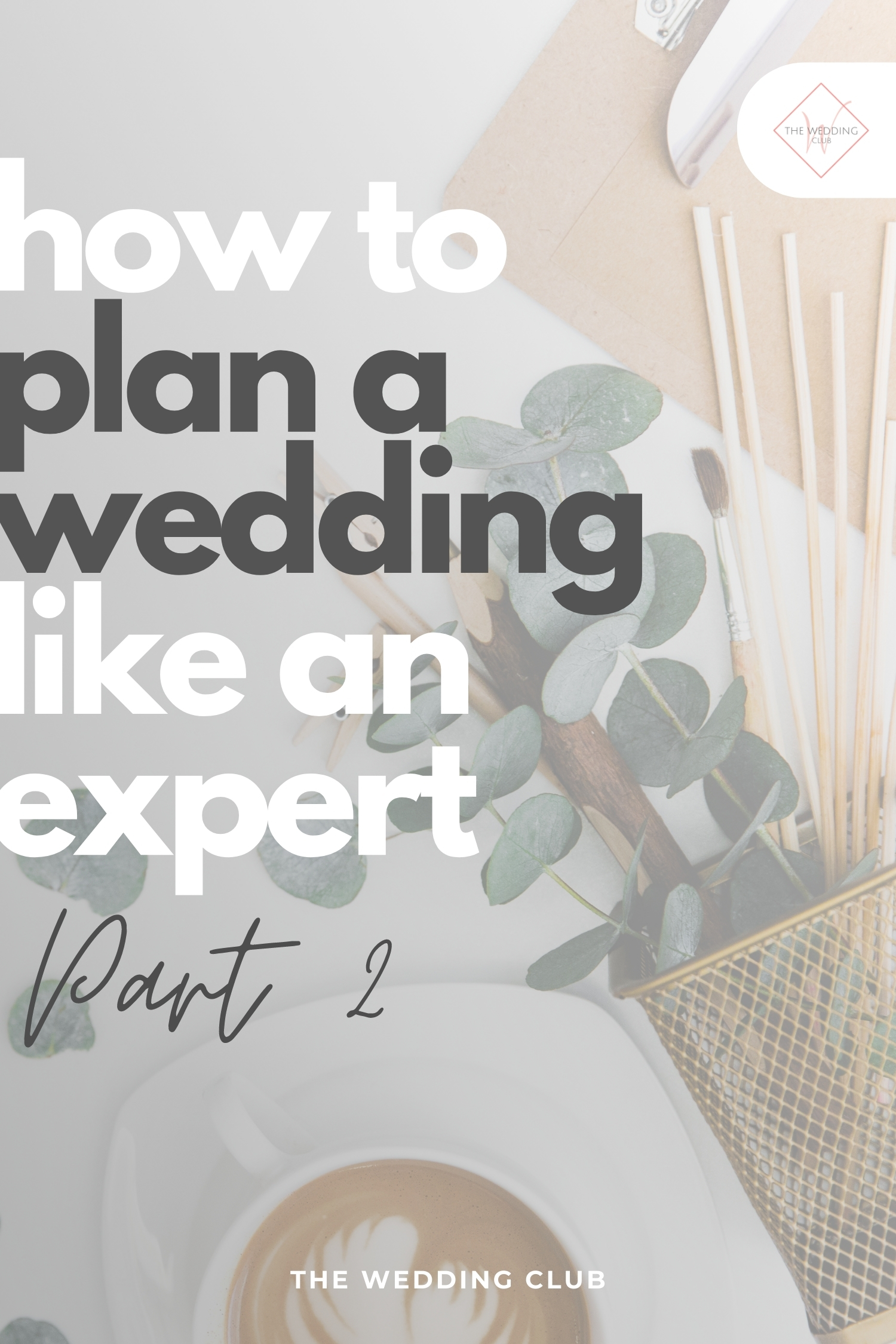 This is the second part of the series: how to plan a wedding like an expert. If you missed the first one, here it is.
In this post, we look at food, makeup and beauty, stationery, flowers and décor, and more… If you are using these posts for planning your wedding, be sure to bookmark it so that you can always come back! Also, be sure to check out our Wedding Budget Planner and Tracker — because a good wedding budget forms the foundation of a successful wedding!
How to Plan a Wedding like an Expert – PART TWO

Wedding food
There are two things that make up a successful wedding reception: Good music and good food. If you lack in any of these two, your guests might leave early.
In-house catering
It seems like every wedding venue are going this route. To have an in-house chef or catering options for the couple at the venue is becoming the norm. And most of these venues make hiring their catering options compulsory, or they ask a hefty "corkage" fee per person/plate if you decide to bring in your own caterer.
In any case, you should look at the venue's packages to determine if they are right for you. Some include food for a certain amount of guests with the venue fee, others exclude it. They will then ask for food per guest, on top of the venue hiring fee.
Hiring a catering service
If your venue allows it, or you have the budget to pay the "corkage" fee, then you can hire in catering services.
The great thing about this is that you have endless options of which food to provide to guests. You can hire a food truck and a mobile bar, which can make your wedding more fun.
Or, you have the chance to get the family involved by bringing in your own food and saving a lot of money.
Buffet
The wedding buffet is the most common way of serving food to your guests. It is also the best way, because you know your guests get enough food, and don't have to hit McDonald's afterwards.
A good buffet selection consists of two or three starches, two or three veggies and two meats with gravy. There should also be a selection of breads with butter, for that extra hunger spot.
Discuss your buffet menu selection with your venue, or caterer.
Plated menu
The more expensive and sophisticated way of serving food is the plated option.
This means that you will need servers, or waiters, to bring out plates of food from the kitchen to serve to your guests. Portion sizes play a huge factor, because if they are too small, then guests will go hungry.
However, this is a great way to serve starters and dessert, with the mains being a buffet.
Canapés
These are great for cocktail hour, when the bride and groom is off for photos why guests wait. Waiters can walk around carrying trays with canapés, or individual canapés can be packed out neatly on a table, which also looks good.
Harvest table
The harvest table is fairly new to weddings, but it a great way to replace the canapés option. A single massive table is set out with artisan breads, cheeses, cold meats, olives and other deli food. Guests can then help themselves to the food.
When do wedding guests eat
When guests go hungry, they become irritable and that creates a certain vibe you don't need at your wedding.
With that being said, most guests expect to eat within one or two hours from the cocktail hour. This is a great chunk if time for speeches and toasts to get done.
Wedding desserts
Back in the day, the only dessert at the wedding will be the wedding cake, and people seemed to enjoy the heavy fruit cake dressed in marzipan (we still like it, with some ice cream, but most people don't).
Having other desserts is a great way for guests with a sweet tooth to enjoy some more tastiness at your wedding.

Dessert table
The dessert table is a great way to show case desserts, especially if they are pretty. Guests can then help themselves to multiple choices and it is a great way for them to socialize as well.
Candy buffet
The candy buffet has been on the wedding scene since the beginning of Pinterest, and rightfully so. The simple elegance makes the wedding seem more festive, and you can display your candies in matching wedding colors and use pretty jars and bowls to complete the look.
The great thing about candy buffets is that they can double as guest favors, too. Simply provide "thank you" packets at the table or cart, and let guests help themselves to the selection.
Just be aware that candy buffets are one of the more expensive options to provide some sweetness at your wedding. But, if your budget allows it, we say you really need to consider this!
Wedding cake
One of the most exciting things for us ladies to look forward to at a wedding, is the cake!
The tradition behind the wedding cake is that it is a sign of fertility. Also, the more tiers or layers your cake has, the more children you are hoping to gain in your marriage. (Still want that 12 tier wedding cake?)
The bride and groom will also cut a piece from the fruit cake, wrap it in wax paper or a piece of parchment, and store it until their first wedding anniversary. Fruit cakes keep for very long, because they are doused with liquor, such as brandy. They are then coated in a very preserving marzipan, which is a type of almond paste or fondant.
The bride and groom will then cut the rest of the cake themselves and serve it to their wedding guests. Today, the catering staff or venue will take the cake back to the kitchen after the bride and groom made the cut. It will then be cut further in the kitchen and put out for guests to enjoy at a later stage in the evening, with coffee or tea.
Choosing the right cake for your wedding
You might have noticed that wedding traditions are fading, because we haven't seen a traditional fruit cake at a wedding since…?
When you choose your wedding cake, you should consider a few things:
Your budget – wedding cakes can be very expensive
Your favorite flavors, and the groom's – it is a great way to have these at your wedding as a romantic gesture
Your guests' favorites – if you have a small wedding, you can consider including your guests' favorites
Neutral flavors – to ensure everyone will try a piece of wedding cake at your wedding, include more common flavors such as chocolate and vanilla
Cake size – speak to your cake baker about this, because they normally know which cake size is perfect for your amount of guests. Too large, and the cake will be wasted. Too small means that not all of your guests will have some of the cake.
Cake style – you can choose a cake that fits in with your wedding style, theme or color scheme. If you have a classic, luxurious wedding, consider an all white wedding cake with fondant detail. A vintage wedding style calls for a naked or semi-naked wedding cake, dressed in berries and cream, and so on.
Saving photos of your wedding cake
When saving your wedding cake photos, we assume you are using Pinterest. We recommend that you create a board for cakes. Don't save all the pretty cakes to that board, but consider your budget and wedding style first when pinning.
Meeting with a cake baker
Remember to take all your cake photos with you when meeting with a cake baker, so that they know what you want.
Many bakers allow you to e-mail photos to them, on which they can give you a price. A more professional way, and most bakers prefer this, is to make a physical appointment with them so that they can discuss the cake with you in person.
Cake alternatives
We have already mentioned how traditions are changing or falling away, and with the age of Pinterest, this is becoming the norm. You can have cake alternatives at your wedding, and this simply means that you decide to have other things at your wedding, in stead of the traditional wedding cake:
Donuts – having a donut cake, or a peg board with donuts is a great trend at the moment (come on, who doesn't like donuts?)
Cupcakes – this may not necessarily be cheaper, but individual cupcakes are easier to handle
Smaller cakes – these are a bit larger than cupcakes, but still individually presented and each guest gets one
Cheese wheel cake – this is a great option for the bride and groom who doesn't have a sweet tooth, and prefers the saltiness. Simply stack wheels of cheese in different sizes on top of each other, to present the wedding cake "tiers". Provide fresh fruit, preserves, crackers or artisan bread with it. This is great for cocktail hour, and the bride and groom can still cut the cake.
Groom's cake – a newer tradition, where a separate cake is also provided, for the groom. It has a masculine look and is either served at cocktail hour, or alongside the actual wedding cake.
Smaller cutting cake – this smaller cake is provided for the bride and groom to cut and is not served to guests. Guests are served with either cupcakes, donuts, or any other type of cake alternative.
Also Read: 23+ Wedding Stuff that will DESTROY your bank account! 
Food trucks
These are taking weddings by storm and is a great way for guests to interact and socialize. It also makes for great photos of the bride and groom.
Check with your venue first if they will allow this. Then organize the food truck and pay up front for your amount of guests, just like you would with a caterer or the in-house catering at a venue.
There are many options in food trucks, both sweet and savory. From tacos, burgers and wraps, to ice cream trucks, gelato and waffles. The options are endless.
Remember to tell your food truck company to make the truck look more wedding-y and festive. Having a standard food truck with huge banner ads printed on the side can be quite an eye-sore.
DIY Food bars
It's a fun and festive way for guests to help themselves at a DIY food bar. Here, you have many options to choose from as well. Build-a-burger, tacos or schwarmas, to pizzas, and everything in between.
Wedding drinks
Liquor license
This differs from country to country, but most require a liquor license if liquor will be sold at the venue's bar.
Find out from your venue and in your area if this is a requirement, and if they have one.
Stocking the venue's bar
A great venue will already know what to stock for a wedding and how many guests will order which type of drink.
However, many of them will give you a chance to list your favorites, or specific wines which you want stocked for your wedding. They will then order those in.
If you plan on giving your guests the option of ordering your favorite cocktail, make sure the venue knows about it and that they stock enough liquor for it.
 The following types of venue bar options are normally available when you plan your wedding at a venue with a bar and services:
Open bar – the bride and groom pay for all of the guests' drinks for the entire wedding
Cash bar – the wedding guests pay for their own drinks
Capped bar/Bar tab – the bride and groom will provide a certain amount of money for guests' drinks, and only for certain drinks. (i.e. only local beers, sodas and water, and excluding hard liquor or shots)

Welcome drinks
It is important to provide some sort of refreshment for your guests during or after the ceremony. They will be thirsty and eager to order from the bar.
A great tip for welcome drinks: if you open the bar before the reception starts, guests can get their drinks early, which will make them happy. You can still provide one type of welcome drink for free.
Also, make sure your welcome drinks fit the season. Serve juices, sparkling wine or spritzers for a hot Summer wedding, and port or sherry for colder month weddings.
Stations and DIY bars
We already mentioned how a DIY bar or food station can be a great way for your guests to interact. You can do this with drinks stations and DIY bars, too.
You can have a mimosa or gin bar for example, where guests choose their accompaniments with their sparkling wine or gin. Serve it with flavored syrup, fruit juice, tonic water and fruit. Guests can then "build" their own drink at the drinks station.
Mobile bar hire
This is a great option if your wedding venue doesn't provide any bar services. Mobile bars normally come fully stocked and staffed, so you don't have to worry about running out of drinks and beverages.
You can also hire a sparkling wine or prosecco mobile bar, where guests can get their bubbly for toasts and speeches.
Service staff
A functional wedding only happens when there are enough people helping behind the scenes. Consider hiring in more staff or ask the venue to do this, in case you have a large wedding.
Waiters and bartenders
Waiters are a great way to prevent massive queuing at the bar, plus they can clear plates from the table.
You also need waiters if you are serving plated meals. Depending on the size of your reception venue, one waiter per two tables of 10 people should be enough.
Setup team
If your venue doesn't provide setup, or additional help with flowers and décor, you need to have a team to help set your wedding venue up. This should happen the previous day, at the latest.
Take note that some venues ask a setup fee, or a fee to book the venue out for setup on a previous day. Ask your venue about this, so that it doesn't come as a financial shock when you've already booked and paid your venue deposit.
Cleanup services
As with any event or party, there will be a mess to clean up afterwards. Many venues ensure that their staff do this, but it is best to inquire from your side, to avoid receiving a bill for this after your wedding. If your venue doesn't provide cleaning up afterwards, you can happily hire in some sort of cleanup team to help.
Remember, if you have hired decor items and such from other companies, they still remain your responsibility. You should make sure it is clean, counted and repacked in the same packaging you have received it in.
If you are leaving for your honeymoon directly after the wedding, ask a trusted friend or family member to take care of this for you.
Service Staff Tips and Advice
Put some of your budget aside for staff hiring – it will be much easier to handle behind-the-scenes and after-the-wedding aspects. You will avoid many disappointments this way.
It is worth your money to hire a cleanup team – ask yourself, do you really want to work on cleaning up a venue the day after your wedding?
Make sure your staff are well trained and come from a trusted company – especially if they are waiters and bartenders
Have a little extra in your budget for tipping service staff – you can sort this out with the head waiter, or the venue coordinator, to make it easier for yourself
If you are hiring a setup team for your wedding, make sure they know exactly what you want and what your wedding style entails. They should completely understand each detail and be informed of how your flowers and decor should look, etc.
Wedding Stationery
Your wedding stationery should be a reflection of you (and your groom, if you wish). Also, it will be a great way to give guests a sneak peak of your wedding style if you include certain elements in your stationery design. Make sure all of your stationery items match – from your invitations and RSVP cards right up to your thank you notes. It just looks more cohesive and elegant this way.
If you are ordering your stationery online, we highly recommend that you check out Minted. They have a great selection of elegant invites, and some of these invitations come in a range of foiling, which gives it a nice shiny effect. Check them out here.
What is included in a wedding stationery set
When you decide on your stationery design, it should be included on the following items:
Wedding invitations
Invitation envelopes
RSVP cards
RSVP envelopes
Invitation inserts (maps, accommodation info, etc.)
Save-the-dates
Ceremony programs/order of service
Seating chart
Escort cards/Name cards
Table numbers
Table menus
Thank you tags for favors
Thank you notes for guests who gave gifts
Other stationery – i.e. wine name cards for the wine table, "in loving memory" display/cards for those in who passed, etc.
Wedding website

Ceremony programs (order of service)
Ceremony programs have become an optional and unnecessary item to have at your wedding, especially if your budget is limited. Not many of your guests are interested in keeping them in any way.
However, if you do decide to have them at your wedding, you should include the names of your bridal party members, the pastor or officiant, which scripture or message are being read and which songs your guests will sing. If you want to include your and your groom's favorite poems, or images of you two, you can do that.
You can be creative with your programs, and print it on hand fans for hot days, or on a keepsake for your wedding guests, that will double as a favor.
Seating chart and escort/place cards
These are normally place outside the reception venue and guests can find their names and table numbers while enjoying cocktail hour.
Just see for yourself on Pinterest how many ideas there are for this. If you want to keep it simple, make an escort card with each guest's name, and with the table number written inside. These cards can then be packed out neatly on a table outside the reception hall entrance.
Hiring a stationer and calligrapher
If your budget allows it, you can leave all of your stationery needs to a stationer, and even have a calligrapher write your invitations, or escort cards, for example.
Calligraphy is an art that is fading fast, because nearly everything is going digital nowadays. If you need some services or inspiration in calligraphy, Jo Eleanor of Calligraphy en Vogue is a professional calligrapher. Check her out on her beautiful Instagram!
Online alternatives
As everything is going digital, there are many online alternatives to your wedding stationery. Hand written thank you notes are replaced by digitally designed ones. And even your wedding invitations can be designed and sent out to your guests via e-mail.
This is definitely the more affordable option, but if you have a stationery budget in place that will cover invitations, we recommend that. We personally feel that digital invites are not as personal as hand addressed envelopes and specially designed and printed invitations. It just feels good to receive actual mail in the post, in the age of technology… Do you agree?
Saving money on stationery
Your wedding stationery is one of the key places where you can save money on your wedding. Nowadays, you can create a full, personalized website that contains all of your wedding details, manages your guest RSVPs, and so on. If you're going this route, we recommend The Knot.
Postage
The most unexpected stationery expense is your postage. The heavier a postage item is, the more expensive it becomes to send it to someone via post.
If you feel you still want to mail your wedding invitations, but don't have an unlimited budget, keep your invitations simple. Boxed invitations and invites with pockets are bulkier and heavier, and thus more expensive to send.
Stationery tips and advice
Double check your invitations for spelling and grammatical errors. Also check your addresses and other important information such as contact details for guest accommodation
Include a map, GPS coordinates or a pinpoint which gets sent to guests once they RSVP
If your budget allows for mailing invites, but to a limit, then consider sending a single postcard in an envelope, with a link to your wedding website
If you are working with a calligrapher, stationer and graphic designer, ask to see their previous work and experience
Also get multiple quotes for the above stated services
Bridal beauty, hair and makeup
We all want to look good every day, and especially on our wedding day…
The importance of being a healthy bride
Not only do we want to look fantastic, we want to feel that way, too. A healthy bride will glow on her wedding day, so make sure you have a healthy fitness, beauty and nutritional routine.
If you are going on a diet, do some research beforehand. Remember, some brides lose even more weight than anticipated before the wedding, mainly because of stress. Also, keep in mind that diets work with exercising and meal plans, oh and water!
Don't overdo it. If a bride goes to extreme measures to look good on her wedding day, it can backfire and she might even become ill. Also, there's nothing more sad than a sick bride on her wedding day.
Beauty plan
You will need some sort of beauty plan or routine when you prepare for your big day. A good beauty plan consists of daily routines, as well as weekly and monthly ones.
Work out a daily routine that suits your schedule and needs. The same goes for your weekly and monthly routine. If you can't get to your weekly or bi-weekly nail appointments, think of a way to work this into your schedule somehow.
Fitness plan
If you feel the need to diet, you might consider doing a fitness plan as well, as these go hand in hand with each other. Plus, you will feel great and even consider working this into your lifestyle after the wedding.
Start off with the minimal exercises at home if you haven't exercised in a while.
Going for hair and makeup trials
Hair and makeup trials are important if you're going to have a stylist and makeup artist on the morning of your wedding. We highly recommend that you do this, because you need beauty professionals who you are satisfied with. Imagine the horror of hiring someone who has never worked with your skin type of color before and makes a huge mess on your wedding day?
Make sure your makeup artist and hair stylist are available on your wedding day, and ask them about their going rate for travel, accommodation, etc., especially if your wedding is out of town.
When going for your trials, be sure to give them info on the length of your bridesmaids' hair and their complexion, if they will also be using your stylist and makeup artist. Find some images on Pinterest to give your stylist and idea of what hairstyles you like for yourself and your bridesmaids.
Remember, styling hair takes longer than makeup. So, if you have more than 4 bridesmaids, plus the mothers that need their hair and makeup done, consider having two hair stylists.
Choosing perfume for your special day
When your photographer is busy with all of the "getting ready" photos, he or she might want to take a few snaps of your accessories, too. This will normally include your favorite perfume or scent.
If you don't have one already, you can ask for samples at your department store, or ask a friend for recommendations. Also do some research online for things like pricing, how long it lasts, and so on.
If you have a sentimental fragrance, consider using that on your wedding day. It can be a gift from someone special or even your future husband.

Tips and advice for beauty, hair and makeup
Don't try new facial and skin care products too close to the wedding. Even if you don't normally have issues with any products, it is still a risk and you might get a nasty break out or skin reaction.
If you consider getting a spray tan, do this a week before the wedding at the latest. Spray tans give off an orange color that rubs off on nearly everything – even your dress! Also, if you see some unevenness or patches on your skin a few days after your spray tan, use lemon juice to even it out.
Ask your hairstylist when you should wash your hair at the latest – some require this the night before the wedding, others two nights before, etc. Give this info to your bridesmaids too.
To avoid the hassle of removing makeup from the day before, don't wear makeup on the previous day.
Also Read: 16 Ways to survive Bridal Burn-Out (BBO) + FREE Printable Compact Guide to Essential Oils
Keeping guests in check
We thought this part of planning your wedding should be included, because your wedding guests need to be managed as well, especially when it comes down to photos.
Guests taking photos
It is so easy to take a photo nowadays, and it is second nature to most. Many people take snaps of nearly everything, everyday. And it gets posted on social media for everyone to see.
You can bet that if guests take photos of your wedding, it will end up on social media sooner or later. Rather make a rule about this. If you don't want guests to share anything about your wedding on social media, then ask your pastor and MC to mention this. Also, you can put out a sign that says something clever about this.
If you are the social media couple and want your wedding to be out there, then it is up to you to handle guests your way. Maybe you can include a hashtag for Instagram. Or ask them to follow and share on Twitter…
The Social Media Wedding Couple
Social media is ubiquitous in today's world. So many people interact on the various platform's every second of the day. With so much choice from Instagram, Snapchat, Facebook and so on, it's practically impossible not to stay up to date on people's lives. Merge social media with a wedding day and you have a tool which can provide a couple with a vast amount of content and memories of their big day.
While of course, this won't be for everyone, social media for many is exciting and holds access to so many different aspects of their wedding day that they might not have seen.
Taking photos of guests
You might want many photos of your wedding guests as well. So make sure to ask your photographer to set aside an hour for this, where you can pose with your guests.
To make things easier, you can go to every table and take photos with guests at each table. Or, pick a nice spot with a great backdrop, and ask family and friends to join you.
Ask one of your bridesmaids or a groomsman to manage this: He or she can call out family members first, for example, all the aunts and uncles from the bride's side, then the grandparents, and so on. Friends can then join the bride and groom afterwards.
Children at your wedding
Children are as much part of your wedding day as every other guest, provided that you want them at your wedding. There are many couples who decide to not allow children at their wedding, and it is really a personal choice. If you don't want to allow children at your wedding, be sure to say so in your wedding invitations.
Having a videographer at your wedding
Since videos are so popular, you might want a wedding videographer to create one for you. Your budget needs to allow this because videographers are expensive. They either cost the same as your photographer or even more.
You can scout for videographers and find out their pricing. Be on the look out for special offers, too. Especially if it is a photographer and videographer working together.
The tension between photographers and videographers
There are many photographers who complain about working with a videographer. As they are on a tight schedule, the videographer can sometimes interfere with that. Sometimes the photographer wants to take shots of special moments at the same time as the videographer, and this complicates things.
Choosing a videographer
If you decide that you want a videographer at your wedding, you should consider choosing one which your photographer recommends.
Book a wedding planner or coordinator for your wedding day
If you struggle to tie all of the loose ends in your wedding planning, or even if you just need someone to handle everything on the day of your wedding, you can hire someone to help with this.
A wedding planner will help you plan your wedding from A to Z, and, depending on their packages, they can help you with additional things too.
A wedding coordinator, or day coordinator, is only there on your wedding day. This is so helpful because you need someone to organize all of the details and logistics that go down on your wedding day, and to help keep everything on schedule. Most wedding planners also include day coordination in their packages.
Choosing the right wedding planner
It is important that you choose a wedding planner that is a good fit to your wedding needs. They should fit your budget, be reliable and professional, to name a few things.
Also Read: Warning! How to spot the WRONG wedding planner! + FREE Wedding Planner comparison sheet
The gift registry
Your wedding or gift registry should make it easier for your guests to buy you a wedding present.
The rule of thumb
Don't include gifts of one type of price range only. Include many price ranges, so that your guests' budgets can be accommodated as well.
Gift registry tips and advice
If you ask for cash, rather than a gift, don't do it on the invitation. No matter how you ask it, with a cute poem or directly, it is still tacky. You should have a contact number on your invitation for guests who have questions – they can call this person to ask about gifting.
Choose a registry at one store and stick to that. A good homeware store should be fine, especially if they have a lot of items to choose from with many different prices.
Ask for things you need, but don't be disappointed if you don't receive it. Remember, guests use this as a guideline in case they want to buy you a gift. However, many guests decide to give cash.

Flowers and décor
The part which most people enjoy about social events, is making it look pretty! Your wedding flowers and decor is all about that.
Booking a florist for your wedding
If you aren't really good with arranging flowers, or you require a look that is hard for amateurs to pull off, then it is better to hire a florist, or floral designer. Most florist shops offer wedding decor and flowers services. You just need to find the one with the best skills, and which suits your budget.
Seasonal flowers
When it comes to choosing which flowers you want at your wedding, you have to remember one thing: Flowers are seasonal. True, there are flowers available all year round. And it is also possible to get any flower in any time of the year – but at different price tags.
Another thing to remember is that flowers have varieties. And some varieties are available at different times – take this into account when choosing roses, proteas and orchids, for example.
How to choose your wedding flowers
We assume you have already found certain images on Pinterest, which will inspire your wedding look. You will need flowers for the following:
Bridal bouquet
Bridesmaids' bouquets
Groom and groomsmen boutonnieres
Corsages – if you are going to have them (wrist corsages are a very special addition for the mothers and grandmothers)
Ceremony flowers – these include altar arrangements, plus additional flowers and petals for tossing
Reception flowers
Throwing bouquet – for when you are going to toss the bouquet to all the unmarried ladies at your wedding
Wedding décor services
Just like hiring florist services, you can also hire decor, or even a wedding stylist. A wedding stylist is someone who styles your entire wedding look, in terms of flowers and decor. They do this by considering your budget then evaluating your likes and interests by interviewing you and the groom. Some of them will also ask you to create a Pinterest profile or board and include some images there which you like.
How to decide on your wedding decorations
Wedding deciding on your wedding decor, think of the overall picture. How will your decor fit in with your wedding look and feel at the end of the day?
Also consider your venue style: If your venue is rustic, opt for a rustic look in terms of wedding decor. And also keep in mind that this is where most couples tend to overspend – your wedding decor and flowers.
Flowers and décor tips and advice
When using Pinterest for inspiration, don't pin everything unless you are considering more than one theme. If this is the case, create a board for each theme you are considering.
Think about your budget when planning your flowers and decor. The best way to do this is by getting quotes from various suppliers and then using estimates in your budget layout.
If your budget is limited, choose flowers that are in season.
A great flower tip for smaller budgets: Hydrangeas and large flowers take up more space in arrangements, so at the end of the day you will use less flowers. This will work out cheaper!
Rehearsal dinner
What is a rehearsal dinner?
Your rehearsal dinner is where everybody who is part of your ceremony, i.e. the bridal party, come together to rehearse your wedding. You practice entering the chapel with the bridesmaids, on a specific song, the pastor or priest walks you and the groom through the proceedings, and so on. This is just to avoid any awkwardness at your actual ceremony, where someone doesn't know where to stand or what to do.
Afterwards, a select few guests and your bridal party members, including you and the groom have a last dinner together before the big day.
The best time to have a rehearsal dinner
A rehearsal dinner is normally organized the evening before the wedding day. This can be at a different location than the wedding or at the venue.
Does it have to be a dinner?
No. Your rehearsal party can be a breakfast or a lunch, too. Many couples make a party out of it, as it is the last party they will have, pre-wedding.
Who will traditionally pay for the rehearsal dinner
Traditionally, the groom's parents are responsible for paying the rehearsal dinner. However, since traditions like these are falling away, it is up to the couple to pay for the rehearsal party. Unless it has been decided otherwise.
Deciding on a rehearsal dinner venue
To make things easier for the bridal party and everyone attending the wedding the next day, choose a venue close to the wedding venue. This is especially important if the wedding is out of town or at a distant location.
Schedules
There are a few important schedules that needs to be in place at your wedding. They are:
Day of the wedding schedule – a schedule for the whole wedding day, from where the bridesmaids get ready right up to the formalities at the reception
Ceremony schedule – the ceremony schedule is an in depth timeline of only the ceremony, for example what time the ceremony starts, the order of service, etc.
Reception schedule – the reception schedule should include all the happenings from after the ceremony down to the last formality, which is normally the tossing of the bouquet and garter
Suppliers' schedules – this is important because each supplier needs to know what time they should arrive and set up, when to see the bride etc. Suppliers such as the hair and makeup artists, photographer, bridal transport and venue coordinator all need schedules of their own.
Communication is key
Communication is the most important part of planning and executing a successful wedding. Everyone needs to work together as one team. They should know what to do, where to be and most important: be on time!
For massive weddings, such as celebrity weddings, you will notice that everyone working behind the scenes are walking around with walkie-talkies and earpieces, so that they can communicate. You don't necessarily need this at your wedding, however it helps if your venue is extremely large and it takes some time to walk from one end to the other.

Having entertainment at your wedding
If you feel the need to have additional entertainment at your wedding for your guests to enjoy, you can organize that as well. Keep in mind that these things normally cost a lot in addition to your essential music, DJ and lighting services.
Live entertainment or band
Many couples like to organize their favorite band or singer at their wedding. However, unless you can afford it, don't expect Ed Sheeran or Selena to rock up at your wedding. If you want a band, opt for someone local or who are still playing at small gigs.
Cocktail hour musicians
This is completely optional nowadays, but it used to be a huge trend. After the ceremony, when the couple goes off to have their pictures taken, there will be some musicians performing for the guests during cocktail hour. It will usually be a trio of violinists or even a harpist. It is not extremely expensive, but it does cost extra.
Other entertainment
More and more kinds of entertainment seem to make an appearance at weddings. These include fireworks displays and circus-type performers. We personally feel that your wedding should be more than enough to entertain your guests, but many couples prefer to go the extra mile. If this is your thing, we'd say go for it!
Photo booths – DIY vs Mobile hire
To keep your guests from getting bored and leaving early, you can include a photo booth with props which they can take their own photos at. There are businesses where you can hire this service – they provide everything and ask a certain per hour rate.
Or, you can totally DIY it!
You will need:
A backdrop
Some sort of frame – a small one to hold or a free standing one
Some props and extras to pose with
Either encourage your guests to take selfies (provide a selfie stick perhaps?)
Or hire a photographer for this (freelance and student photographers are more affordable)
Use Pinterest for even more DIY photo booth ideas!
Honeymoon
The last part of your planning should include your honeymoon. However, if you are travelling to another country, we recommend that you plan this a few months before the wedding.
Make a list of potential honeymoon destinations
Start off with researching a few destinations, including hotels, prices and what there is to do. Then make a list of about 3-5 destinations. Remember to compare everything when planning your honeymoon.
Booking flights and hotels
These should be done way in advance to ensure disappointment. Also make sure you book and process your bookings properly.
Working with a travel agency
The best way to plan a honeymoon is by working through a trusted travel agency. They can help you choose your destination based on your budget and requirements. They will also help you with all documentation needed for travelling, etc.
Planning your dream wedding, and doing it like the experts, is a very daunting task! We hope you have found this series useful in planning your wedding. If you need more help, check out our very useful printables!
If you missed part one, click here…