This page includes affiliate links, meaning at no extra cost to you, I might make a small commission if you decide to buy something. You can read my full disclosure here.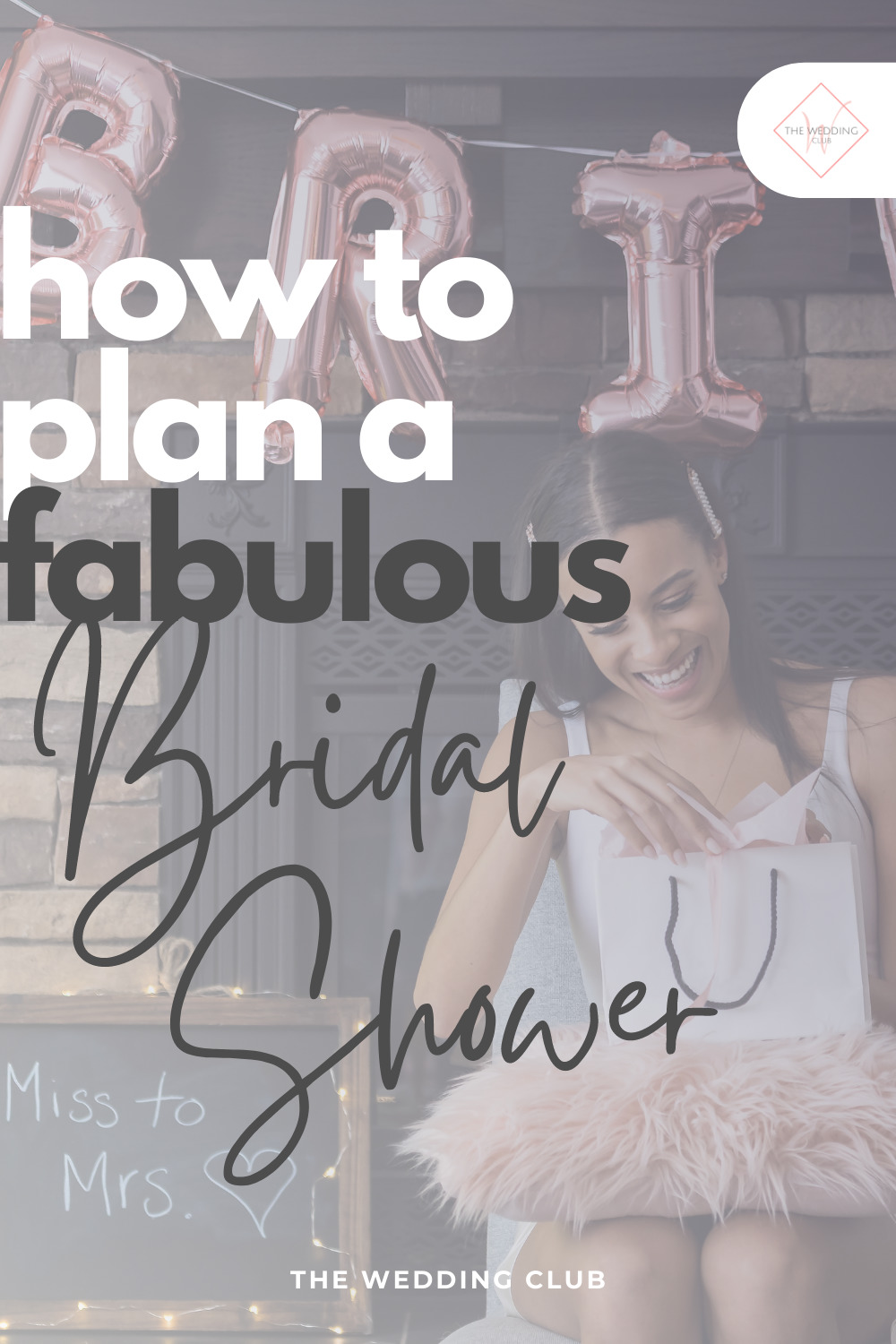 Whether you are planning your own bridal shower, or letting your bridesmaids do it for you…
There are certain essential elements that go into a bridal shower to make it successful and memorable.
There's the food, drinks, gifts, decorations … and much more!
If you feel that you might forget something, go ahead and grab our bridal shower checklist. You can also go all out and plan the entire bridal shower with this Complete Bridal Shower Planner!
Without waiting any longer, let's look at how you can throw a simply amazing bridal shower!

The Complete Guide to a Fabulous Bridal Shower
Start with an idea or plan
A good bridal shower is never boring and ordinary.
If you don't work with a detailed plan, you will have to rush and put more effort into the bridal shower to prevent it from falling apart.
If you're planning your own bridal shower (which happens more often nowadays), you already know what you like in terms of food, the venue and the theme…
If you're planning someone else's shower, well, we hope you already know what the bride likes.
To create a good bridal shower plan, ask yourself a few questions:
Where will it take place? Is it a venue that will serve food and will everyone be able to travel there?

What kind of food will be served? If it's not at a venue, who will make all of it, and what options will there be for vegans, etc?

Which guests will you invite? For instance, will you invite the ladies who RSVP'd "no" to the wedding because they can't attend?
To get an idea of which questions to ask, and how to formulate a plan, grab our bridal shower checklist.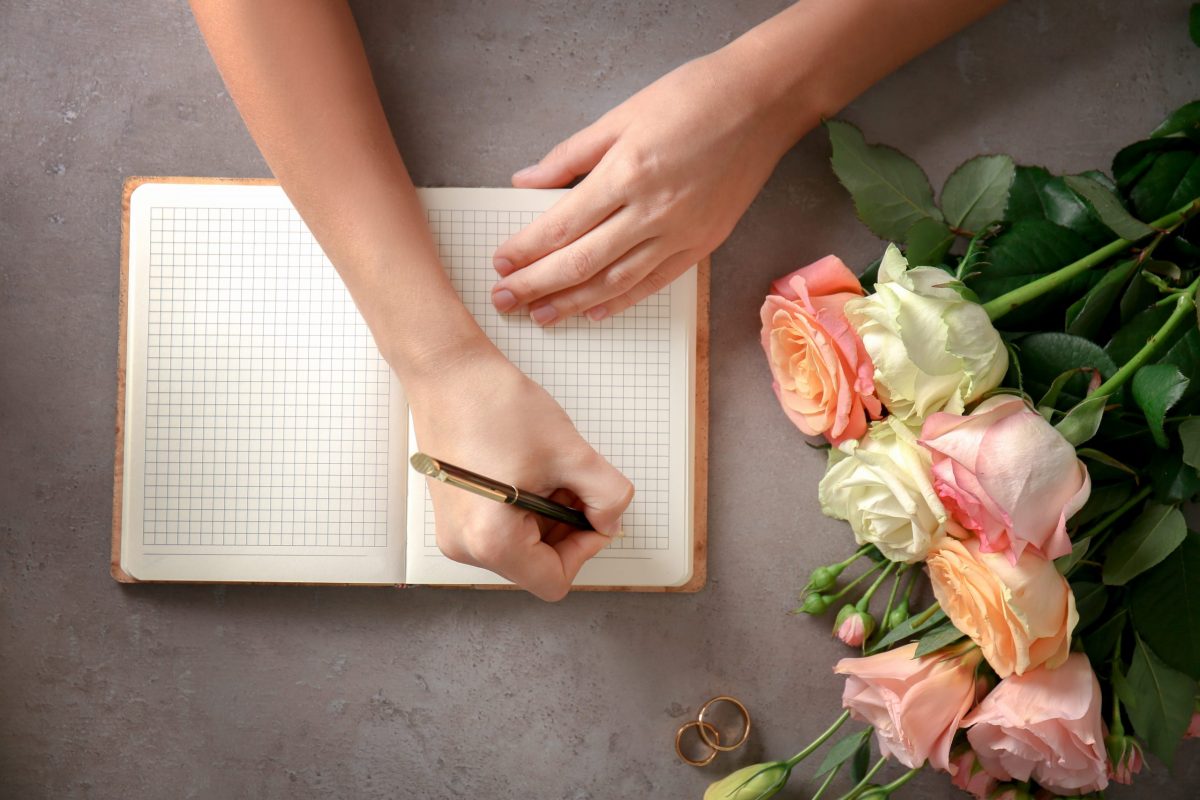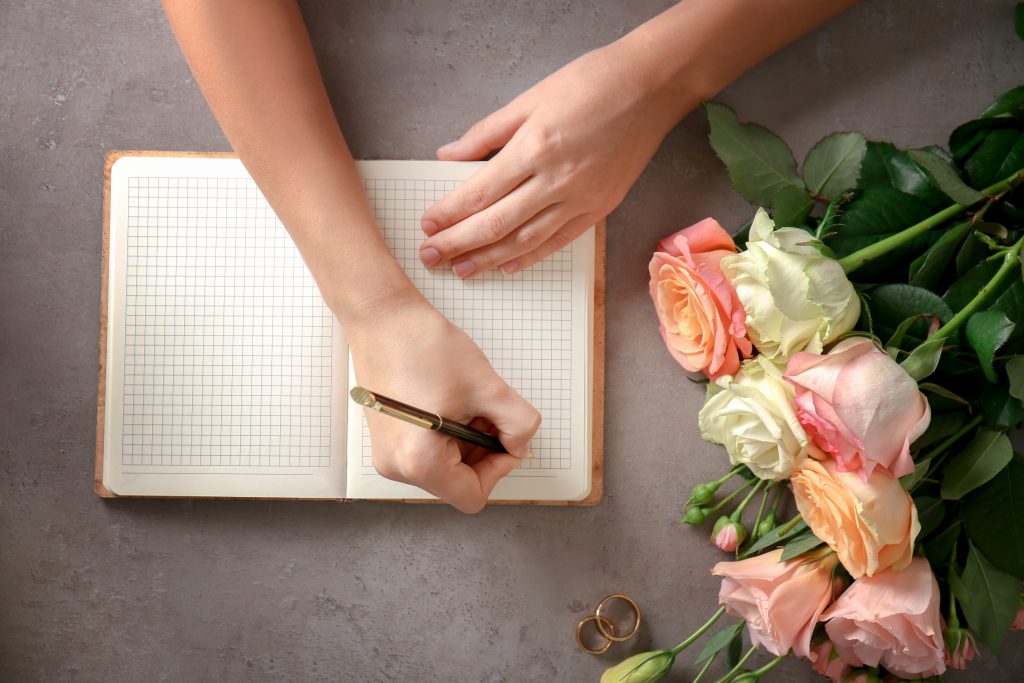 Have a date, time and location planned
It makes it easier to plan the bridal shower if you already know when and where it is going to take place.
You can then start making arrangements with the venue, or plan how you're going to host the shower at someone's home, if that is the case.
If it's at a venue, you can consult them in terms of food (menu options, pricing, etc.) and decorations (what do they provide, what is not allowed, etc.)
Pro Tip: Have a timeline for the day of the shower which includes when guests will arrive, when the bride will arrive, when the lunch or brunch will take place, and so on.

Decide who is going to help you
You should obviously ask the other bridesmaids to help you, as it is part of their duties and responsibilities.
But you can also ask some of the other ladies to help you, and even the mother of the bride.
If someone is good with flowers, or baking sweet treats, ask them if they are willing to contribute.
If the budget is tight, then it will help a lot to ask for a little assistance!
When asking for help from the other bridesmaids, delegate tasks! You don't have to do everything, that's what they are there for.
Pro Tip: Make sure you ask for assistance from reliable women who are available to help you when you need it. 
Extra Pro Tip: If you're pressed for time and there aren't many helpers, don't DIY too many things! It will become too stressful.
Not sure which tasks to delegate? Grab our bridal shower checklist to make sure you don't skip something – or take on too many tasks by yourself!
Get our Complete Bridal Shower Planner, with 42 pages, over here!
Have a bridal shower budget
As we all already know: Parties are expensive!
Make sure you set up a budget, and determine who is going to contribute, and to what.
It can easily get out of hand with decorations and extras, so make sure you stick to the budget!
If you're not good at managing it, put someone in charge who is.
Make easier decisions with a theme and color scheme
It will make it so much easier if your working with a theme or color scheme (or both!).
Things like choosing the flowers, decorations, invitations, games and the rest will become easier.
If you're not working with a certain theme, opt for a neutral color scheme such as soft pinks and whites.
Check out the bridal shower checklist for a complete list of what to organize in terms of the decor…
Pro Tip: Don't forget the budget! If you can't afford fresh flowers, make them! (there are plenty of tutorials on Pinterest)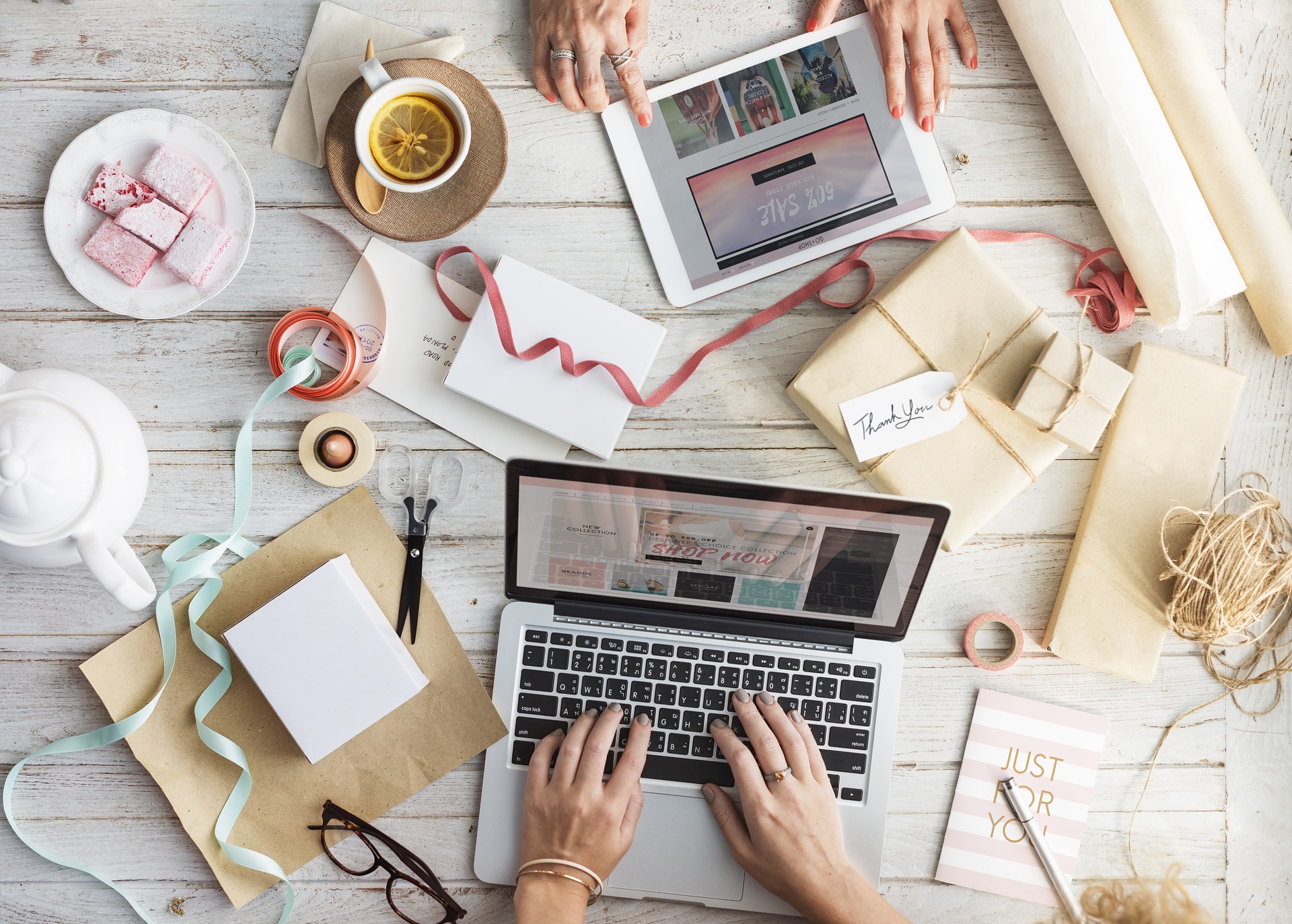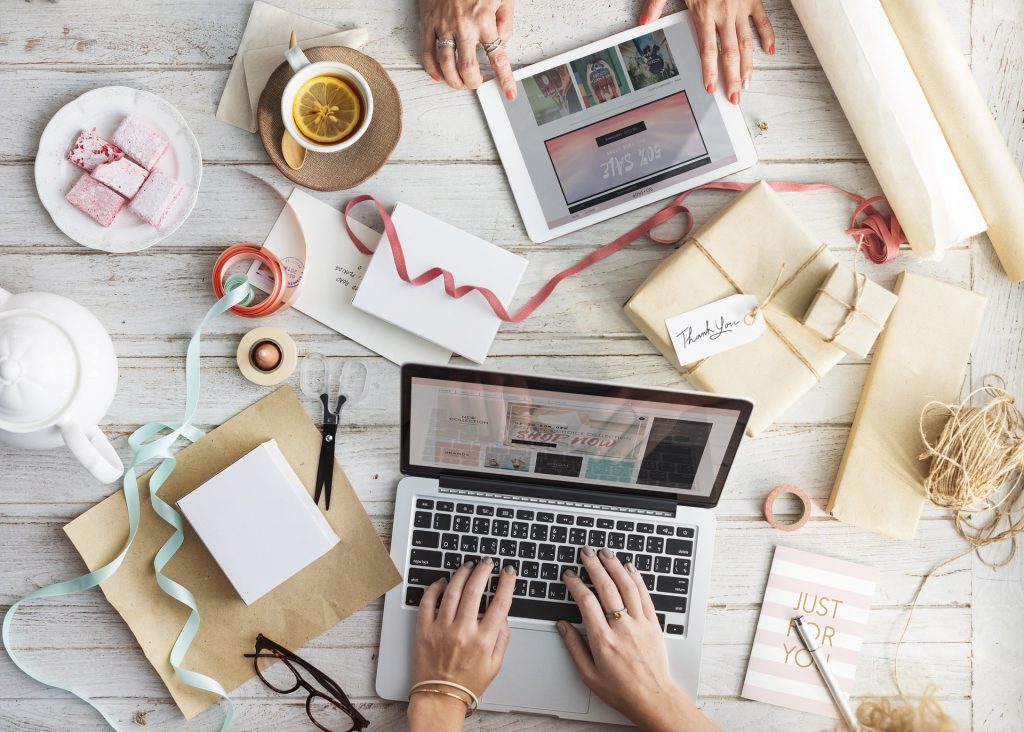 Decide what to serve
Most of the budget will go to the food and drinks of the bridal shower.
Your bridal shower guests will expect to be fed and have at least one or two beverages.
If you're having the shower at a venue, you should discuss menu options with the manager.
Decide on a few menu items if the bridal shower is private (i.e. hosted at someone's home).
Pro tip: Salads work well, and also platters, finger foods and small bites. Cake and tea-time treats are excellent for afterwards with tea or coffee.
Also, along with food and sweet treats, many bridal showers have favors for guests to say "thank you" for attending. This is optional if your budget really doesn't make room for it.
Pro Tip: Though it can become pricey, a candy buffet can double as favors for guests and something sweet during tea or coffee (serve juice during hot summer months, too).

Suggested bridal shower menu ideas:
Spring/Summer: 3 different salads, sliders, mini-pies and buffalo wings
Summer Salad

(rocket leaves, feta cheese, cucumber, cherry tomatoes, kalamata (black) olives, fresh strawberries (or any type of stone fruit), nuts such as almonds, cashews or pecans. Drizzle with a balsamic glaze.) Serve in a giant bowl and let everyone dish up for themselves.

Greek Salad

(Lettuce or salad mix, tomatoes, cucumber, feta cheese, green olives. Serve alongside a Greek salad dressing)

Asian Salad

(Steam chopped purple cabbage for 2 minutes. Add grated carrots, quinoa (black rice or couscous also works), cashew nuts, edamame or green beans, cooked chicken strips, cooked shrimp. Toss with a bit of oyster sauce. Serve with soy sauce.)  

Sliders

(mini-dinner rolls, mini patties (burgers), ketchup or ranch dressing. Can also have a chicken option with BBQ chicken)

Mini-pies

– works well because they are small. Buy a variety, or make them from scratch with pie dough and mince meat.

Buffalo wings

– also great because they are small. Have spicy and mild options, or opt for lemon and herb flavor.
Autumn/Winter: Warm Salad, Vegetable Tempura, Soup
Warm Asian Salad

(see recipe above – simply heat it up a little)

Vegetable Tempura

(make a batter, dip sliced veggies in it and deep fry in oil. Serve with ranch dressing)

Soup

– always a winner during cold days! Have 2 or 3 different soups to choose from, such as butternut soup, chicken and vegetable soup, and beef soup. Serve with fresh rolls or a variety of artisan breads.
Other great menu items:
Fruit platter or kebabs with creamy yogurt dip

Canapes – serve a variety of toppings on sliced french loaf bread

Fresh veggies and dip

Chocolate fondue with marshmallows and fruit

Petite cakes or mini-cakes

Biscuits and cookies selection with tea or coffee
Pro Tip: Search Pinterest for many great entertaining ideas! Don't make too much food or a too wide variety. Keep it simple!
When serving drinks:
Have one special drink per guest (mimosas, flavored gin and tonic water, a special signature cocktail from the bride, or simply just champagne)

For the rest of the shower, serve jugs of fruit-infused water, and one type of punch or fruit juice.

Tea and coffee, always. No matter how hot it gets, there will always be someone who would love a sweet cup of coffee or tea before leaving.

On a cold day, you can serve warm mulled wine as a welcome drink, or hot cocoa.
To see what needs to be organized in terms of food, drinks and catering, check out our bridal shower checklist!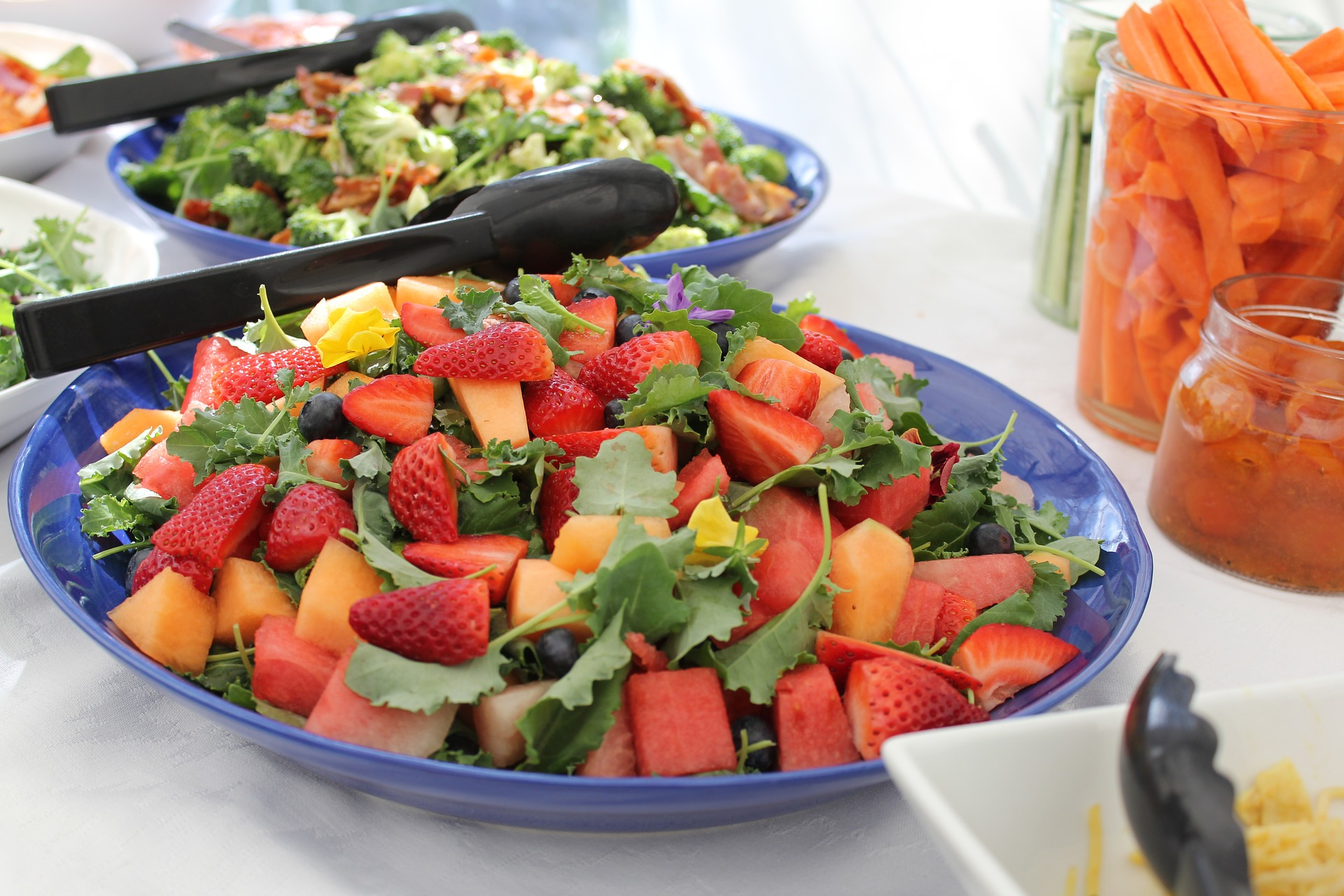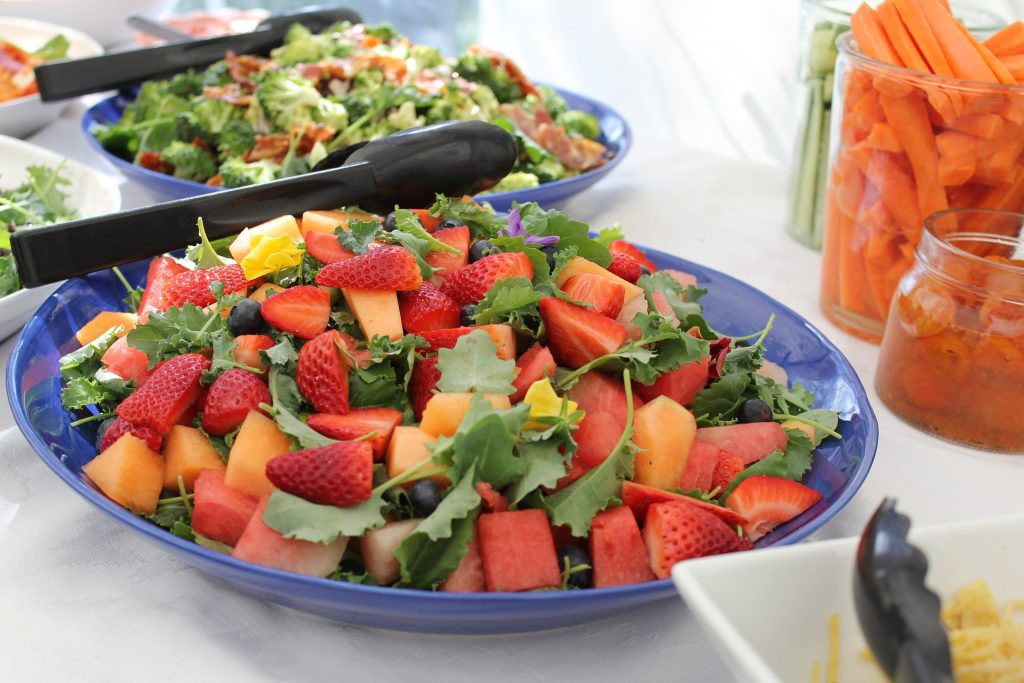 Who should be invited?
To create a guest list for the bridal shower, make a list of all the ladies who were invited to the wedding.
Decide if you are going to invite the ladies who RSVP'd "no" to the wedding, because they have valid reasons for not being able to attend.
Next, make sure you have the correct contact details for each woman.
(If you're working from the wedding guest list, you might have the husband's details listed for both persons, and accidentally send him the invitation to the bridal shower!)

Kids at the bridal shower
Allowing kids at the bridal shower is a preference…
If the shower is on a Saturday, you shouldn't expect new mothers to get sitters for their babies. Let them bring them along!
You can rather hire a sitter for the bridal shower, to watch over all of the kiddies who came with.
Make it special for them, too, by having a kids corner or a separate table with some activities.
Planning and sending out bridal shower invitations
Still need to order the invitations for the bridal shower? We highly recommend you order them from Minted, as they offer a wide variety of options and different pricing for every budget! (Not to mention their simply gorgeous foil pressed stationery…)
Pro Tip: Make sure you include a map of the location, and the bridal shower gift registry in the invitation as well.
If you prefer to do all of the invites digitally, e-mail neatly designed invitations, and send a map pin-point to everyone at a later stage.
Pro Tip: Keep track of bridal shower RSVPs THOROUGHLY! (Let one person manage this)
Extra Pro Tip: Also, make sure to mention if guests should bring something, such as a recipe for the bride's kitchen, a date night idea, words of wisdom, game ideas, etc.
If you're stuck on planning the guest list, ask someone closest to the bride (even the groom) to help you out.
Don't ask the bride herself – as soon as you do, she'll know something is up.
It will just ruin the whole surprise!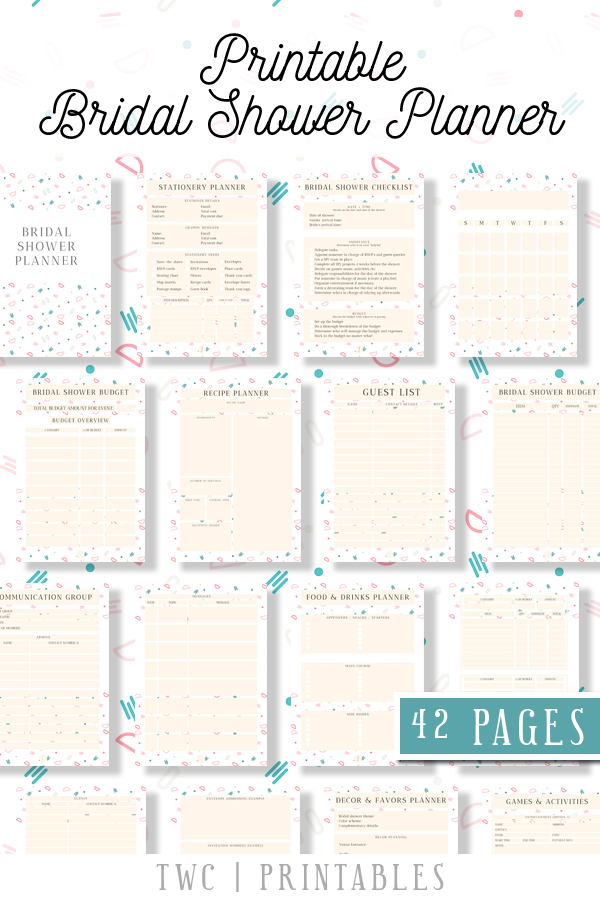 Get our Complete Bridal Shower Planner, with 42 pages, over here! (Or click on the image)
Organize transportation
(…and accommodation if it's going to be a weekend thing)
You need to find a way to get the bride there without her knowing where she's really going…
Top stories to spin when picking the bride up: 🙂
Tell her you're taking her for shopping / lunch / a movie / etc.

Tell her you need her opinion on something you want to buy, i.e. an expensive dress, shoes, etc.

You need her help in choosing a puppy or kitten which you want to adopt from the local rescue center
Keep your cool – she probably won't expect that you're taking her to her bridal shower. Surprise!

Create a gift registry list
Traditionally, gifts are given to the bride at her bridal shower to wish her well and to help her kit out her new home.
Make sure you set up the registry list before sending out the invitations to guests (include info on the bridal shower registry in the invites)
Nowadays, you can easily create a gift registry online. A great website to do this on is the one provided by The Knot.
(Note: Even though The Knot provides the right tools for the wedding registry, use the same registry for both the shower and the wedding – it gives guests a second chance to purchase items which the bride haven't received at the shower…)
Pro Tip: When choosing gifts for the bride, make sure what she really needs.
Need help on planning this? Check out our bridal shower checklist here
Organize photography and videography
Luckily we're living in an age where capturing perfect memories is even more possible than ever.
If you want to make the day extra special, and the budget allows for it, why not hire a photographer (and possibly a videographer)?
If you simply can't afford to, make sure you put someone in charge of taking photos.
You can make it even more interesting by creating a special photo corner or booth, where everyone can have photos taken.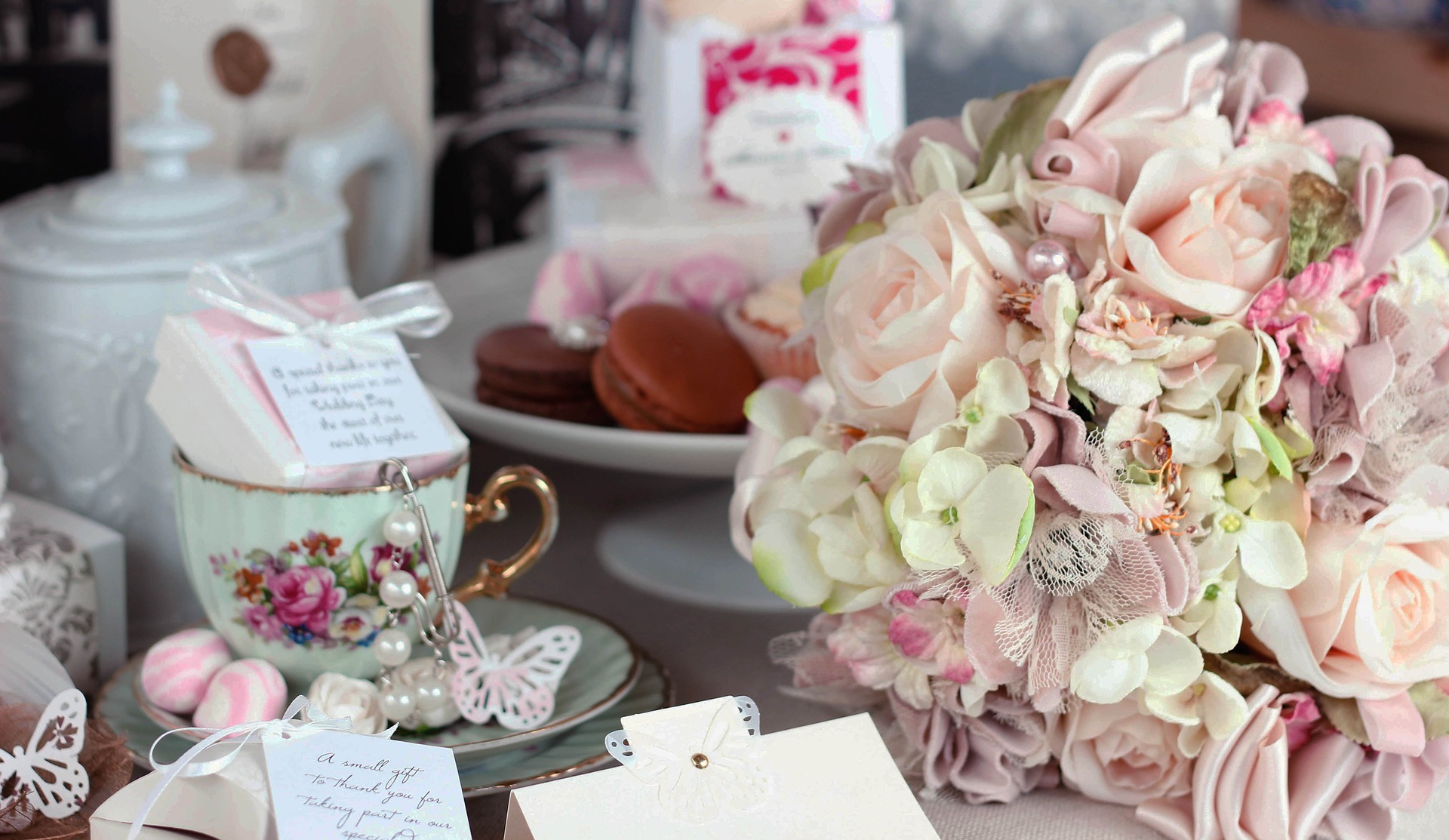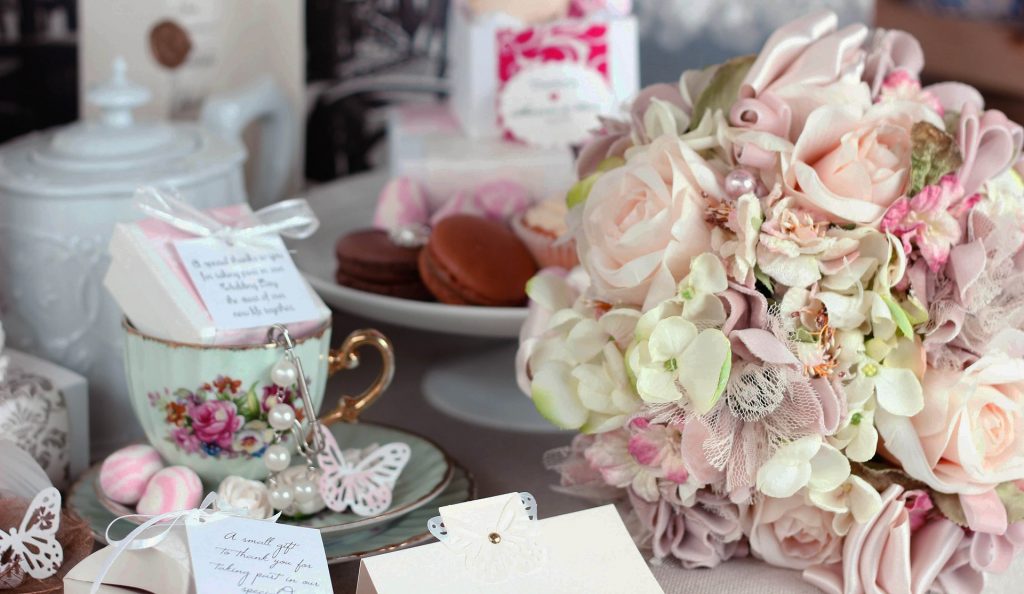 A few tips for the bridal shower
Have games and activities to keep things going (read this post for some ideas + free printable bridal shower games)
We have an entire section dedicated to bridal shower games, signs and activities, which you can view over here in our Etsy shop…

Don't worry too much about all of the decorations – keep it simple with basic elements, such as fresh flowers and whimsical napkins

Be mindful of the guest list: You should be aware of which friends the bride no longer sees, or which aunt, for example, will make the shower unpleasant

On the day, make sure someone is in charge of the bride's comfort – keep a refreshment in her hand and dish up for her if necessary

Remember to clean up afterwards – especially if the bridal shower is at someone's home.
If you need guidance on all the tasks and requirements for a bridal shower, don't forget to check out our bridal shower checklist!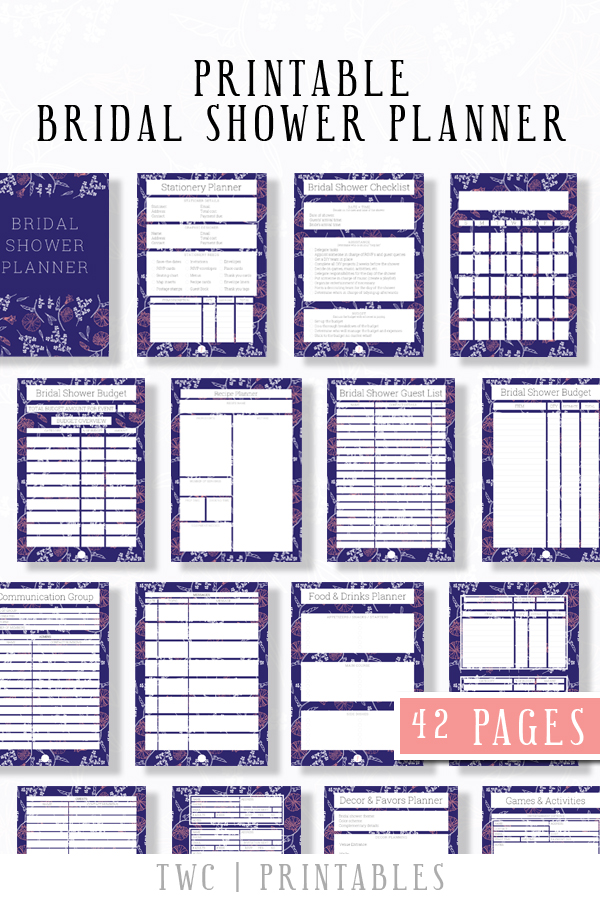 Get our Complete Bridal Shower Planner, with 42 pages, over here! (Or click on the image)