This page includes affiliate links, meaning at no extra cost to you, I might make a small commission if you decide to buy something. You can read my full disclosure here.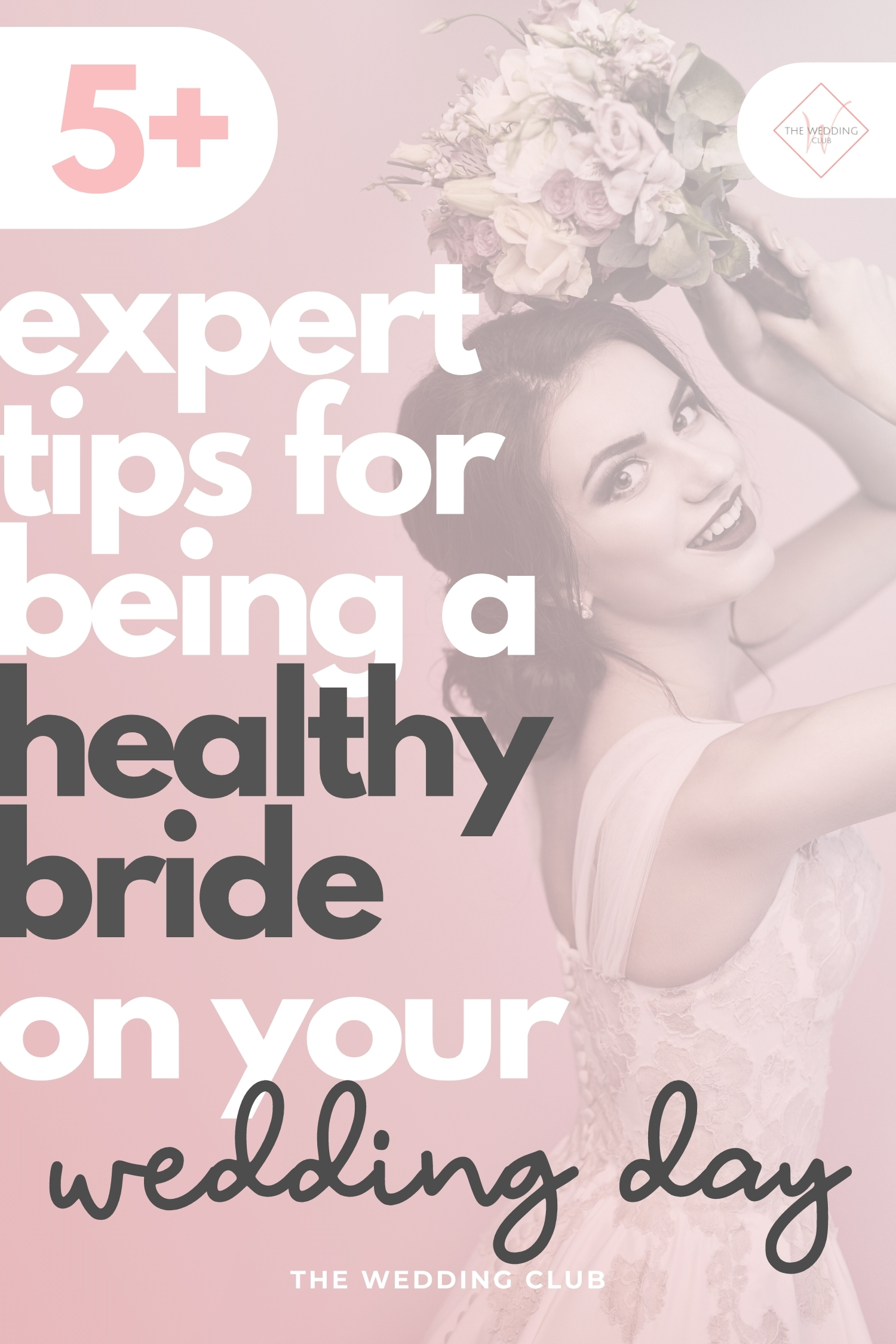 Isn't it funny how those of us – who are already healthy and beautiful – resort to extreme measures to look great on special occasions? Especially if you are a bride to be…
And the worst thing about these extreme measures, is that sometimes, many overdo it, and it can lead to even more disappointment and even health risks.
In this post, we aim to bring you expert tips for being a healthy bride on your wedding day. These tips will focus on healthier solutions, rather than the extreme and risky ones.
5+ Expert tips for being a healthy bride on your wedding day
The Pressure of Planning a Wedding
Planning a wedding is extremely stressful, we know!
And with all of this pressure, you are more likely to neglect yourself when you really shouldn't. You tend to either overeat, or not eat at all because of a non-existent appetite. Or you simply don't look after yourself the way you're supposed to.
When it comes to stressing about your wedding planning process, may you should start there. Identify what exactly it is that makes you stress, and find ways to lift your burden a bit.
Delegate tasks to other people, such as friends and family. Or find a good wedding planner you can rely on.
Saying Yes to the Dress
One of the most stressful and exhilarating moments of planning a wedding, is choosing your wedding dress. It is stressful, because you feel pressured in finding the right one – and it should be one that fits into your budget!
You may also feel stressed because you hope that your bridal party, your mom, and everyone else you choose to take along, agrees with the dress you really want to wear.
When you find the dress, the next logical move is to get it fitted. And this is where you decide to grab that extra sugar coated donut, because you either fit into your dress – so you can afford to eat it. Or, you don't fit into your dress, but you've still got time to shake off a little weight…
Healthy Bride = Beautiful Bride
Let's face it.
A healthy bride just looks so much more beautiful on her wedding day. (Note: we are definitely not referring to brides who are chronically ill here!)
Your wedding guests also just want to see you happy and healthy on your special day, so don't do stuff to your body or starve yourself just so you can fit into your dress for one day.
It really isn't worth it!
A key note to remember: Weddings can be very overwhelming. You will enjoy your wedding so much more if you simply feel good.
So here we go…
5 Expert tips for being a healthy bride
1  |  Avoid Extreme Dieting
Extreme dieting is definitely not the way to lose weight.
Stop falling for those "22 lbs in 15 days" diets or a product that makes you an unrealistic promise.
The only guarantee that you really have with these diets is that you will most likely become ill – or you won't see any results, even after spending thousands of dollars.
There are some severe side effects of extreme dieting:
Excess skin from losing weight too fast
Lack of nutrients, minerals and vitamins, which can result in deficiencies and can in turn harm your body
A weaker immune system due to loss of nutrients means you can easily become ill
What are fad diets?
Fad diets are trends in the weight loss industry and are mostly supported by certain tablets, powders or supplements you need to take in order for the diet to work.
Think about it: Any diet that has a disclaimer of "this diet/product is only effective if used in conjunction with a healthy eating plan and regular exercise" should make you wonder…
If you have a healthy eating plan and regular exercise in place, why would you need diet pills?
We get that you are desperate to lose weight, but extreme dieting and fad diets are definitely not the way!
2  |  Lose Weight the Healthy Way
The only true, healthy way to lose weight is by having a plan in place that is specific to your body and your needs and habits.
The foundation of it all lies in eating correctly, cutting on sugar, and exercising. Your body also needs water to wash out toxins. We cannot tell you how much of what you need to do or eat and how much water to drink.
We highly recommend that you see a professional in this area, such as a dietitian. They will help you plan out what your body needs by doing a few tests. Also, they will help you to work out an effective plan to stick to, to get results before your wedding day.
Also read: How to Bulletproof your Immune System
3  |  Healthy Shots and smoothies
Smoothies and health shots are a great way to get your fruit and veggies in for the day – and also some health benefits by adding roots and herbs.
Yes, they do contain sugar, especially if you add lots of fruit, but if you replace some ingredients here and there and drink more veggie based smoothies than fruit based ones, you should be able to limit your sugar intake.
You can easily do a fruit and yogurt smoothie for breakfast. Or go for a green smoothie by adding some leafy greens, avocado and apple. If a smoothie is too bitter, add a little bit of honey.
What are health shots?
These little guys are a concoction of concentrated ingredients that you can take in a tiny shot glass once day. They are completely DIY friendly and you can easily make it at home in a bottle and store it in the fridge.
We have a few recipes for you!
Flu Fighter Shot
Makes approx. 8-10 shots – keep it in a bottle in the fridge and drink in a shooter glass everyday
200 ml freshly squeezed lemon juice
2 teaspoons cayenne pepper
2 teaspoons ground ginger
1 tablespoon honey
Place all the ingredients in a bottle and shake. Remember to shake the bottle every time before serving it in a shot glass.
Immune Booster Shot
Makes approx. 8-10 shots – keep it in the fridge and drink it every morning with a glass of water
200ml boiling water
2 teaspoons cinnamon
2 teaspoons honey
Juice of ½ a lemon
Add cinnamon to boiling water and stir. Put it aside and wait for it to cool down. Add the honey and lemon juice and pour it into your bottle. Shake and shoot!
Remember to shake the bottle every time before serving.
Golden Milk
Drink before bedtime to fight inflammation.
350 ml Almond or Coconut milk (heat up in a pot)
340 g Turmeric powder
¼ teaspoon Ground cinnamon
1/8 teaspoon Ground cardamom
1 ½ tablespoon Honey
Black Pepper to taste
Add all of the ingredients to the hot milk and stir. Pour into your favorite mug and drink before you go to bed.
Green Smoothie
2 cups baby spinach
½ cubed avocado
1 green apple
1-2 cups coconut/almond/soy milk
1 tablespoon honey
ice (optional)
blue/green algae powder (optional – but worth it!)
Blend and drink up!
Our Favorite Fruit Smoothie
1 cup strawberries
1 cup blueberries
1 large banana
1-2 cups plain yogurt/water/coconut milk
1 tablespoon chia seeds
mint leaves (optional)
ice (optional)
Blend it and go!
4  |  Healthy lifestyle
When you plan your wedding, it can feel as if you are becoming part of a raging hurricane. You have to juggle your work and family life along with all the wedding details, so you naturally put your needs last.
Don't do this to yourself!
To feel great and look healthy on your wedding day, you need to try and have a healthy lifestyle. We don't want to bore you with the usual stuff such as eating right, drink water, exercise, etc.
But we do have a few tips for you when it comes to your lifestyle:
Cut bad habits from your life
You probably already know what they are and how they are affecting you, so make that change!
An easy way to do this is by using a habit tracker – we have a great one that is part of our Personal Planner Kit – simply print and use.
Work with a daily or weekly routine
Make time for yourself at least once a week, to focus just on yourself. Whether that means a spa day, or simply going to bed early or relaxing in a hot bubble bath, do it for you.
It also helps to have a daily routine that fits into your lifestyle. Be sure to include eating times, exercise if you have to, and so on. Also include your beauty and skin care routine into this, so that you take care of your skin and face.
If you neglect yourself, it may start to show – and that is what we want to avoid on your wedding day, of course!
Declutter your life
Why?
Clutter causes stress, which in turn causes some negative side effects of its own, as we already know. Start with your house, then move on to other areas of your life.
Also read: How to declutter your life in 15 easy ways
Develop good habits
Good habits will help you to stress less, and in turn look healthy and happy on your wedding day.
However, don't try to change all your habits in one day!
Gillian Warren-Brown of FreshLiving Magazine, says you have less chance of succeeding if you try to change everything all at once. If you decide that "from tomorrow, I am going to exercise, eat right, drink lots of water, sleep early", and so on… You will likely struggle to follow through with it every day.
Start with one thing. Master one habit at a time before moving on to the next one. If you decide you want to drink enough water everyday, do that for two weeks and see how it goes.
Then you can start moving on to smaller portion sizes, breathing exercises, focusing on tasks at hand, and so on.
Sleep
This might be such an obvious tip, but most people forget this important part of a healthy lifestyle.
Lack of sleep can cause so many problems, and worse, is that people will start to notice when you are up all night, thinking about wedding stuff.
And don't forget the importance of a good bed! Make sure you rest well and comfortably, by avoiding tech in the bedroom, and by having good bedding – such as a orthopedic mattress. We recommend DreamCloud (get $200 off), Nectar ($125 off + 2 free pillows) and Puffy.
5  |  Bridal Bootcamp
Luckily for most of us who need it, there exists something as great as a bootcamp. And what's even better than having the option of joining a bridal bootcamp?!
The main reason why bootcamps are awesome is because they are hosted by trainers who understand how badly you need to exercise, but that you need the motivation and support to do it. Ask at your local gym, on Facebook and at your local sports campus or stadium if there are bootcamps available for you to join.
Bridal bootcamp tips
Should you join?
Only if it is necessary. If you feel you need the exercise and are desperate to change your body before your wedding day, we'd say go for it. But if you are not active at all, or don't need vigorous exercising, then don't do it. Worst case is that a bootcamp can be a shock to your body.
Trusted trainers only!
Don't just join a bootcamp that has been advertised in your area, just because you're desperate. Make sure the trainer you choose to work with is trustworthy and experienced. They should know what they are talking about and what exercises they should induce.
Don't overdo it
A bootcamp sounds quite intimidating, because it is! Don't punish yourself or overdo it by joining all the bootcamps and exercising yourself into a coma.
Do it with a friend
A bootcamp is already quite supportive, but having a friend joining one with you is all the more motivating. You can drag each other to the fields at 6am and cheer each other on! 😀 Also, you can meal plan together and work towards having better and healthier lifestyles.
Other fitness tips
Just go to the gym
Joining the gym is already a way to get that monkey on your back – and it constantly reminds you that you have to go… Also, stay on track with your health and fitness after the wedding by making it a habit to go to the gym. You will feel great once you're committed!
Hire a personal trainer
If you're not too confident about gyming alone, or joining a group of bootcamp fanatics, then you should consider hiring someone who can help you work on your bridal bod. The gym normally has a registered trainers which you can consult to help you set up a decent exercising plan.
What if you can't afford it all?
All these things costs extra. The bootcamp, the gym membership and, especially, the personal trainer. If you feel you are committed enough, you can easily exercise at home.
But where do you start?
If you're ready to move your couch out of the way and put those trainers on, we suggest you invest in a fitness program. Look no further than popping some Jillian Michaels into your phone – because she has a new fantastic fitness app (with meal plans, by the way)! She is one of our favorite motivational women and she has such a great collection of training programs to choose from.
BONUS TIPS
Because you are so fantastic, we feel you need to get even more useful info out of this post! 
Staying Healthy on the Day of your Wedding
We've given you all the tips and advice needed for staying healthy on the days building up to your wedding. But what about on the day of your wedding?
Stay hydrated – your body needs water to function properly. If you become dehydrated, you will likely be met with a nasty headache or worse. Stick your maid of honor up with the task of making sure you drink water and juice (for some sugar) before your wedding.
Eat breakfast

– don't skip breakfast because you're too busy with hair, makeup, final details and getting ready. Your bridal party also needs to eat (to avoid the fainting pandemic) so make a point of having a decent meal together.
Calm yourself – you can get worked up so quickly with wedding stuff, that you might, well, lose your stuff. Try to keep calm and divert all emergencies to the maid of honor and best man.
Be prepared – ask you maid of honor to help you put together all the things on the emergency kit list (free, in this post). Being prepared makes it easier to handle a crisis and to keep calm.
Beauty Routine
It's not just your body that needs all the health care tips for you to look, and be, healthy on your wedding day. Your hair, skin, nails and face also needs all the attention it can get.
Be sure to take care of your skin and face as much as possible. If you struggle with acne or skin problems that will be visible on your wedding day, see a dermatologist.
Invest in a good moisturizer. Dry skin, especially in Winter, is difficult to maintain and fix once it gets to that point. You need a good facial moisturizer too – one that will keep your face smooth, glowing and radiant in the day and evening.
Supplements
We're ending off this post with a final tip: use supplements. Before you dive right in, be sure to do your research properly on each type of vitamin or mineral you plan to take, and what their effects are, and if you really need them (i.e. if you eat a lot of spinach, it is unlikely that you need an iron supplement, for instance).
Finally, once you have decided which ones you want to take, make sure you only purchase from high quality brands, such as Perricone MD. They have a great multivitamin, and other great products.
Now read: 18 Essential items that you should take on your honeymoon
Disclaimer: Although we aim to provide accurate and useful information about health, fitness and beauty, we are in no means qualified professionals in this field – we are not doctors, nutritionists, dietitians, personal trainers, fitness professionals or any related professional in the field. Following through with any advice or tips we give is entirely at your own risk and we cannot be held liable.