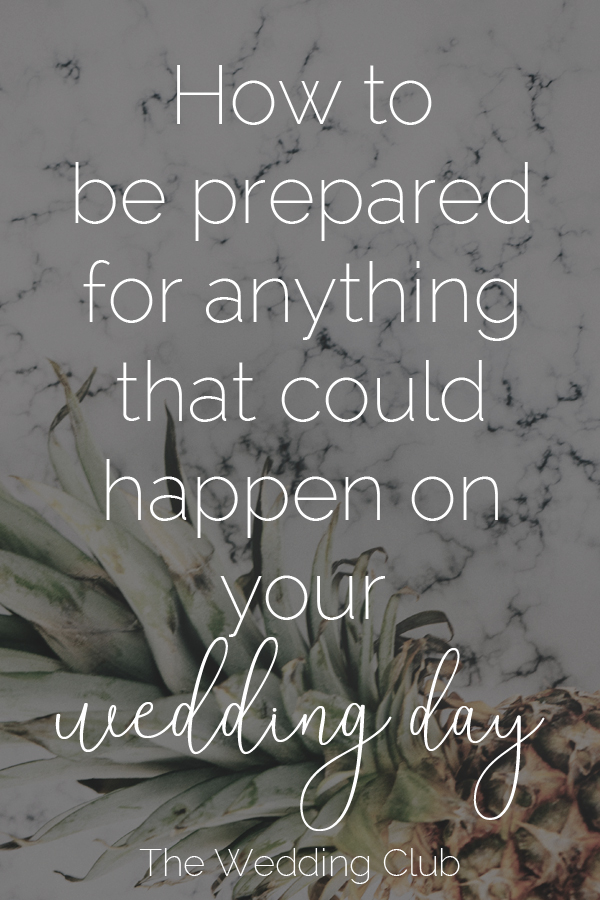 The day has finally arrived. Everything seems to be perfect and going exactly the way you planned it. But what if something goes wrong and you have no idea how to handle the issue? In this post, we want to help you rescue your wedding, if it comes to that…
How to be prepared for anything that could go wrong on your wedding day
Identifying the wedding problem
How big is the problem?
You need to assess how big the problem is before you make any drastic decisions on how to solve the issue. Sometimes, because you are stressed out on your wedding day, small issues might look like a disaster. Take the following for example:
Scenario 1: The wedding cake fell over
Yes, it is a horrifying sight to watch a five tier wedding cake topple over. And yes, it is sad to behold the destruction of a wedding cake on your special day.  That's why wedding cakes are placed in the reception hall long before the wedding. If your photographer is a professional, they will know to take photos of the cake long before the ceremony has started.
Also, the venue coordinator, wedding planner (if you have one), catering staff, maid of honor or anyone else who cares about the success of your wedding day will surely jump in to try and reassemble the cake.
You need to remember, that you will cut the wedding cake at some point as well. And, on a personal note, you are marrying the man of your dreams and that is the most important thing that day.
The solution: Like they say, prevention is better than cure… Have a smaller cake to have the cake cutting ceremony, the rest can be beautifully decorated cupcakes or mini-cakes. If you insist on having a large wedding cake, make sure that it is safely placed out of the way and on a sturdy table where no one can bump it over.
Lastly, a professional cake baker knows that a tiered cake should have a supporting board at the bottom and between the cakes stacked on top of each other. There also need to be dowels pushed through the cake at different points (don't worry, no one can see it unless you cut it) to make the cake more stable.
Scenario 2: The Master of Ceremonies didn't show up
The main role of the MC is to direct the proceedings of the reception. Contrary to most beliefs, the MC is not there to entertain. Sure, it helps if the MC is charismatic, and guests love a good laugh at the wedding.
However, anyone who has been to a wedding before knows how it works…
The solution: Ask someone older who have attended many weddings before to stand in for the MC. Be sure to ask someone who can handle a microphone (not your drunk cousin who finds the open bar way too enjoyable…). To prevent this situation, you can also ask your father or the groom's father, your or his brother, an uncle, etc. beforehand so that they know that it might be expected of them, in case.
Also Read:
Scenario 3: The limousine didn't pick you up
This scenario is actually more common than you think… However, it is not such a major crisis. Think about it: How many people are going to see you get out of the limo? Isn't the whole point to get to the church and get married to the groom?
The solution: Call a back up car from someone close by or at the venue. Alternatively, you can also call an Uber taxi or similar. To prevent this from happening, always have a plan B beforehand, in case the main car doesn't arrive.
When is it necessary to hire a professional?
Ways to determine if you need a professional
There are a few ways to determine if it is necessary to hire a wedding planner or wedding coordinator. Like we mentioned before, you need to decide how big the problem is.
In any case, it is much wiser to hire a planner long before the wedding. This is because the wedding planner first needs to be filled in on your wedding details. They need to know what is going on.
You can organize someone at the last minute, but it is difficult to do this and much more costly.
Never underestimate the efficiency of a wedding planner. They can help you in so many ways. And, on the day of your wedding, they will make sure everything runs smoothly and deal with issues that may arise (without your knowledge) – to make your day as stress free as possible.
To determine if you need a professional, answer the following questions:
Are you prone to putting off appointments to the last minute?
Do you easily forget important details of a task that needs to be handled?
Do you easily overspend and shop 'til-you-drop?
Have you spent most of your free time on Pinterest lately and still have no clue what exactly you want for your wedding?
If you answered 'yes' to most or all of these questions, then you need to consider hiring a wedding planner…
Enter the wedding planner and their packages!
The wedding planner will help you to make your wedding day an unforgettable success. They will help you to focus on the memorable aspects, and leave the logistics and organisation to them. Think about it: Do you really want to stress about all the tiny details and worry about if everything and everyone has shown up – on your own wedding day? NO!
There is a certain topic around wedding planners and their fees. Yes, many wedding planners are expensive. And yes, many wedding planners are affordable. It all comes down to where the wedding planner operates from (location) and how many years experience or number of weddings they have planned, in most cases.
Fear not: Most wedding planners have the option of a "tailored package". A tailored wedding planning package simply means that it is a specially made up package for only you and to suit your needs (and your budget).
Most wedding planners have three standard packages with add-on options: The full-on wedding planning packages (includes everything from unlimited contact hours up to handling of all suppliers, etc.). The affordable wedding planning package, and the tailored wedding planning package. Add-ons are things like budget planning at an additional fee, or venue scouting where a planner finds a wedding venue for you, etc.
Also take into account that most wedding planners (not all) have a 'day of wedding' coordination package. This means that they will coordinate your wedding day, but they are not part of the planning process. You may meet them 3-4 weeks before your wedding day to brief them on suppliers. They ensure that your wedding runs smoothly on the day, so that you can relax and enjoy your wedding.
The wedding planner have many roles to play in your wedding, depending on the type of package you choose…
Also Read:
The importance of the backup plan!
Having a plan B – everywhere!
The correct 'plan B' will ensure that you are backed up by additional suppliers and resources, in case something goes wrong, or someone/something didn't show up.
To create a plan B, you have to know where common issues may come up (cake not showing up, transport issues, rain on your wedding day, etc.). Also, if you have a "gut feeling" that something might go wrong – go with that feeling and organize a backup plan. You can never be too thorough in your wedding planning.
One of the main causes of stress on your wedding day is because you have a fear that something might go wrong… That your day is not PERFECT in every way, or that it might cause embarrassment for you… And we get that, it is natural to stress on your wedding day.
Be sure to start with collecting additional suppliers' contacts for your wedding binder. We recommend that you choose at least 3 suppliers for each aspect of your wedding (flowers, cake, DJ/band, etc.)
What to do if you don't have a plan B…
We always try to cover all the aspects of a wedding with "what if's" and backup plans. However, sometimes there is a scenario where there is no backup plan in place…
Take a few steps back to assess the situation (if you don't have a wedding planner). We mentioned in the beginning of this post that some issues appear more major than they really are, because you are stressing.
Remember: Everyone at your wedding are there for you. Anyone will help out if a problem arrises. What matters is that you make the most of your wedding and just enjoy it!
What to do when your wedding planner drops you
Consider having a team
There are a lot of wedding and event companies out there who has an entire team of planners and organisers. They work together as a team to make your wedding day a success. Consider checking out these options before you decide on a wedding planner.
If your wedding planner drops you on your wedding day – you can always ask the maid of honor, bridesmaids, your or the groom's mother, etc. to jump in and help with organising. Everyone will make the effort to make sure that you enjoy your special day.
If your budget allows it, you can also consider getting two wedding planners. This also helps if you have a large wedding with more than 150 guests. That way, when the one wedding planner doesn't show up, there is another one to hold the fort.
You may also want to add the contact details of a few planners in the area of your wedding venue, to your contact list as a backup plan…
Also Read: