The eco friendly wedding style aims to provide more environmentally conscious ways to limit wastage, specifically plastic waste and non-recyclable items. If you're thinking about including more sustainable or organic options in your green wedding style, this eco wedding theme is right up your alley! 
But, why would anyone want to have a green or eco friendly wedding? Weddings can contribute quite heavily towards our ongoing waste problem. Think about everything that will be thrown away afterwards? From flowers and greenery, to leftover food and used items such as paper cups, cupcake wrappers, confetti tossers, and so on. Not to mention the packaging of products used for your wedding items.
I can definitely do more from my side to reduce my carbon footprint, but I do try to incorporate more green and sustainable wedding items and elements wherever I can. Plus, green and eco friendly weddings look very sophisticated, modern and new age, if done correctly. Be on the lookout for anything organic, or organically sourced, which you can add to your wedding. 
What you need to know about the eco friendly wedding theme
The green, or eco friendly wedding theme is similar to the greenery wedding theme, but with alternative options to most elements in the styling of the wedding. For instance, cutlery, glassware, favors and decor can all be replaced with more sustainable options. When it comes to floral styling, however, it is key to include a lot of green (plants, branches and stems) — just like the greenery wedding theme.
You don't have to replace every single detail with a more sustainable option. Every little change will help towards the bigger cause of becoming more environmentally conscious. Start with small things, like table settings and wedding favors. You can also start off on the right foot by booking an eco friendly wedding venue.
Styling an eco friendly or green wedding is not that difficult, and as we're moving more towards global sustainability and environmental awareness, it's much easier to source wedding items. Include natural elements and greenery in your wedding style. If you want to know more about styling your wedding, you can read more about doing it like a pro in this post, where I cover basic color theory, and give tons of tips and advice. 
11 eco friendly wedding ideas and tips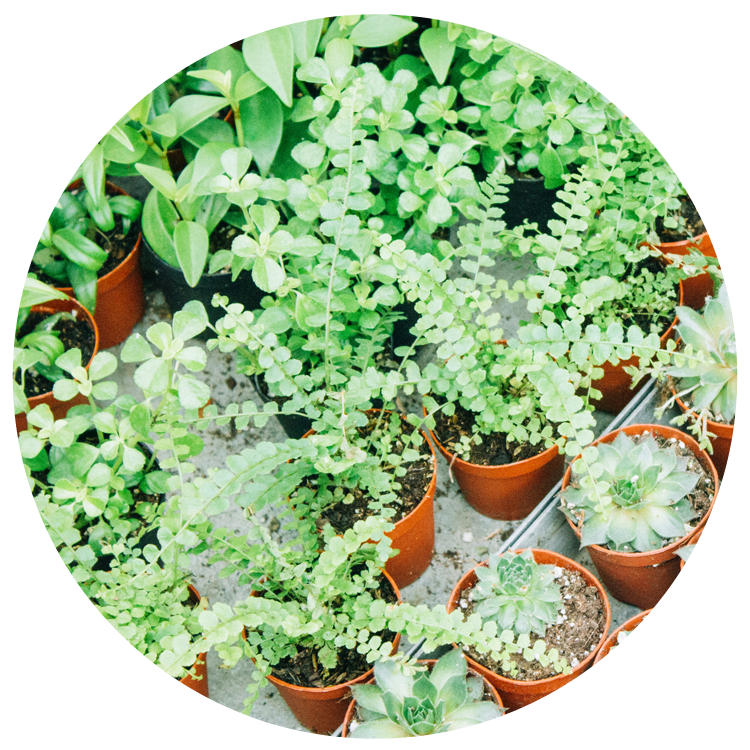 Use potted plants for your centerpieces
You can be smart about the use of greenery in your wedding style, and opt for potted plants instead. These can be given away after the wedding as gifts, or taken home to be cared for if you're a plant fanatic like me! A great way to portray a specific color palette, if you have one, is to paint the pots in matching colors. Using this potted plant method will limit the wastage of plant material, because it doesn't have to be tossed away after the wedding.
Choose a green wedding venue
Unless you have a large wedding budget and have the means to transform your favorite wedding venue into a more eco friendly version, choosing a green venue is the best route to follow. You can list a few botanical gardens and nature reserves as your top choices. Don't forget to look at venues who sell themselves as "green alternatives" or organic and who aims for sustainability.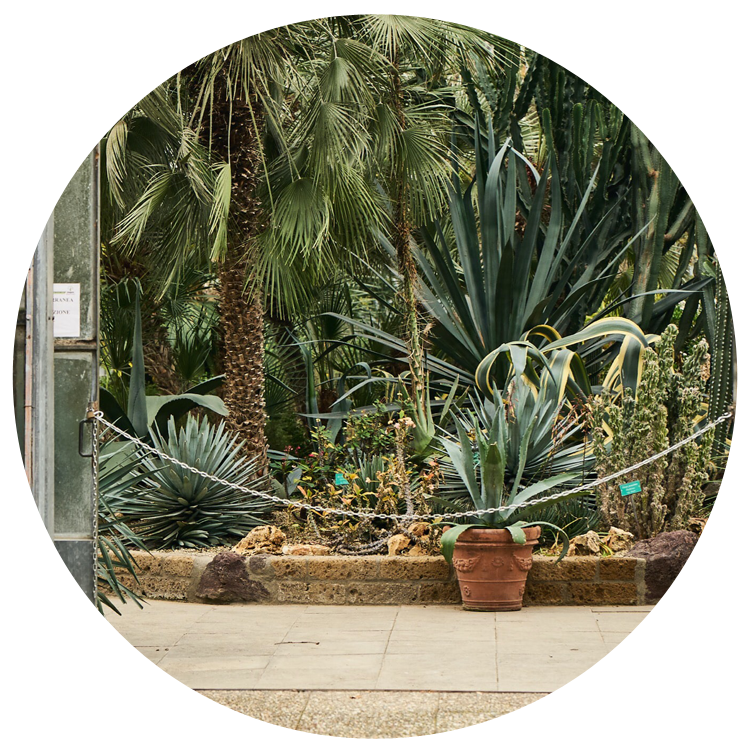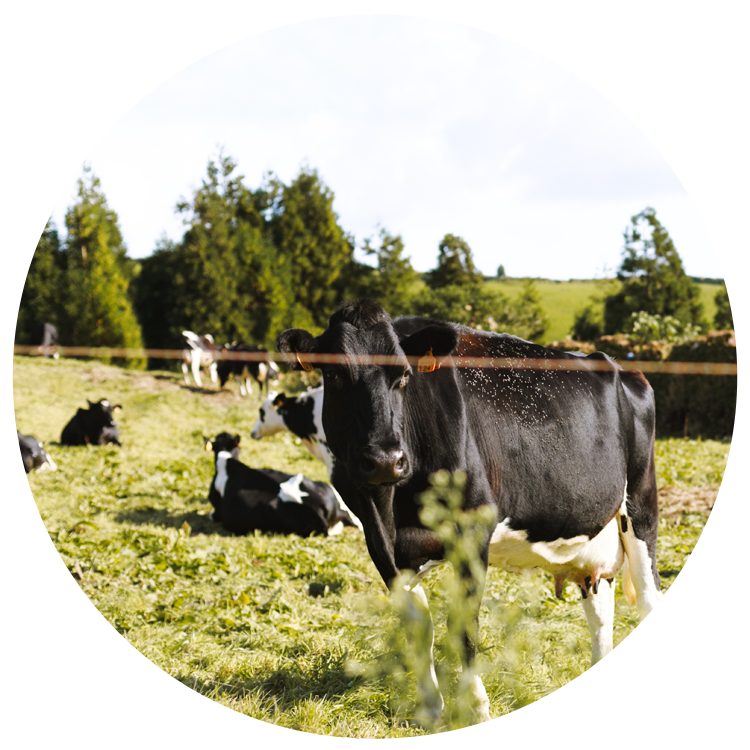 Serve organic food to wedding guests
Don't forget to incorporate some eco-friendliness into the wedding food that will be served at the venue. Organic food is the future (it's also a way for guests to be introduced to the idea). Farm fresh produce and preservative free food can work brilliantly at any wedding. Plus, it is also a way to support farmers who aim to be more organic.
Use herbs in centerpieces
Like I mentioned earlier, you can use potted plants in your centerpieces. But have you considered using potted herbs? The great thing about these wonderful plants is that they are easy to grow and have many different uses. You can also give them away afterwards if you want to. Also, can you imagine how great your wedding reception area will smell?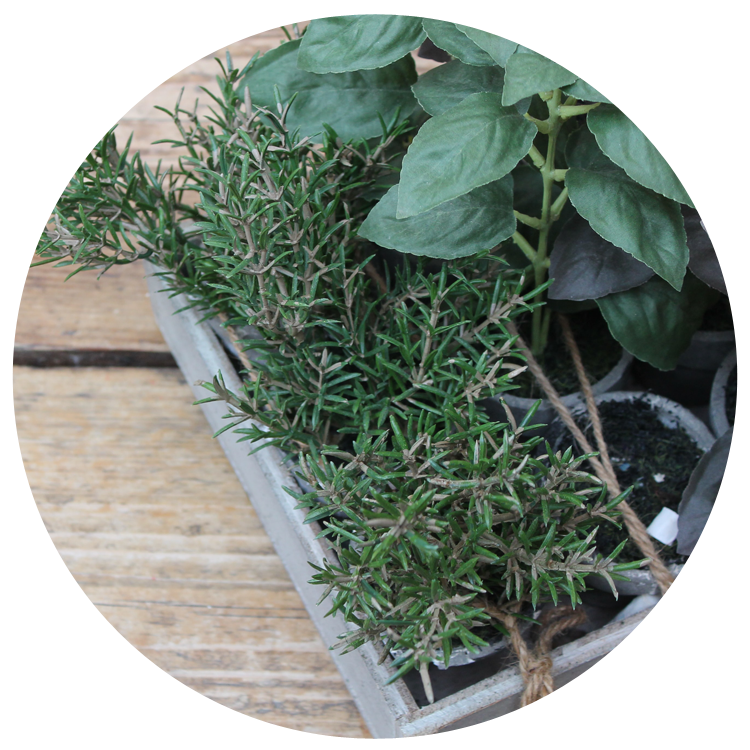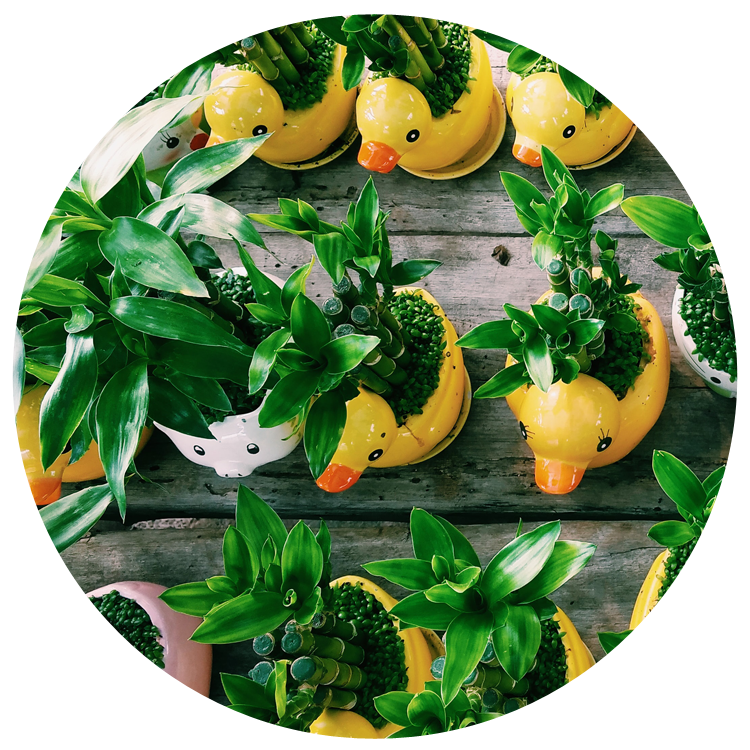 Give a different kind of plant as a wedding favor
Giving potted succulents is a trend that has been followed over and over again. Have you considered something else, like bamboo for instance? Bamboo is a modern plant, symbolizes sustainability, and looks lovely on any coffee table. If sourcing bamboo for wedding favors proves too challenging, opt for different kinds of herbs in cute pots.
Plastic is one of the major contributions to killing our ocean life and polluting our cities. Get rid of all the plastic by replacing it with alternatives. Plastic cups and underplates can be replaced by glass alternatives, or plant-based material types. Plastic straws can be replaced by paper or metal ones — also great as wedding favors.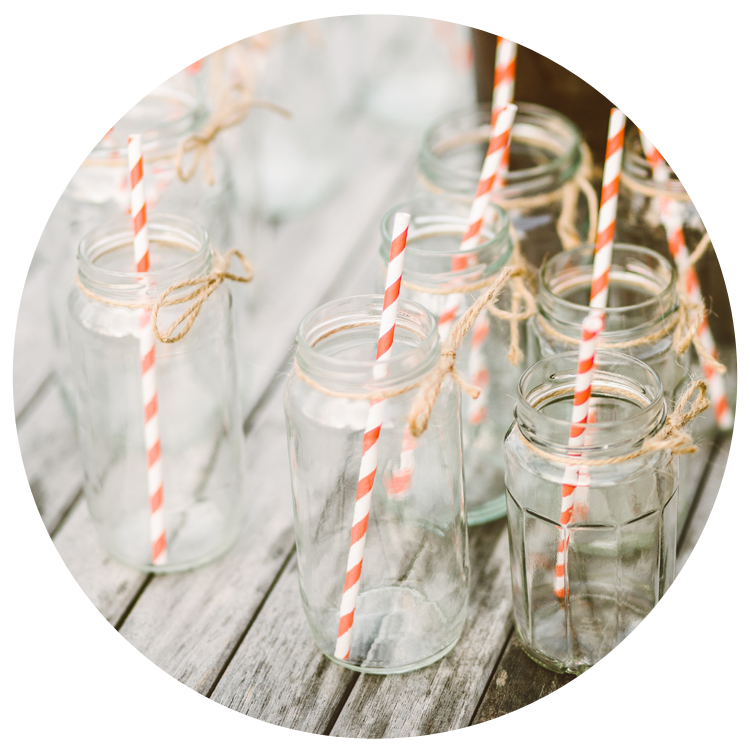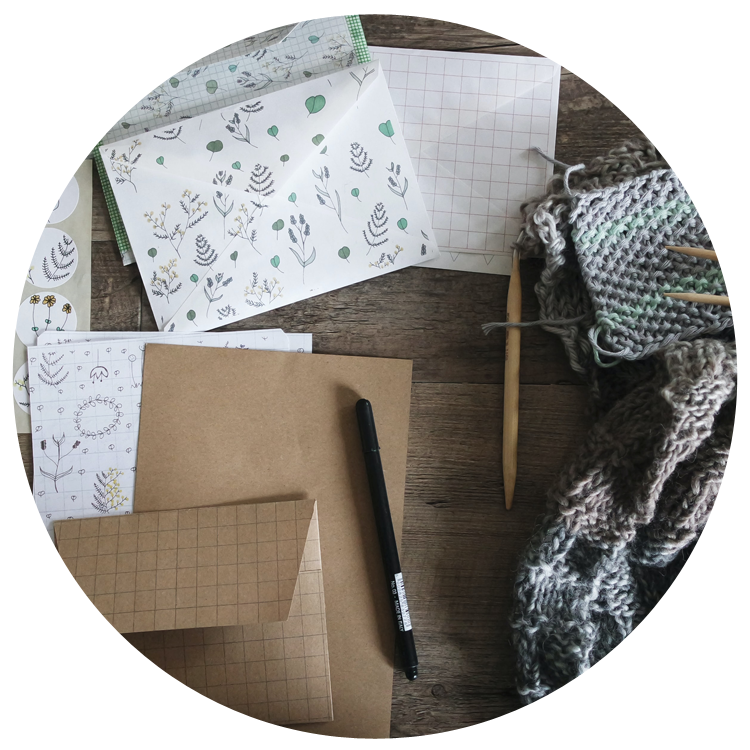 Recycled paper for stationery
If you're making your own wedding stationery, use recycled paper (or instruct your wedding stationer to do so). Mismatched wedding stationery is also a trend that is waiting to happen very soon, as we are moving away from traditions. Any extra craft papers, scrapbooking sheets, and newspapers even, will do the trick. Add string, ribbon and wax seals, if you like, which will give it an organic feel.
You can easily replace glassware at the wedding venue with recycled pieces. Clear recycled glass have a wonderful greenish tinge to them, which works well with most wedding colors. If you manage to find an eco friendly conscious wedding venue, they will likely have these glassware options available.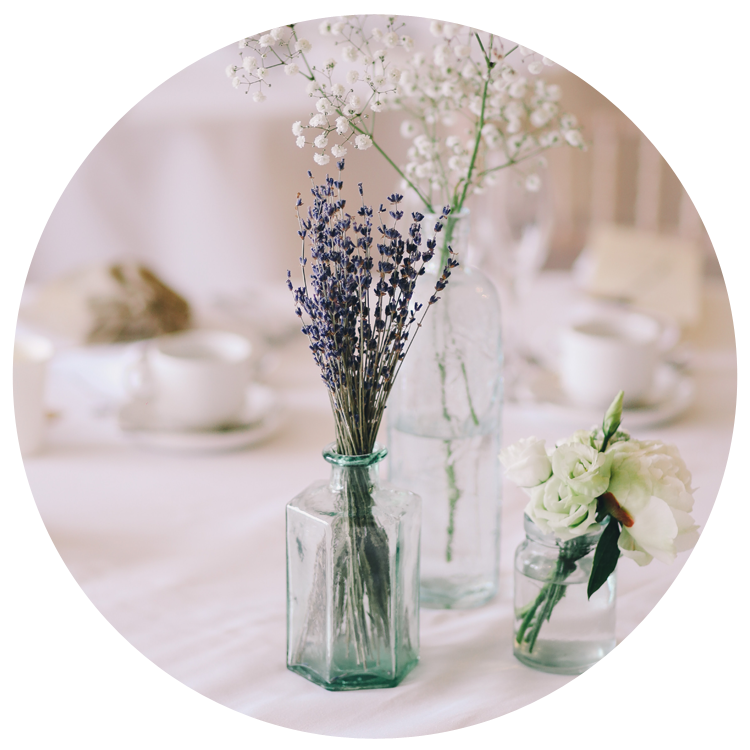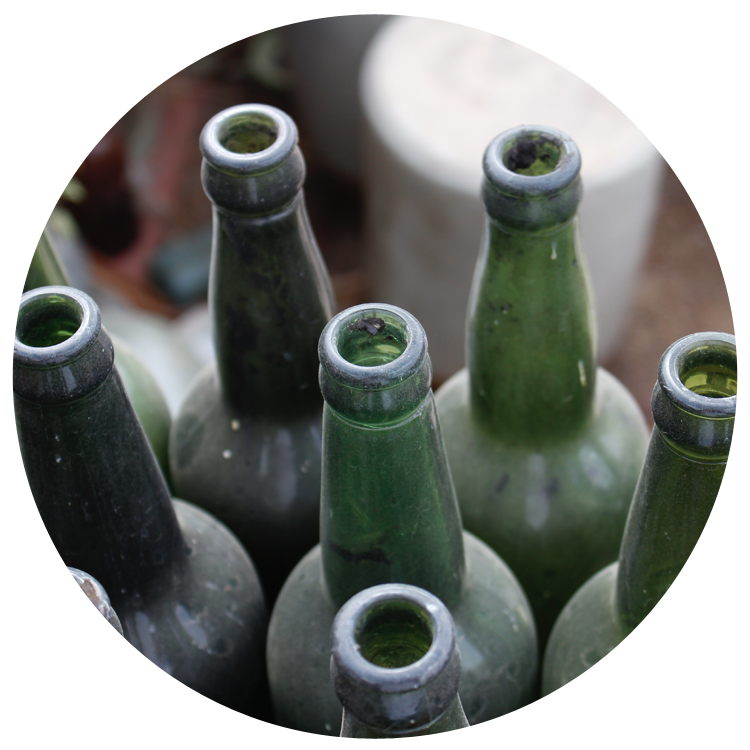 Collect glass bottles for decor
One way to save massively on glass decor is by collecting bottles and removing their labels. Colored glass is a trend, even if it is mostly brown and green. You can then place flowers, greenery and candles in some bottles and leave others empty. This will work great for a minimalist look, too.
Give edible wedding favors
If you're worried about guests not taking your well-thought-out, personalized wedding favors home, edible wedding favors are the way to go. And you don't have to stick to the traditional honey, jam and nougat. Granola mix, nuts and seeds, and chocolate covered peanuts are awesome, too! Also, think about the container you put it in. Recycled jars are great for this, as well as organic cloth sachets.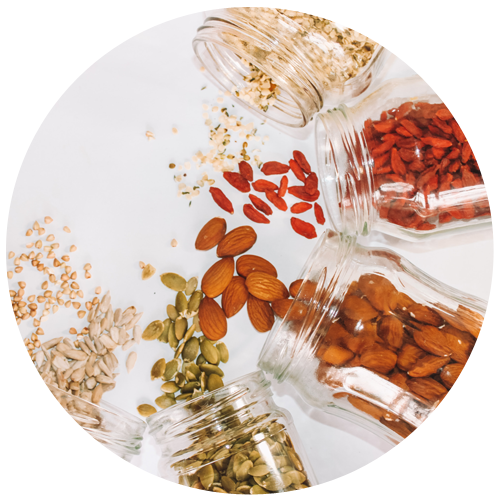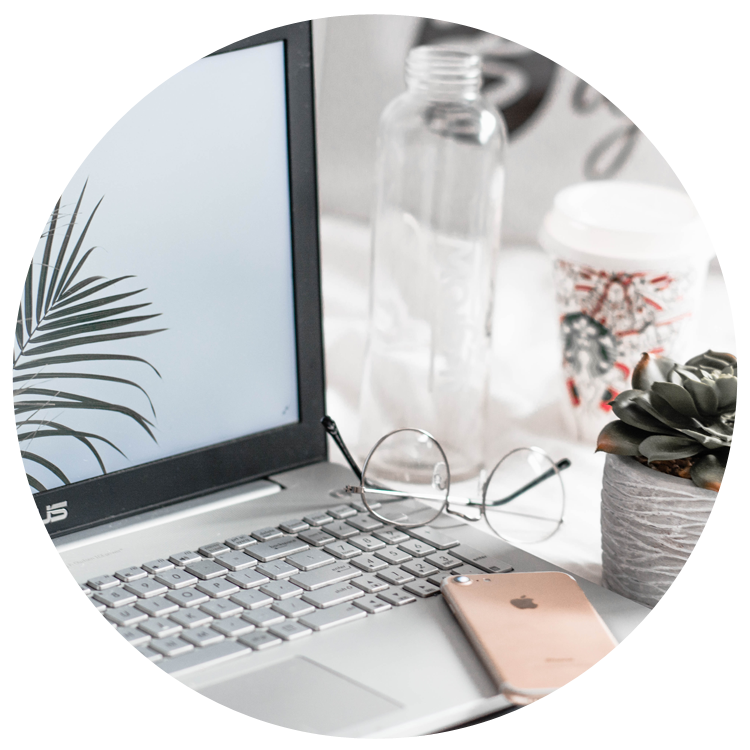 Get rid of paper waste altogether by going online with your wedding save-the-dates and invitations. There are wonderful wedding websites out there to create your own invitation website. I have put them in the list of resources which I recommend to brides.
7 Tips on finding an eco friendly wedding venue
To save yourself some extra work (and money) on finding the right organic and sustainable items and details for your wedding, start off with finding an eco friendly wedding venue. These venues are already taking the leap towards being eco-conscious and make it their mission to use more sustainable options. I have created a list of things you can look out for, when searching for your ideal eco venue. 
1. The use of eco friendly, or recycled glassware
If I had to open my own wedding venue, recycled glass is the first type of item I would add to my stocked event items. I love recycled glass. Most of them have a greenish, or blue-ish tinge and looks wonderful when paired with soft wedding colors such as blush and seafoam. See if your ideal eco venue can rent these items, if they don't have it available yet.
2. Serving organic food on the menu
A good in-house chef at an eco-conscious venue will know which organic food can be served to wedding guests. Food should be organically sourced, preservative free (so no shortcuts!) and free-range where possible. Remember to include one or two meat options for non-vegan guests, if your plan is to serve mostly vegan food.
3. Steps taken to be an eco friendly wedding venue
You can filter out wedding venues by starting with questions, such as what steps they take to be more eco friendly. Even if it is only one or two things, it's a start. Most wedding venues are yet to jump on the sustainability bus, so make sure you create a list of the venues you most likely want to book.
4. Consider using an eco hotel
Eco hotels are starting to pop up in most central districts. They likely promote themselves as "venues", too, so they already have the key elements you're looking for in an eco friendly venue. Also, that will sort out the issue of finding accommodation for your bridal party and VIP wedding guests. Two birds, one stone.
5. Consider an off-the-grid wedding venue
These are a little bit harder to find, but I can happily confirm that they do exist! Off the grid venues are totally independent when it comes to energy and water sourcing, among other steps taken. This method is more sustainable, because nothing goes to waste. Every drop of water is used, and it is likely that some of the wedding food served to guests are grown and raised on the premises. These venues are also very waste-conscious and find more sustainable ways to plan great events.
6. Book a venue with eco-activities
If you're planning on having a weekend wedding with loved ones, why not opt for a venue that offers some environmentally conscious activities? Whether it is a tour around the venue premises, a walking or hiking trail in a natural setting, or making something eco-inspired such as honey, wine or tea from garden-grown herbs — eco venues with activities are on the rise. It is also a great way for guests to interact before and after the wedding.
7. Check the venue's plastics policy
Okay, I made the "plastics policy" thing up (or did I?), but venues that aspire to be more sustainable, will likely ditch the use of plastic, even as a first step. When searching for your ideal eco venue, start of by asking if the venue makes a conscious decision on getting rid of plastic, or if they plan to do so.
Things to add to your eco friendly wedding style
When styling your eco friendly wedding, you don't have to eliminate all the venues that isn't 100% environmentally conscious. Instead, you can opt for bringing your own organic, or sustainable items in, either by buying it in bulk or renting it from a company. You can start with the obvious things, such as your table settings and wedding favors. If that is not enough, you can also replace things like your wedding dress and wedding gifts with more eco friendly options.
To make your eco friendly wedding style come together, I have sourced some items for you which you might consider adding. Please note that these items are all affiliate links, which means that I will earn a small commission if you decide to buy anything. This won't cost extra towards the buyer.
Create an eco friendly table setting
Before anything else, this is where I would start when creating a green wedding look. This is the most obvious way to showcase your wedding style, as it includes the most common items at a wedding which guests normally use. Tableware, cutlery, crockery and so on, can all be replaced by environmentally conscious alternatives such as organic linen and sustainable bamboo or fallen palm leaves.
Adding bamboo plates and cutlery is an obvious choice, but you can also add organic cotton linen items, such as napkins and table runners. Wooden items and cork is also a lovely addition to any eco friendly wedding table, no matter their use. You can also try to find items that are sustainably sourced, for example, wood items that are sourced from sustainable forestry methods.
You can replace plastic straws for drinks, with paper or steel ones, or even the glass ones will work fine. Table numbers (which are made of plastic most of the time) can be replaced by more eco friendly items. These are just some popular ideas to make your wedding more green, but don't be afraid to be innovative and come up with some ideas of your own!
Add eco friendly wedding decor
Putting together your wedding decor style should be relatively easy. Be on the lookout for descriptions used by suppliers, companies and handcrafters. Words like sustainable, eco friendly, green, environmentally friendly, organic and raw, are some of the keywords to look out for when deciding to buy a product or item.
Add eco friendly wedding glassware
One simple way to include organic and recycled items in your wedding style, is to use recycled glass — there are so many shapes and sizes out there (I've listed my top favorites below). You can also give recycled glassware as wedding favors to guests, so you save on buy additional wedding favors, too.
Give eco friendly wedding favors
Luckily, it's not that challenging to find wedding favors that are eco friendly, sustainably sourced or handmade. Guests also love wedding favors that they can make good use of, so keep that in mind when deciding what to give them. Like I mentioned earlier, if you're worried that guests won't take your favors home (which happens quite a lot), then give them something edible instead.
Jars filled with edibles or ingredients are always a winner. But if edible gifts aren't your thing, I use the rule of "essentials" when picking out gifts. For example, basic essentials include hygiene, sanitation, warmth, comfort and safety; also anything that triggers the senses (taste, smell, etc). Doesn't sound very sexy, but put this theory to the test: soap favors do very well — plus make your clothes smell good when place in a cupboard. Candles, and other items that provide warmth are very popular choices for wedding guest favors, especially at a winter wedding. 
Another neat trick when choosing wedding favors, is to think about items that will make people feel good about themselves — this notion goes perfectly with your eco friendly wedding vibe! For example, you can give your guests seed favors which they can plant, which will be good for the environment.
Send out eco friendly wedding invitations
Hint at your wedding style by sending out save the dates and invitations that are made from handmade paper, recycled items, and so on. Also, recycled or handmade paper have a rustic look and feel about them, that is very trendy at the moment. You can also use kraft paper, and any leftover project paper you have lying around.
To move away from any paper usage whatsoever, you can send out digital invites as well. The great thing about the age we live in is that the wedding industry asked, and the internet provided! You can create a stunning wedding website, which can host all of your wedding details, registry and other important information, plus send out a matching digital invite with the link. My favorite company to work with for full wedding suites (digital invite, website and app) is AppyCouple. 
Include more eco friendly wedding stationery
You don't have to focus on just eco friendly wedding invitations. There are plenty of other places where you can use recycled paper, organic products and biodegradable items. For instance, use raw, recycled paper for your guests' place cards, have a Kraft paper wedding guest book instead of an acrylic one, and magnetic save the dates (especially wooden or paper mache ones) which will remind guests about your wedding date every time they take the milk out of the fridge.
Toss eco friendly wedding confetti
I'm so glad that brides (and wedding venues) decided that messy, non-biodegradable confetti is definitely out. In fact, there are many venues that require these kinds of confetti to be cleaned up after the ceremony. Luckily, there are many other natural options to choose from. Most brides opt for dried flowers, petals and leaves. Most flowers can be dried, so this is exceptionally great if you have a specific color scheme you'd like to stick to. I personally love the idea of using lavender, sunflower petals or jasmine flowers.
Eco friendly gifts for the bridal party
One last final touch to your eco friendly wedding theme, is to give organic, vegan, recycled or sustainable wedding gifts to your bridal party. You can include these gifts as part of the proposal box to your bridesmaids, or as personalized gifts to the groomsmen. It is also a great way to make custom gift hampers to each individual person, to show off their personality.
Wear an eco friendly wedding dress
This might be extreme for some people, but it is a way to contribute to your eco friendly wedding theme. If wearing an eco friendly wedding dress is something you'd want to do, then be on the look out for organic linen, such as cotton and hemp, or sustainably sourced fabric such as raw silk.
Worried about color? Most of these materials and fabric can be stained or dyed with natural dies made from earthy minerals, herbs, roots and spices. It might be challenging to find that perfect color, so if you're going for a natural type of eco friendly wedding look, you might want to keep the fabric chosen for your wedding dress as is.
Offer an eco friendly wedding registry
If you plan on bringing in more sustainable and organic items into your lifestyle (after the wedding), why not add the type of gifts you want to the wedding registry? Besides, it might be contagious — guests might want to buy these items for themselves, too! 
If you want to help the cause even further, it's better to add handmade, organic items to your wedding registry, rather than factory, mass-produced items. For instance, you will support a small pottery business by buying items from them (and recommending it to others), rather than listing famous house brand ceramics that support mass-production. This decision impacts not only a single household (who can really do with the money), but also the environment — even at a small scale.