This page includes affiliate links, meaning at no extra cost to you, I might make a small commission if you decide to buy something. You can read my full disclosure here.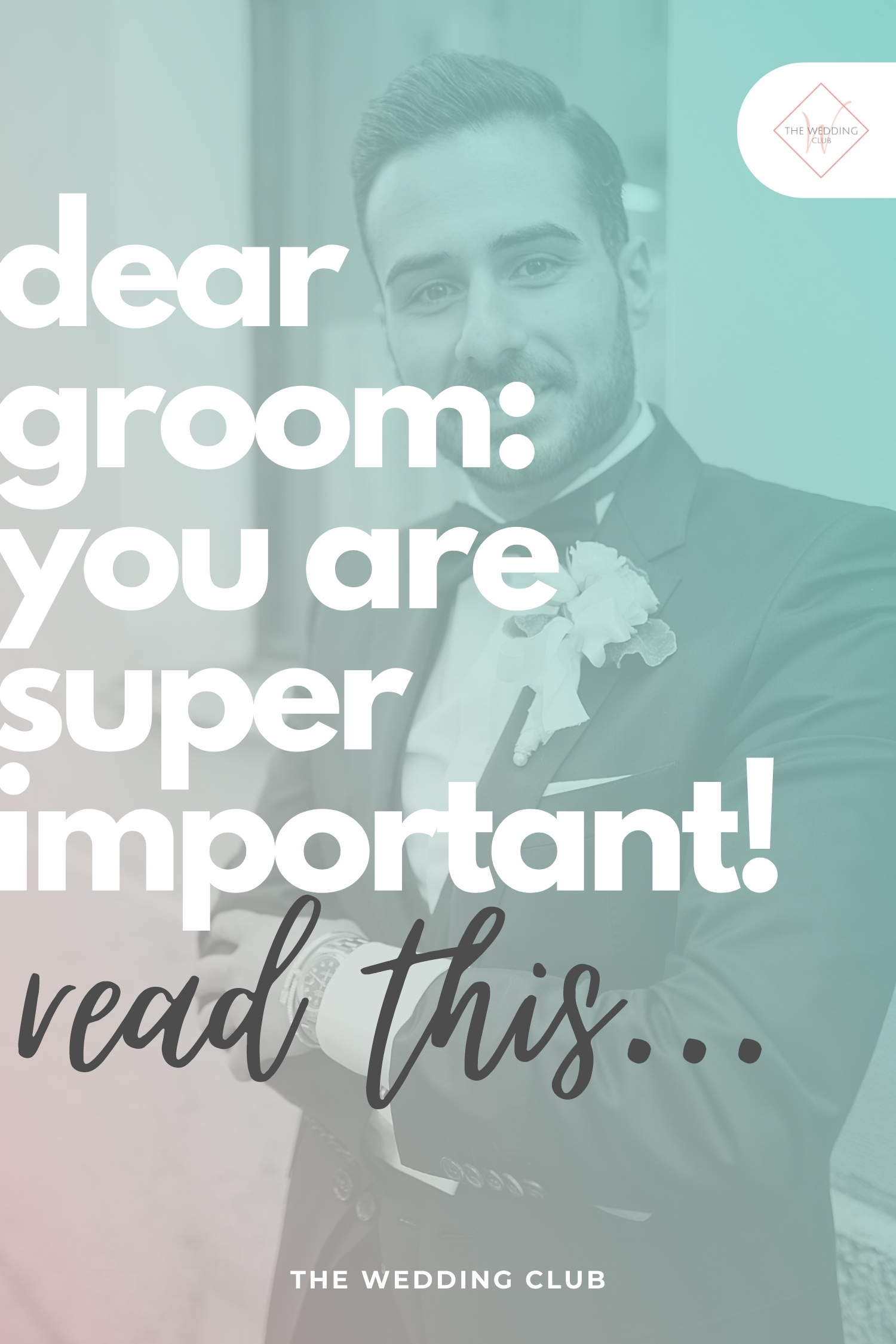 With all of the wedding do's and hassles that go along with it, the focus is normally on the bride. So it is only normal for the most Grooms to just tag along and not really have a say or any part in the planning of a wedding day.
We get it. That is why we have decided to put the Groom in the spotlight with this post and to let all the Grooms out there know that: You are Super Important!
You are noticed and your opinions matter – even if you feel a little bit left out…
For the Groom: You are super important!
How to boost your self-esteem during the wedding planning process
We understand that you might feel invisible at this stage, because a lot of focus is on the bride…
Reasons why you feel under the weather
Your blushing bride is busy planning the most important day of her life – and she has probably been dreaming about this day since she was very young. She wants everything to be planned and executed perfectly, and your wedding should be memorable and considered the wedding of the year.
We also understand that she is most probably paying more attention to Pinterest than to you, and that can make most people feel a bit unimportant.
And the financial stress of the entire affair can also have its toll on your mood, especially if you are paying for a lot of things for the wedding, or even the entire wedding itself…
Ways to boost your self-esteem
You need to know that the entire wedding planning or any part of it will not be possible without you, the groom. Even if it feels like everything is going at 400 kilometers an hour – the wedding is all about you and your bride who will be making a promise to each other in front of family and friends.
There are a few things you can do, however, to lift your spirits and boost your self-esteem. We have scoured the internet to find some of the best ways for you to feel exhilarated during the wedding planning process…
Exercise or go to the gym
You probably already know this, but exercising really helps to boost your self-esteem. Even if you're not the vigorous exercising type, just going for a walk will help you to revitalise.
And you don't have to do it alone, just ask a friend or family member to join you.
Take her out on a date
The best thing you can probably do to boost your self-esteem, is to take your bride out on a date – just the two of you. And most importantly, you should set the rule that no one is allowed to mention anything about the wedding planning process when you are on this date.
Make it a romantic one with dinner, or watch a movie. Sometimes, people just need to reconnect with each other to feel that everything is still in order.
Be interested
The reason why you might also be feeling out is because everyone who is busy with wedding planning stuff automatically assumes that the groom, or most men in fact, are not really interested in all of the fluff surrounding wedding planning.
If you show that you're genuinely interested in the wedding planning aspects, your bride might involve you more…
Talk to her
The simplest way to feel more important through all of the wedding hype is to tell your bride how you feel. If you want her to spend more time with you, instead of Pinterest, then let her know this…
How to help during the wedding planning process
Helping out with the wedding planning, even if it is just something small, might lift some stress off your bride's shoulders. And since we almost in 2018, you might have noticed that traditions in weddings are slowly melting away. So jump in and help organizing! We have rounded up some do's and don'ts to help out with, and ways to get the "wedding organizers" to ask you to help out…
5 Things you can help with
Organize the suits for the men in the wedding party – you need to find out what the bride wants in terms of suit colors and attire, and help organize fittings. Let the guys know when and where the fittings will take place, then appoint someone to pick them all up a week or so before the wedding.
Addressing the invitations – this can be a special bonding time for you and the bride, if you have decided to address the envelopes yourself. If she isn't comfortable with you writing the addresses, help her to place the stationery in the envelopes or to put postage stamps on.
Manage the RSVP's – whether or not you have decided to go with invitations that get sent out, or a wedding website, someone still needs to keep count of who is coming and who not. So take this task for yourself if you and the bride haven't appointed someone to handle this yet.
Helping with speeches – If you're good with words, then why not help the best man and maid of honor prepare their speeches? Most people struggle with this because it is customary for members of the wedding party to deliver a speech at your wedding reception.
Organize a wedding supplier – take it upon yourself and ask the bride to hand over some suppliers to you. Whether it be the band, caterer, cake, or whoever, help to organize! This will help her to focus more on other things for the wedding and will help her to stress less.
How to get them to ask you to help out
Most people assume that grooms are not interested in the wedding and have an attitude of "whatever, just tell me where the church is…"
But if you want to make it clear that you want to be part of the wedding planning process, then let everyone know that you are willing to help. You need to constantly ask what you can help with, or ask your bride if she needs help with anything. She will appreciate it!
Top 3 Things you should definitely NOT help out with
We have heard of a few "Groomzilla" stories where grooms just go overboard with the wedding planning process… Some even go as far as picking out the bride's wedding dress. Don't do that… Here are some things you also shouldn't be doing:
Don't help out with suppliers that are the most important to the bride – like we mentioned, she has probably been dreaming of this day since she was a little girl. And that includes the flowers… Let her decide on the flowers, and all of the suppliers that is super special to her – if you don't know which ones, just ask her.
Any of the ladies' attire – don't try to pick out the bridesmaid dresses or even the mother of the bride's dress…
The bridal shower – this rests on the maid of honor's or bridesmaids' shoulders and they may only ask you who should be invited – since you probably know who your bride's female friends are.
Also Read:
The Groom's actual roles & responsibilities
There are do's and don'ts for helping with the wedding, and then there are actual roles and responsibilities for the groom. Things that you must do, that are expected of you.
Roles and responsibilities before the wedding day
With the Bride:
Choose your wedding date
Look for wedding venues
Decide on a guest list
Decide on a wedding budget
Reserve a photographer, DJ, caterer and other suppliers
Decide on a wedding song for the first dance
Choose gifts for the registry
Engagement photo shoot
Send out save the date's and invitations
Select wedding rings
Sort out legal affairs
Pack for honeymoon
Confirm guest count with venue and caterer
Confirm all suppliers
Without the Bride:
Choose your best man and groomsmen
Organize honeymoon and travelling
Get a special gift for the bride
Get gifts for the groomsmen and best man
Choose a song for the mother and son dance
Organize accommodation for wedding guests
Write your speech and wedding vows
Organize the men's formal wear/suits
Plan the rehearsal dinner (optional: with the groom's parents)
Organize transportation for the wedding party
Change beneficiary to your fiancée for your policies and will
Confirm rehearsal dinner plans and honeymoon
Pick up suits
Roles and responsibilities on the day of the wedding
Give the wedding rings to the best man
Give gift to the bride
Remember your speech and wedding vows
Be on time!
Romantic ideas to surprise your bride with
Romantic gestures before the big day
Surprise her with flowers
Take her out to dinner
Make her breakfast in bed
Book a spa day for her, or go with her to a spa
Go for a late afternoon walk
Take her on a trip
Make dinner for her
Romantic gestures on the big day
Write a letter for your bride and give it to her on the day of your wedding (before you get married)
Give her a romantic gift
Make up a "care package" for her and send it to her in the morning or evening before the wedding. You can include some flowers, tissues, a chocolate or granola bar, etc.
Let your wedding guests each have a rose and give it to the bride as she walks down the aisle. Give her the final rose.