Instead of gifting the usual, why not opt for a useful or beautiful honeymoon gift for the newlywed couple? (Or, if you're the happy couple, why not build a good honeymoon registry instead of a traditional one?)
Whether you're looking for that special wedding gift, memory-making experience, personalized or practical items, we've got you covered!
Our comprehensive guide on honeymoon gift ideas is sure to spark some inspiration in the gift-buying department – especially if you have no idea what to get them…
Type of honeymoon gifts the newlyweds can enjoy
As with most gifting, there isn't a one-size-fits-all honeymoon gift for all couples. Each one is different than the next, so there are various types of gifts to be added to the honeymoon registry: 
Experiential gifts – these are gifts of experience such as day spa treatment vouchers, gift cards, windsurfing lessons, or hot air balloon rides, and so on…
Memory-making gifts – these are gifts aimed at special moments and can be something like a professional photographer or a couple-ceremony session of some kind
Personalized gifts – these generally make fantastic gifts all around and are perfect for honeymoon gifts like jewelry or monogrammed items
Practical honeymoon gifts for the newlywed couple who has everything – these can include items they may need to do their hobby, work, or other excursions
Also, don't forget the amazing honeymoon gift category many people can partake in: budget-friendly gift options…
A few tips for honeymoon gift ideas
If you're here browsing for some ideas, make sure that you're clear on your honeymoon registry about what you actually want to receive on your wedding day. Simply directing guests to a website full of activities and experiences can be somewhat confusing – especially if you've hoped to receive a full spa day gift card…
Cash gifts can also be a good option when it comes to the honeymoon. The happy couple can decide whether they would want to use the cash gift as a contribution to their honeymoon expenses. Also, when it comes to activities for two at the honeymoon destination, a cash gift can be split between costs and multiple options… So, there are quite a few benefits.
If you're unsure about what to get them, simply opt for a traditional gift.
Mentioning the honeymoon registry in the wedding invitation is key. If you're the bride, take care to mention this somewhere so that guests can contribute where needed. If you're the one buying a honeymoon gift for the happy couple, make sure to ask a bridesmaid or designated contact person about a registry if none is mentioned in the wedding invitation…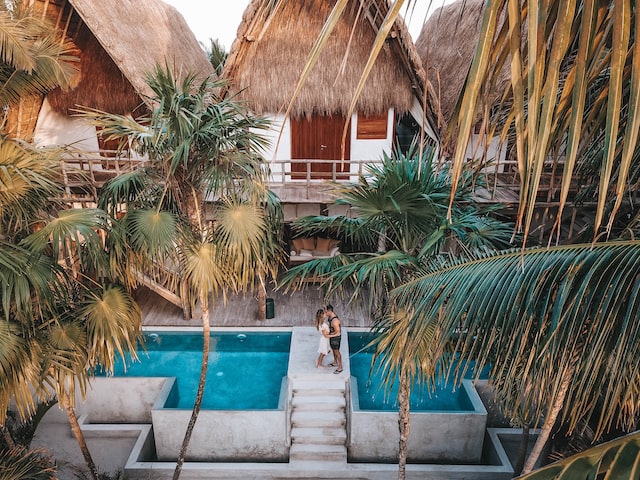 Experiential honeymoon gift ideas for newlyweds
Experiential gifts are all about creating those special moments and memories which the newlywed couple can look back on. Usually, these gifts are things that they wouldn't have done otherwise or booked for themselves. Examples of experiential honeymoon gifts are a day at a luxurious spa, a hot air balloon ride, or a cooking class to name a few.
The number one way to contribute to the newlywed couple's honeymoon is by encouraging them to set up a Honeyfund registry. Honeyfund is the only gift registry that makes your dream honeymoon happen and powers your happily ever after with the help of friends and family — with zero fees.
Not only does this include lovely accommodation at gorgeous destinations, but also excursions and activities.
Let's take the Maldives for example. There are 85 gifts totaling $7,560 that the couple can add to their Honeyfund registry. These include yoga sessions, camping under the stars, and snorkeling with whale sharks, to name a few.
Wedding guests, family, and friends can then decide what they want to contribute to to make the couple's honeymoon extra special.
Memory-making honeymoon gift ideas
Give them a gift that they can look back on and remember for years to come. This is a great option for couples who want beautiful, candid photographs of their honeymoon, pretty keepsakes of their trip, or souvenirs and memorabilia of their honeymoon destination.
Personalized honeymoon gift ideas for newlyweds
Personalized gifts are a great way to make the couple feel extra special. Custom jewelry and monogrammed items are great options. They could be something that they can wear on their honeymoon, like custom bracelets or necklaces with their names or initials, or something they could use for years to come.
"This Custom Made Leather Luggage Tag from TravlWell is custom engraved with every destination you've ever visited + personalized initials are foil stamped on + a metal ID card slides into the back of the tag." – TravlWell
"Engrave the coordinates of a special location where memories were made, a date that means a lot, the initials of your soulmate, or a meaningful phrase/name. You're gonna feel the nostalgia and be reminded of the good memories every time you look down at your custom piece." – Customcuff
"These backpacks are the perfect gift for the Bride & Groom heading to a Destination Wedding or Newlyweds on a Honeymoon! This smaller style lightweight backpack makes the perfect carry-on bag as recommended by our customers over the years – everyone always comments that it is small but so roomy!" – mediumcontrol
"Made with Genuine high-quality European leather and high-quality Stainless Steel." – BeGenuine
"Our passport holder and luggage tag are made from 100% leather-look PU with a Saffiano fine grain, the passport holder contains one space to hold the passport, 4 credit card slots, plus an additional pocket for notes." – CALGiftery
"Personalised with the new couples name along with a stern 'Do Not Disturb' message, this pretty door hanger is a thoughtful gift for a new couple on their honeymoon or a humorous keepsake for them to keep at home." – Littlepictureco
"These tags will probably be useful for your honeymoon trip! Attach these to your luggage to avoid mixups. You could also put these on your carry-ons to be extra safe." – 2PersonalShop
"These beach blankets are made of a super-soft microfiber material to ensure extra bright and vivid colors. They're great for the beach or as an outdoor throw blanket." – SparklyPrints
"All Fernworks products are individually customized and handmade to your order!!" – FernworksAustralia
Practical honeymoon gift ideas
The honeymoon is a once-in-a-lifetime trip, and the couple will need to be well-prepared for it. Practical gifts like new luggage, a passport holder, or a travel adapter can go a long way in making their trip more comfortable and enjoyable.
Also, practical gifts to use well beyond their special trip is a really good idea, too, so don't just focus on the "honeymoon-ness" of the gift.
Budget-friendly gift ideas
Not everyone has a big budget for honeymoon gifts, but that doesn't mean you can't still find something special. Here are some budget-friendly options for those looking for something thoughtful and affordable… Here are some ideas:
Photo album or scrapbook: The couple can use it to document their honeymoon memories and it's a budget-friendly option.

Personalized couple's blanket: A cozy blanket with the couple's names or initials can be a thoughtful and budget-friendly gift.

Romantic dinner at home: Give the couple a romantic dinner at home as a budget-friendly alternative to a fancy restaurant.

Coupon book: Create a coupon book filled with things like a weekend getaway, a night of their favorite movie and homemade dinner, or a day of relaxation.

DIY experience: Give the couple a DIY experience, like a homemade spa day, a cooking class, or a wine-tasting night.

Customized map: A customized map of the place they will be visiting can be a great way for the couple to plan their trip and be budget-friendly.

Subscription Box: Give the couple a subscription box of their favorite things, like wine or snacks.

Handwritten love letters: Write heartfelt love letters to the couple, they will cherish it and it's budget-friendly.

Personalized gift: You can give a gift with the couple's initials or names on it, like keychains, mugs, or ornaments, it's budget-friendly and thoughtful.
generated by OpenAI's GPT-3 model
Other honeymoon gift ideas and inspiration
If you still have trouble finding the perfect honeymoon gift, be sure to check out some ideas below. You're sure to find something that the happy couple will love.
"…Our life exists to be lived, and tasting our life journey with our loved ones has always given us pleasure and happiness." – austero
The honeymoon is a special time for the newlywed couple, and it's the perfect opportunity to give them a memorable gift that they'll treasure for years to come. Whether you choose something experiential, budget-friendly, or practical, make sure that it comes from the heart and aligns with their interests, hobbies, or preferences.