If you're currently on the thrilling rollercoaster ride of wedding planning, you know that finding that one breathtaking wedding dress can be both exhilarating and nerve-wracking.
But fear not, because we've got your back! Get ready to say "yes" to the dress with confidence, as we're here to tackle all your burning questions and make your bridal journey a breeze!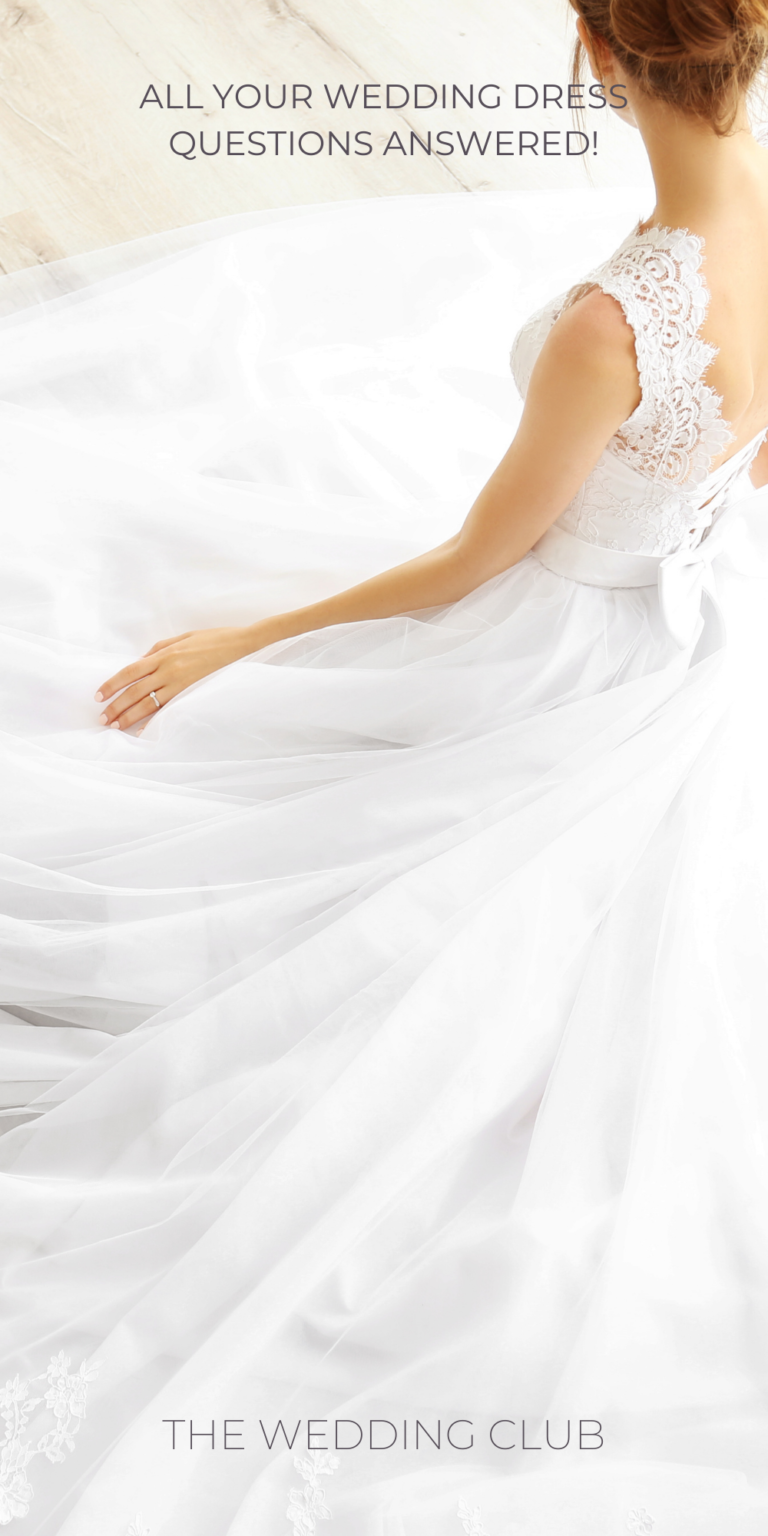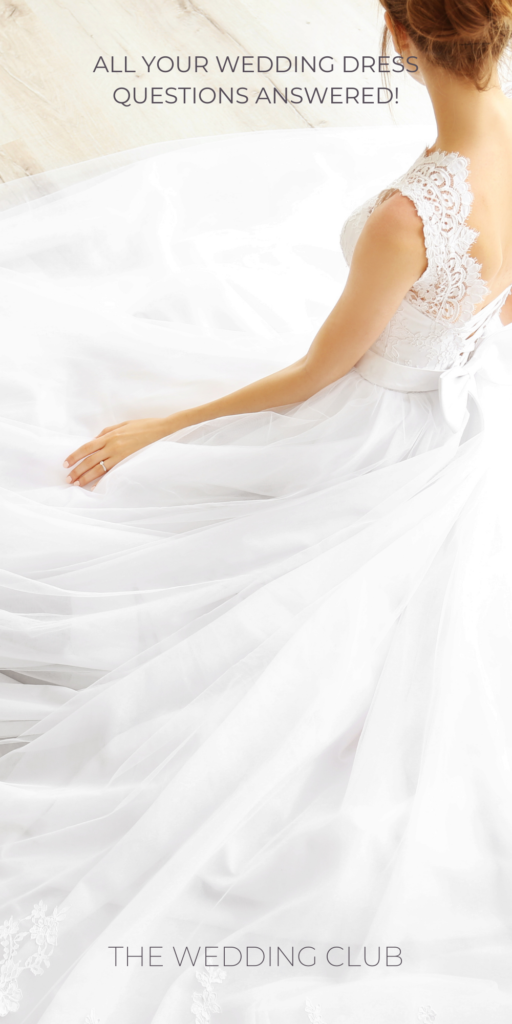 Unveiling Bridal Brilliance: Your Ultimate Wedding Dress Guide!
Click to jump to a question + answer
Choosing the perfect wedding dress is like finding a needle in a haystack – countless styles, fabrics, and designers, oh my! But before you start pulling your hair out in bridal bliss overload, take a deep breath and relax.
We know you've got a million things on your wedding checklist, so we're going to make this as fun, casual, and personal as sharing a glass of bubbly with your besties. Get ready for some insider tips, expert advice, and real talk to help you navigate the dazzling world of bridal fashion without breaking a sweat.
We know you've got a million things on your wedding checklist, so we're going to make this as fun, casual, and personal as sharing a glass of bubbly with your besties. Get ready for some insider tips, expert advice, and real talk to help you navigate the dazzling world of bridal fashion without breaking a sweat.
Brides-to-be, plan your dream day stress-free with our wedding planner templates. From budgets to timelines, we've got you covered. Grab them now and say 'I Do' to effortless wedding planning!
1. When should I shop for my wedding dress?
As a general guideline, it's best to start shopping for your wedding dress about 9 to 12 months before your wedding date.
Bridal boutiques and designers often have a wide variety of styles and collections to choose from. Starting early allows you to explore different options and find a dress that truly reflects your personality and vision for your big day.
Special Orders and Alterations
Many wedding dresses are made-to-order or require alterations to achieve that flawless fit. By shopping early, you give yourself enough time for any customizations and adjustments necessary to make the dress uniquely yours.
Wedding planning can be overwhelming, and the last thing you want is to add unnecessary stress to the process. Starting early ensures you have plenty of time to find the dress you love and eliminates the pressure of last-minute decisions.
If you choose a dress that needs to be ordered, it can take several months for the gown to arrive at the boutique. Starting early ensures you receive the dress well in advance, leaving time for additional fittings if needed.
Once you've found your dream dress, you'll want to coordinate accessories like veils, jewelry, and shoes. Starting early allows you to explore these options and complete your bridal look with ease.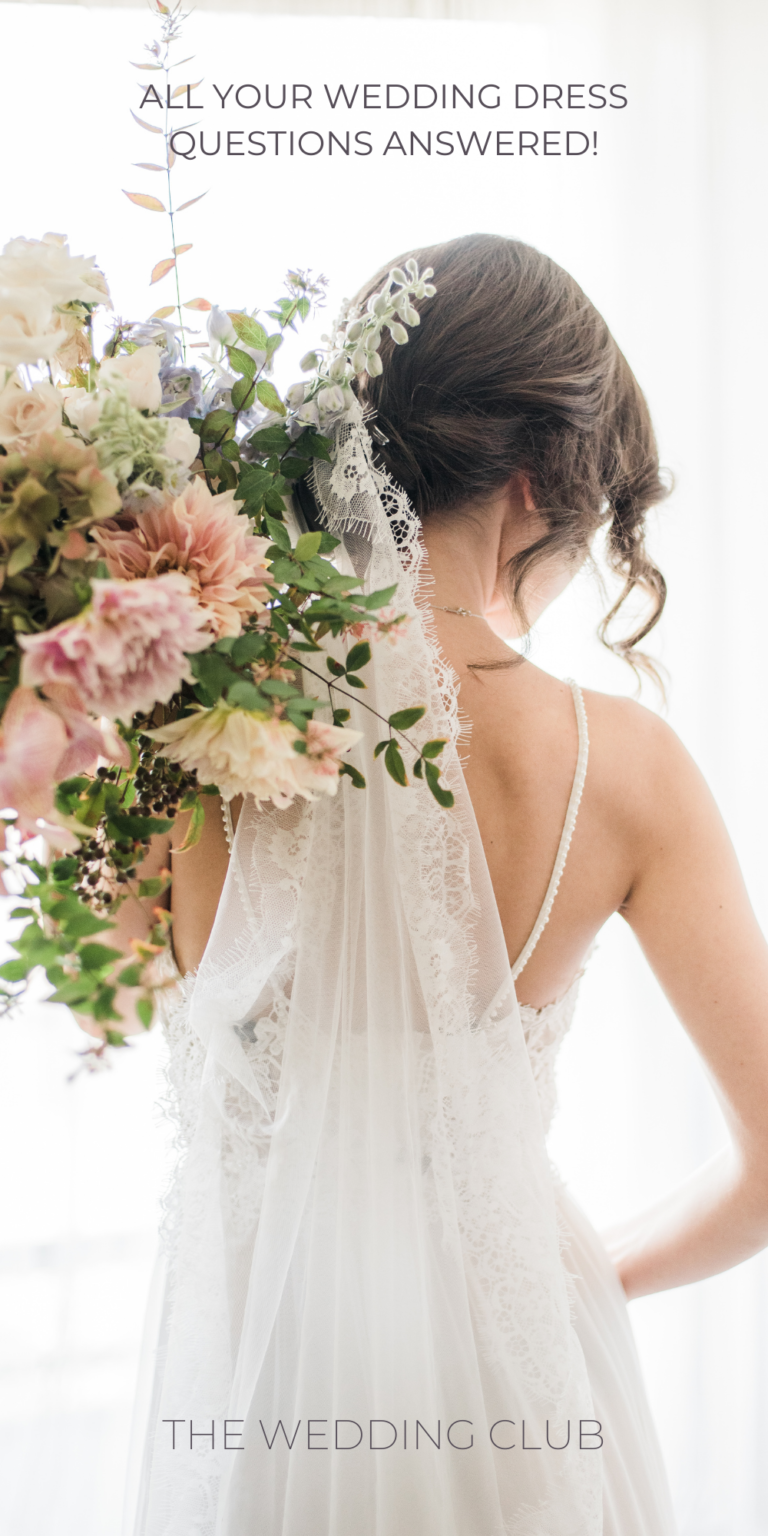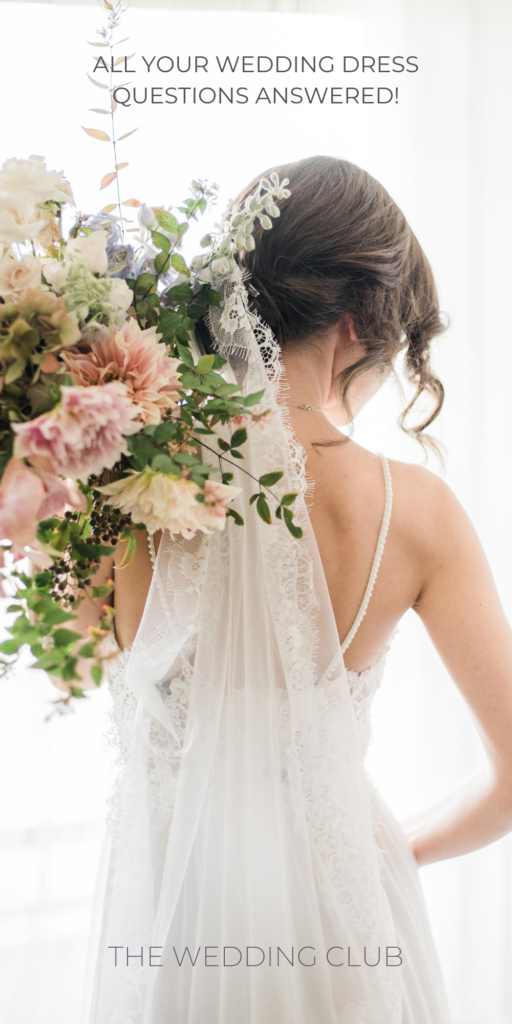 2. How much is the average wedding dress?
The cost of the average wedding dress can vary significantly depending on various factors such as the designer, the fabric used, the level of customization, and the location where it's purchased.
As at September 2021, in the United States, the average price of a wedding dress was around $1,000 to $2,500.
However, it's essential to note that wedding dress prices can range from as low as a few hundred dollars for more budget-friendly options or off-the-rack dresses to several thousand dollars for high-end designer gowns.
Custom-made or couture dresses from luxury designers can even exceed five figures.
Besides the initial cost of the dress, it's also essential to factor in additional expenses such as alterations, which are often necessary to achieve the perfect fit.
Alterations can cost anywhere from a hundred to a few hundred dollars, depending on the complexity of the adjustments.
Remember that setting a budget for your wedding dress is crucial to avoid overspending. Be upfront about your budget when shopping and stick to it to ensure you find a dress that not only complements your style but also fits comfortably within your wedding budget.
Did you know? The most expensive wedding dress was the Angelababy Wedding Dress – a whopping $31 Million!
3. What is a good wedding dress budget?
Determining a good wedding dress budget depends on various factors, including your overall wedding budget, personal financial situation, and priorities.
The amount you allocate for your wedding dress is a personal decision, and there is no one-size-fits-all answer.
However, here are some guidelines to help you set a realistic and reasonable wedding dress budget:
Percentage of Overall Wedding Budget
A common approach is to allocate around 10-15% of your overall wedding budget to the wedding dress. For example, if your total wedding budget is $20,000, a budget of $2,000 to $3,000 for your dress would be within this range.
Consider your financial situation and what you're comfortable spending on a dress. Some brides may want to splurge on their dream gown, while others may prefer to be more conservative with their spending.
Think about your wedding priorities.
If the dress is a top priority for you and you're willing to invest more in it, then adjust your budget accordingly. If you're more focused on other aspects of the wedding, you may choose to allocate a smaller budget for the dress.
Keep in mind that the cost of the dress is not the only expense. Alterations, accessories (veil, shoes, jewelry), and undergarments should also be factored into your overall dress budget.
The style and type of dress you desire can also influence the budget. Designer or couture dresses generally come with a higher price tag, while off-the-rack or ready-to-wear dresses may be more budget-friendly.
Look out for sales, trunk shows, or sample sales at bridal boutiques, as these events can offer significant discounts on wedding dresses.
Ultimately, the right budget for your wedding dress is the one that aligns with your vision for your special day and makes you feel comfortable and happy.
Be honest with yourself about what you can afford and don't feel pressured to overspend.
With a well-thought-out budget, you can find a beautiful wedding dress that fits both your style and your financial plan.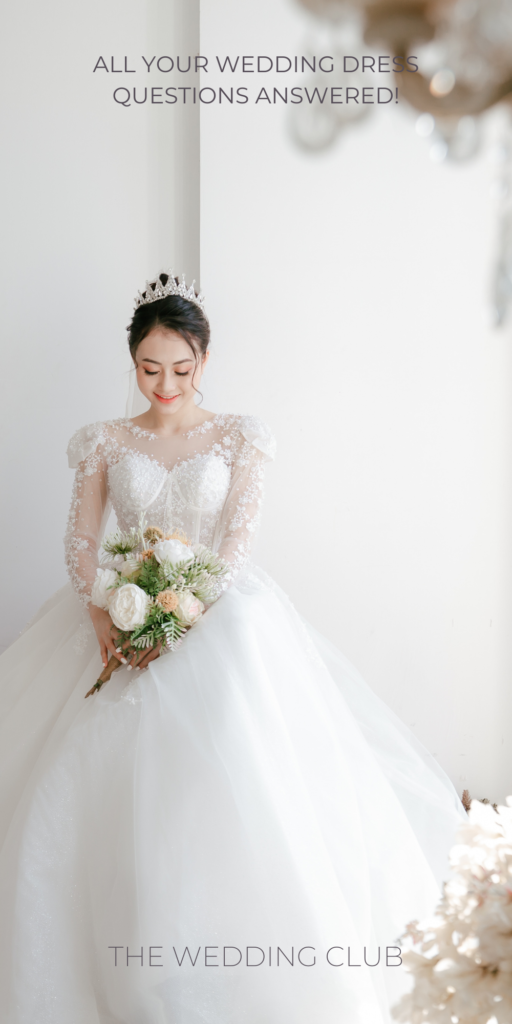 4. Who pays for the wedding dress?
Traditionally, the wedding dress is paid for by the bride and her family.
However, modern wedding customs have evolved, and the responsibility for paying for the wedding dress can vary based on individual circumstances and cultural practices.
It's important to remember that there are no strict rules or obligations when it comes to who pays for the wedding dress.
The decision should be based on the couple's preferences, financial situation, and cultural traditions.
5. How do I choose a wedding dress for my body type?
Choosing a wedding dress that flatters your body type is essential to feel confident and beautiful on your special day.
Here are some tips to help you find the perfect dress for your body type:
Start by identifying your body shape. Common body shapes include pear, hourglass, apple, rectangle, and inverted triangle.
Understanding your body shape will guide you in selecting dresses that accentuate your best features.
Focus on highlighting your favorite features. If you love your waist, consider a dress with a defined waistline. If you have beautiful shoulders, opt for a strapless or off-the-shoulder gown.
Look for dresses that create balance and proportion.
For example, if you have a pear-shaped body (narrower shoulders and wider hips), choose a dress with an A-line or ballgown silhouette to balance out your proportions.
An emphasized waistline, such as with an A-line, mermaid, or ballgown dress, can create a flattering and feminine silhouette for various body types.
Different necklines can complement different body shapes. For example, V-necks can elongate the neck and torso, while sweetheart necklines accentuate the bust.
Fabrics and Embellishments
Pay attention to the fabrics and embellishments of the dress. Lighter, flowy fabrics like chiffon and organza can be more forgiving, while heavy fabrics like satin can add structure.
Don't be afraid to try on different dress silhouettes to see what works best for you.
Sometimes a dress you didn't expect can be the most flattering.
Bridal consultants in wedding dress boutiques are experienced in helping brides find dresses that suit their body types. Don't hesitate to ask for their advice and guidance.
Keep in mind that alterations can work wonders in achieving the perfect fit. A dress can be tailored to highlight your best features and ensure it fits you like a glove.
Ultimately, the most important thing is that you feel comfortable, confident, and beautiful in your wedding dress. Trust your instincts and choose a dress that resonates with you.
Remember that there are no strict rules when it comes to choosing a wedding dress for your body type.
The goal is to find a dress that makes you feel like the stunning bride you are, and that perfectly complements your unique features and personality.
Simplify wedding planning with our editable wedding templates. Budgets, guest lists, and more – all in one place. Download now and say 'Yes' to effortless organization!
6. Can you rent wedding dresses?
Yes, you can rent wedding dresses, and it's becoming an increasingly popular option for brides looking for a cost-effective and sustainable alternative to purchasing a dress.
Renting a wedding dress offers several advantages:
Renting a wedding dress can be significantly cheaper than buying a new one.
Wedding dresses are often expensive, and by opting to rent, you can save a considerable amount of money that can be allocated to other wedding expenses.
Rental services typically offer a wide selection of wedding dresses from various designers and styles. This gives you the opportunity to wear a high-end designer gown that might be beyond your budget to purchase.
Renting a wedding dress eliminates the need to worry about what to do with the dress after the wedding. You simply return it to the rental service, and they take care of the cleaning and storage.
Renting a wedding dress is a sustainable choice since it reduces the demand for new dresses and minimizes waste in the fashion industry.
Renting a dress can be particularly convenient for destination weddings, as it eliminates the need to transport a bulky wedding dress.
While renting a wedding dress has its advantages, it's essential to keep a few things in mind:
Fit and Alterations: Since rental dresses are pre-worn, finding the perfect fit may require alterations. Make sure to factor in potential alteration costs when considering the rental price.

Scheduling: Plan your rental timeline carefully, ensuring the dress arrives well before your wedding date for any necessary adjustments.

Condition and Quality: Before renting a dress, inspect it for any damages or stains. Most reputable rental services ensure their dresses are professionally cleaned and maintained, but it's always good to check.

Return Policy: Understand the rental service's return policy and any fees associated with late returns or damages to the dress.
If the idea of renting a wedding dress appeals to you, research local bridal rental services or online platforms that offer this option.
Be sure to read reviews, check for a variety of sizes and styles, and ask any questions you may have before making a decision.
Ultimately, whether you choose to rent or buy your wedding dress, the most important thing is to find a dress that makes you feel beautiful and special on your big day.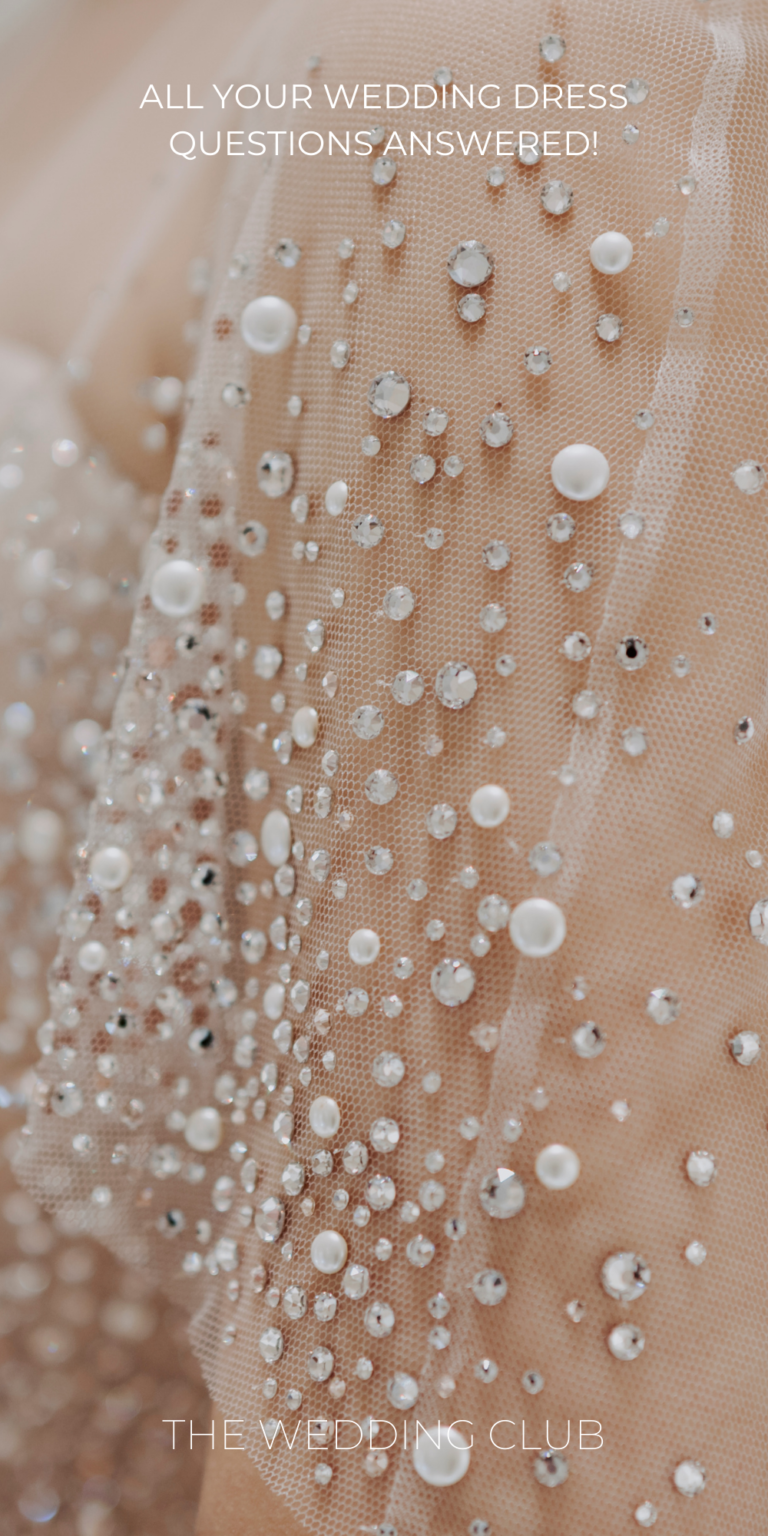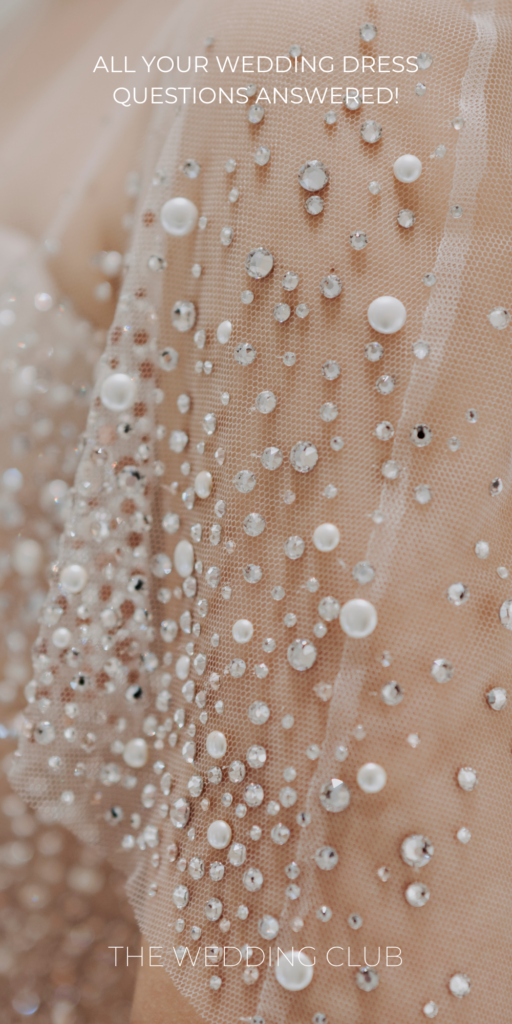 7. What style wedding dress is most flattering?
It depends on which feature of your body you want to show off. Different dress silhouettes accentuate different features and flatter various body types.
Here are some popular wedding dress styles and the body types they often flatter:
An A-line wedding dress features a fitted bodice that gradually flares out from the waist, resembling the shape of an uppercase "A."
It is universally flattering and looks fantastic on many body types, particularly on pear-shaped and hourglass figures.
It skims over the hips and creates an elongated silhouette, making it an excellent choice for most brides.
The ballgown silhouette is characterized by a fitted bodice and a full skirt that flares from the waist.
This style is perfect for brides with an hourglass or pear-shaped figure, as it accentuates the waist and provides a fairytale-like look.
However, petite brides may want to consider a ballgown with a more subtle skirt to avoid overwhelming their frame.
The sheath wedding dress is a slim and straight silhouette that follows the natural contours of the body.
It is an excellent choice for brides with a more petite or slender figure. It can also complement taller brides, creating an elegant and elongated look.
The mermaid or trumpet wedding dress is fitted through the bodice and hips and then flares out at or below the knee.
This style beautifully accentuates an hourglass figure and can add curves to more straight body types. However, it's essential to ensure that it allows for comfortable movement and sitting.
The empire waist dress has a high waistline that sits just below the bust, with a flowy and loose-fitting skirt that falls gracefully to the floor.
This style is perfect for disguising a fuller midsection or for pregnant brides, as it offers a comfortable and flattering fit.
Off-the-shoulder necklines can be flattering on various body types, as they draw attention to the collarbones and shoulders while creating a romantic and feminine look.
V-neck wedding dresses can elongate the neck and torso, making them a flattering choice for most body types. They can also complement brides with a larger bust.
Ultimately, the most flattering wedding dress style is one that makes you feel beautiful, confident, and comfortable.
Remember that alterations can also help achieve the perfect fit and enhance the overall flattering effect of the dress.
8. What do you wear to try on wedding gowns?
Opt for

nude colored underwear

that fits you very well, so that you can keep it on while fitting wedding dresses.
Also, bring a

pair of shoes or heels

along – the correct height that you also want to wear on your wedding day.
If you plan to wear shapewear on your wedding day, you may want to bring it along for your dress fittings. Shapewear can help smooth and shape your figure, providing a more seamless look under the gown.
It's a good idea to pull your hair back or bring a hair tie or clips to keep your hair out of the way, especially when trying on dresses with intricate necklines or back details.
Keep jewelry to a minimum, as it can distract from the dress and become entangled in delicate fabrics or embellishments.
You don't need a full face of makeup, but wearing light makeup can help you feel more confident and picture yourself as a bride while trying on gowns.
9. What wedding dress fabrics are best suited for different seasons?
Different fabrics offer varying levels of breathability, weight, and texture.
Here are some wedding dress fabric options suited for different seasons:
Chiffon: Chiffon is a lightweight, sheer fabric that drapes beautifully and is perfect for warm weather. It is soft, breathable, and has a flowy texture, making it an excellent choice for spring and summer weddings.

Organza: Similar to chiffon, organza is lightweight and airy. It has a crisp texture and can add volume to the dress without adding weight, making it ideal for warmer months.

Lace: Lace wedding dresses are timeless and elegant. They come in various styles, but for warmer weather, consider dresses with lightweight and delicate lace patterns to ensure comfort.

Tulle: Tulle is a versatile fabric often used in ballgown or layered dresses. It is lightweight and provides a dreamy, ethereal look that works well for spring and summer weddings.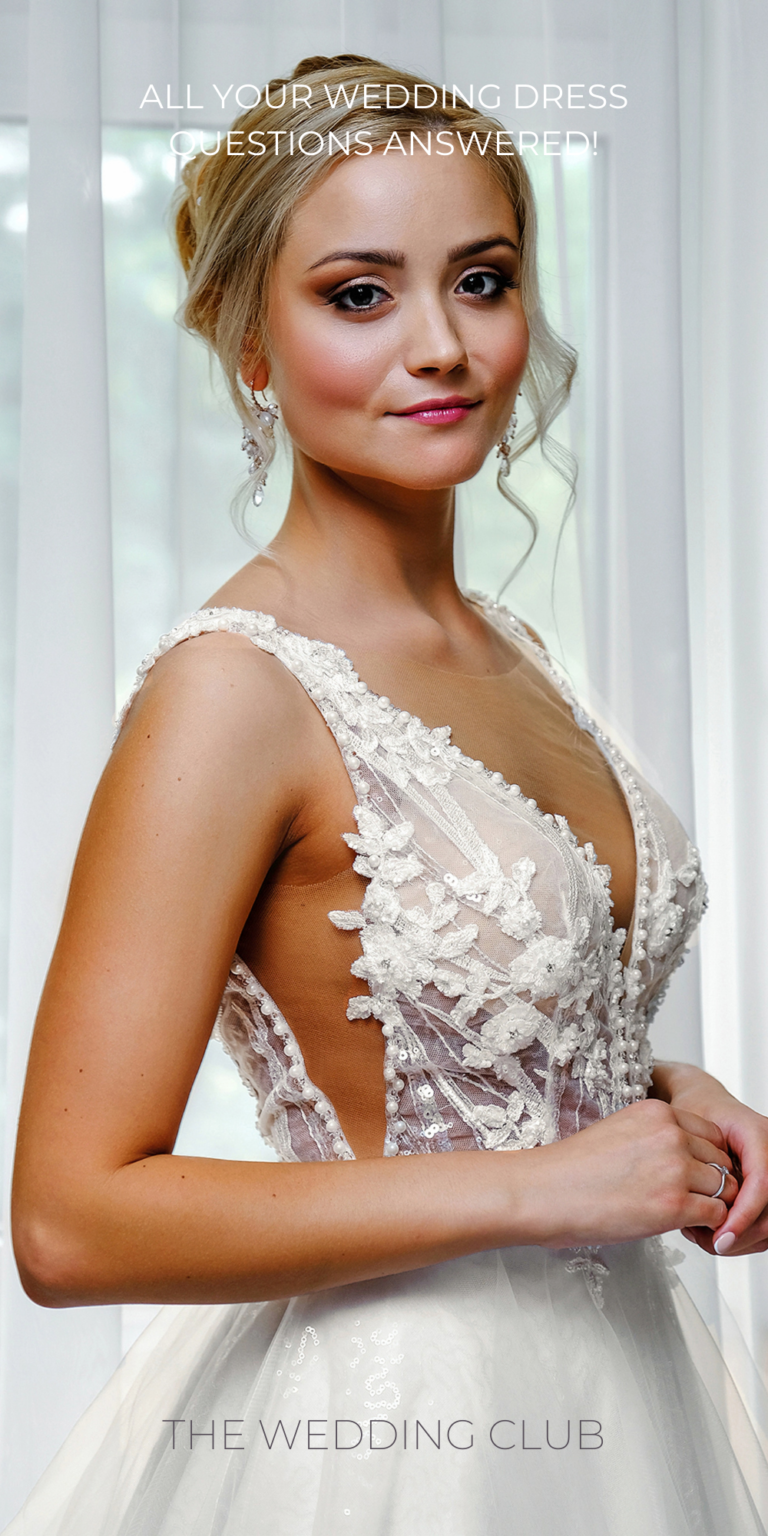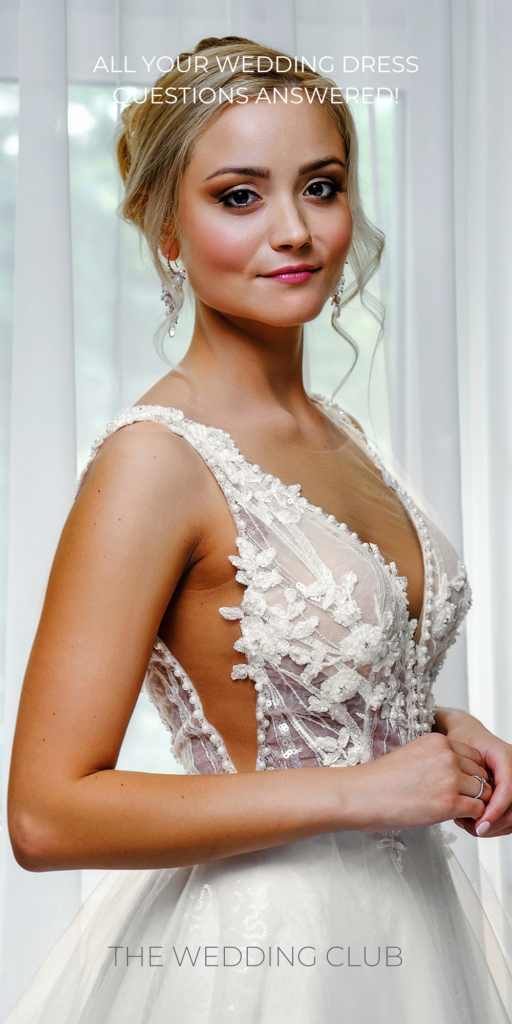 Satin: Satin is a classic and luxurious fabric with a smooth and glossy surface. It has a slightly heavier weight, which makes it suitable for fall and winter weddings, offering a touch of elegance and warmth.
Velvet: Velvet is a rich and sumptuous fabric that exudes sophistication and warmth. It can be an excellent choice for winter weddings, especially for gowns with a vintage or romantic vibe.
Mikado: Mikado is a heavy silk fabric with a beautiful sheen and structure. It provides a luxurious look and is an ideal option for fall and winter weddings.
Brocade: Brocade is a richly decorative fabric with raised patterns, often woven with metallic threads. It is perfect for adding texture and glamour to winter wedding dresses.
Crepe: Crepe is a versatile fabric with a slight stretch and a textured surface. It is suitable for both warm and cooler weather, depending on the dress design and weight.

Duchess Satin: Duchess satin is a heavy and lustrous fabric with a smooth finish. While it works well in cooler weather, it can also be used for indoor weddings in any season.

Silk Charmeuse: Silk charmeuse has a beautiful drape and a soft, glossy surface. It can be used for a variety of dress styles and is suitable for weddings in different seasons.
Keep in mind that the lining and layers of the dress can also affect its suitability for different seasons.
Work with your bridal consultant to select the right fabric and dress design that aligns with your wedding date and ensures your comfort throughout your special day.
10. Can I customize my wedding dress?
Absolutely! Customizing your wedding dress is a fantastic way to add personal touches and make the gown uniquely yours. Many bridal designers and boutiques offer customization options to tailor the dress to your preferences.
Here are some common ways you can customize your wedding dress:
Neckline: You can often choose from various neckline options, such as sweetheart, V-neck, off-the-shoulder, scoop, or illusion neckline, to match your style and flatter your figure.

Sleeves: Whether you want long sleeves, cap sleeves, flutter sleeves, or no sleeves at all, many dresses can be customized to suit your desired sleeve style.

Back Design: Customizing the back of your dress can be a stunning way to add uniqueness. Options include low backs, keyhole backs, illusion backs, or lace-up corsets.

Train Length: Select the train length that best fits your wedding theme and venue. You can choose from cathedral, chapel, court, or sweep-length trains, or even opt for no train at all.

Fabrics and Colors: In some cases, you may have the option to choose from various fabric types or colors to create a more personalized look.

Embellishments: Add or remove embellishments like lace, beading, embroidery, or sequins to achieve your desired level of glamour and elegance.

Belt or Sash: Consider adding a belt or sash to accentuate your waistline and add a touch of sparkle or color.

Length of Dress: For a unique twist, you can customize the length of your dress, whether you want a tea-length dress or a high-low hemline.

Adding or Removing Layers: For dresses with layers, you can customize the number of layers to achieve your preferred level of volume and fullness.

Built-in Bustle: If your dress has a train, you can add a built-in bustle to easily transition from the ceremony to the reception.
Remember to consult with a professional bridal consultant or designer to discuss your customization ideas and ensure that the changes can be accommodated without compromising the integrity of the dress.
The bridal beauty planner is just one if the many templates included in the wedding planner! Make sure to grab yours!
11. What is the process for customizing a wedding dress, and how much extra time should I factor in for this?
The process of customizing a wedding dress can vary depending on the complexity of the changes and the bridal boutique or designer you're working with.
Schedule an initial consultation with the bridal boutique or designer to discuss your customization ideas. Bring any inspirational photos, sketches, or descriptions of the changes you want to make.
Select the base dress you want to customize. Ensure that the dress's existing silhouette, fabric, and overall structure align with your vision for the final gown.
Discuss Customization Options
During the consultation, the bridal consultant or designer will discuss the available customization options and provide guidance on what changes can be made to the dress.
Measurements and Fittings
After finalizing the customization plan, you'll have measurements taken to ensure the dress fits perfectly. You'll likely need to attend several fittings to make sure the alterations are on track.
Fabric and Embellishment Selection
If your customization involves choosing different fabrics or embellishments, you'll work with the designer to select the materials that best match your vision.
In some cases, a mock-up or sample dress may be created to allow you to see and feel the dress before the final alterations are made.
The dress will be altered based on your customization choices, including changes to the neckline, sleeves, back design, train length, and other elements.
A thorough quality check will be conducted to ensure the dress meets your specifications and expectations.
Regarding the extra time to factor in for customization, it can vary depending on the complexity of the changes and the schedule of the bridal boutique or designer.
In general, it's advisable to start the customization process as early as possible, ideally 9 to 12 months before your wedding date. This allows for sufficient time for multiple fittings, any adjustments, and unexpected delays.
Keep in mind that some customization requests may require more time and effort, so be prepared to be patient throughout the process.
Regular communication with the bridal boutique or designer is essential to stay updated on the progress and any potential adjustments to the timeline.
Ultimately, the extra time invested in customizing your wedding dress will be worth it, as you'll have a gown that is a true reflection of your style and a one-of-a-kind piece for your special day.
12. When should I schedule dress fittings?
The timing of your fittings will depend on various factors, including the complexity of alterations, the customization process, and the overall timeline of your wedding planning.
Here are some general guidelines for scheduling dress fittings:
1. First Fitting – 2 to 3 Months Before the Wedding: Schedule your first dress fitting about 2 to 3 months before your wedding date. At this fitting, you'll try on the unaltered dress to ensure it fits properly. The seamstress or tailor will take measurements and discuss any necessary alterations.
2. Second Fitting – 4 to 6 Weeks Before the Wedding: The second fitting typically takes place 4 to 6 weeks before your wedding date. By this time, most of the alterations should be completed, and the dress should be nearing its final fit. This fitting allows you to see the progress and make any final adjustments.
3. Final Fitting – 1 to 2 Weeks Before the Wedding: The final fitting is usually scheduled 1 to 2 weeks before your wedding day. At this point, the dress should be nearly complete, and any last-minute tweaks can be made to ensure a perfect fit.
4. Pickup – A Few Days Before the Wedding: Depending on the dress boutique or designer's policies, you'll typically pick up your wedding dress a few days before the wedding. This allows you to have the dress ready for the big day and make any minor adjustments if needed.
It's essential to adhere to the recommended timeline for dress fittings to ensure there's enough time for alterations and adjustments, especially if your dress requires extensive changes or customization.
Keep in mind that every bride's timeline may differ, so be sure to discuss the fitting schedule with the bridal boutique or seamstress to accommodate your specific needs.
If you have a destination wedding or other logistical constraints, make arrangements with the dress boutique in advance to allow for fittings that fit your schedule.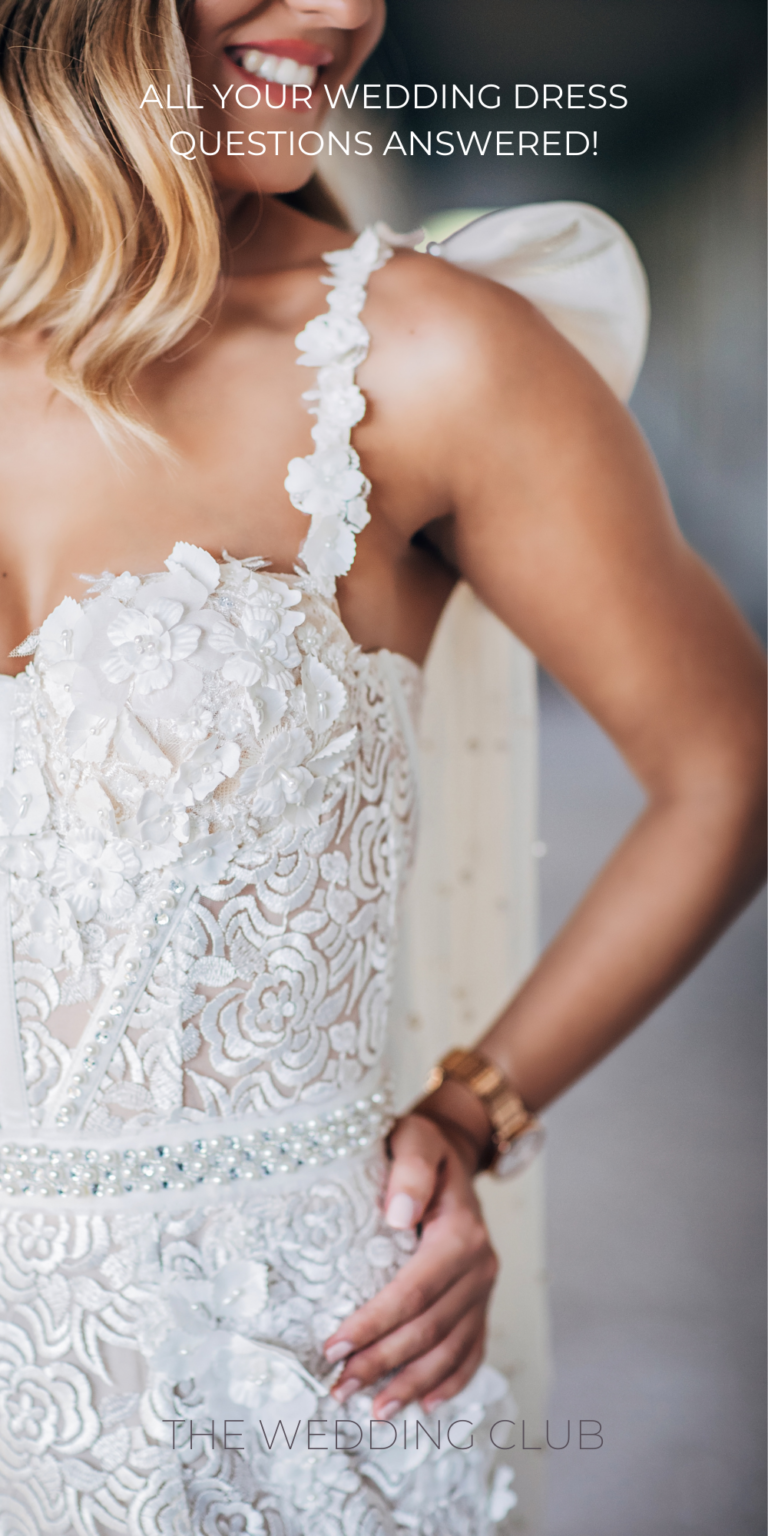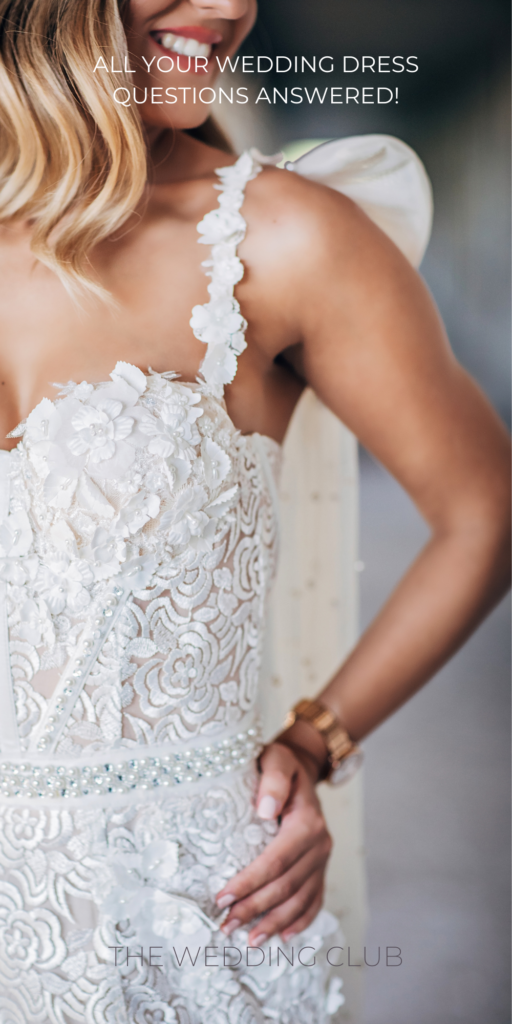 13. Should I bring someone with me to help choose my dress?
Bringing someone with you to help choose your wedding dress can be a wonderful and supportive experience.
Whether it's your mom, sister, best friend, or a close family member, having a trusted companion by your side can provide valuable feedback, emotional support, and help make the decision-making process more enjoyable.
However, it's essential to bring someone whose opinion you value and who understands your style preferences. Sometimes, too many opinions can become overwhelming and cloud your judgment. If you're concerned about conflicting opinions, consider bringing just one or two close and trusted individuals.
On the other hand, some brides prefer to have a more intimate and personal experience when choosing their wedding dress and opt to go solo. This can allow you to focus solely on what you love without any outside influences.
Ultimately, the decision is entirely up to you. Whether you choose to bring someone along or go solo, the most important thing is that you feel comfortable, confident, and excited about the dress you choose.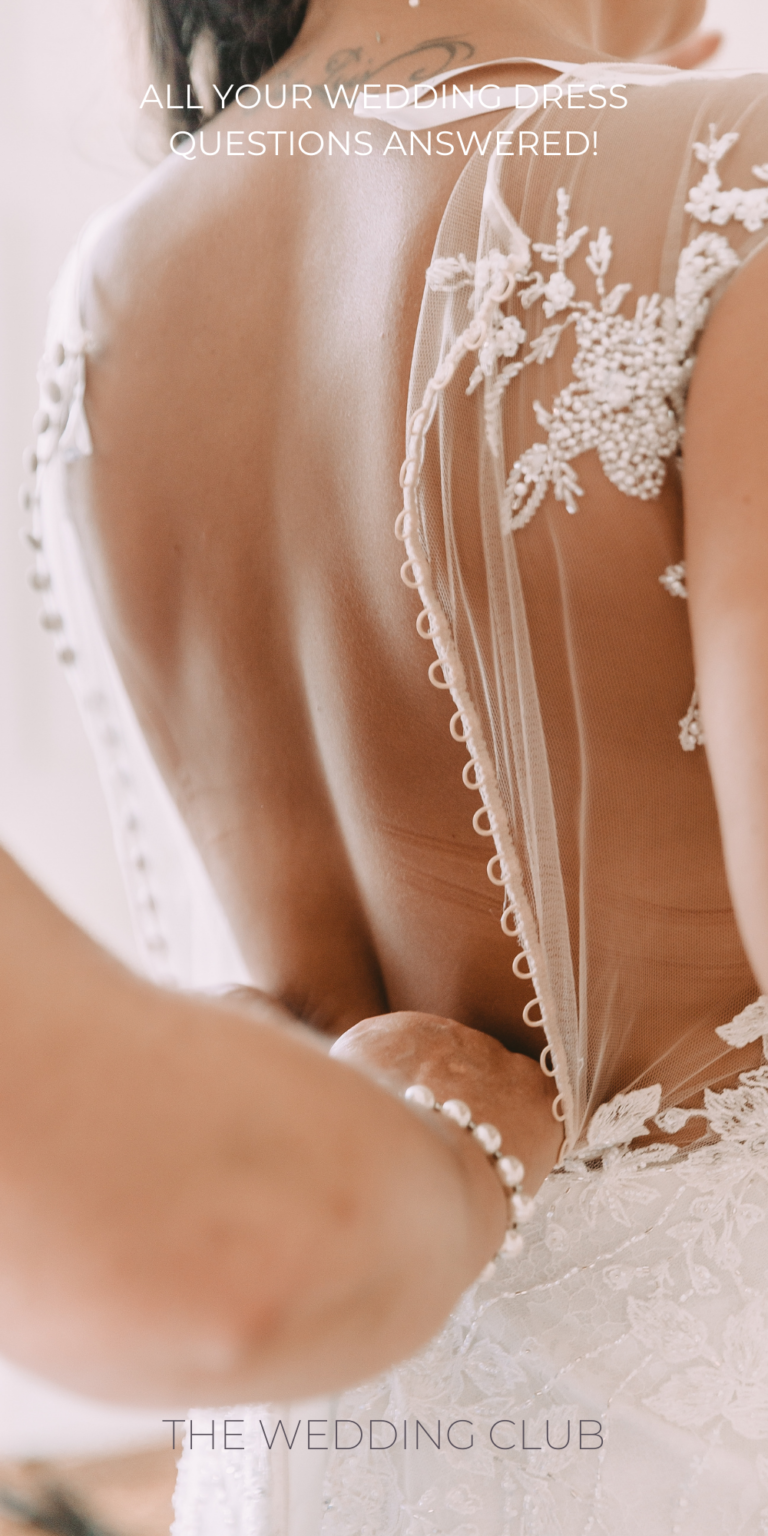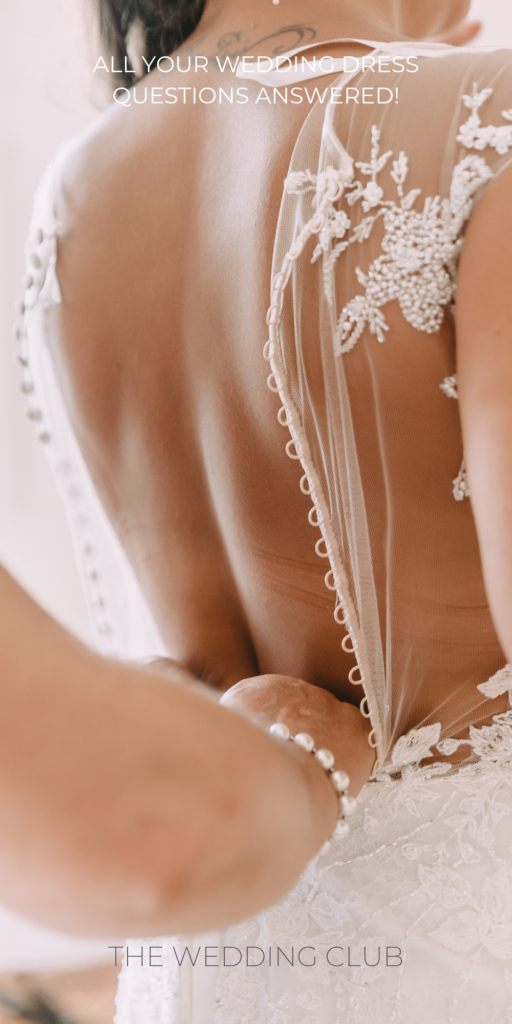 14. What wedding dress styles are best suited for outdoor weddings?
When choosing a wedding dress for an outdoor wedding, it's essential to consider both the practicality and the style that complements the natural surroundings.
Outdoor weddings often take place in various settings, such as gardens, beaches, vineyards, or rustic venues.
Here are some wedding dress styles that are well-suited for outdoor weddings:
A-line and Ballgown Dresses: A-line and ballgown dresses are versatile and can work well in various outdoor settings. They offer a classic and elegant look while allowing for ease of movement and comfort.
Sheath and Flowy Dresses: Sheath dresses or dresses with a flowy silhouette are perfect for beach or destination weddings. They have a light and airy feel, making them comfortable to wear in warm weather.
Tea-Length Dresses: Tea-length dresses are a popular choice for garden and outdoor weddings. They have a vintage charm and are practical for navigating grassy or uneven terrains.
Boho and Bohemian Dresses: Boho wedding dresses with lace, fringe, or unique embellishments are well-suited for outdoor weddings with a relaxed and bohemian atmosphere.
Off-the-Shoulder or Strappy Necklines: Necklines like off-the-shoulder or delicate straps can add a touch of romance and femininity to your outdoor wedding look.
Lace and Soft Fabrics: Dresses made from lightweight and breathable fabrics like lace, chiffon, tulle, or organza are perfect for outdoor weddings, as they won't feel heavy or restricting.
Simple and Minimalist Dresses: Outdoor settings often provide a stunning backdrop, so a simple and minimalist dress can beautifully complement the natural surroundings.
Empire Waist Dresses: Empire waist dresses, which have a high waistline just below the bust, can be a great choice for outdoor weddings, especially if you want to create a flowing and effortless look.
Convertible Dresses: Some designers offer convertible dresses that can be adjusted or have removable elements like detachable trains or overskirts. These versatile options can be perfect for transitioning from the ceremony to the reception in an outdoor setting.
Remember that comfort is crucial for outdoor weddings, so consider the temperature, terrain, and potential weather conditions when choosing your dress. Also, be mindful of the length of the train or veil, as they may need to be adjusted to accommodate the outdoor environment.
15. What should I bring with me to my dress fittings?
When attending dress fittings, it's essential to come prepared with a few key items to ensure a successful and productive experience.
Here's a checklist of things to bring with you to your dress fittings:
Undergarments: Wear or bring the undergarments you plan to wear on your wedding day, such as a strapless bra, shapewear, or any special undergarments that may affect the fit of the dress.
Wedding Shoes (or Similar Heel Height): Bring the shoes you intend to wear on your wedding day or shoes with a similar heel height. This will help the seamstress or tailor adjust the dress length accordingly.
Hair Accessories: If you have chosen your hair accessories, like a veil, hairpiece, or tiara, bring them along to see how they pair with the dress.
Jewelry (Optional): Consider bringing any jewelry you plan to wear on your wedding day, so you can see how it complements the dress.
Photos or Inspiration: If you have any inspiration photos or sketches of dress details you want to add or modify, bring them with you to discuss with the seamstress or designer.
Special Requests: If you have any specific requests or changes you want to make to the dress, make a list or note them down so you can communicate them clearly.
Open Mind and Positive Attitude: Keep an open mind during the fittings, as the dress may look different once it's altered to fit you perfectly. Stay positive and trust the expertise of the professionals assisting you.
Any Previous Notes or Conversations: If you've had previous discussions or notes from previous fittings, bring them along to ensure continuity and proper communication.
Payment and Contract Information: If there are any payments due for the alterations or other dress services, be sure to bring the necessary payment information.
Camera or Smartphone (with Permission): Ask for permission from the boutique or designer, and consider bringing a camera or smartphone to take photos during the fittings. This can help you review and remember the changes made during each session.
16. What are some eco-friendly and sustainable options for wedding dresses?
Choosing an eco-friendly and sustainable wedding dress is a wonderful way to reduce your environmental impact and support ethical practices in the fashion industry.
Here are some eco-friendly and sustainable options for wedding dresses:
Vintage or Second-Hand Dresses
Opt for a vintage wedding dress or a pre-loved gown from a second-hand boutique.
Not only will you be reusing a beautiful dress, but you'll also be reducing the demand for new dress production.
Look for dresses made from eco-friendly fabrics like organic cotton, hemp, bamboo, Tencel, or peace silk (also known as Ahimsa silk), which is produced without harming silkworms.
Consider an upcycled wedding dress, which is created by repurposing and transforming an existing gown into a new and unique design.
Research and support bridal designers who prioritize sustainable and ethical practices in their dress production. Many designers are now incorporating eco-friendly fabrics and ethical manufacturing processes into their collections.
Minimalist and Timeless Designs
Choose a dress with a timeless and minimalist design that won't go out of style, allowing you or future generations to wear it again.
Renting a wedding dress or borrowing one from a family member or friend is a sustainable option that reduces the need for a new dress.
Local and Artisan-Made Dresses
Look for locally-made wedding dresses or dresses crafted by skilled artisans, supporting local economies and reducing the carbon footprint associated with long-distance transportation.
Shorter Production Chains
Consider dresses that are locally produced or made in small batches, as this often means a shorter production chain with reduced environmental impact.
Ethical Brands and Certification
Seek out brands that have certifications or labels for eco-friendly and ethical practices, such as GOTS (Global Organic Textile Standard) or Fair Trade.
DIY or Customized Dresses
If you have sewing skills or access to a talented seamstress, consider creating your own dress or customizing a vintage or pre-loved gown to fit your style.
By choosing one of these eco-friendly and sustainable options, you can contribute to a more environmentally conscious wedding and set a positive example for others.
Your wedding dress can be a beautiful symbol of your commitment to sustainability and ethical practices, making your special day even more meaningful.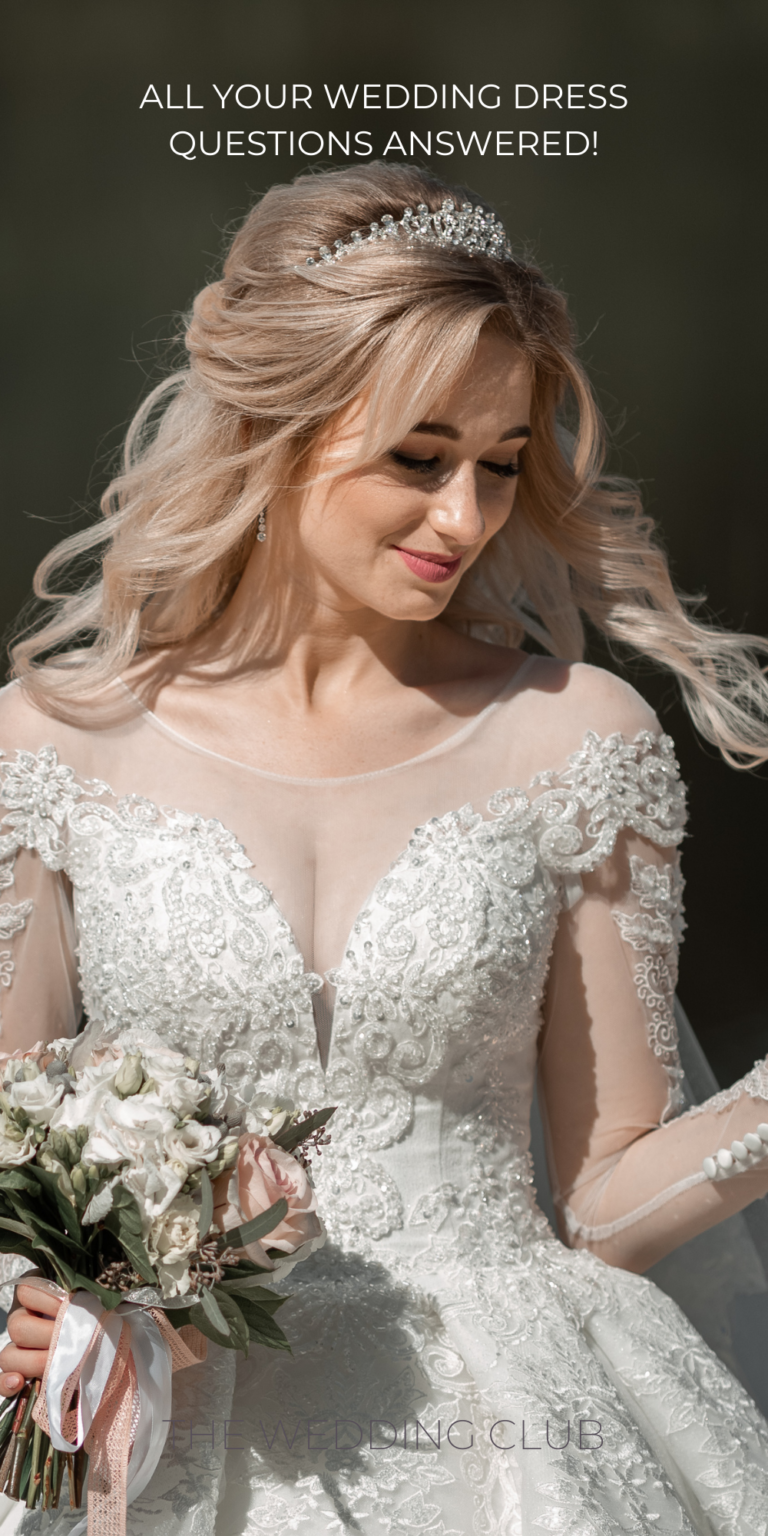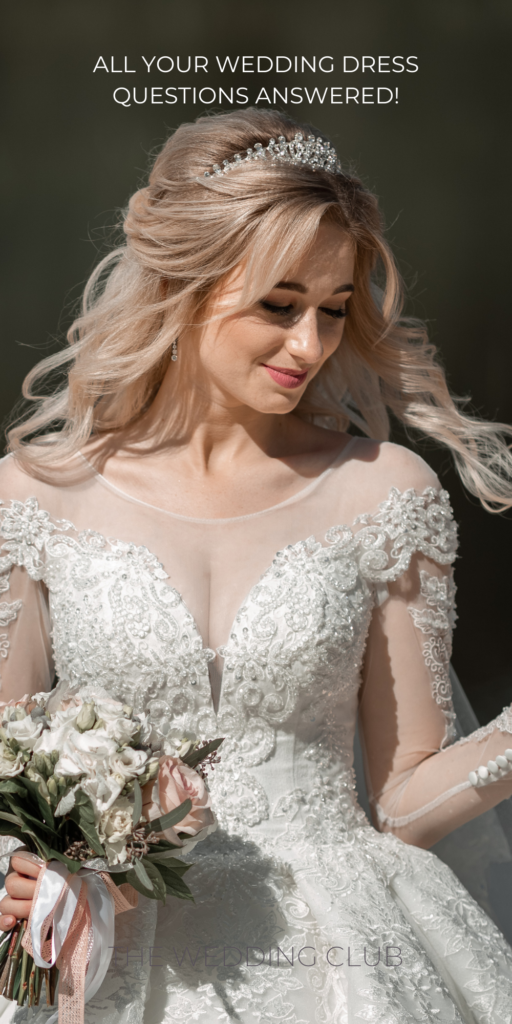 17. Are there any alternatives to traditional white wedding dresses for brides who want a more unique look?
There are plenty of alternative options to traditional white wedding dresses for brides who want a more unique and unconventional look.
Embracing different colors, textures, and styles can add a touch of personality and individuality to your wedding attire.
Here are some alternative ideas to consider:
Blush or Pastel Colors: Soft blush, dusty pink, mint green, lavender, or other pastel hues can create a romantic and dreamy look, while still remaining wedding-appropriate.
Champagne or Ivory: If you prefer a lighter shade but still want to deviate from pure white, champagne or ivory dresses offer an elegant and sophisticated alternative.
Dramatic Black: For a bold and unconventional choice, consider a black wedding dress. It can be incredibly striking and glamorous, especially for evening or Gothic-themed weddings.
Metallics: Gold, silver, rose gold, or metallic-toned dresses can add a touch of luxury and glamour to your bridal look.
Colored Embroidery: Add a pop of color with colored embroidery, appliques, or patterns on a neutral-colored dress.
Two-Piece Sets: Explore two-piece wedding dress sets with mix-and-match tops and skirts for a modern and chic look.
Jumpsuits or Pantsuits: For a trendy and fashion-forward approach, consider a stylish jumpsuit or pantsuit as your wedding attire.
Bohemian Crochet or Macramé: Boho-inspired crochet or macramé dresses can be perfect for outdoor, beach, or bohemian-themed weddings.
Non-Traditional Patterns: Explore dresses with unique patterns like polka dots, stripes, or floral prints for a playful and fun twist.
Cultural and Ethnic-Inspired Dresses: Celebrate your heritage by choosing a dress inspired by traditional clothing from your culture.
Colored Ombre: Dresses with ombre effects, transitioning from one color to another, can create a breathtaking and artistic look.
Dip-Dye Dresses: Dip-dye dresses with subtle color gradients are a creative and modern choice.
Vintage-Inspired Dresses: Opt for vintage-inspired dresses from different eras like the '20s, '50s, or '70s for a nostalgic and unique feel.
Artistic Hand-Painted Dresses: Consider dresses with hand-painted designs or watercolor effects for a truly one-of-a-kind look.
Remember that your wedding day is an opportunity to express your style and personality, so feel free to explore and experiment with different options. Choose a dress that makes you feel confident, beautiful, and authentically you!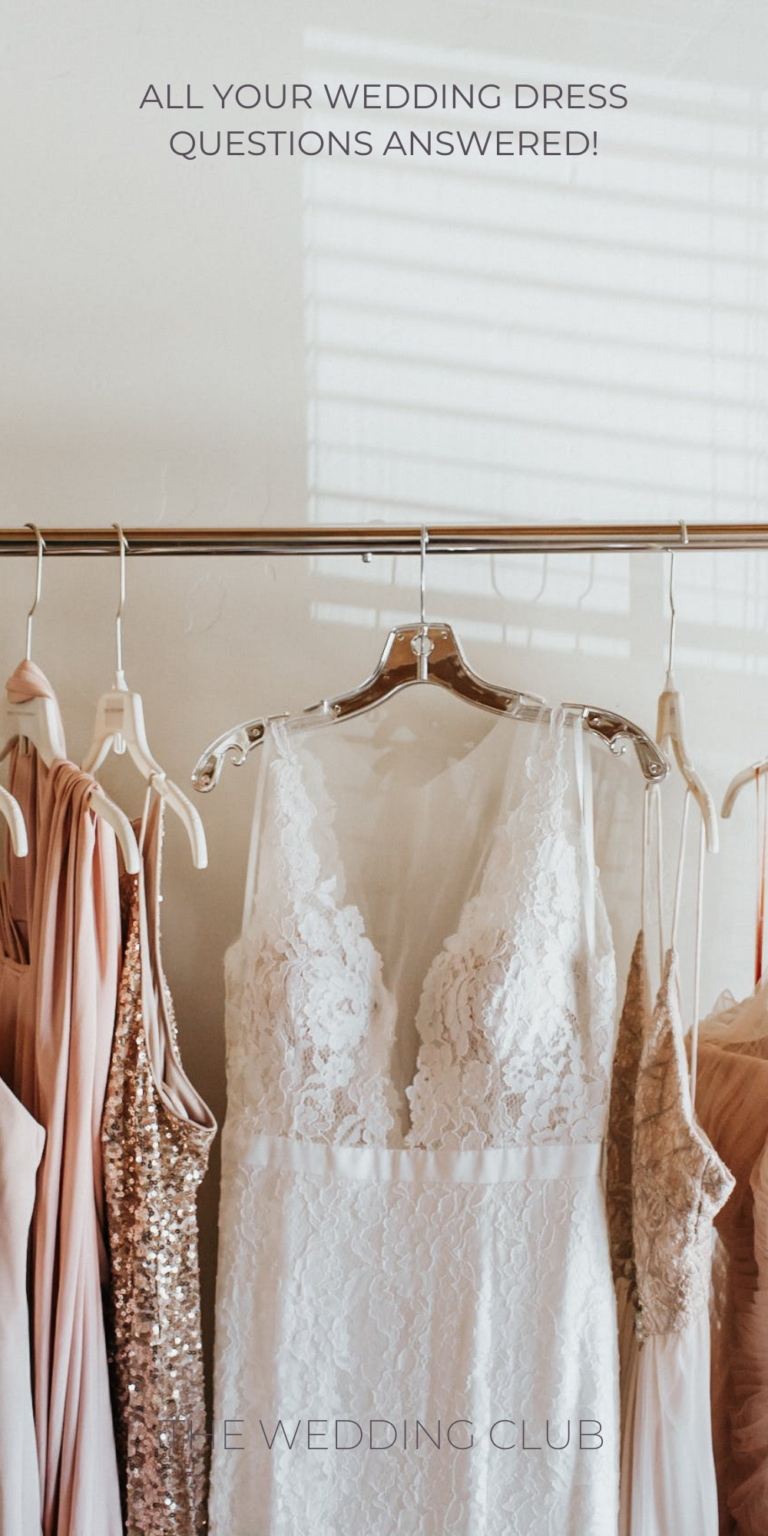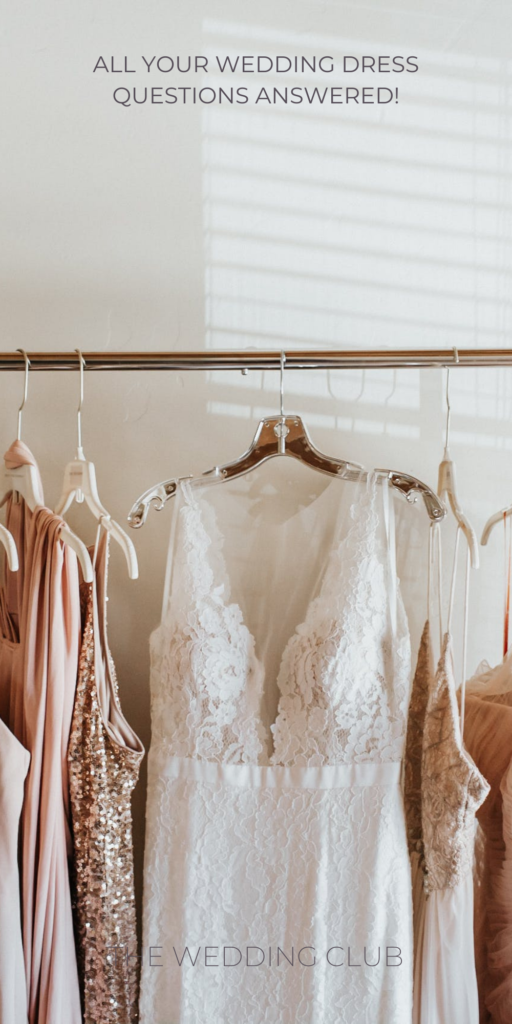 18. What should I consider when selecting a dress for a destination wedding?
Selecting a dress for a destination wedding involves some additional considerations to ensure that your choice is not only beautiful but also practical and suitable for the specific location and climate.
Here are some factors to keep in mind when choosing a dress for your destination wedding:
Consider the setting and style of your destination wedding venue. Whether it's a beach, garden, tropical resort, or historic site, your dress should complement the surroundings and the overall theme of the wedding.
Take into account the weather conditions at the destination and the time of year when your wedding will take place. Opt for breathable and lightweight fabrics for hot and humid climates, and consider wraps or capes for cooler destinations.
Choose a dress that travels well and is not overly cumbersome. Dresses made from wrinkle-resistant fabrics or those that can be steamed easily are ideal for destination weddings.
Ensure that the dress allows for ease of movement, especially if you're having an outdoor or beach wedding. Consider a dress with a shorter train or one that can be bustled for the reception.
If you're flying to your destination, consider the packaging and storage of the dress during travel. Some bridal boutiques offer special garment bags for travel, or you can inquire about options for destination wedding dresses.
Tailor your dress choice to the formality of your destination wedding. A casual beach wedding may call for a more relaxed and bohemian-style dress, while a formal resort wedding might warrant an elegant and sophisticated gown.
Choose a dress with a timeless design that won't be influenced by short-lived trends. Classic styles tend to work well in any setting and won't look outdated in your wedding photos.
Practicality for Activities
Consider any activities or adventures you might partake in before or after the wedding. If you plan on exploring the destination or participating in outdoor activities, choose a dress that allows for comfort and mobility.
Be aware of any customs or regulations at your destination regarding wedding attire. Some religious or cultural sites may have specific dress code requirements.
Keep in mind that you might need different accessories or shoes for an outdoor or beach wedding compared to a formal indoor event.
Alterations and Final Fitting
Plan your alterations and final fitting accordingly to ensure the dress fits perfectly upon arrival at your destination.
By considering these factors, you can select a dress that not only fits the vision of your destination wedding but also ensures that you feel confident and comfortable as you say "I do" in your dream location.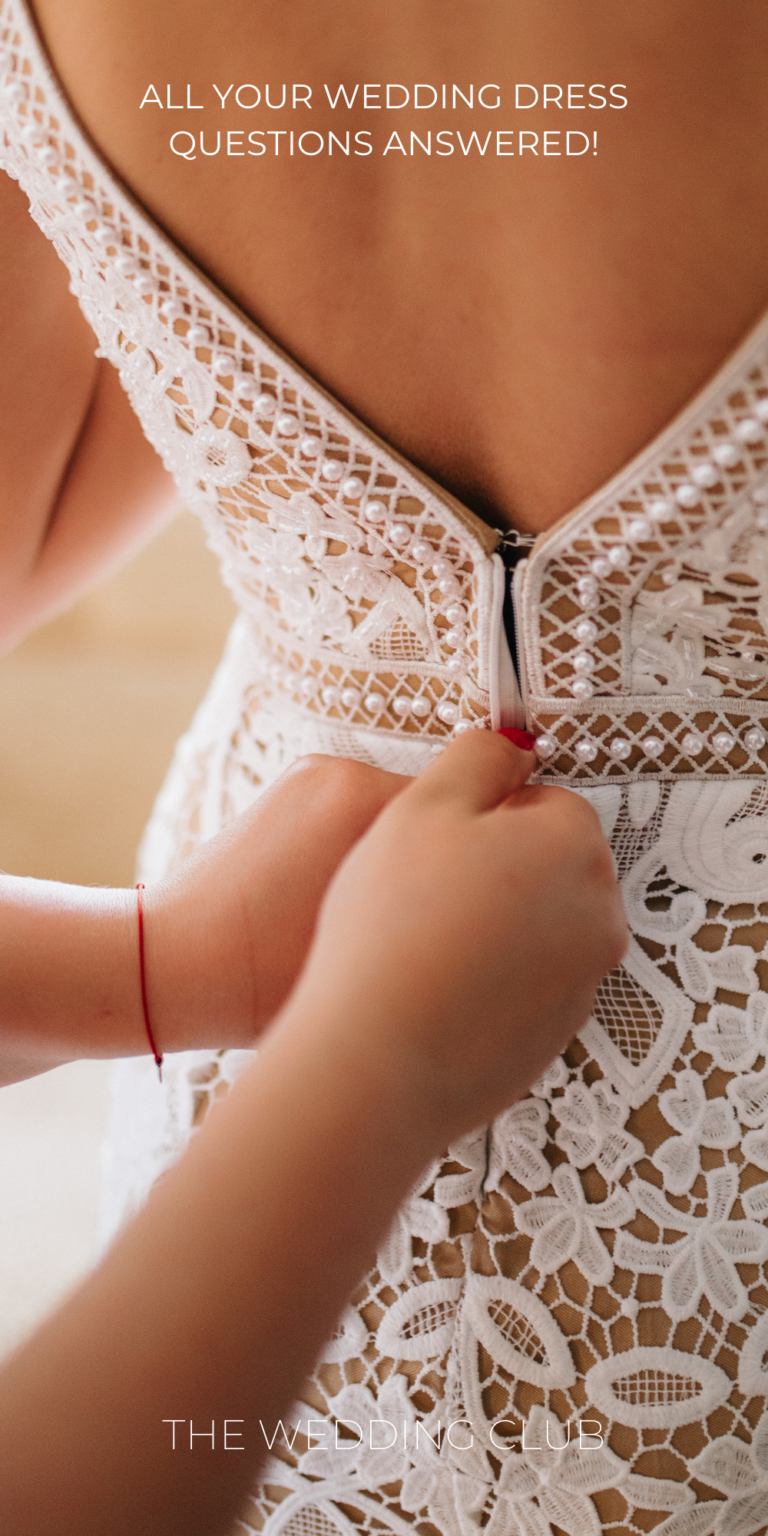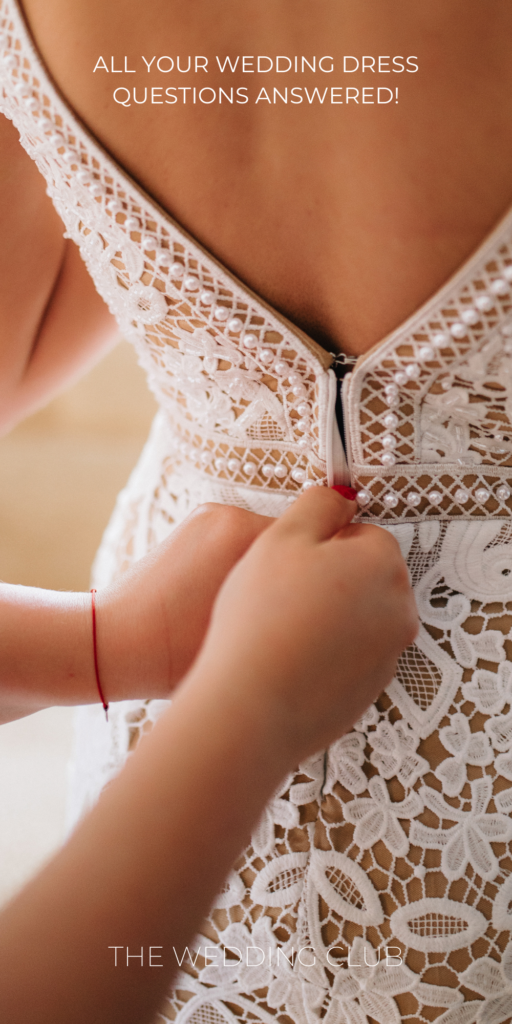 Our wedding planner templates are your trusty sidekick. From seating plans to to-do lists, planning is a breeze. Download now and be the boss bride!
19. Do you have any advice for brides who are torn between two or more dress options?
Choosing between two or more dress options can be a challenging decision for any bride.
Here are 12 pieces of advice to help you navigate the process and say "yes" to the right dress:
Take Your Time: Avoid rushing the decision. Give yourself ample time to think about each dress and how you feel in them. If possible, schedule a second or third appointment to try on the dresses again.

Consider the Venue and Theme: Think about your wedding venue and theme. Choose the dress that complements the overall aesthetic and vibe you want to create on your special day.

Remember Your Vision: Keep in mind the vision you had for your wedding dress when you first started shopping. Which dress aligns better with that original vision?

Think About Comfort: Consider which dress is more comfortable to wear. Imagine yourself moving, dancing, and sitting in each dress to gauge how comfortable you'll be throughout the day.

Ask for Opinions (But Not Too Many): It's okay to ask for the opinions of close friends or family members, but be mindful not to involve too many people in the decision-making process, as it can become overwhelming.

Consider the Opinions of Trusted Individuals: Seek input from those whose opinions you truly value, such as your mom, sister, or best friend. They know your style and preferences and can offer valuable insights.

Picture the Big Picture: Envision yourself walking down the aisle and standing at the altar in each dress. Which one makes you feel more like a bride?

Sleep On It: If you're torn between options, give yourself time to sleep on the decision. Sometimes, a night's rest can bring clarity.

Eliminate the Unnecessary: If there's a dress that you know deep down you don't like as much, eliminate it from your options to narrow down your choices.

Trust Your Gut Feeling: Ultimately, trust your instincts and go with the dress that feels right for you. You'll know it when you find the one that makes you feel special and confident.

Consider Dress Alterations: If there are elements you love from each dress, ask the boutique or designer if any customization or alterations can be made to combine the features you adore.

Imagine Yourself in Photos: Picture how you'll look in your wedding photos wearing each dress. Which one do you think will make you the happiest when you look back on your wedding album?
Like this post? Pin these images to Pinterest!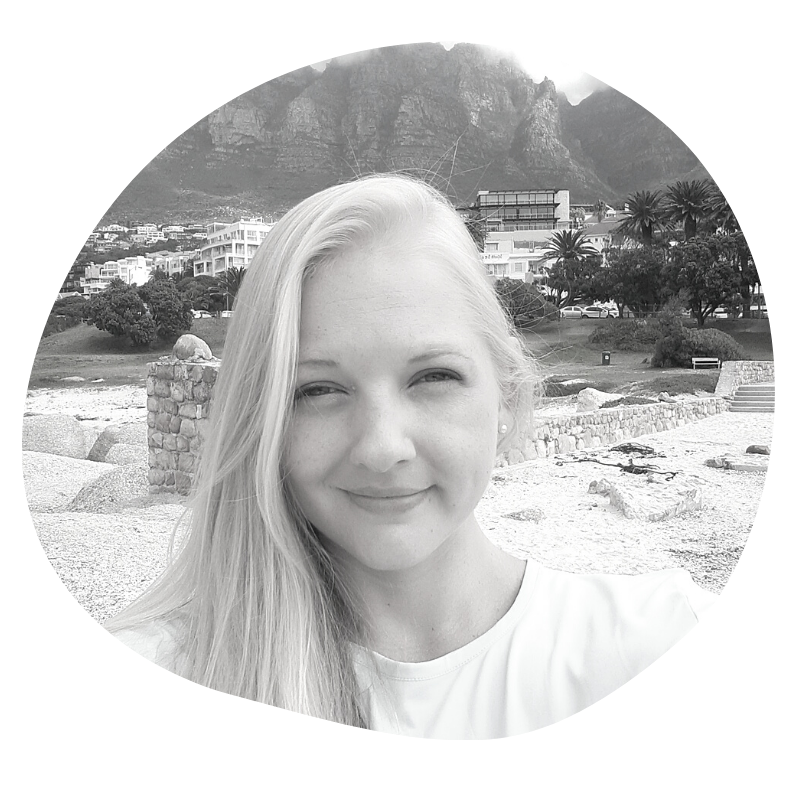 Born in Johannesburg, South Africa, Tanya Viljoen has been an active contributor and planner in the wedding industry since 2016. When not writing useful content for brides and wedding professionals, she can be found designing templates for her Etsy shop, TWCprintables. 
Picture your perfect day, stress-free. Our wedding planner templates make it possible. Download now and start planning the wedding of your dreams!