This page includes affiliate links, meaning at no extra cost to you, I might make a small commission if you decide to buy something. You can read my full disclosure here.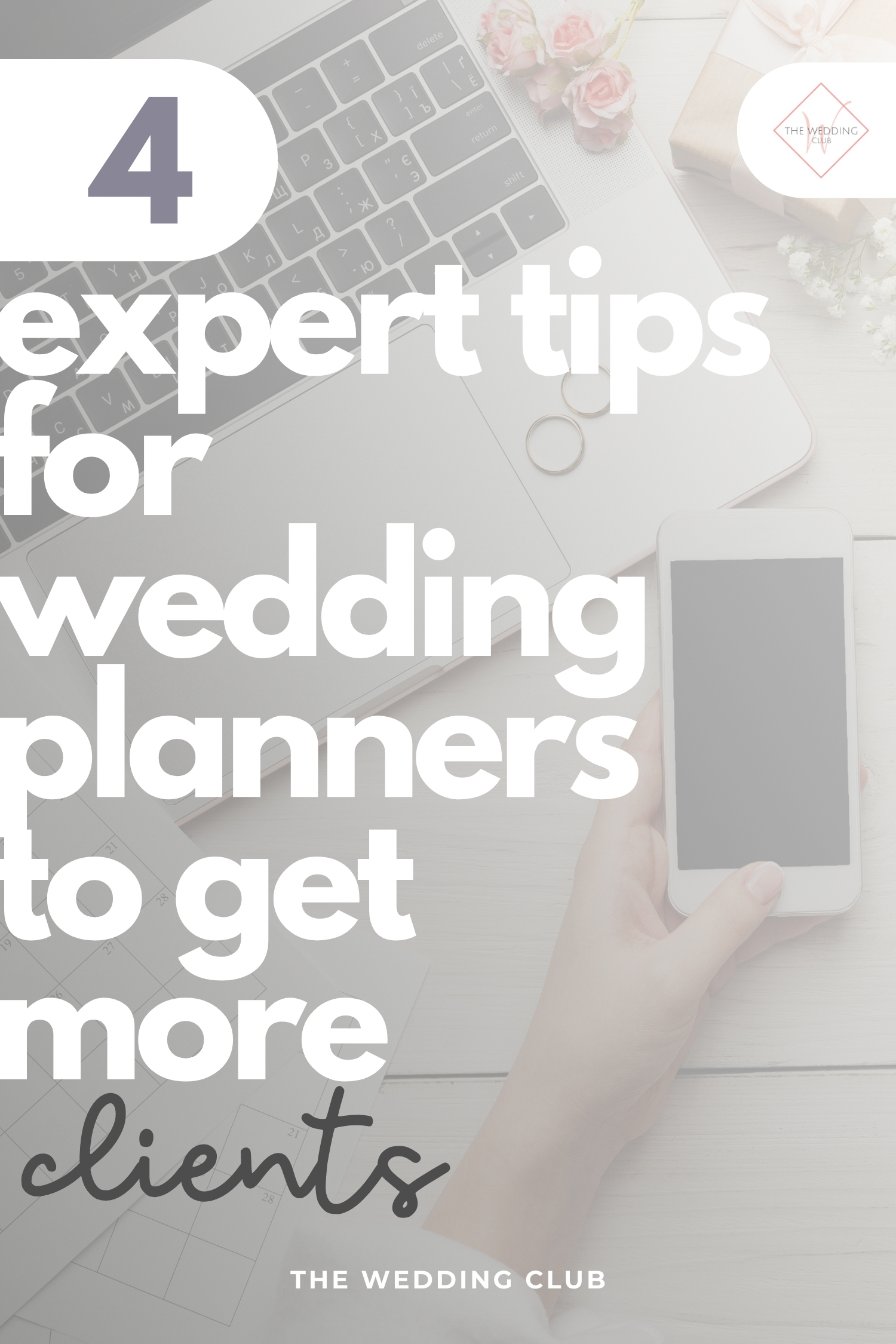 The wedding and events industry is becoming more saturated, because it consists of businesses that can be run from home, and with minimal employees. You also don't need a lot of startup funding, or capital, to start your own wedding or events planning business.
We have created this post to help you with some business tips and advice, and to help you get more of your ideal clients to make your business thrive.
4 Expert Tips for Wedding Planners that will get you more Clients
Weddings are commercialized
First of all, let's get this painful fact out of the way: Weddings are commercialized. The entire industry is based on goods and services that comes in high demand from the consumer. From wedding dresses, flowers and venues, to the more specialized stuff such as hiring a horse and carriage, having a snowy owl fly in with the rings, or releasing 50 doves after the ceremony.
And with that said, it all comes with some hefty price tags as well, unfortunately. It is so sad for us when we think about how the wedding industry has lost its soul. There is no more "heart" in planning a wedding – everyone just wants to make money.
As a wedding planner, you have to understand this, because you will deal with difficult suppliers too, and not just clients. You might get to work with the couple with the extremely limited budget, who simply cannot afford to make their dream wedding happen. And with the wedding industry in the state that it is, you will – more often than not – struggle to accommodate them.
On the brighter side, you will get to work with suppliers whom you can negotiate with – and these are the golden ones to keep close by and on your contact list. The great thing about these suppliers, is that they get to know you personally and recognize the weddings you plan. They know you will always refer to them for goods and services and they will always give you a good deal.
Building friendships with these suppliers is important, because it will help you to plan weddings in any range and with any budget.
Competition is fierce
In the past week since writing this post, three new wedding and events companies popped up that serve our local area. As the market is growing, so are the businesses. And these include home based businesses, one owner businesses, as well as registered companies with more than 10 employees.
You have to work yourself up the ladder in the wedding industry, to land the clients you really want to work with. You have plenty of competition, especially if you work in the city. The problem with more rural areas, is that you will have to promote and market yourself twice as hard in order to get enough clients.
Up your game
So, in order for you to stand out from the rest and get even more clients, you need to figure out ways that makes your business different than others'. You can offer more perks to your clients or even tailor your proposals and packages for each specific client to give your business warmth.
Clients like to feel special and that you will make the effort to make them feel that way. That is why your business should be unique. Find ways to include more service in your packages, have unique branding in place and focus on marketing yourself on social media.
Also Read: 20 Reasons Why Wedding Planning is the Best Job in the World, Ever! (+ Free Printable)
2 Golden tips for planners, to make planning a wedding easier
Whether you are a full-on wedding planner, or an event planner who focuses on other social, or corporate, events too, there are so many tips you can start to carry out in your business in order to be more successful.
We have compiled a list of these useful tips you can implement to make your business shine.
Golden Tip #1  |  Use cheaper methods/items to save money or make a profit
With Pinterest being the way it is, you can easily DIY a wide range of things specifically for weddings. This includes so many crafts and DIY projects, which might work out cheaper than just buying the real thing. Also, some of these projects can be created once off, and then be used at future weddings again and again.
Take the DIY backdrop for example. You can build a frame out of PVC pipes for all of your wedding backdrops. This works great if you need to cover up and ugly wall behind the bridal table. It also works great if you are going to create a photo booth for guests to enjoy.
Once you have created your PVC Pipes frame, you can drape linen over it, or tie multiple strings of ribbon to it. You can paint the frame to a matching color of the wedding scheme, so that it fits in. Or paint it something metallic, such as rose gold or copper.
This is a great way to save money on future expenses. Think of more items you can make and reuse over and over again.
          Have cheaper wedding ideas
Sometimes, the Pinterest idea the bride really wants at her wedding will cost a fortune. It will then be easier to find cheaper alternatives, especially if their budget is small.
A good example of this is when the bride saw a designer wedding cake on Pinterest, but after you've found quotes from multiple bakers, you realize it will go beyond their budget.
So what can you do?
You may propose different ideas to the bride to see if she would rather go with a different idea. She might budge, and agree to a cheaper version of the cake, or a completely different look.
If not, you should find a cheaper way for the cake to be baked and decorated.
Golden Tip #2  |  Stockpile on handmade and re-purposed items
This is also a great way to save more money in your business. All those mason jars and coffee jars you keep throwing out can be used for wedding décor. Since there are many couples out there who cannot afford a full-on, all inclusive wedding, most will agree to DIY weddings.
And just see Pinterest thrive in all is glory with the mason jar projects! 😀
There are actually so many things you can rather stockpile and reuse for many different wedding themes.
          Trends
The best way to stockpile evergreen items, is to watch the wedding trends. This will determine what you can stock up on to reuse, that brides you work with will love.
The wooden boxes for floral arrangements, for example, are here to stay. Mason jars, bud vases and glass bowls, too.
When looking at linen, go for plenty of neutral fabric, and if you can, have a few unique choices.
Remember, the whole idea is to make the planning of a wedding easier. It is so much more convenient if you already have most of the items you can use. This way, you also save on additional costs and logistics.
          Making things for a wedding – DIY
We spoke about this a little earlier. Making things for a wedding is also a great way to stockpile items for future weddings.
For example, if you have already planned a few weddings, you might have encountered the pain that is: folding paper cranes. And some brides want only a few, and others want 1001. The upside is, you can save them after the wedding in a box, and when the next bride comes who also want paper cranes, you whip those out again. Magic.
          Hit the thrift store
Some items can be repurposed for weddings. Things such as vintage suit cases and cameras, or a typewriter, for example. These look great as features at vintage weddings.
As a sideline income, you can rent these out to clients, too.
What if you can't afford to stockpile yet?
No problem! As you get more clients, you should quote enough so that you have a little extra left for all your hard work. This should be after you have paid your own expenses and your staff's, if you have someone helping you.
With the little extra saved, buy a little bit of quantity of a certain item. Start with the essentials, such as round tablecloths. 20 of them should be enough at first. And choose a single color to start off with, such as white.
So now, when you need to use white table cloths at a couple's wedding, you have them on hand. This saves you money on hiring. And from here on forward, you save more and more on items that you already have on hand.
Also Read: 13 Tips to Skyrocket your Wedding Planning Business
4 Super Effective Tips to get you more Clients
You need more clients in order to get your business going in the direction you want. More clients mean more reviews, income and referrals. That is why this should be your main focus of building your business.
#1  |  Be more affordable
It is common knowledge that wedding planners are expensive – but it doesn't have to be like this. Obviously many planners like to make more money from their jobs, and by working only with clients who have money.
But think about it this way: If you are more affordable, you will get more clients. That means you might make more profit than the next expensive wedding planner.
A side note: Don't be too affordable. Your potential clients might wonder what is wrong with you or your business and have a "you get what you pay for" mindset. This might actually chase them away.
          Wedding planner salary
We haven't gone into much detail about wedding planner salaries yet. The income threshold will be different from area to area, and from country to country. A Los Angeles wedding planner's salary will be higher than a New Jersey wedding planner's salary, for example.
However, the principles of paying yourself a salary remains the same. You still need to pay yourself enough so that you can cover your bills and expenses.
So, when you are too affordable, you will most likely not be able to do this.
#2  |  Have "low budget" packages
An alternative way to include more affordable service, is by creating a "small budget" or "low budget" package. This can include all the bare basics of planning a wedding for someone.
You can exclude all of the "going the extra mile" services you normally give to higher paying clients.
In this way, you will also get potential clients that will be able to afford you. This means more business for you!
Also Read: Smart Strategies to nail your first consultation + free printable!
#3  |  Offer individual services
Some clients don't want the entire package, even if they can afford it. They might have already asked a friend or family member to help them plan a wedding.
But sometimes, even the friend or family member can't do everything. This is where you come in…
You can offer these services separately to clients, or include it in your wedding planning packages at a higher price.
          Wedding consultant
You can offer consultation to couples. This basically means that you help them with advice and guidance. You can help them create a look for their wedding, find suitable vendors for them to work with and so on. It is their decision then if they want to work with you even further, as a full-on wedding planner, or not.
This is also a great way for clients to see if they want to work with you on their wedding planning process, because they get to see how you work and how dedicated you are.
          Venue Scouting
You can simply offer your services as a Venue Scout. Your job is then to find the perfect venue for a couple and include a scouting fee of course. This can be part of one of your packages as well.
You can also go the extra mile and work with a hand full of venues, that will pay you a "finder's fee" whenever you bring new couples to them and they get married there.
          Supplier Scouting
This is almost like the venue scouting process, but for suppliers. Clients can come to you and ask for wedding related services such as a DJ, cake baker, musician, photographer and so on.
You can either share a recommended list with them or talk to the suppliers directly. When the couple decides to work with one of them, the supplier then pays you a "finder's fee" and the couple pays you a "sourcing fee".
This can be a great addition to any package you offer, at an additional cost.
          Budget Planning
Many wedding planners choose not to work with clients' budgets, because it can get messy, and the admin is horrific at times.
However, if you want to include this as one of your services, you can do budget planning with the couple. You sit down with them and discuss their budget, then help them to allocate part of their budget to different areas of the wedding.
You are also responsible for handling their budget, making payments, and making sure they don't go over their budget limit.
          RSVP Handling
There is a lot of drama tied to RSVP handling. Wedding guests normally don't take RSVP's as seriously as they should and this makes it difficult.
To handle RSVP's, you need to manage the guest list, include who is allergic to what food at the wedding. Also, if they have received a save-the-date, invitation and thank you note. You need to follow up with contact details, because this might be incorrect. You should also check the correct spelling of mailing addresses and so on, to make sure they actually receive their invitation.
And this was just the tip of the ice berg…
Nevertheless, RSVP handling is a great additional service to offer, or to add to one of your wedding packages.
#4  |  Make use of Pinterest for clients
Nowadays, weddings are synonymous to Pinterest. And you should take advantage of this, because more than half of your potential wedding clients use Pinterest.
You can use your Pinterest account to showcase all your past weddings and to add photos of wedding and events. You can create a board for each of your client and add their photos there. Then, whenever you meet new clients, refer them to your Pinterest account so that they can see your past work.
You can also ask clients to save a few pins of ideas for their wedding. This makes the planning process so much easier, because then you already have an idea what they want.
Having a few hat tricks on hand that you can implement in your business, is always a good thing. You should also make use of these tips during the slow months or when it seems like you're not getting any clients.

 

And don't forget the power of social media!
Now Read: How to Promote your Wedding Planning Services on Social Media