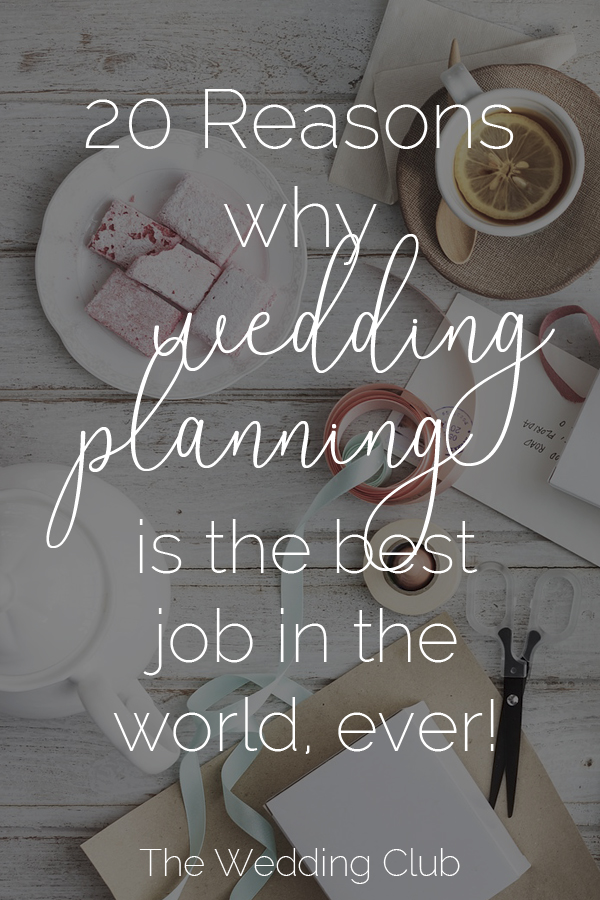 We have compiled a list of reasons why being a wedding planner is simply awesome, fabulous and downright the best job in the world, ever! Sure, there are a few disadvantages to being a wedding planner as well. But, let us focus on the positive! And, these reasons might just be enough to convince you to make the career change.
By the way, if you are considering the career change to become a wedding planner, why not read this post here.
20 Reasons why Wedding Planning is the Best Job in the World, Ever! + FREE Printable
You get to be Your Own Boss
This one is definitely at the top of our list of why wedding planning is the best job ever! It is not fun working for someone who bosses you around. We have all had our fair share of horrible bosses, though some were luckier than others. But if you're a wedding planner, you get to be your own boss. And no, your clients shouldn't boss you around either. Think about it. You get to set the rules for your business. You get to manage everything and make huge business decisions.
You Own Your Own Business
Owning a business is hard work, but it is extremely rewarding. It can be your life's accomplishment, if you run it correctly and keep it from failing. And, like we mentioned previously, all major company decisions go through you. You get to say what goes and what doesn't. You can brand your business any way you like. And so much more…
You Choose Your Own Hours
It's true! If you decide to take Mondays off (like most people in the industry), it's your choice. If you only want to meet clients in the afternoon, you can. Your opening hours can totally be decided by how you want to run your business.
You Decide Which Clients You Want to Work With
At first, this may be impossible, since you have to get your name out there. But after a while, you will notice that you favor a certain type of client over another. And, you can then decide exactly who you want to work with.
It can be a Part-Time Job
You don't necessarily have to give up your day job to become a wedding planner. I know of many people who meet their clients in the evening, and organize wedding suppliers for weekends during their lunch hours. After all, almost all weddings take place on a weekend.
You can Choose Your Own Salary
If you feel like taking a big chuck from your profits, you can do so. You decide where all the profits go – you are the boss, after all. Though this one comes with a caution. You always need some financial advice if you make bucket loads of cash. You need to set money aside for unexpected circumstances, marketing, employees – if you want to hire some, training, etc.
Also Read:
You can Choose the Services you Offer
If you only want to be a day coördinator, you can. A day coördinator is only present on the day of the wedding and makes sure that everything runs smoothly. Whereas full-on wedding planners plan a wedding from A-Z and it can start from 16 months before the wedding… Also, if you only want to do a certain aspect of weddings, like the decor and flowers, you can do so. Another perk about this is that you can be a wedding planners and offer extra services like catering, cake, flowers, etc. for extra income.
You get to meet awesome people
Once you have a foot in the door of the wedding industry, people start to notice you. You get to meet people in the industry who will recommend you, negotiate with you and offer you exclusive services for your clients. It is also very motivating to see how people get their names out there and how awesome their products and services can be. It's also a great way of learning what works and what doesn't, first hand.
You have so many apps and Technology to your Disposal
Technology is taking over everywhere and there's an app or a website for almost any aspect of wedding planning. Not only is this useful to brides, but to wedding planners as well. You get to take your pick from project management apps right up to social media apps. Online invitations took the world by storm and now also wedding sites, where couples can invite guests, manage RSVPs, share photos of the wedding, etc.
There is a big market out there
There's a huge scope of opportunity for you to get involved in this industry. You can either market to other businesses (B2B) or directly to the public (B2C). Getting married is one of the biggest life milestones in most people's lives, and there are so many brides that need your help! You can also choose how your pricing will work, based on the availability of your clients. For instance, you will get more clients if you offer budget solutions or cheaper wedding packages. If you only want to plan weddings for the elite, you will get few clients, but a huge profit. See how that works?
You get to make people happy
What a satisfaction to make other people's dreams come true! You are part of the success of their big day so you are responsible for making sure it goes as planned! Yes, it is stressful, but very rewarding and worth every effort.
You work with pretty things
The oooh-factor in the wedding industry is quite high. You work with florists, venue coordinators, caterers, photographers, stylists and beautiful brides. Everything for the bride's special day looks and tastes amazing…
You can be creative
You can come up with new ideas and ways to style weddings. New angles for photos. New ways of incorporating flowers into decor. New ideas for backdrops and photo booths. You get the idea!
You get to put your name out there
It is so satisfactory when someone recognizes your work and effort somewhere. Or someone can refer to you by name and that person will know exactly who they are talking about. Or someone recognizes your name on social media and reaches out to you! Also, the more experience you gain and projects you complete, the more recognizable your name becomes.
People start to admire your work
This goes without saying too much about it. If someone likes your work, they will recommend you. Also, you will get so many people who simply adores what you do and how you plan weddings for other brides.
Word-of-Mouth Advertising
This is your best advertising tool out there. Sure, it helps to promote yourself or your company on social media networks or in print, but word-of-mouth automatically comes with a good review. For example: "Hey, I know this lady who's work is AMAZING, let me give you her details". See?
Also Read:
Never a Dull Moment
There is no single wedding that will be exactly the same as another. Each wedding brings new challenges and opportunities, new styles and ideas and new personalities to the scene. You work with a different bride and groom every time. And with all of the drama comes so many special moments. It will make your head spin – in a good way!
People in the industry start to recommend you
This goes with word-of-mouth advertising. But you know you're doing something right when a vendor or supplier recommends you. Or you get to be on a venue's list of recommended planners.
You can get great deals from suppliers
If you offer something in return to a supplier, they might give you a good deal on their services or products.
You get to Travel
If you're an independent planner and not too stuck to your area, you get to plan weddings all over the country! And what's more, this doesn't necessarily have to be your expenses, it can be added to the couple's budget. You decide.
So, there you have it! More than enough reasons to be a wedding planner, and did I mention how rewarding this career is?
And as a freebie, we have created this cute printable, for wedding planners all over! Frame it, put it on your wall, and declare it to the world!