This page includes affiliate links, meaning at no extra cost to you, I might make a small commission if you decide to buy something. You can read my full disclosure here.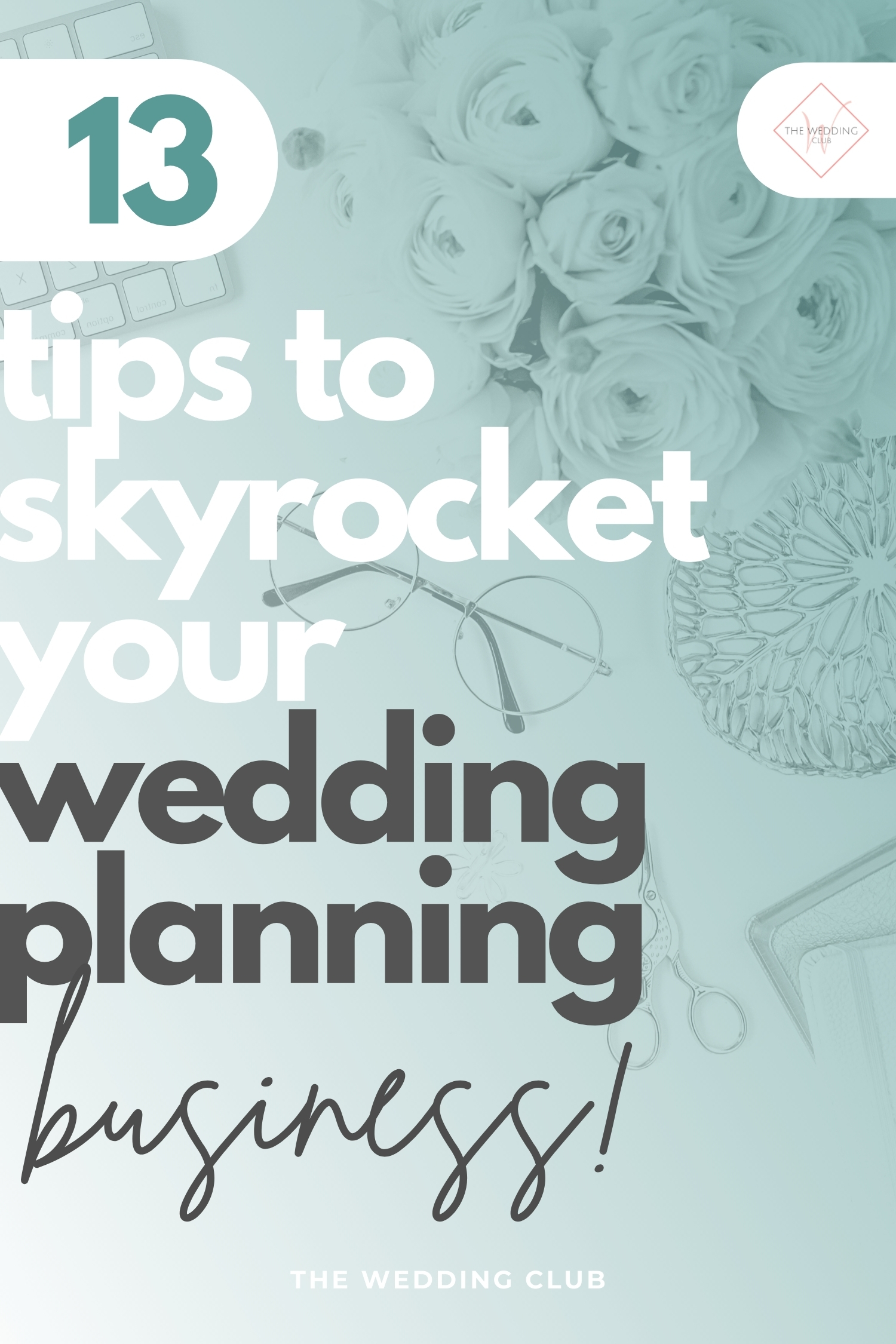 Congratulations on having a wedding planning business! The next logical step is to figure out ways to skyrocket your business into a prosperous, successful venture…
Having a business of your own is never easy, and, especially in the wedding industry, it can be super competitive and difficult to get your foot in the door. Nevertheless, there are ways to grow your business and get more clients.
13 Tips to Skyrocket your Wedding Planning Business
1. Promote yourself on Social Media
Social media has become one of the most powerful marketing tools out there – and more than a third of the world's population has some form of access to a social media platform, in one way or another. However, since a wedding planning business requires a more local platform, you should focus on immediate users, rather than the billions out there in the world.
Make use of these social media platforms' advertising services, and use keywords to target users in your area, city, state or country. It doesn't help to try and put your services out there, online, to everyone… Yes, many people will see it, but it won't get you any clients.
Start small, and expand your services to other areas as your business grows.
Facebook
The go-to social media platform for most businesses nowadays, is Facebook. And the best way to go about advertising your services here, is by creating a Facebook page for your business.
Simply add all of your necessary information on your business page, and you're ready! Add photos of past weddings which you have done, client testimonials, specials you have, packages you currently offer, etc.
Make use of Facebook ads to target users in your area and according to their interests.
Twitter
Having a twitter account for your wedding planning business can become handy if you have the time to post frequently.
Twitter is more challenging to pursue, as a business, because everything is super fast moving. But, such as Facebook, you can target the right audience to follow you and see what updates you have.
Simply use the correct hashtags, keywords and links. You can also include images and videos on your twitter account to make it interesting.
Instagram + Pinterest
Both of these social media platforms mainly use images as their core type of media. Videos are also available on these social media platforms, but they are usually short. If you can manage videos and prefer them over images, Instagram might be a great option for you!
If you prefer Pinterest, and mainly to showcase your work, we recommend you make your Pins longer (vertical). You can use Canva.com for this, and it is easy to learn how to use.
Other
Many other platforms which we haven't discussed in detail here, are great for your wedding planning business. You can use LinkedIn to network with other wedding and event planners, you can use YouTube for videos, etc.
You can also make use of online forums to discuss all things wedding related.
2. Create thank you packs for past clients
Have a welcome pack + a Thank You pack
You probably already know about the welcome pack for clients. If you don't have one, we highly recommend that you create one immediately. This should be included along with the contract (which we also hope you already have in place!). In the welcome pack, you can include the contract, a basic checklist for the bride, info about the packages you offer, you business stationery (business card, flyer, etc.) and more…
A thank you pack is optional, but it gives a past client motivation to recommend you to others, write a testimony, leave a review on your Facebook page, etc. In your thank you pack, you can include a personalized letter from you/your company, blank stationery for the bride to use, a voucher for something, etc. Make the gesture extra special by getting the thank you pack to your clients as soon as possible after the event. 
Appreciated clients will recommend you
Once clients see the lengths you go to, to make them feel appreciated, they will more likely recommend you, or work with you again.
Also Read:
3. Network!
Networking is key to many businesses' success, no matter how large or small that business is. To network means to meet new people in the industry, and possibly new clients. From this, collaborations, recommendations and partnerships can evolve. By networking through your wedding planning business, you can potentially meet suppliers in the industry who are wiling to negotiate. They may also be willing to supply you with products and services, for cheaper.
Join a community
To keep the network flowing, you can become part of a business community of like minded people. In the case of having a wedding planning business, you can join a community of wedding and event planners, or service providers, in the wedding industry.
In a community, ideas and trends can be discussed, people can recommend each other, new jobs can be advertised, and people can collaborate on events.
Where to join a community
Facebook
There are thousands of Facebook groups out there, and many of them are wedding and events related. Make use of Facebook search and use keywords you think might be a good fit for your business. Join these groups, read the rules (most groups have them) and see how you can benefit from that group. If it isn't a good fit, you can always leave the group.
Meetup
This is a great platform for organizing and attending networking events and workshops for a wide range of interests. By using Meetup.com, you can find events, see when and where they take place, how many people may attend, etc. You can also organize your own events. (Facebook events can also be used to organize networking events and wedding workshops – simply create the event and add all the necessary info, and use Facebook ads to advertise the event to the right people)
Host a seminar
Hosting a seminar can be an exquisite way to make like minded people come together, and who share the same interest. In this case, it will be all things wedding related. Though having a seminar can become costly, since you will need a venue, food and what else? But if you price your tickets right, get many remarkable people to speak at this event, include a goodie bag, a few workshops, etc., you will gain a powerful networking session, not just for yourself, but for everyone else who attend!
4. Be available, anywhere!
We can learn a lot from other successful people and how they handle their businesses…
Become a national business, or global…
Many businesses are expanding to a national, or even global level, thanks to the power of the internet and social media. We can learn quite a lot from these businesses, especially in the wedding industry, where it is absolutely possible to expand to a larger area.
Simply make yourself available to travel wherever your client is based. Be sure to include accommodation and traveling costs into your package and make sure your clients are aware of this.
5. Be professional
Lately we have noticed a horrible trend among business owners, and even in the corporate world, and that is the lack of professionalism. We cannot stress enough how damaging this can be to your business.
We will not go into too much detail regarding how professional you should be, as this can turn into a whole new discussion all on its own and most of the advice given is self-explanatory (don't be rude, dress professionally, be on time, reply to messages and e-mails in a timely manner, etc.).
We will however discuss how powerful professionalism can be to your business…
Clients will love working with you + recommend you
Once people see how much you care about your business, they will also start to care. If you go the extra mile, handle your clients individually, have flexibility and you are professional, they will want to work with you and even recommend you.
Clients love when you treat them in a personalized and professional manner. If you can provide services to them according to their needs, and no matter how obscure or extreme these needs are, they will surely appreciate you.
Other businesses will also recommend you
The same goes for other businesses in the industry or who you might work with. If they get good service and collaboration from you, they will want to work with you again and also recommend you to others.
6. Brand your business… and be consistent
Many people still underestimate the power of good branding. You see it all the time with large companies and famous brands. Have you noticed how most food companies use red, orange and yellow in their branding? Or how security and logistics companies often opt for blue?
That is because these colors subconsciously resonates with us: Shades of red, orange and yellow, and sometimes purple, can make us hungry. Blue has a sense of security about it. Bright colors such as violet, cerise pink and lime green are more bold and daring colors, that can emit courage, creativity and enthusiasm, for example.
Make sure you choose your branding and colors according to what you want your clients to feel when they work with you. How do you want them to see your business?
Use consistent branding
If you use the same branding and colors throughout your entire business, people will start to recognize your brand more easily. Every aspect should be designed in the same way, or similar. Use the same colors, logo, fonts and style on your website, Facebook page, stationery, e-mail headers, ad campaigns, etc.
7. Have a business plan in place
The key to a successful business is by having a game plan. We commonly call this 'game plan' a business plan, and it will become the bible which you run and manage your business by. Your business plan determines your business vision, mission, goals, income rate, projections, marketing strategies and so much more.
Make sure you have a good business plan before you venture into a direction which you are unsure of. Business plans differ from business to business, and of course, from business owner to business owner. Not one business plan is the same, so what you choose to include, and how you choose to include it, is really up to you.
Just make sure that you write your business plan in aim of the success of your wedding planning business. Put a lot of thought into your business plan. Really focus on every aspect and determine how it will contribute to the success of your business.
Also Read:
8. Set achievable goals for your business
A certain balance should be achieved when you set goals for yourself of your business. These goals should be achievable, but also challenging. Only then can your business really evolve.
Challenge yourself
We don't mean challenge yourself in the sense of setting impossible goals for yourself or your business, no. We mean challenge yourself by setting goals that will make your business grow and climb to new heights.
Whether it is to get more clients in a shorter time span, make more profit by selling more products and services, adjusting your timeline by including more weddings, etc. Set goals which you know you will be able to achieve.
Also, setting achievable, but challenging goals will help you to work smarter, as well as harder.
Action plan
An action plan is a plan you set into place to achieve your goals. To achieve a goal, steps have to be taken to get there, and these steps all form part of your action plan.
An action plan also helps to break a large goal or task into smaller, more manageable chunks.
Simply create your action plan by taking a single task or goal, and writing down all of the necessary steps needed to achieve this goal or task. Put a due date next to each step so that you can get a clear vision of what needs to be done by when.
9. Use an A4 (8×10) journal everyday
We highly recommend that you use a larger planner or journal to map out your weekly goals, schedules and appointments. It might be bulkier to carry around if you have to, but in this way, you can get a bird's eye view of what needs to be done. It is easier to manage your daily's this way, too.
Get creative!
The lovely thing about journaling nowadays, is that the art of bullet journaling exists. You can opt for blank, unlined sheets and decorate and style them in your own unique way. Make use of banners, calligraphy, stickers and more to create a planner that will definitely motivate you!
10. Be more reachable
In order to get into contact with new potential clients, you need to make yourself more reachable. There are many ways to do this, the most popular methods being:
Facebook Messenger
WhatsApp
Website forms
E-mail
Phone – only when clients request this, don't advertise your personal phone number!
Skype
Making yourself reachable through various ways will motivate potential clients to come into contact with you, because they have the option of choosing a contact method which they prefer.
11. Give your business info up front
People will be more inclined to do business with you if they know exactly what services you offer. Most people won't make the effort to contact a business if it isn't clear what exactly the business provides.
People don't want to guess what you offer. So make sure you provide as much info about your business and services as possible, where ever you can.
Be sure to include the following:
What packages you offer – as a wedding planner, you should have multiple packages to choose from, to fit every budget and need.
Services you offer – if you offer other services, too, then you should make that info known to potential clients
Will you be able to provide a service to everyone? – Having the option of tailored packages and services will help clients understand that you will see to their every need, and that you will go the extra mile to help them
Costs and prices
It is up to you whether or not you want to state your prices on your website, Facebook page, etc. Just remember to update your prices every year because of inflation, and the economy. Keep your prices competitive, but don't undervalue yourself!
12. Focus on one aspect
Adventurous entrepreneurs tend to try and handle more than what is already on their plate. We want to help each and every client out there, no matter their budget, needs or requirements. This means that we should be able to offer as many products and services as possible…
Being a one-person-show in your wedding planning business means that providing potential clients with all services and products, is nearly impossible. You will likely struggle to handle everything and will burn out sooner rather than later.
Don't overburden yourself with too much
Start small, then work your way up the ladder. Provide only the most basic of services and only take up those bookings and clients which you can handle. Once you have established and evolved your wedding planning business into a successful one, you can consider expanding your services and hire in more staff.
Have one or two services
Keep it basic by providing only one or two services. For example, you can provide wedding planning services, and venue setup packages.
Be picky with what you offer and don't be afraid to ditch a certain service or product for another one.
Build a company from the ground up
Successful companies are not built from the top, but from the foundation. If you start at the bottom, and provide limited services, manage your time right and price your packages accordingly, you are one step ahead of the rest. Just keep going, and you will get there sooner than you think!
13. Be flexible
Having a flexible business will help you to get more clients, because you will be able to assist with every client's need.
Be able to accommodate everyone
If a client comes to you with a new type of request, even if you haven't done something similar before, don't show them away. Consider accommodating that client's needs and go the extra mile. Being able to assist these type of clients will pay off in the end, we promise!
The magic of tailored wedding packages
We have already touched base on tailored wedding packages, and we highly recommend that you offer this as one of your packages.
A tailored package simply means that you create a package specifically for a client who have very specific needs.
If you have this package, and a client approaches you with a request, the answer from your side is always: "Yes, of course we can assist you".
Additional/Singular services to offer
In addition to offering standard and tailored wedding packages, you can also offer more specific services which can be charged additionally, or added to existing packages at an increased fee.
These type of services can include:
Venue scouting
Budget planning and handling
Guest RSVP handing
Supplier scouting
Logistics/errands
Venue setup
Flowers and décor setup
etc.
Also Read: