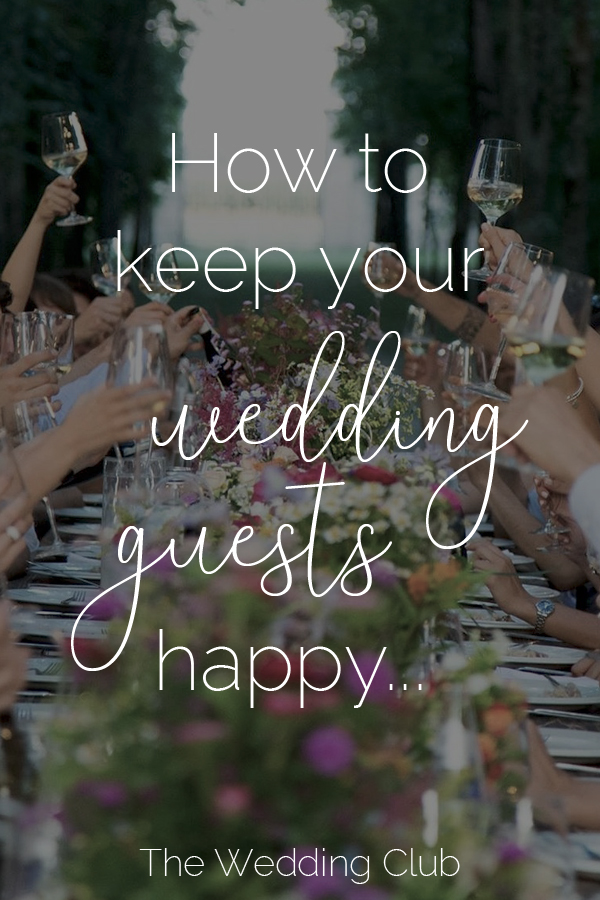 Have you ever been to a wedding where all the guests seem so happy… And then, 90% of them leave after dinner?! What is up with that? Why did no one even stay behind to dance or eat some cake?
Today, we want to help you with some guidelines in keeping your guests happy on your wedding day. We have all been to weddings where it seems like people get irritated easily and then they start to complain about EVERYTHING! Some of them leave after having dinner, some might even leave before the reception starts! Some people just get down right bored. Now to prevent this massive disaster of your wedding getting dry, here are some tips, ideas and advice.
How to keep your Wedding Guests Happy
Inform YOUR WEDDING GUESTS
One of the most annoying things at a wedding is if no one knows what is going on. And here, I'm not talking about the overbearing aunt who wants to know every single detail of your wedding. I'm talking about the general logistics. No knows where the chapel is, where to sit, where the bar is, where the seating chart is…
We have been to a wedding where someone said: "Ooh, these little wooden hearts next to this tiny wooden mailbox is for us to take home as favors!" (No, it's actually for you to write something on and throw into the box for the happy couple to read later). A sign would've helped.
Anyhow, getting back to how you can keep your guests happy. Now, there are plenty of amazing ways to direct guests and prevent them from getting lost. And you don't have to make it look like a highway with loads of directions and arrows pointing everywhere. You can do it subtly and in a pretty, elegant way. Look at some of the images in this post that we have found. They make a great addition to any wedding!
Keep your Guests Happy – Tip #1
Guide your wedding guests to and around the Wedding Venue by placing signs and boards all over. Let it be in their faces on purpose! Trust us, they will thank you for sending them in the right direction! Funny story: A few weekends ago, we arrived at a wedding where someone actually asked: "Are we at the right wedding?"… Signs and boards will prevent this from happening…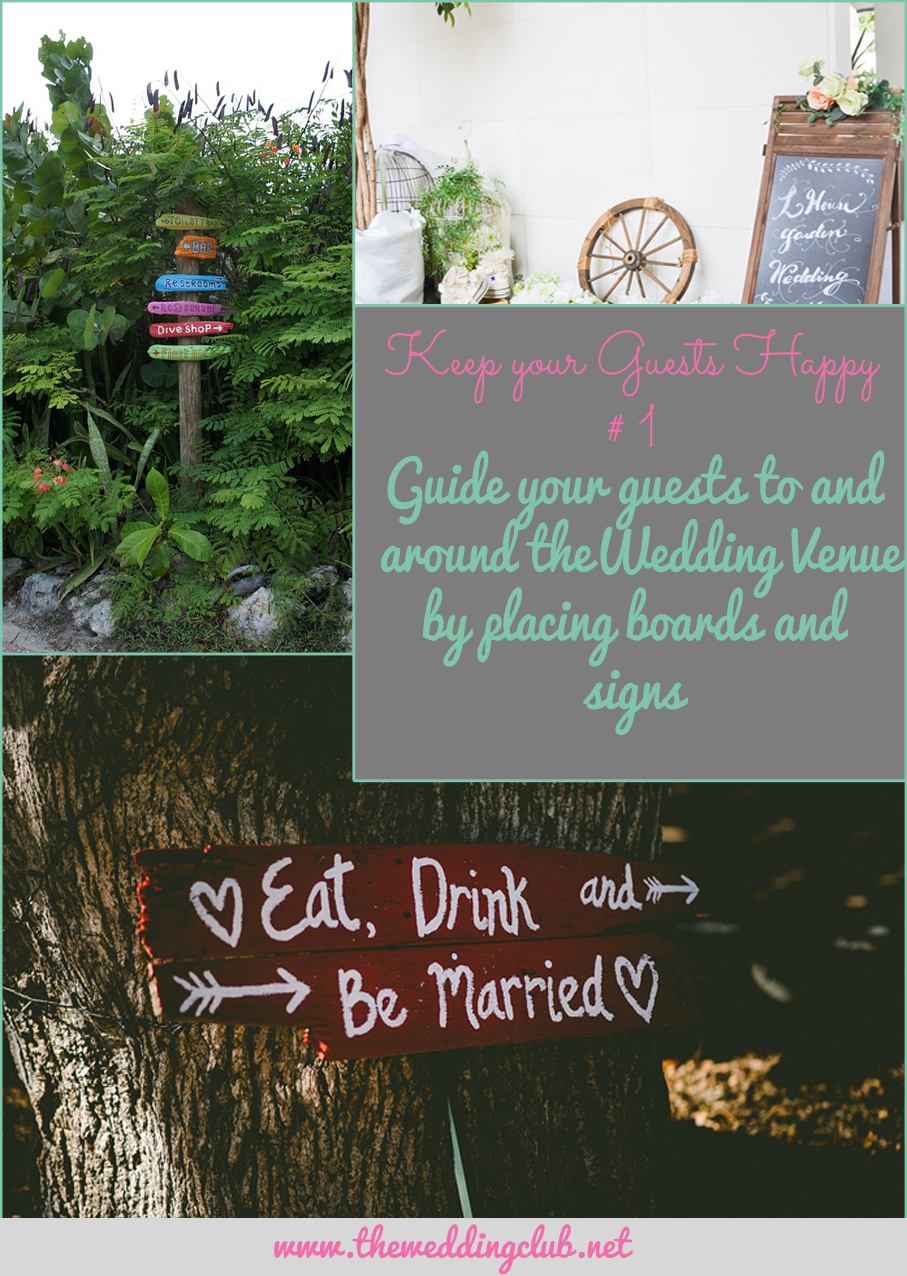 Keep your Guests Happy – Tip #1 (part 2)
Another way of guiding guests in the right direction is by placing flowers, balloons and other wedding related items. This will guide guests to where they should go. If your wedding is at a venue with a long driveway, walkway or road, consider using this method. Another cute idea is if you place boards along the trees or post with one word. In the end they have created a sentence. Something like…
She…
Said…
Yes…
Under…
The…
Stars…
Be creative!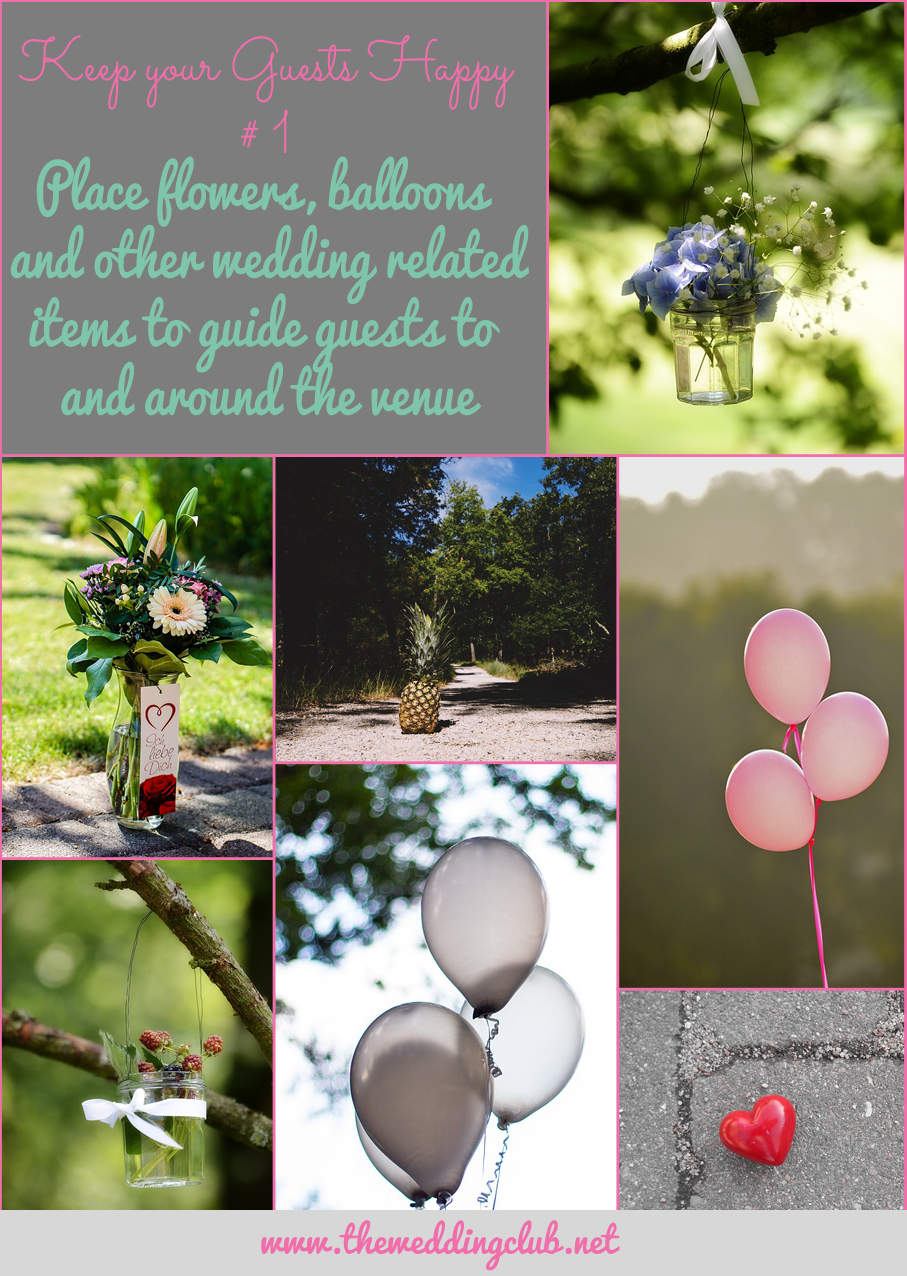 Also Read:
Keep your Guests Happy – Tip #2
Keep your guests fed and hydrated!
Hungry (or thirsty) guests can easily get cranky, and you don't want them to start complaining early on when the starter has not even been served yet. This is also another way to direct guests: serve food and they will come. You can either pack it out on a nicely decorated table or have a few waiters walking around serving drinks and canapes.
Pro tip: There is a bleak hour between the end of the Ceremony (while the wedding party takes photos) and the Reception is still closed. Guests stand around, making small talk and being awkward.
The greatest tip we will give you in this post will be this: Serve canapes / snacks / nibbles during this hour and make sure the bar is also open! This will save guests from dying from hunger before the reception even started. We have tried this at a wedding and it works! Guests enjoyed a drink or two and started to relax and mingle!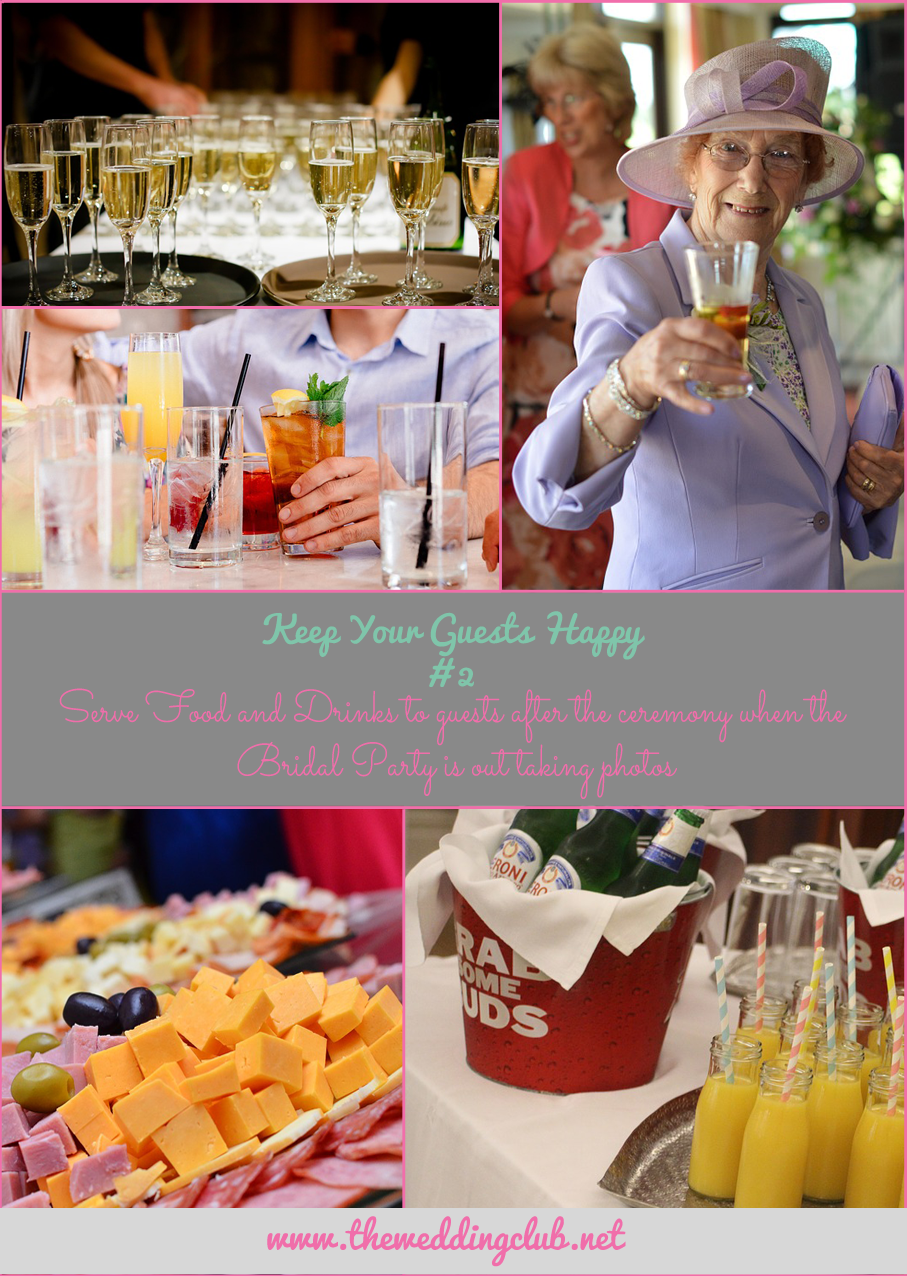 Another note on food and drinks at your wedding: You might want to make sure that everything is on schedule. Countless times it has happened at weddings that the food only got served later in the evening, either because the caterer was not prepared, the food got cold and needed to be heated up, or the wedding itself was behind schedule. Also, make sure that there are enough ways to heat up food, because of power outages. Hire a generator if you have to!
On the note of drinks: Have more than enough stock available at the bar, because you can always take it home for entertaining after the wedding. Or you can give it away (you cannot resell it, unless you have a liquor license). I have been to a few weddings where the alcohol dried up way too quickly, and there will only be a few beers and some cans of soda left. Guests will leave when this happens too soon, guaranteed! If you're worried that guests might not drink what is offered, why not provide something unique like a DIY mimosa table, craft beers on tap or a giant punch bowl that gets refilled every so often.
Is the budget for drinks too low? Considering offering the usual drinks, and maybe one signature drink from you, as the bridal couple.
Keep your Guests Happy – Tip #3
Keep your guests busy! Not everyone likes to get their groove on at the dance floor, and you will also get younger people who group together and socialize – that is okay! You don't want to force your guests to dance either. There are so many ways to keep the socializing going and to keep guests from doing the disappearing act. Some of these ways include games. And, yes, here I am talking about board games and inter-activities!
Think of popular lawn games or general games we played when we were younger. The lasts now, is to have actual board games on the tables, where guests can play if they want to. Make it interesting and have a different game for each table. That way, guests can mingle more.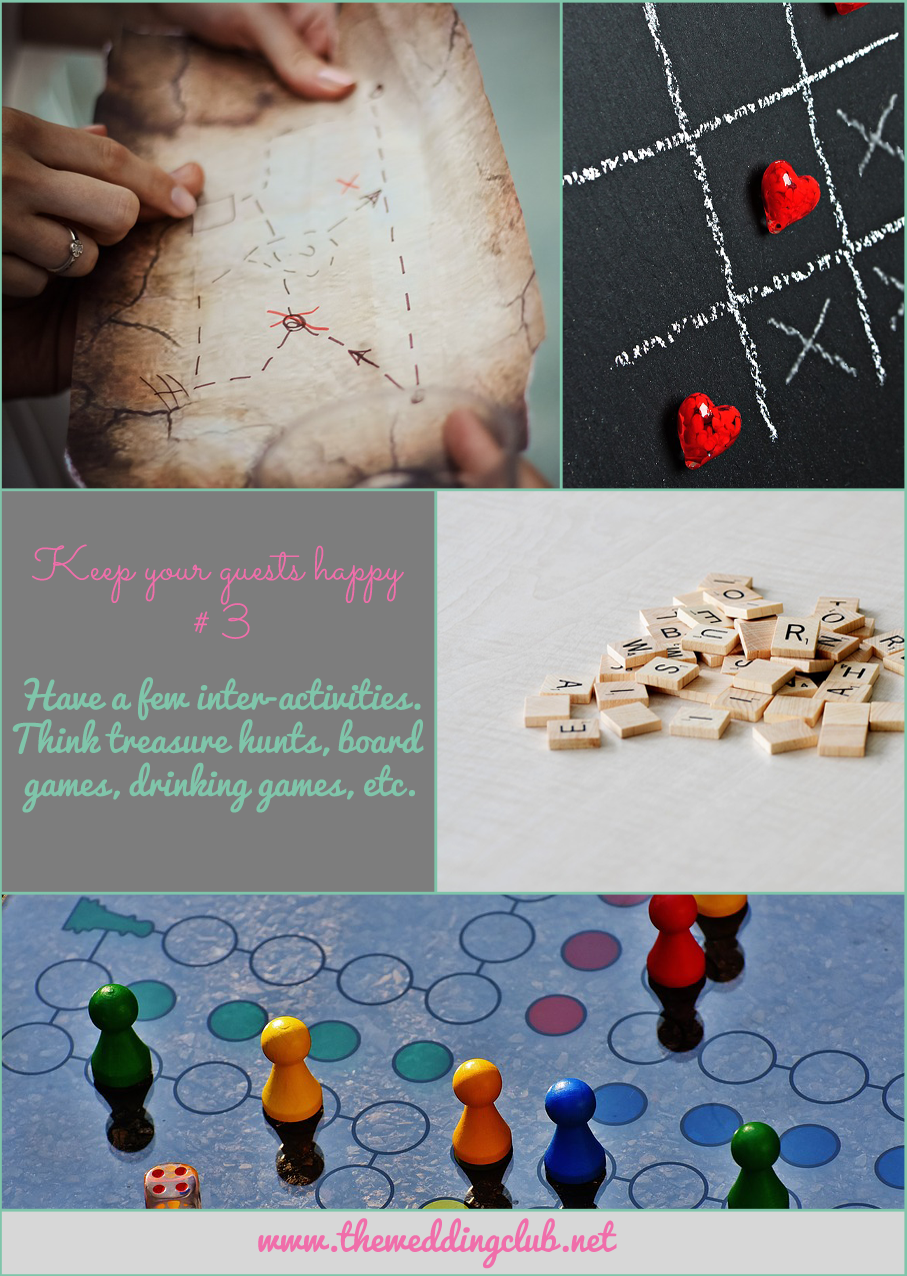 Think outside the box! You can also entertain your guests by letting them complete questionnaires like the following. Be sure to put one for each guest at their table.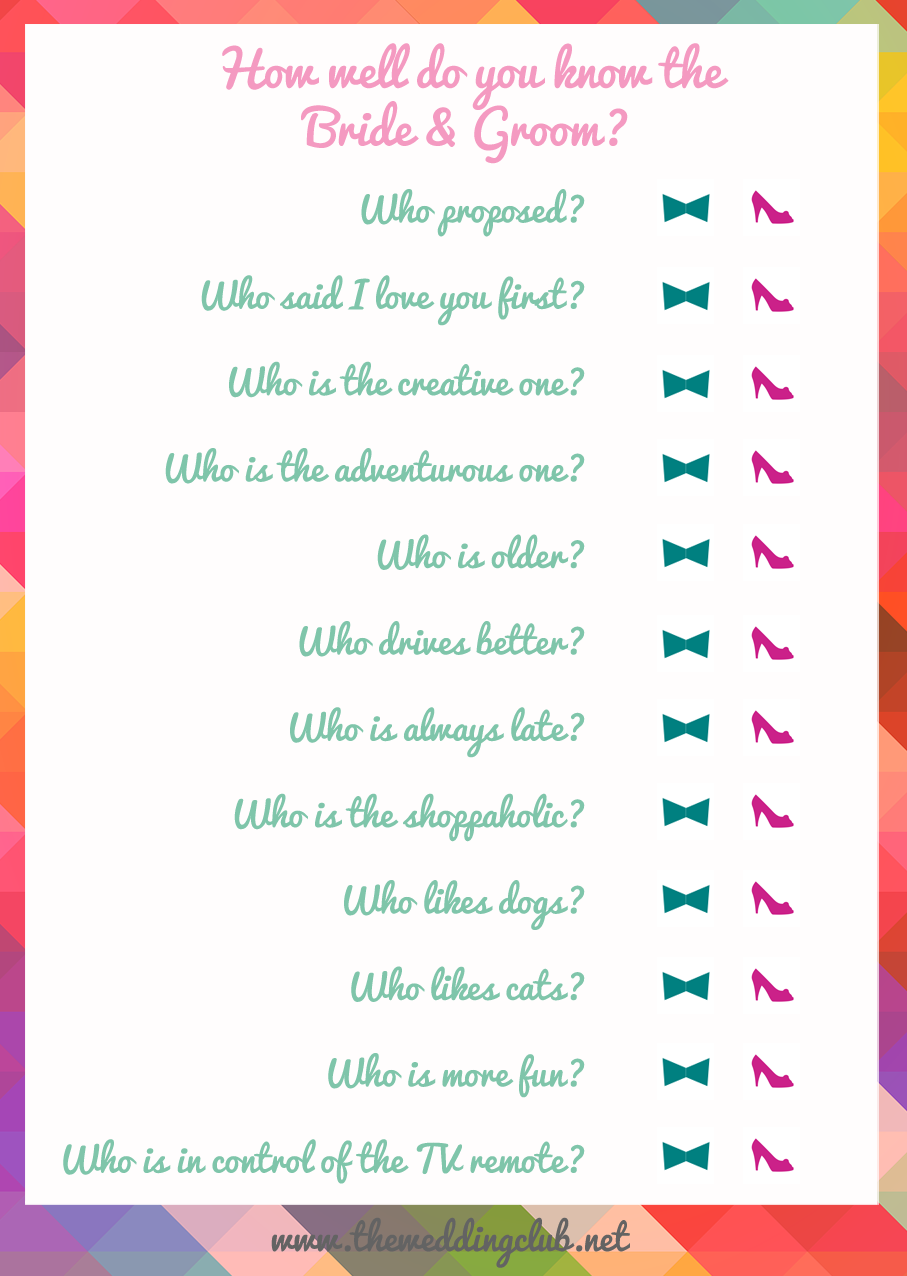 Keep your Guests Happy – Tip #4
Entertain them! We're not talking about getting the circus into town (although a juggler might be quite entertaining). You can entertain your guests by having musicians, singers or a live band at your wedding. Guests will enjoy something different like this. Think of what type of guests you are inviting and what most of them will be interested in.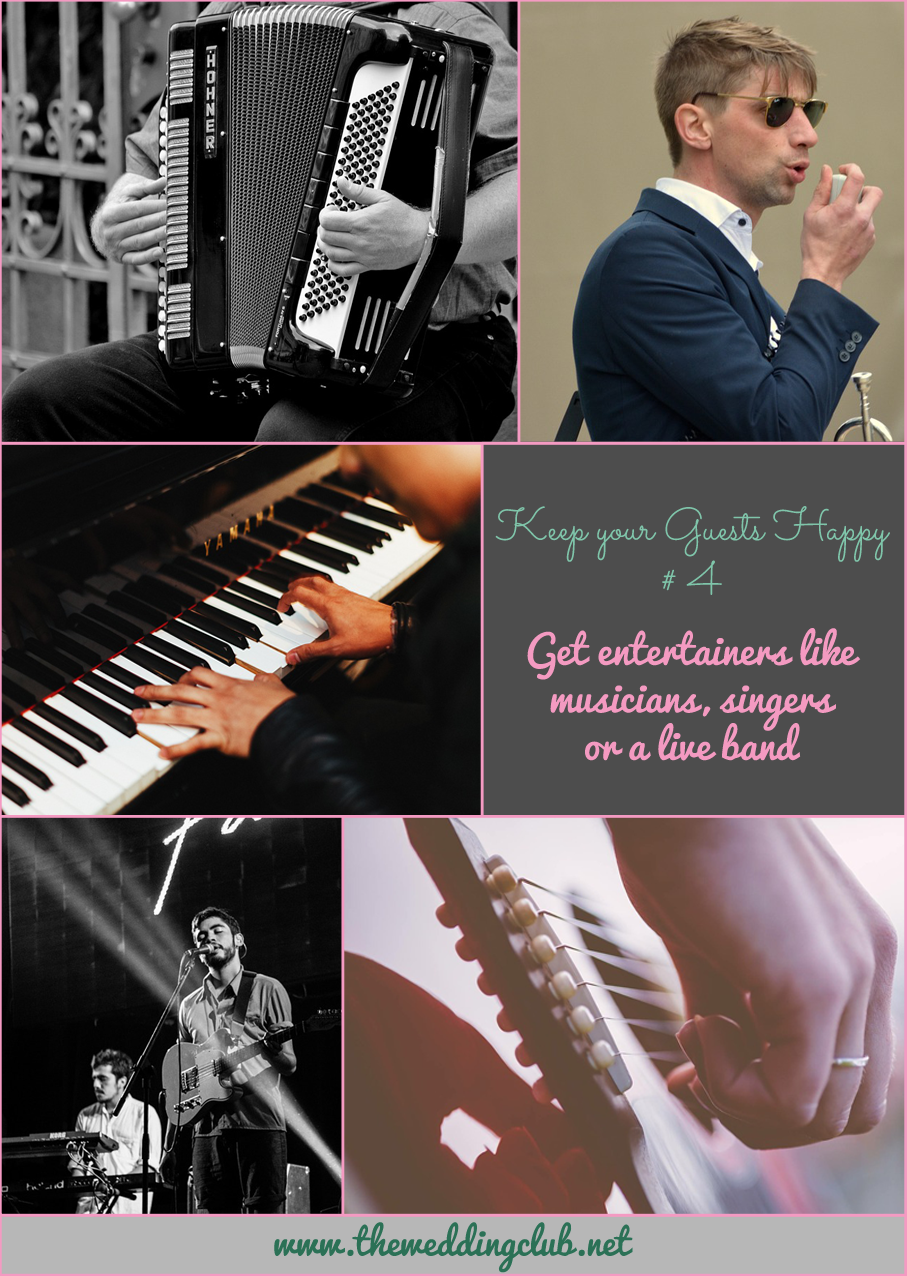 Also Read:
Keep your Guests Happy – Tip #5
A guest is a guest, no matter how small!
Children are also guests at your wedding. They can also become quite demanding when they get bored, tired or hungry, just like the adults do. More often than not, this will result in the parents leaving to take the busy bodies home. A way to keep them at your wedding, is by having some activities and a private children's table (strictly no adults allowed). Hire a babysitter or two, and let them watch over the kids while they are playing and having fun. A popular thing nowadays is to create an activity book for them, which they can color in, connect the dots, draw, word search, etc.
You can do the usual treasure hunting, coloring fests, kiddie-competitions, etc. Make their table awesome – with lots of fun things like coloring, stickers, balloons, lucky dips, play-dough, magnets, lego's and loads more! (Lego's work like a charm!!)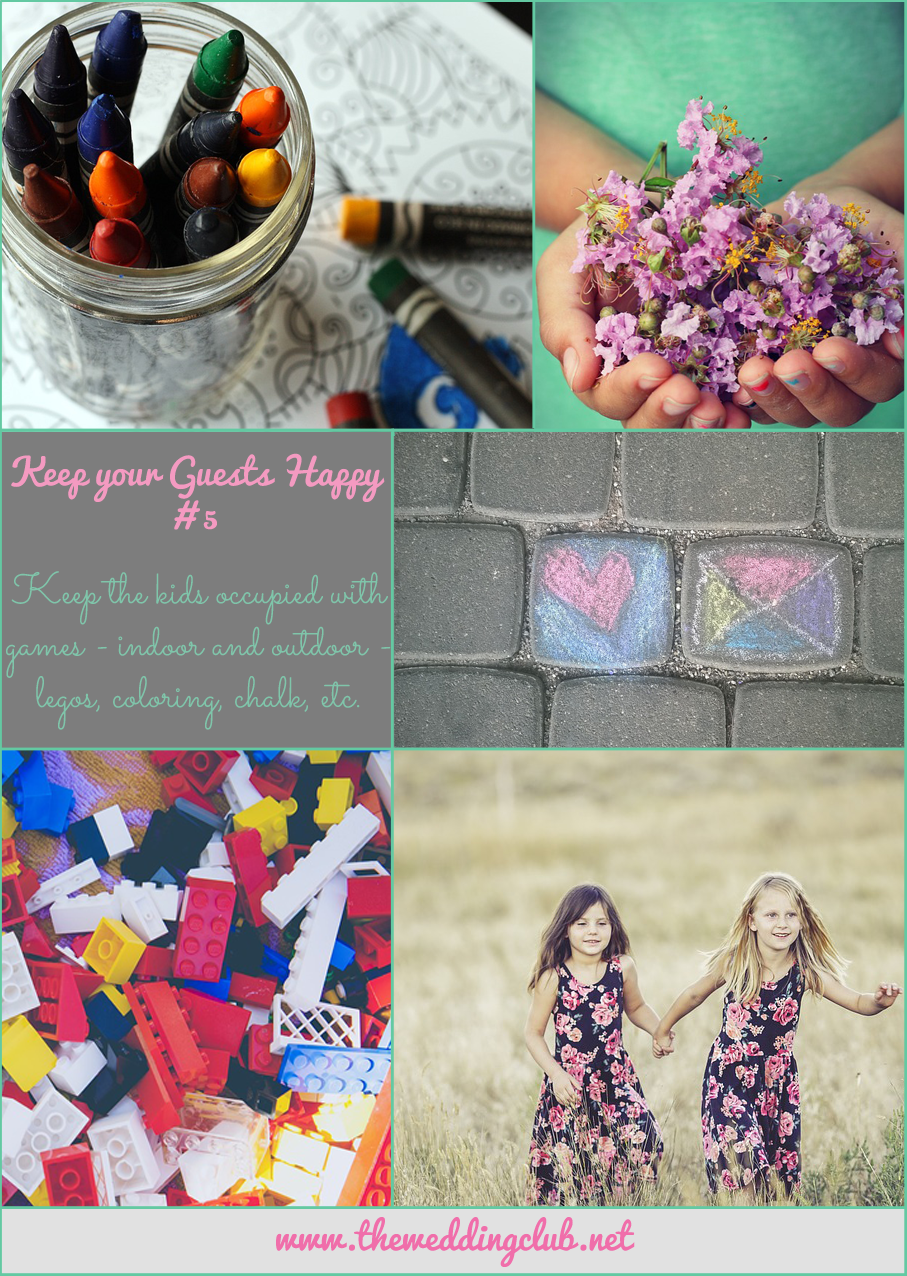 Keep your Guests Happy – Tip #6
Fun with photos!
Most guests will not take photos. Most of the time this is because they are uncertain about whether it is okay to take photos at your wedding. Other times they are just plain shy and need to be encouraged. Let your guests # the photos they take and put it on Instagram. Put up a sign somewhere to let them know what to use.
Another fun idea is to have disposable cameras at each table for wedding guests to use. Let them throw it in a box before they leave. It will be amazing to see what pictures your wedding guests took!
Also, it can be so much fun if you have a photo booth at your wedding, complete with props! Have a professional photographer at hand to take all the snaps.