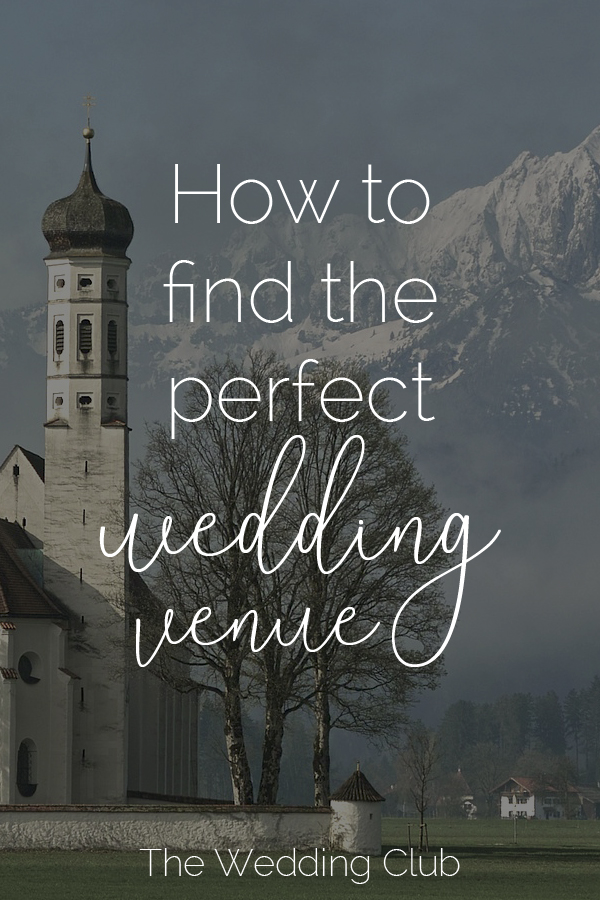 With so many venues to choose from, it is difficult to settle for only one. Especially if you have a few gorgeous venues to line up, and a great budget to boot.
However, being realistic, you can obviously only have one. So how do you decide which venue is the perfect one for your special day? In this post, we aim to guide you in the right direction to choose the perfect wedding venue.
How to find the Perfect Wedding Venue

Defining the perfect wedding venue
What does it mean to you?
So, what does a "perfect venue" actually mean to you? Does it mean that it is an affordable venue, with lots of open spaces, and in a remote location? Or is it the perfect outdoor venue for your boho wedding or mountain wedding theme?
The first step towards finding the venue that suit your needs is to define what those needs are. You need to create some sort of checklist to use when you go venue scouting.
So take a few minutes out of your day and draw up a list of things which your venue must have. And don't think that your requirements are silly in any way. If you need your venue to have a waterfall, or a mountain, or a spectacular ocean view, then you write it down. You want your day to be perfect, after all.
Where to look for the perfect venue
There are many ways to go about to search for the venue of your dreams. You can check online, in online directories, on Facebook… You can Google it or use other search engines.
This is all good and well, but you will never know if it is the perfect venue, if you don't actually go look at it. You need to make contact with the wedding venue coördinator, and book an appointment with them.
The venue coördinator will take you through the venue, showing you all the great perks and decor options, etc. This person will also give you pricing and catering options, and in some cases, accommodation options.
Also Read:
How will you know if you have found it?
You know you've found the perfect venue when it meets all the requirements on your checklist, of course! However, you may view a venue that is so stunning, it will change your whole checklist!
In the end, be sure to choose three potential venues (after viewing them), make a list of their potential available dates – if possible, have a potential date in mind already. Also, compare these venues' aspects with each other, for instance, their pricing, in house suppliers, photographic aspects, chapels, space, accommodation, etc.
Locating the perfect venue
Where to look when you go venue scouting
You obviously have to consider the location of your venue. This is another aspect which is totally up to you. Do you want a remote venue, far from everything and everyone, so that your guests can travel a bit and have a little "breakaway"? (Think: Weekend wedding!)
Or, do you need your venue to be close by, so that no one have to spend money on accommodation or travel expenses? Do you need your venue to be at a central point for everyone to travel to?
This decision is essential, because your guests need to make the necessary arrangements beforehand. And on this note, consider your guests! Even if you dream of having a wedding on the other side of the country, you need to consider how many of your guests will actually show up…

Key points to consider when comparing your venues
So now, after all the trouble you have went through to compare your three chosen venues, you need to make your decision. And soon, time is ticking!
To make this easier for yourself, you need to look at the key points of these venues. Are you on a tight budget? Then maybe cross out the most expensive venue of the three. Is one of them too far out, and guests might struggle to afford the travel and accommodation expenses? Cross that one out.
Don't be too harsh on yourself, though. Your day still needs to be perfect and if you love the venue with the waterfall, then there is your answer! 
What to do when you can't find the perfect wedding venue
 You have by now searched and searched, but to no avail. You just can't seem to find the perfect venue. Here's what you should consider doing…
Improvise
You need to revise that checklist of yours, and make some changes. You will have to improvise a bit. If you have an outdoor wedding theme, then you can also look at barn and farm venues, instead of the usually expensive forest and beach wedding venues.
Also look at what makes a venue unique. If you have the idea of a huge mountain in the background of all your photographs, then that might be one of the reasons why you're not finding the right venue.
Change your idea of 'the perfect wedding venue'
Can we take a wild guess and assume that you have spent most of your days on Pinterest since your engagement? We will have to stop you right there…
"Although Pinterest is a gold mine of ideas for, especially, weddings, it doesn't help that you just Pin everything you like."
It helps if you already know what you're looking for. Otherwise, put Pinterest off for a little while, until you are sure. Then you can go all out and Pin to your heart's content.
And can we just point out, most images online are deceiving. If you are currently following wedding related accounts and pages on Instagram, Facebook, and the likes, chances are, you saw what looks like "The Perfect Venue". The awful truth is that almost all of these images have some sort of retouching done to them. Some have filters added to them, some have been Photoshopped 'til kingdom come, and some images are, get this, generic stock images from the internet.
Revise your idea of the "perfect venue", because this might help you to find that special place to have your wedding at.
Consider hiring a professional
If all else fails, consider hiring someone to help you find your perfect venue. You can look to most wedding planners to help you with this. Also, some planners have a separate package or fee for that, so you will not be forced to take a whole package that includes other services.

The Venue Coordinator 
What is a venue coordinator?
The venue coordinator is the main person to speak to at the wedding venue. This person coordinates all aspects concerning your wedding at their venue. They handle all the behind-the-scenes logistics and make sure that your wedding runs smoothly and on schedule. The venue coordinator will also liaise with the wedding planner, if you have one.
The difference between a venue coordinator (VC) and a wedding planner (WP)
Booking
The VC handles the booking date of brides. The WP will book all of the necessary suppliers that handle the many aspects of your wedding, such as your wedding flowers, cake, etc.
RSVP
The WP (or another specially appointed person such as the Maid of Honor) normally handles this. The VC has no role here. However, the VC needs to know your final numbers for their wedding venue, to make preparations. This is normally one or two weeks before the wedding day.
Budget
It helps to already have a budget beforehand. In this way, it will be easier for both the VC and WP to know what your budget limits are. Directly, the VC has no part in your budget handling or planning. The WP, however, might have. Some Wedding Planners also have budget setup and handling available as a separate package.
Contacting suppliers
This depends on the venue. Some venues have in house suppliers such as a caterer and a DJ. Others rely on external suppliers to make a wedding happen successfully at their venue. Also, most venues have a 'sacred' supplier list: These contain only suppliers which they agree to work with.
The VC will contact suppliers whenever they have them in-house, or on their supplier list – alternatively, the list will be passed on to the wedding planner, so that they can contact the necessary suppliers.
If the venue doesn't have any of these, the wedding planner will make the effort to contact all of the suppliers needed for your wedding day.
Also Read:
Wedding design & style
This is the wedding planner's turf all the way. The wedding planner constantly researches new trends, innovative ideas and creative plans. The theme, design, style, color scheme, etc., is between you and the wedding planner. The venue coordinator has no part here, except for setup times.
Time scheduling
The VC makes the necessary arrangements for setups for your wedding. This includes time management. If there was a wedding the Friday night, then the place needs to be cleaned before the next setup can begin at (normally) 8am on the Saturday morning.
The VC will give the WP a setup time. Somewhere between the cleaning and the setup, the basic setup also needs to happen. This includes setup of cutlery, crockery, tables and chairs, DJ station, and the likes. Some venues choose to do this before the decor setup, others decide to do it during the decor setup.
Etiquette
This is also a role for the wedding planner. They should make sure to remind the bride of old traditions (old, new, borrowed, blue, sixpence in her shoe…), and help her to create a new tradition (cigar bar, cake smash…), if she wishes to do so. The venue coordinator has no part here, except for logistics, such as making sure that there is a cake knife and lifter at the cake table or cognac glasses at the cigar bar…
Stationery
This is handled by the wedding planner. Stationery includes invitations, RSVP cards, seating charts, placing cards, etc.
Wedding Day Schedule
The WP will setup a working schedule which includes everything from suppliers' arrival and departure times, when the bridal party should get ready, what time the ceremony begins, photo hours, setup and breakdown times, etc. This schedule is given to everyone involved, including the VC.
The VC will distribute this and manage all of the suppliers from their side, including the basic setup team, cleaning team, etc. They also ensure that everything is ready on time for everyone, ensuring a smooth cohesive progress.
So to recap, the venue coordinator will organise everything for your wedding  at the venue. The wedding planner organises everything else.

Questions to ask the venue coordinator
We have, for your convenience, created a separate post for this. The questions should help you get a rough idea of what to look for in a venue.
Also Read: