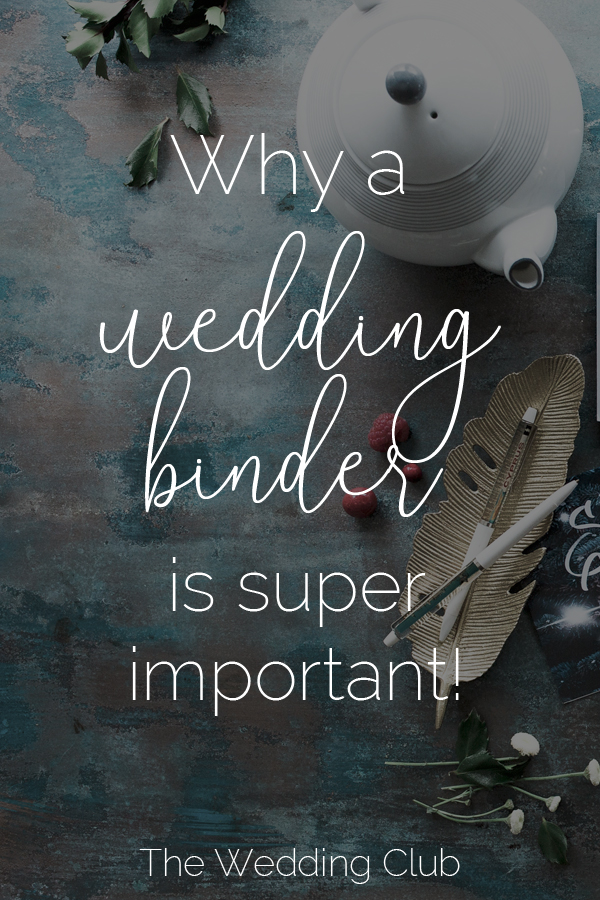 You have heard about this magical creature before: the wedding binder. Yes, almost every bride has one. Some brides even started with their binders since they were 12 years old. But, I also know about a few brides who never created one, and is not planning on doing it soon. Maybe some brides feel it isn't necessary. Others don't have the time. Or maybe, this bride feels too overwhelmed already to handle the admin of managing yet another binder. But to be honest, creating a wedding binder might just be the best thing you do for your wedding…
Why a Wedding Binder is Super Important!

What exactly does a wedding binder entail?
Well, for starters, a wedding binder is a file that contains all of your wedding plans, ideas and inspiration. This can be acquired over many months or even years.
Some brides turn to the digital era for creating this binder, and now it is in the form of a gazillion bookmarks in their browser. Others, create a gazillion more Pinterest boards and save tons of images on their account and on their phone. How, and I ask this with kindness, can you even locate what is really important out of all the mess? How do you know what style or theme is your favorite?  If you have saved over 100 dresses already, how can you decide on your wedding dress type and style? This is why a binder is highly recommended. It is super handy, organized and a binder can only allow you to put in so many documents – that's a good thing!
If you have wedding fever – everything looks pretty!
What do I include in my wedding binder?
Now, getting the mess you've created into a neat, organized file might take some time. And also, if you haven't saved any ideas whatsoever, starting a fresh binder can also be very time consuming – but worth it, we promise!
In your binder, make sure that you include sections or categories. These categories should be divided using dividers or tabs, to make it easier to manage. You can include as many or as little categories as you want. It really is up to you. Also include an index at the front, to make location easier.
A suggested outline of your categories can be like this:
Include a neat cover for your

binder

, inside and outside – make it YOURS
Have an

index

to locate categories
Put your timeline right at the front, so that you can find it easily. Read this post on how to set up a wedding timeline.
Wedding binder dividers make it so much easier to organize all of the info. Check out our pretty design here.
Ceremony

All of the ceremony details go here. Where will the ceremony take place? Who is the pastor? Favorite scriptures and prayers. If you have to pay or make a donation, include all of those details as well. Have an example of the order of service, etc. I also place a few ideas at the back of each category, because this binder is not set in stone.

Reception

The details of the wedding reception will be filed here. Venue information, schedule, proceedings, etc. Again, put some ideas here, like dance routines or ideas for speeches. Put your very important seating plan here, as well. You will need to find out from the venue what type of tables they have and how big the reception area is. Check out this totally editable seating plan that we have created!

Rehearsal Dinner

The rehearsal dinner takes place a week or the evening before the wedding. Proceedings are rehearsal by the bridal party to make sure everything runs smoothly. In this category, include all of the details. Where will it all take place? What will be served (catering)? Will you need additional hiring? Etc.

Officiant/Counselling

This will depend on the religion of the couple. Some couples also don't have a sermon with prayers, but an officiant who marries them. Put that person's details here, pricing options, and documents needed.

Music

Entertainment will also fall under this category. Put your favorite songs, favorite entertainers, DJ's contact info, and pricing here. If you need a few song suggestions, why not check out this printable?

Decor

This section can be quite detailed, with all of your ideas included as well. Also, include decor hiring companies, pricing, wedding stylists, etc.

Flowers

Be very certain about the season of flowers. Also, some flowers can not be used in wedding arrangements as they wilt or their stems are too short. If you don't have a date yet, include the flowers which you like the most. Most flowers can be found out of season, but they will be very expensive. Include florist info, pricing, etc.

Photography

Some photography businesses include a videographer as well. Just check with them. Put all of your photographers' details here, pricing options, etc. Also have a checklist of which photos you definitely want of your wedding. The Wedding Photo Checklist will help you plan out all those favorite memories you want to capture. You can print it out and put it in your binder!

Videography

See above. Include pricing and options.

Wedding Dress

We know you've probably raided Pinterest already, but if you can, print those images out and put them here. Also include the contact details of boutiques and seamstresses. You can also include your favorite attire and shoes here.

Guest List

– This section includes all of your guests information.

Catering

If you're using an external company, put the details here. But, most venues have in-house catering (easier) and you can put the options here, along with a menu or two. Be sure to ask your venue (if you have one) if you can hire that ice cream truck you've always wanted.

Cake

Mmmm! We love cake! Put your ideas and contacts here.

Bridesmaids

Include your bridesmaids' details here, dress options, measurements, options for shoes, etc. We have a printable list of Bridesmaids' duties over here…

Groomsmen

Put all of their wedding wear and attire options, pricing, etc. here. You can find the printable duties sheets for the Groomsmen here.

Showers

The bridal shower, to be specific. Your maid of honor should actually be the organizing this. But some MoH's struggle and don't know what the bride would like. Give this to her then, with a ton of ideas. Include a checklist, so that it is easier to manage and plan ahead. We have a complete printable Bridal Shower Planner (42 pages!) and a printable Bridal Shower Checklist. The dividers for your bridal shower planner can be found over here.

Engagement Party

Yes, this can also be included in your wedding binder. Put the details here!

Wedding Registry

– If you have options already, include the ideas and store information here. We have wedding registry planner kit, which will suit all your wedding registry needs.

Travel Information

– This info will be for the transport to the different venues, and to the airport for the honeymoon.

Accommodation Information

Information for staying over for the wedding can be included here. That is accommodation for everyone – options for the bride and groom, wedding party, and travelling guests.

Bachelor Party

Put all of your ideas and pricing here. Give it to the Best Man if he needs some help.

Bachelorette Party

Give all of your ideas to the bridesmaids and maid of honor, in case they need any.

License & Legal

Contracts, prenups, ante-nuptials, etc. goes here.

Insurance & Appraisals

Your insurance and appraisal documents can go here. This differs from country to country, so double check what should be included.

Honeymoon

Put your honeymoon ideas and pricing here. Also mention what should be included like visas, passports and travelling money. Include a honeymoon packing list, sightseeing places, accommodation options, hotel reviews, etc. Find our Honeymoon packing checklist here.

Whew! That is a lot, we know. Luckily, you can group items together to form less categories. For instance, "bachelor party" and "bachelorette party" can fall under "showers". And you can create a category "legal" and file "license & legal" as well as "insurance & appraisals" under it. It is your wedding binder, so you make it your own by deciding what to include and how to organize.
Also Read:
The wonder of a wedding printable
The newest kid on the block in terms of "things that go into your wedding binder" are wedding printables. They come in all styles, colors and designs. Also, they are super useful. There is a printable for nearly everything! There are checklists, to do lists, guides, worksheets, budgets, spreadsheets and we can go on and on. If you are in need of some printables for your wedding binder, why not go check out our Etsy shop?
Why is a wedding binder important?
It is organized
You can sort out all of your ideas and info into categories. It is easier to manage and locate items this way.
You can see the big picture
Your wedding ideas come together in your binder. You get an overall look and feel of how your wedding will be.
It is informative
If you include articles, guides and checklists, you know exactly what to do.
You can keep track of everything
It is easier to see what to do, who to pay, what to hire, organize or plan, etc.
You can be creative
Your wedding binder becomes like a scrapbook. You can really personalize it and make it your own.
It is inspiring
You feel inspired when you go through it. It is a reminder of the big day ahead of you.
It is close at hand
When you quickly need some info for something, you can grab your binder.
Your wedding planner will appreciate it
Your wedding planner can see what your likes and options are, which makes it easier to plan your wedding.

A Few Tips for your Binder
Compare quotes
Put at least three different quotes in your binder for each supplier and item for your wedding. This also makes it easier to handle the budget. Compare your wedding suppliers' pricing, packages and other services offered by them.
Clean it out once in a while
Yes, we know you have so many ideas. But you should de-clutter your file whenever you can. Sometimes, our ideas or tastes change and we end up with a mish-mash of styles and themes. Your binder then looks overcrowded and bulky, which is demotivating.
Protect it
Keep your binder safe. Especially if you have already organized suppliers, a venue, etc. If your binder gets lost, it is a mission to get all of that info back.
Also Read: