We know how exciting and overwhelming it can be. Amidst all the chaos of picking venues, flowers, and cakes, let's not forget about one of the most important aspects – your wedding photographer!
After all, they're the ones who'll freeze those magical moments for eternity.
To help you find the perfect match, we've put together a bunch of super cool questions to ask your wedding photographer. No more stiff and formal interviews, just a relaxed and personal approach to make sure your special day is captured with all the love and emotions you deserve.
So, let's get started and find that photographer who'll make your heart skip a beat with every photo!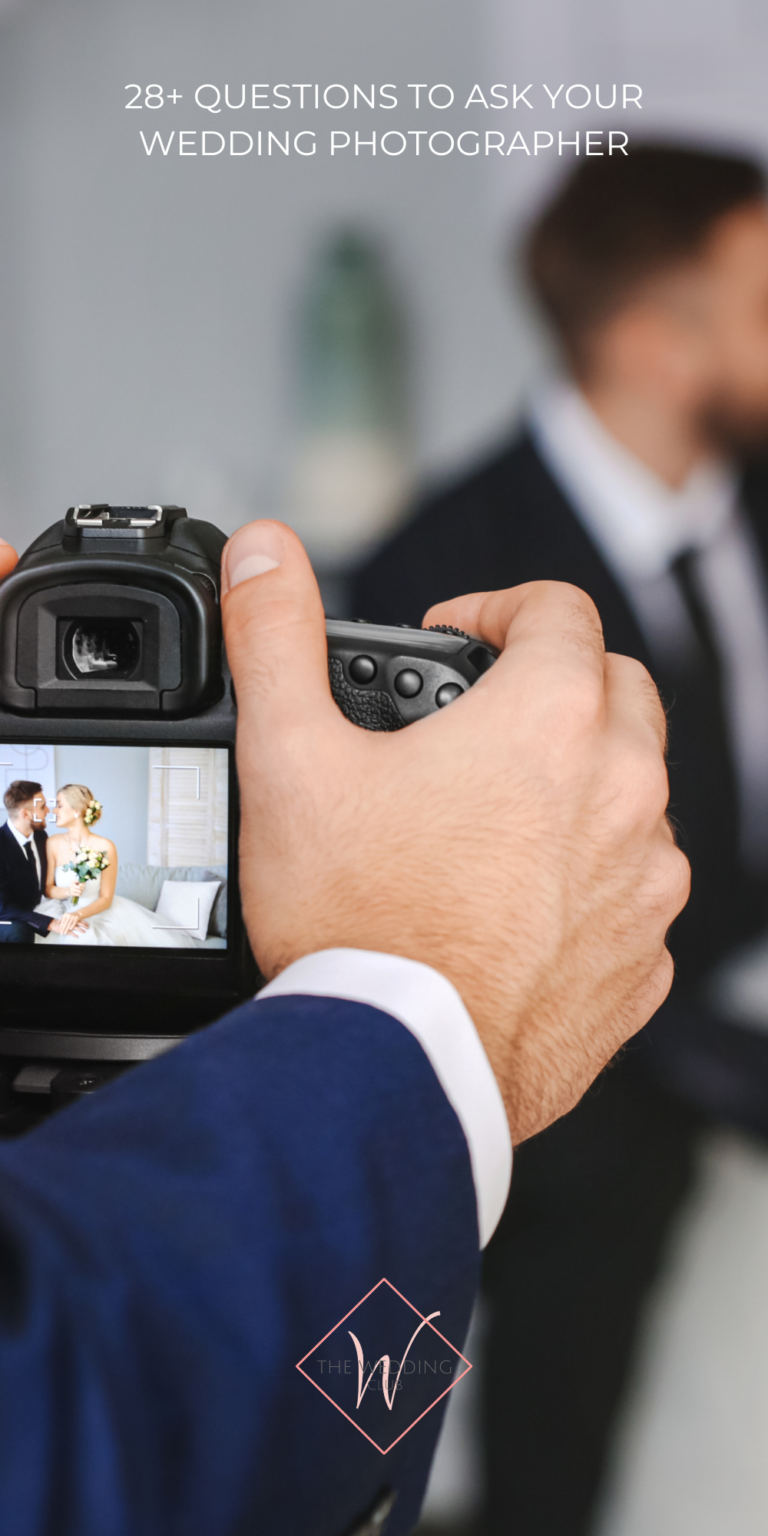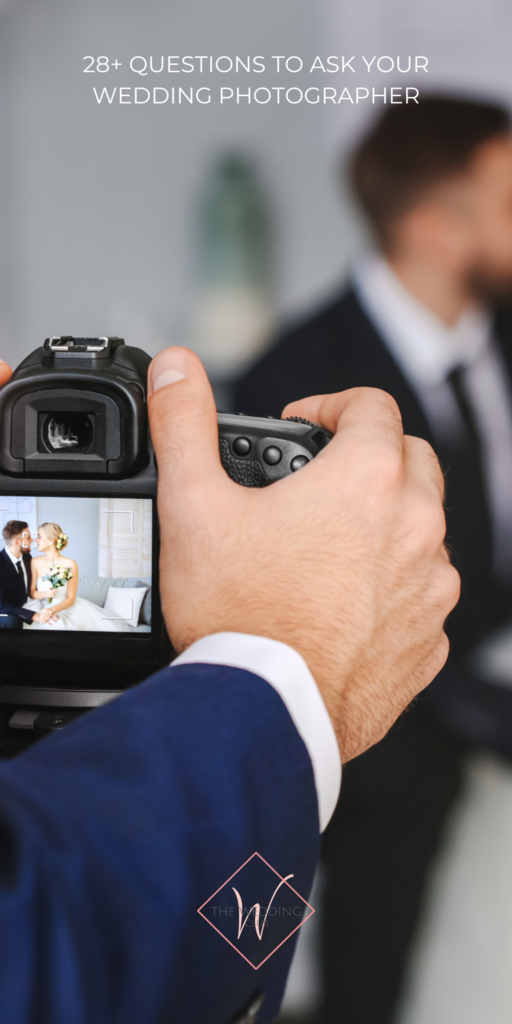 Through the Lens of Love: Top Questions to Ask Your Wedding Photographer
Alright, lovebirds, picture this: you're standing at the altar, gazing into each other's eyes, surrounded by the people who mean the world to you. Those are the moments you want to cherish forever.
That's why finding a wedding photographer who can effortlessly capture those candid and authentic emotions is an absolute must. They'll be like your very own memory keepers, freezing time so you can relive the magic of your wedding day, over and over again.
Our list of questions covers everything from style preferences and previous experiences to how they handle unexpected moments and what makes them tick creatively.
This isn't just about finding someone who can take pretty pictures; it's about connecting with an artist who truly understands you and your love story.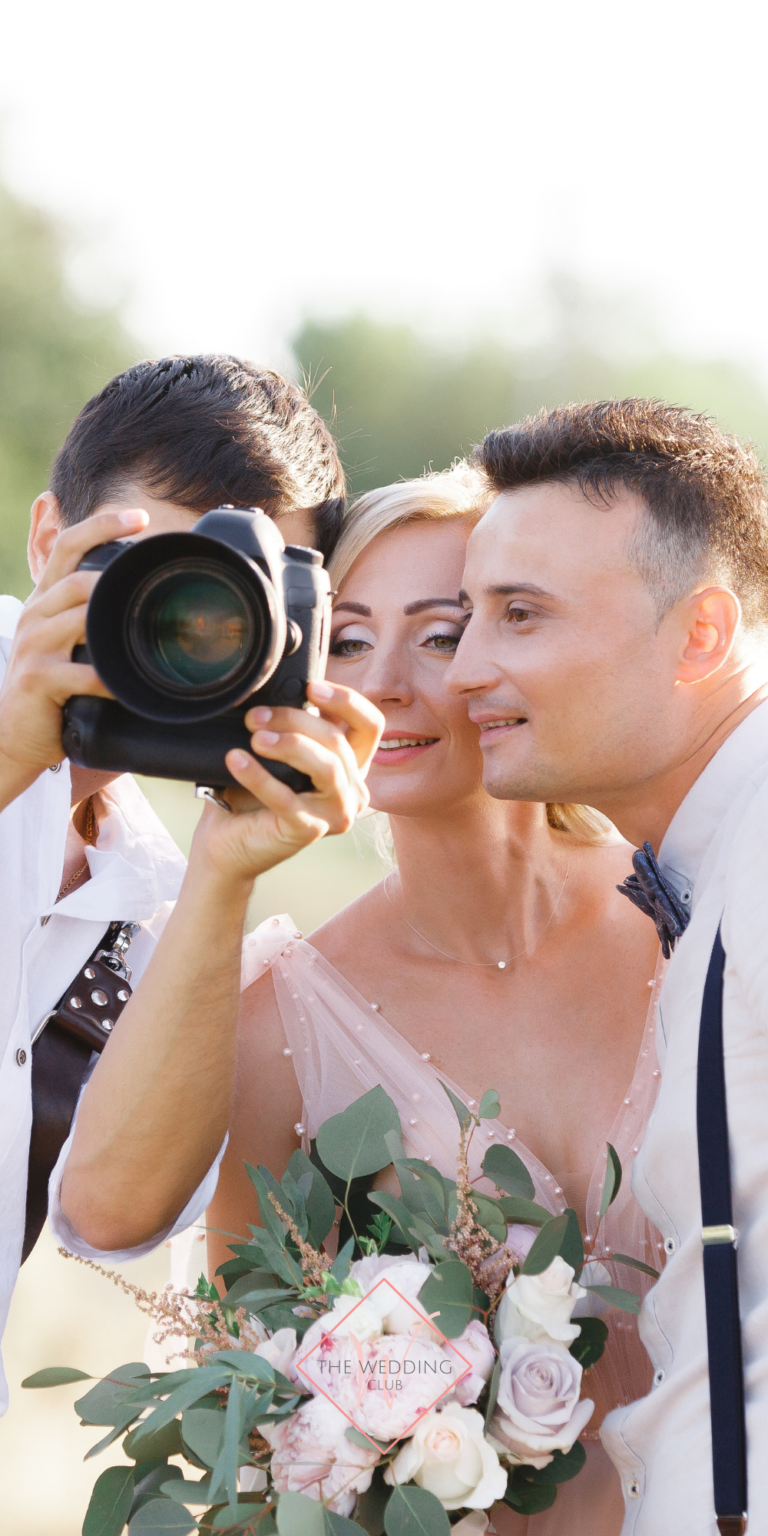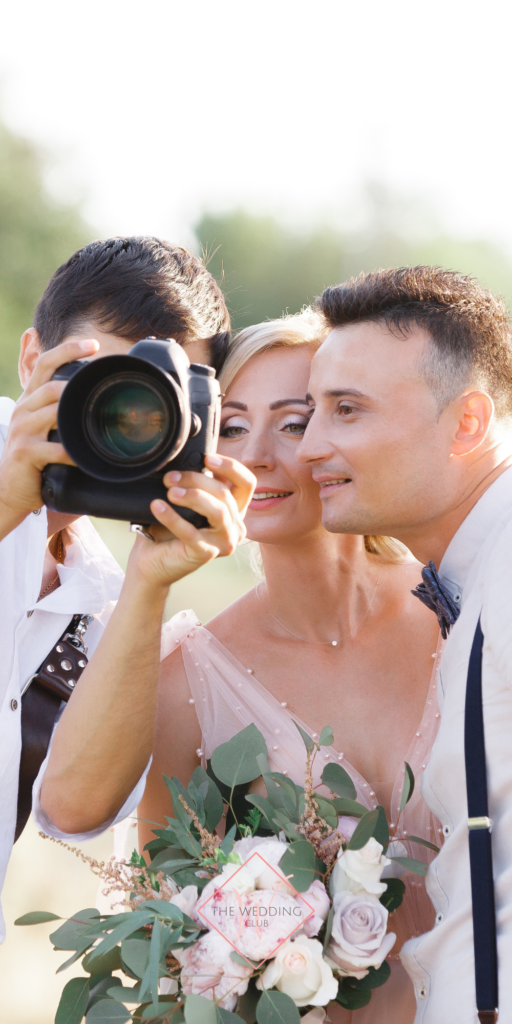 1. How would you describe your photography style?
Asking about the photographer's style is crucial to ensure that their artistic vision aligns with your expectations. Whether they specialize in candid, documentary-style shots or prefer more traditional and posed photographs, understanding their approach will give you an idea of how your wedding day will be captured.
Look for a photographer whose style resonates with your personal taste and the overall theme of your wedding.
2. Have you shot weddings similar to our venue or theme before?
Experience matters, especially when it comes to capturing weddings in specific settings or themes. Inquiring about their previous work at similar venues or themes will help you gauge their adaptability and creativity.
A photographer who has experience in your chosen wedding location or theme will be better prepared to handle any challenges that may arise and can provide valuable insights on the best photo opportunities.
3. Can we see a full wedding album from one of your previous clients?
It's essential to look beyond the photographer's highlight reel and see a complete wedding album. This will give you a comprehensive view of their storytelling abilities, consistency throughout the event, and the way they capture various moments, from the ceremony to the reception.
Pay attention to the emotions and details captured in each photo, as it reflects their overall quality and attention to the little things.
An important note about the photographer's social media page or display books: Photographers tend to choose only their best photos to showcase their work and portfolios to potential clients. It's important to know that just because a certain photo has captured your attention it doesn't mean that you'll get that same photo, too, even if it's at the same venue.
Your photos will look different than others' because of so many factors: lighting, time of day, season, posing, venue, preferred editing style, and so on.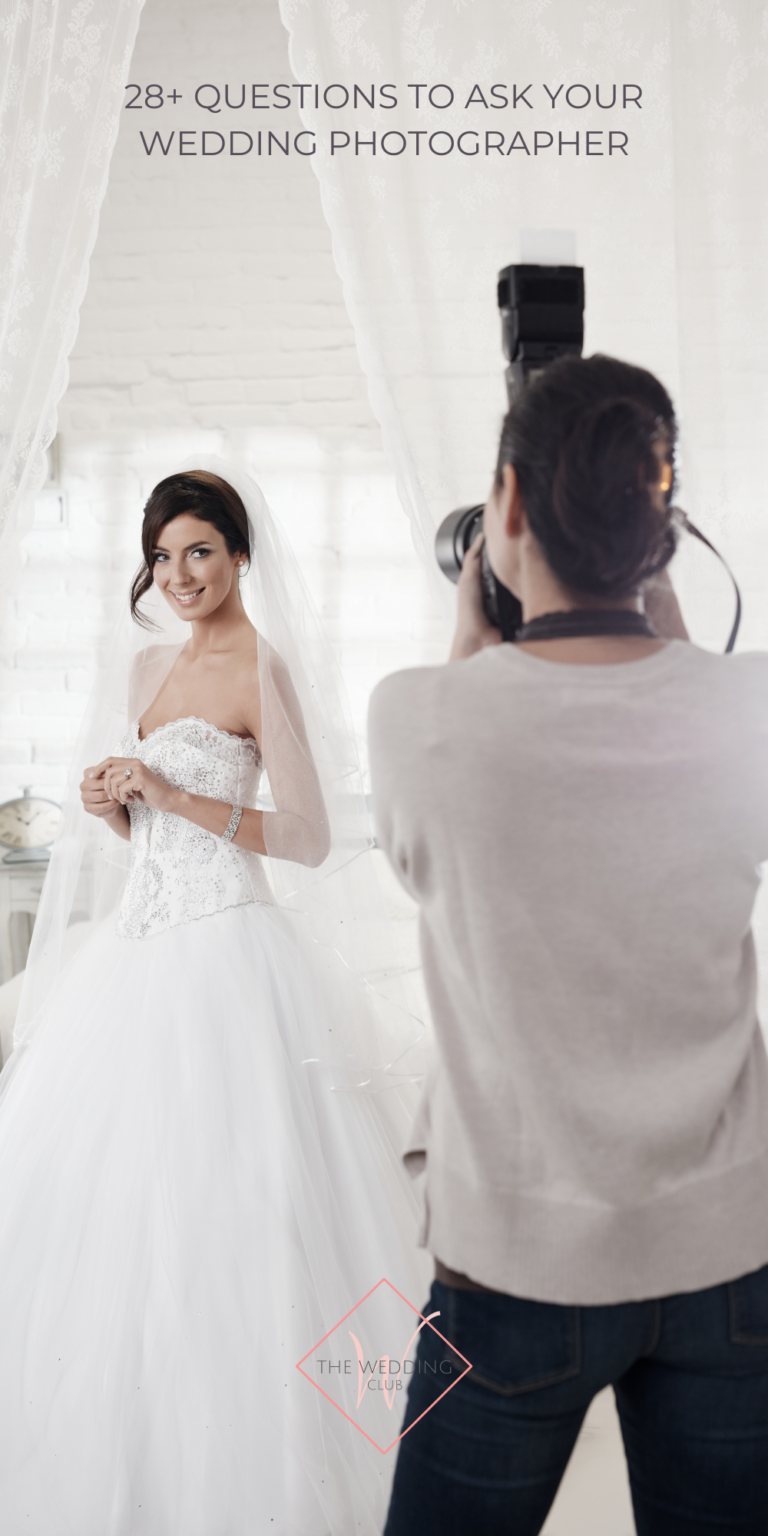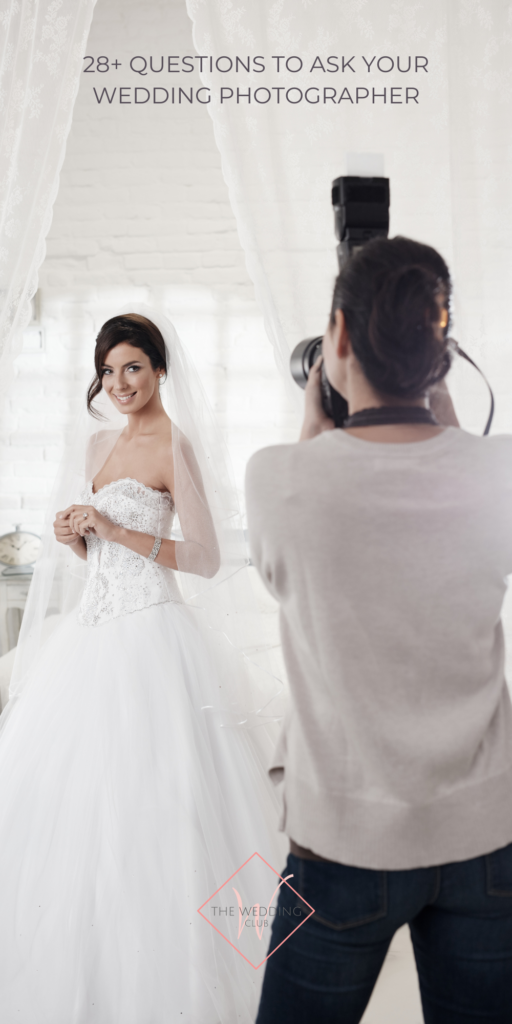 4. How do you handle unexpected situations or low-light conditions?
Weddings can be unpredictable, and sometimes challenges like sudden weather changes or dimly lit venues can arise. Understanding how your photographer handles such situations is vital.
A seasoned professional will have techniques and equipment to tackle these issues gracefully, ensuring that your precious moments are beautifully captured, regardless of the circumstances.
5. What is your pricing structure, and what does it include?
Being clear about the photographer's pricing is essential to avoid any surprises later on. Inquire about their packages, what each package includes, and any additional services or products they offer.
Ask if they charge extra for travel, overtime, or album design. Knowing the complete pricing structure will help you make an informed decision based on your budget and requirements.
Tips for couples when it comes to photographers' pricing and packages:
Determine a realistic budget for your wedding photography before you start looking for photographers. This will help you narrow down your options and avoid falling in love with a photographer whose pricing is beyond your budget.
Different photographers offer various packages with varying levels of coverage and services. Compare what each package includes, such as hours of coverage, number of photographers, albums, prints, etc. Choose a package that best aligns with your needs and priorities.
Don't be afraid to ask if photographers can customize packages to suit your requirements.
Be clear about any potential extra costs, such as travel fees, overtime charges, or additional hours beyond the package coverage.
Understand the payment schedule and methods accepted by the photographer. Some may require a deposit upfront, while others might offer payment plans.
If a photographer's pricing is slightly out of your budget, you can inquire about possible discounts or special offers. However, remember that professional photographers have set rates for a reason, and asking for excessive discounts may not be fair.
Ensure you thoroughly read and understand the contract before signing. Look for details about the services, cancellation policy, usage rights, and any additional terms.
While pricing is essential, don't solely focus on the lowest price. Consider the photographer's experience, style, and the overall value they offer in capturing your once-in-a-lifetime moments.
[Remember, your wedding photos will be cherished memories for years to come, so investing in a talented and skilled photographer who understands your vision is worth it. Take your time, do your research, and trust your instincts when making this important decision. You can compare wedding photographers, their pricing and services, style, and more, with the sheets provided in the wedding planner templates for Canva.]
6. What is your availability on our wedding date?
Ensuring that your chosen photographer is available on your wedding date is the first and most crucial question to ask.
Popular photographers tend to get booked quickly, so it's best to confirm their availability before proceeding further.
Pro Tip: Book Early! Popular and experienced wedding photographers tend to get booked quickly, sometimes up to a year or more in advance. Once you find a photographer you love, don't delay in securing their services.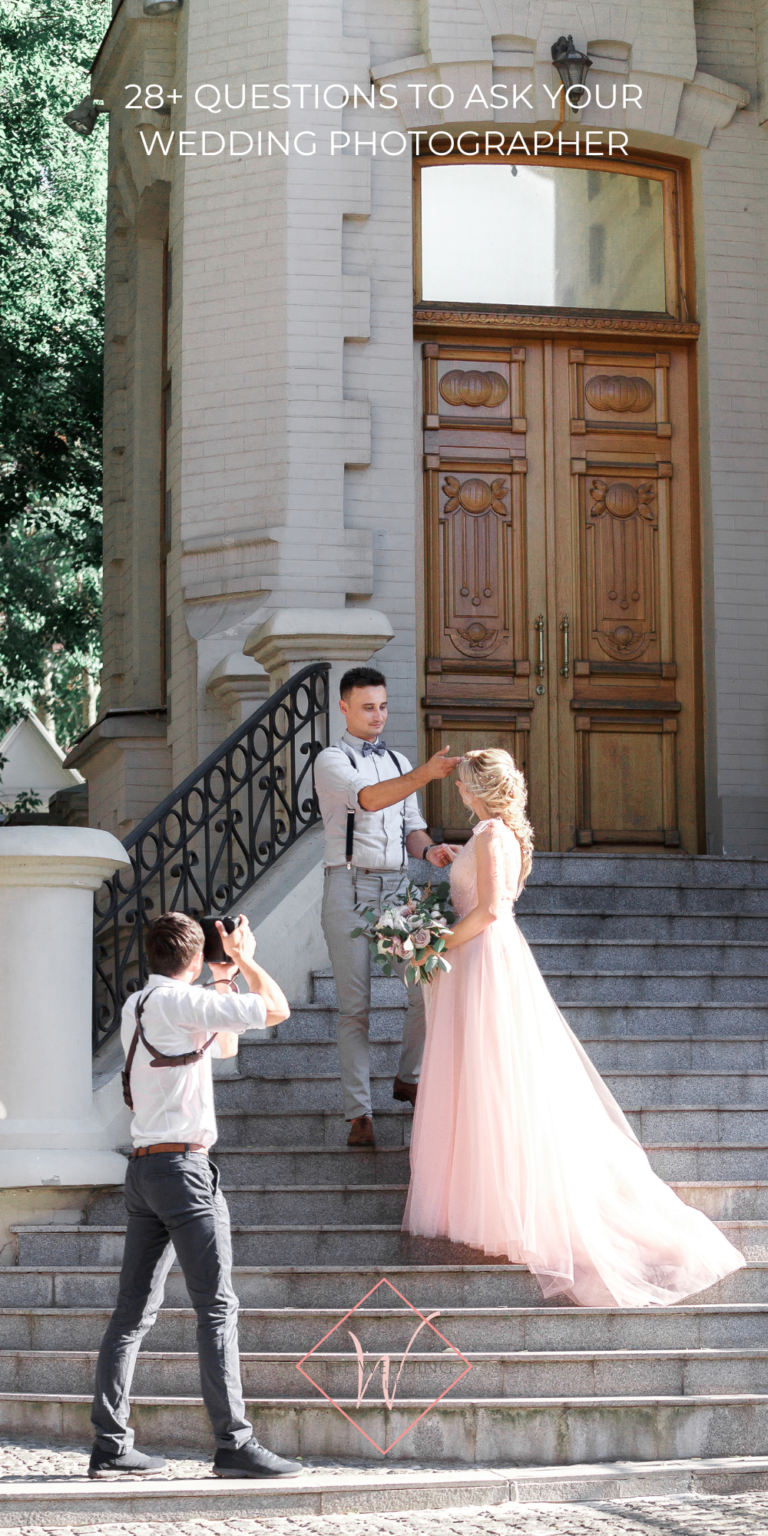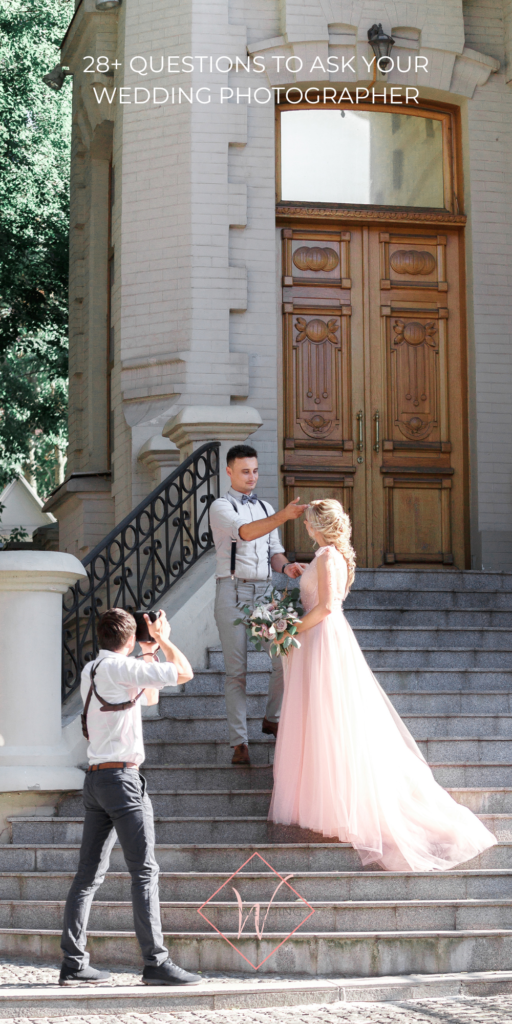 7. How many weddings do you typically shoot in a day or weekend?
Understanding their schedule will give you an idea of how much attention and energy they can dedicate to your wedding day.
If they have back-to-back events, it may affect their ability to capture all the special moments with the same level of enthusiasm.
8. Do you work with a second shooter or assistant?
Having a second shooter or assistant can be valuable, especially for larger weddings or events with multiple locations.
This ensures that no moment goes undocumented and allows for different perspectives on the same scene.
9. Can you provide references from past clients?
Talking to previous clients can give you insights into the photographer's professionalism, work ethic, and overall experience.
Hearing firsthand accounts from couples who have already entrusted their special day to the photographer can provide you with a deeper understanding of what to expect.
Past clients can share details about how the photographer handled unexpected situations, their communication style, and their ability to capture candid emotions and create a comfortable atmosphere.
Positive references can give you the confidence that you've found someone who not only takes stunning photos but also treats their clients with care and respect. Don't hesitate to reach out to these references and ask any specific questions that may help you make your final decision confidently.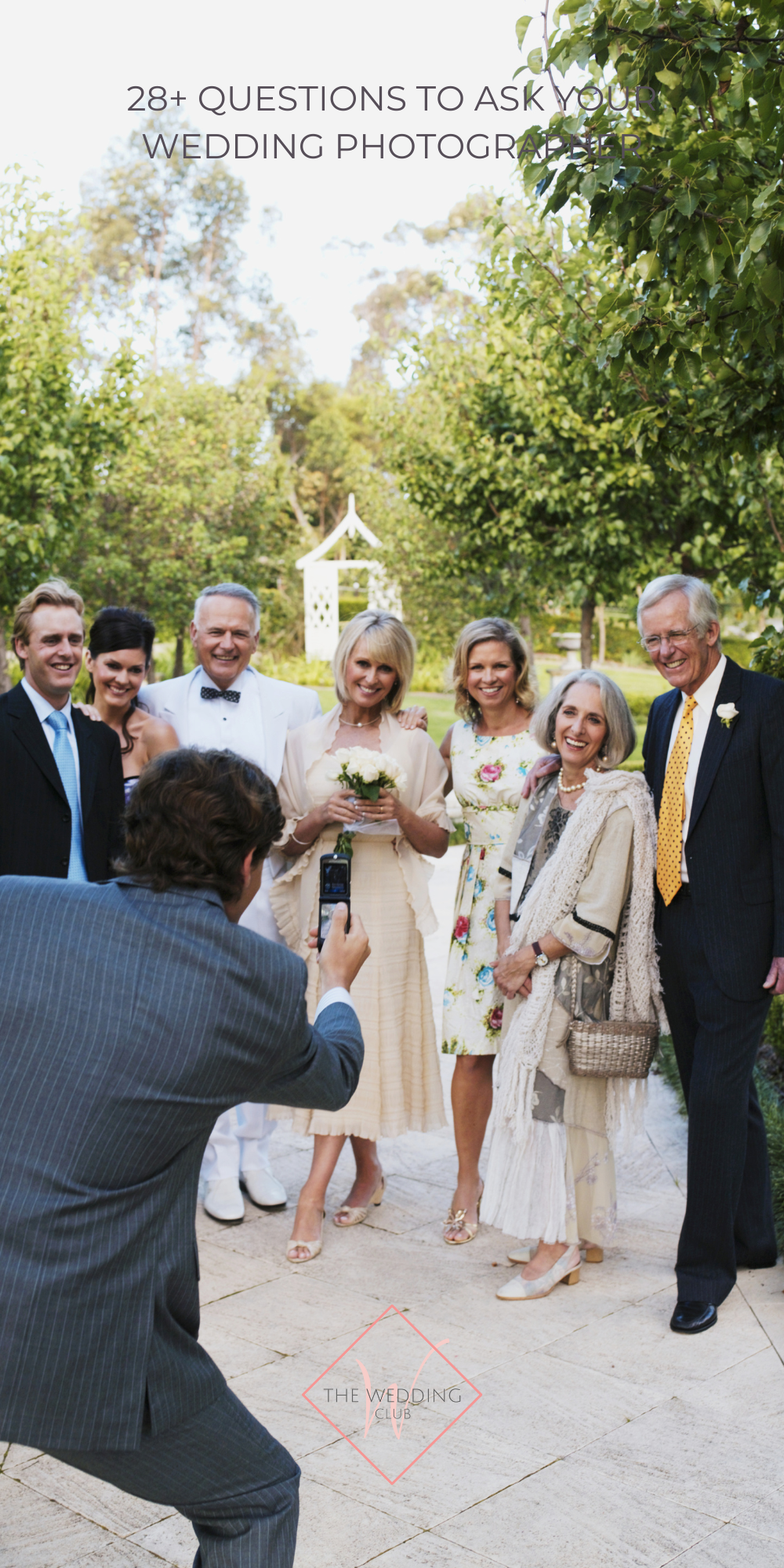 10. How do you handle family group shots and formal portraits?
Family portraits are an essential part of any wedding album. Understanding the photographer's approach to organizing and capturing these shots will help ensure the process goes smoothly and efficiently.
Tips for the couple when shooting family groups and formal portraits:
Create a Shot List: Before the wedding day, work with your photographer to create a shot list for the family group and formal portraits. Include the combinations of family members you want to be captured together. This list will help ensure that no important group is missed and streamline the process, making it more efficient and organized.
Appoint a Family Coordinator: Designate a family member or friend who knows both sides of the family well to act as a family coordinator. This person can help gather the right individuals for each shot, ensuring that the photographer doesn't have to spend time searching for specific family members. A family coordinator can also maintain order and keep everyone engaged during the portrait session.
Plan for Adequate Time: Family group and formal portraits can take longer than expected, especially if you have a large family or several combinations to capture. Plan for enough time in your wedding day schedule to accommodate these shots without feeling rushed. Allocating sufficient time will allow your photographer to create beautiful and relaxed portraits, resulting in genuine smiles and expressions from your loved ones.
[Remember, your wedding photos will be cherished memories for years to come, so investing in a talented and skilled photographer who understands your vision is worth it. Take your time, do your research, and trust your instincts when making this important decision. You can compare wedding photographers, their pricing and services, style, and more, with the sheets provided in the wedding planner templates for Canva.]
11. What is your backup plan in case of equipment failure or unforeseen circumstances?
Technical glitches can happen, so it's vital to know if your photographer has backup equipment and a contingency plan in case of emergencies.
12. Will you be the one shooting our wedding, or do you have a team?
Some studios may have multiple photographers, and it's essential to know if you'll be working directly with the person you're interviewing or someone else from their team.
Knowing whether the photographer you are interviewing will personally be capturing your wedding or if they have a team of associate photographers is crucial for establishing a connection.
While some couples prefer the personalized touch of working directly with the main photographer, others may find comfort in knowing that an experienced associate will be there to provide coverage.
If the photographer has a team, inquire about their qualifications and request to see samples of the associates' work. Regardless of who will be behind the lens, ensure that their style and approach align with your vision for the wedding day.
Open communication about the photographer's team will help you feel confident and assured that your precious moments will be in capable hands, allowing you to focus on celebrating your love without worry.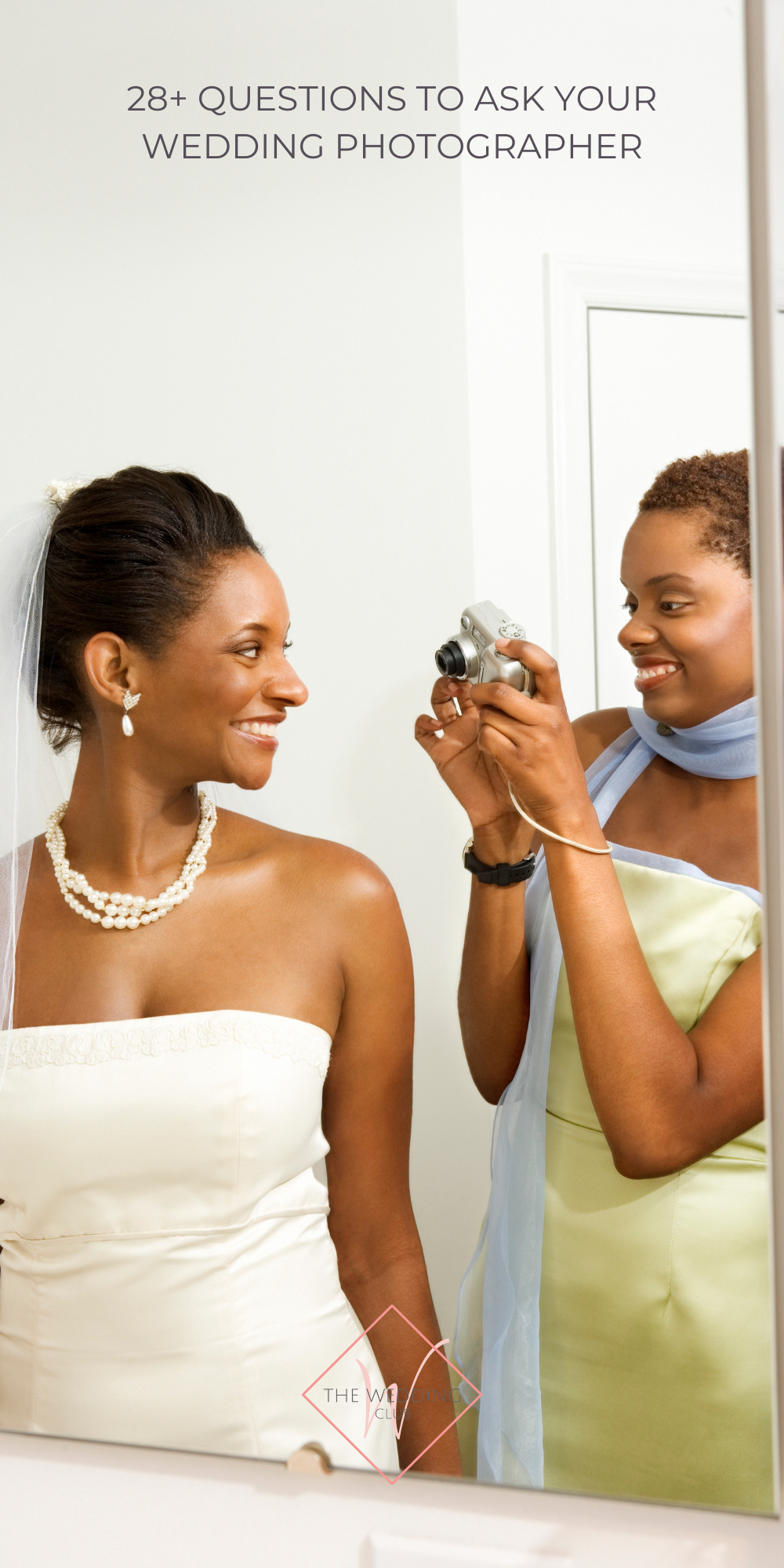 13. Do you have liability insurance?
Liability insurance provides an added layer of protection and professionalism, ensuring you're covered in case of any unforeseen accidents or incidents.
14. How soon after the wedding will we receive our photos?
Knowing the turnaround time for receiving your wedding photos is essential for managing expectations and planning your post-wedding activities.
The timeline for receiving your wedding photos can vary among photographers, so it's essential to clarify this detail upfront.
Some photographers may provide a sneak peek of a few images within a week or two of the wedding, allowing you to relive the magical moments shortly after your big day.
However, the complete set of edited photos may take several weeks, or even a few months, depending on the photographer's workload and editing process.
It's worth discussing the estimated delivery time with your photographer to manage your expectations and plan accordingly. Keep in mind that quality editing takes time, and the anticipation of receiving your beautifully captured memories will make the final reveal all the more special.
Remember, the wait will undoubtedly be worthwhile as you receive a collection of images that encapsulate the joy and love shared during your wedding day.
15. Do you offer wedding albums, prints, or other products?
Inquire about the additional products and services they offer, such as custom wedding albums, prints, or digital files, to complement your photography package.
Pro Tip: Having an album or some photo keepsakes of your big day is not only something fantastic to behold afterward but also makes great gifts for family members who also can't wait to see how your photos turned out.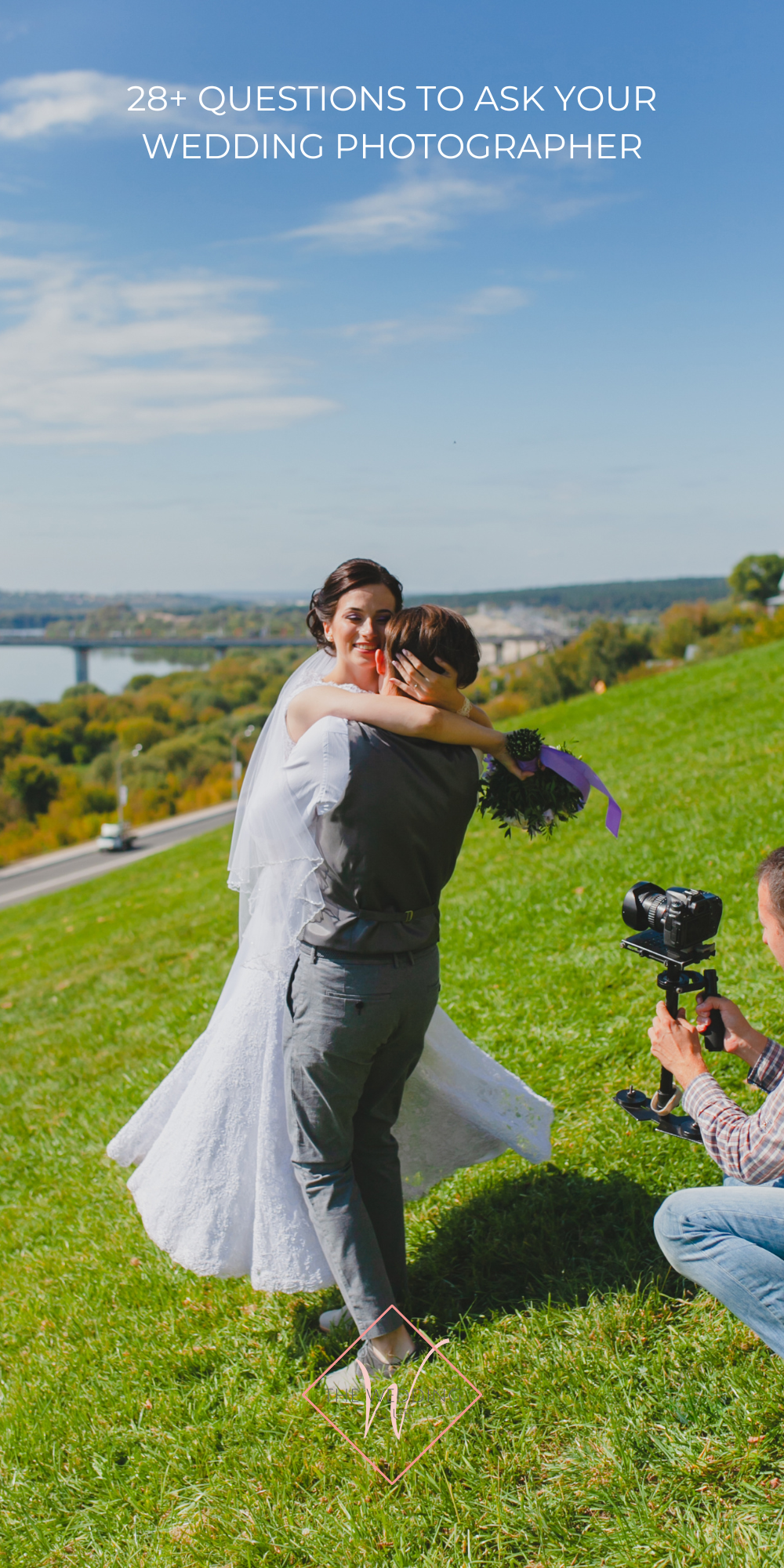 16. Can we share a list of specific shots or moments we want you to capture?
If you have particular shots or moments in mind that are essential to you, make sure your photographer is open to receiving a shot list or any specific requests.
Pro Tip:
Having a photo shot list in place when meeting your photographer for the first time will ensure that you're on the same page and that your photographer knows which photos are the most important to include in the final set upon delivery. The
wedding planner
has an editable version of the photo and video shot list if you happen to need one.
17. What rights do we have to the photos? Can we print and share them online?
Understanding the usage rights of your wedding photos is essential, as it will determine where and how you can share and print them.
Most photographers retain the copyright to the images, which means they technically own the rights to reproduce and distribute the photos.
However, many professional photographers provide a personal usage license to their clients, granting them the freedom to print and share the images for personal use, such as creating albums, prints, or sharing on social media.
It's crucial to review the contract carefully to ensure you are clear on the terms and limitations of your usage rights. If you have specific plans for sharing the photos online or using them for other purposes, communicate your intentions with the photographer to ensure they are comfortable with your intended usage.
18. Do you offer engagement or pre-wedding photo sessions?
Engagement sessions are a fantastic way to get comfortable in front of the camera and build a rapport with your photographer before the big day.
Tips for couples when doing engagement or pre-wedding photo sessions with their potential wedding photographer:
Choose a Meaningful Location: Select a location for the photo session that holds significance for both of you as a couple. It could be where you had your first date, where you got engaged, or simply a place that reflects your personalities and interests. A meaningful location will add an extra layer of sentiment and authenticity to the photos.
Share your vision and ideas for the engagement session with the photographer in advance. Whether you prefer a casual and playful vibe or a more romantic and intimate feel, clear communication will help the photographer tailor the session to your unique style.
Engagement sessions are an excellent opportunity to get to know your photographer and become comfortable in front of the camera. Relax, be yourselves, and have fun together. A relaxed atmosphere will result in more natural and genuine photos.
Coordinate your outfits to complement each other's style and colors without being overly matchy. Avoid busy patterns or logos that can be distracting. The goal is to showcase your love and connection, so choose outfits that make you feel confident and comfortable.
Incorporate props or personal items that hold sentimental value to your relationship. It could be anything from a favorite book to a picnic blanket or even your furry friends. These elements will add a personal touch to the photos and make them even more special.
Be prepared for the weather conditions, especially if the session is outdoors. Embrace whatever Mother Nature throws your way; rain or snow can create beautiful and unique photo opportunities.
Schedule the session during the "golden hour" – the hour just after sunrise or before sunset – for soft, warm lighting that adds a romantic touch to the photos.
Use the engagement session as a chance to get to know your potential wedding photographer. This will help you assess how well you connect and whether they make you feel at ease in front of the camera.
Trust your photographer's creative instincts and be open to trying different poses and locations. Sometimes, the most unexpected settings can lead to the most stunning shots.
Use the Photos for Save-the-Dates or Invitations: Engagement photos are perfect for save-the-date cards, wedding invitations, and even wedding websites. Consider using your favorite shot from the session to announce your wedding to friends and family.
[Remember, engagement sessions are not just about the photos but also about creating beautiful memories together. Enjoy the experience, and let your love and connection shine through in the images! Plan your engagement shoot thoroughly with the templates provided in the wedding planner for Canva.]
19. What is your approach to capturing candid moments and emotions during the wedding?
Candid shots often evoke the most authentic emotions. Understanding how the photographer captures these candid moments will add depth to your wedding album.
When asking your potential wedding photographer about their approach to candid photography, listen for their passion and enthusiasm. A skilled photographer will share how they blend into the background, observing and anticipating heartfelt moments as they unfold naturally.
They may mention using longer lenses to maintain distance and capture intimate moments discreetly.
Look for a photographer who values authentic expressions and emotional connections over stiff poses.
Their ability to capture candid moments will ensure that your wedding album tells the genuine story of your day, filled with laughter, tears, and all the beautiful emotions that make your celebration truly unique and unforgettable.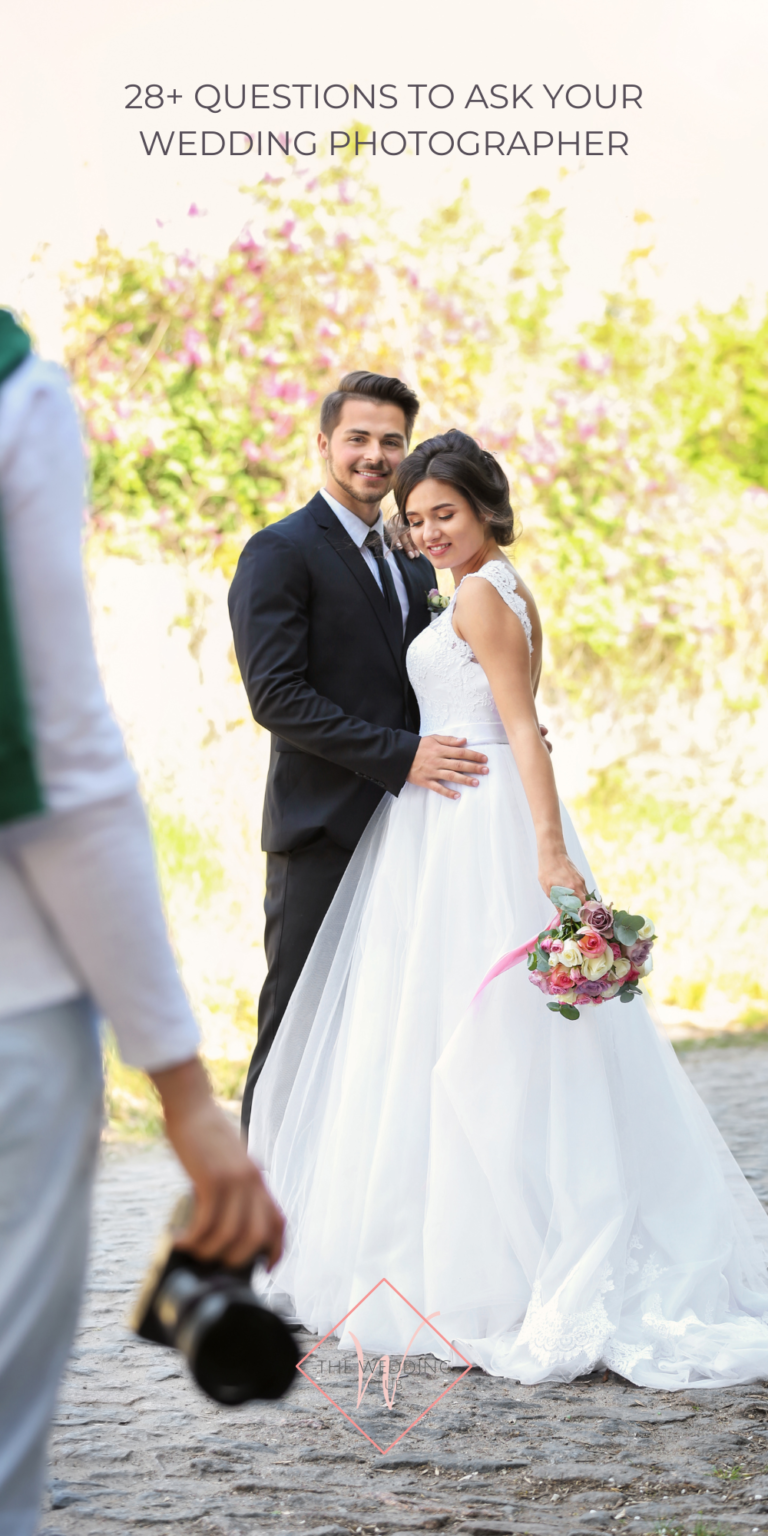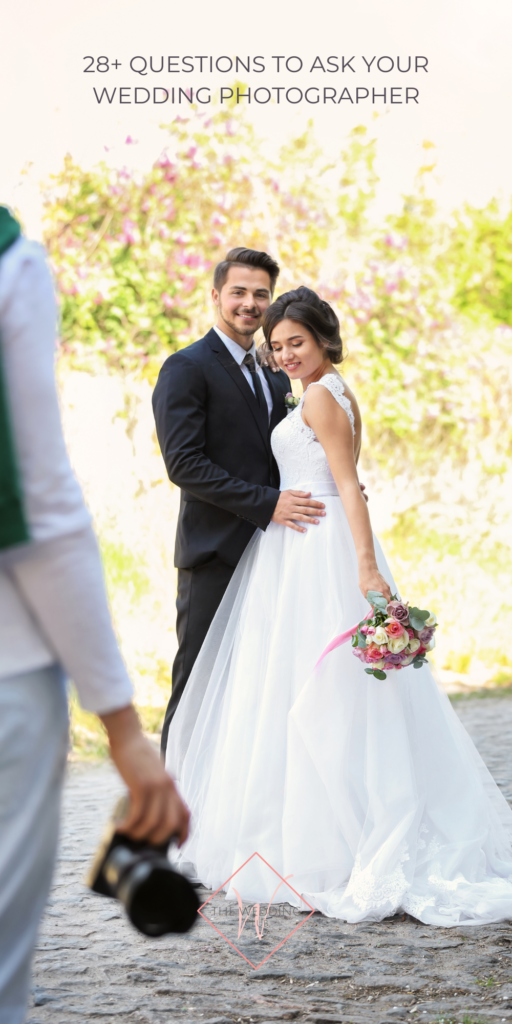 20. Can you accommodate special photo requests, such as film photography or black and white shots?
Absolutely! When discussing special photo requests, such as film photography or black and white shots, it's essential to find a photographer who is not only accommodating but also passionate about fulfilling your creative desires.
Inquiring about their experience with various photography styles and techniques will give you an idea of their versatility and ability to bring your vision to life.
If you have a specific preference for film photography's nostalgic charm or the timeless elegance of black and white images, a photographer who embraces these styles with enthusiasm will ensure your wedding album reflects your unique taste and personality.
A photographer who is open to exploring different approaches and willing to adapt to your preferences will create a collection of photos that truly resonate with your heart and tell the story of your special day in an artistic and captivating way.
Advice for the couple on discovering their ideal photography editing style:
Start by collecting inspiration from various sources, such as wedding magazines, social media, or photographer portfolios. Save images that evoke emotions and reflect the aesthetic you envision for your own wedding photos. Pay attention to the color tones, mood, and overall vibe of these images. This will help you narrow down the styles that resonate with you the most.
Next, communicate your preferences to your potential wedding photographer during consultations. Share the images you've collected as references, and discuss your vision for the final look of your photos. A skilled photographer will understand your desires and be able to tailor their editing to match your preferred style.
Additionally, consider your wedding theme and venue. Different editing styles may work better with specific settings or themes. For example, a light and airy editing style might complement a beach wedding, while moody and dramatic edits may suit a rustic or urban setting.
[Remember, the ideal editing style is one that reflects your personalities and tells the story of your love in a way that resonates with you both. Trust your instincts and choose a photographer whose editing style brings out the emotions and beauty of your special day in a manner that truly speaks to your hearts. You can find some worksheets in the wedding planner for Canva.]
21. What is your plan for managing and coordinating bridal party photos efficiently?
Efficiently managing and coordinating bridal party photos is crucial for ensuring a smooth and enjoyable experience for everyone involved. A skilled wedding photographer will have a well-thought-out plan in place to make the process seamless and fun. 
They will likely begin by gathering all the necessary details about your bridal party, such as names and relationships, beforehand.
On the wedding day, the photographer will have a clear shot list prepared, enabling them to efficiently capture group shots with minimal disruption to the celebration.
They will communicate instructions clearly and guide the bridal party into various poses, ensuring that each member feels comfortable and looks their best.
By fostering a relaxed and enjoyable atmosphere, the photographer will capture genuine smiles and interactions that reflect the joy shared within your bridal party.
22. How far in advance should we book your services?
Booking your wedding photographer well in advance is highly recommended, as top photographers often have busy schedules, especially during peak wedding seasons.
Ideally, you should start your search and make inquiries about a year to 18 months before your wedding date.
This will give you ample time to research, meet potential photographers, and secure the one who best aligns with your vision and style.
If you have a specific photographer in mind, don't hesitate to reach out even earlier, as popular photographers tend to get booked quickly.
Booking early also ensures that you have a better chance of getting your preferred date and time slot, especially if your wedding is during a popular season or on a holiday weekend.
By securing your photographer well in advance, you can check one significant item off your wedding planning checklist and have peace of mind knowing that your special moments will be captured beautifully.
Pro Tip: When comparing wedding photographers, grab a piece of paper or create a spreadsheet. Create a column for each photographer and decide what you'd like to compare for each, i.e. their editing style, pricing, hours and packages, turnaround time, etc. If you'd like an already done-for-you comparison sheet, you can find one for your photographer and all your other vendors in the wedding planner Canva templates.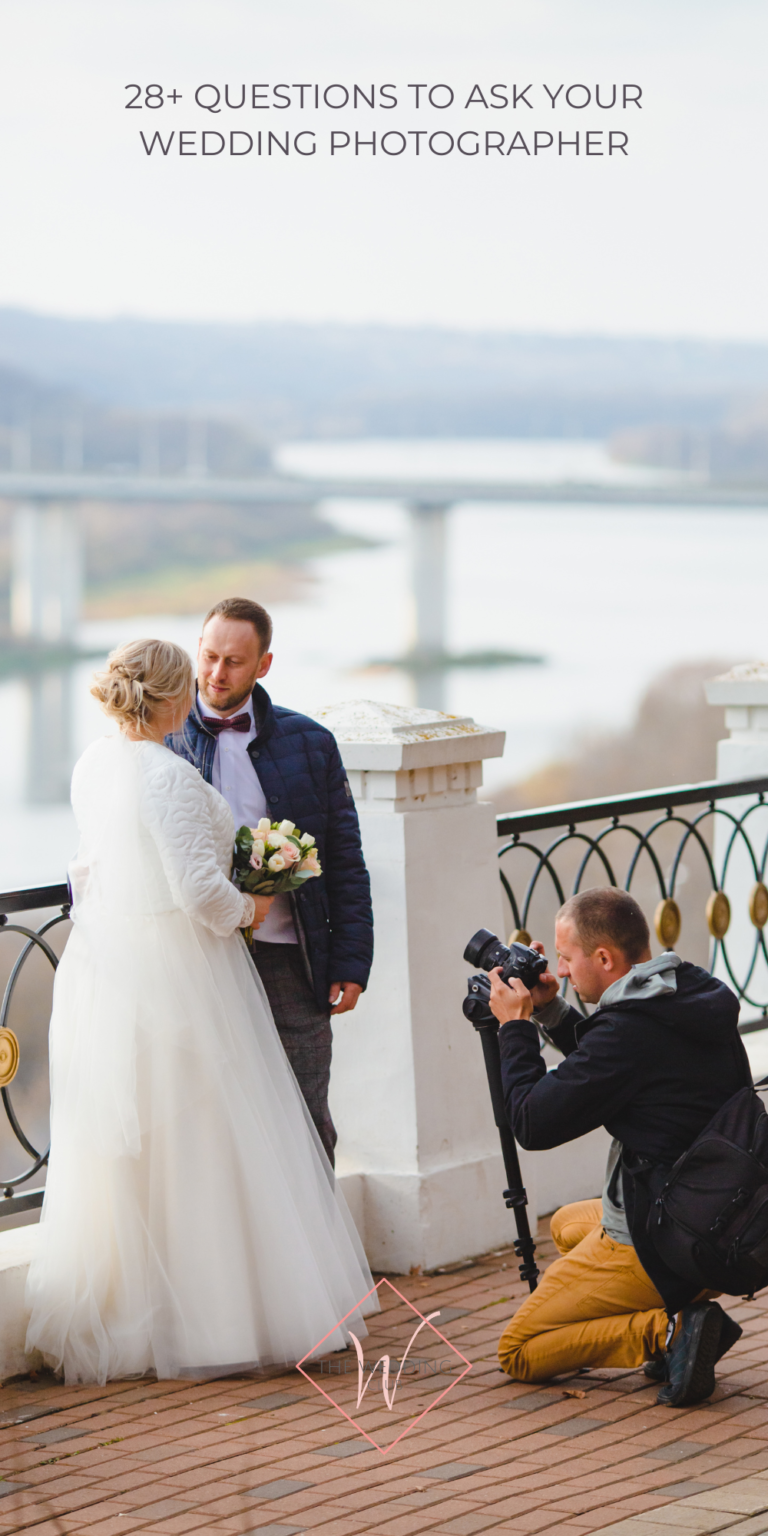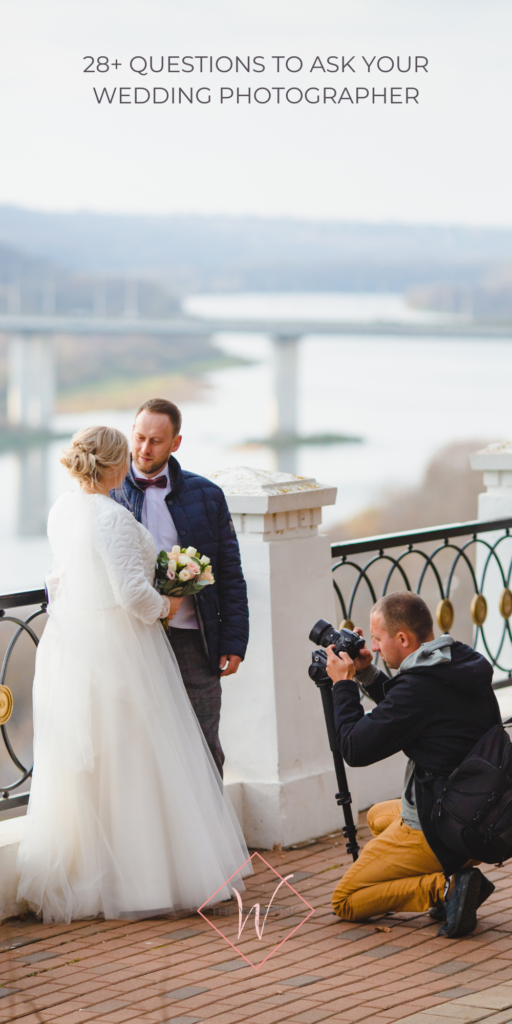 23. What happens if our wedding exceeds the agreed-upon hours of coverage?
It's essential to have a clear understanding of how your photographer handles additional hours of coverage in case your wedding extends beyond the agreed-upon timeframe.
Most photographers have provisions in their contracts to accommodate overtime. If your wedding is running slightly behind schedule or if you decide you want to capture some extra moments, discuss the process and cost for extending coverage with your photographer beforehand.
Understanding their overtime rates and policies will help you plan accordingly and avoid any last-minute surprises.
It's best to communicate with your photographer throughout the wedding day if you think additional hours may be needed, as this allows them to adjust their schedule accordingly and ensures they can capture all the important moments as your celebration unfolds.
How to avoid going overtime!
Tips for couples:
Work closely with your wedding planner or coordinator to create a detailed timeline for the day. Factor in buffer times between events to allow for any unexpected delays.
Encourage all members of the wedding party and vendors to be punctual.
Choose a wedding venue that allows for easy transitions between different parts of the day, such as getting ready, ceremony, and reception. Minimizing travel time between locations can save valuable minutes.
Prepare a list of family groupings in advance, and designate a family coordinator to help gather the right people for each shot.
Tips for wedding photographers:
Study the wedding timeline and become familiar with the order of events and their approximate durations. This will help you anticipate when key moments will occur.
Keep an open line of communication with the couple throughout the day. Inform them if any adjustments need to be made to the schedule to ensure they are aware of the timing.
Be ready to adapt to changes in the schedule or unexpected moments. Flexibility is essential to capturing the best candid shots without feeling rushed.
Have a system in place for organizing and capturing family group photos quickly. Clearly communicate instructions to the subjects to streamline the process.
Minimize the time spent changing lenses or camera settings. Have the right equipment readily available to capture various types of shots without unnecessary delays.
[Dear wedding photographer, you must be occasionally swamped with all the aspects of running your creative business, huh? And it's okay – it's part of the challenge of running your own business! But, in case you need a nifty tool to help you manage your clients, plan things, and stay organized, you'll love the photography planner.]
24. Do you have a backup photographer in case of an emergency?
Having a backup photographer in case of an emergency is a crucial aspect of ensuring your wedding day photography goes smoothly.
A professional and reliable photographer understands the unpredictable nature of life and takes contingency planning seriously.
While no one wants to envision anything going wrong on such a special day, having a backup photographer provides peace of mind and reassurance. Whether it's due to unforeseen illness, equipment failure, or any other unexpected circumstance, a backup photographer can step in seamlessly to capture your precious moments without disruption.
Asking about their backup plan showcases the photographer's commitment to delivering an exceptional service, even in challenging situations, and ensures that your wedding memories will be skillfully documented, no matter what comes their way.
25. Can we provide you with inspiration of shots we've seen elsewhere and really liked?
Sharing your inspiration and shots you've seen elsewhere with your wedding photographer is a fantastic idea. It allows you to communicate your preferences, style, and specific elements that resonate with you.
Your photographer will appreciate the insight into your vision and can use this inspiration to understand the aesthetic you desire for your wedding photos.
While it's essential to remember that each wedding is unique, providing examples of shots you love can serve as a valuable reference for your photographer to incorporate similar elements into your own story.
Emphasize the emotions, composition, or lighting that attracts you to these images, as it will help your photographer tailor their approach to capture moments that genuinely reflect your love and personality.
Collaborating in this way ensures that your wedding album becomes a perfect blend of your inspiration and the photographer's creativity, resulting in a collection of images that truly represent your beautiful love story.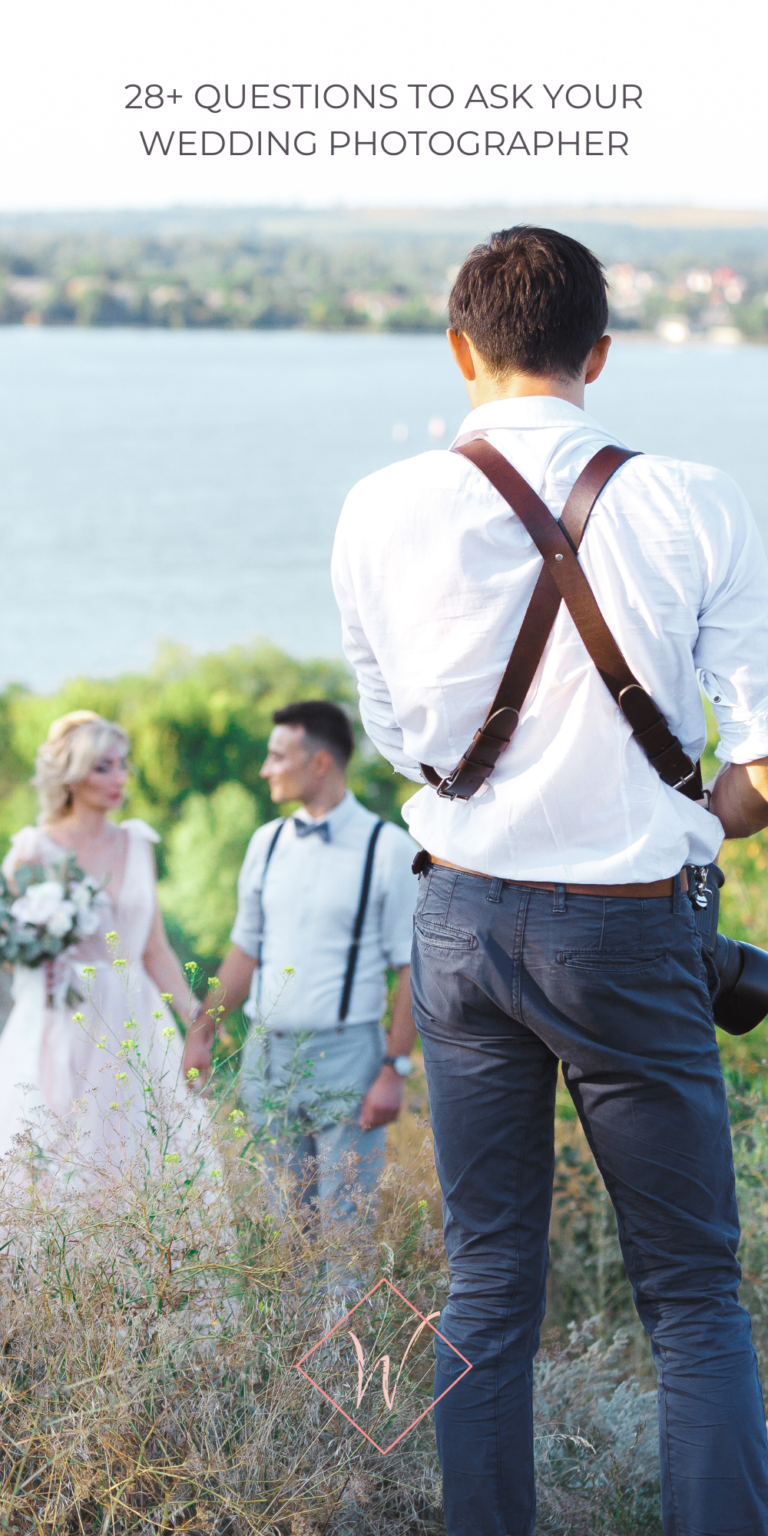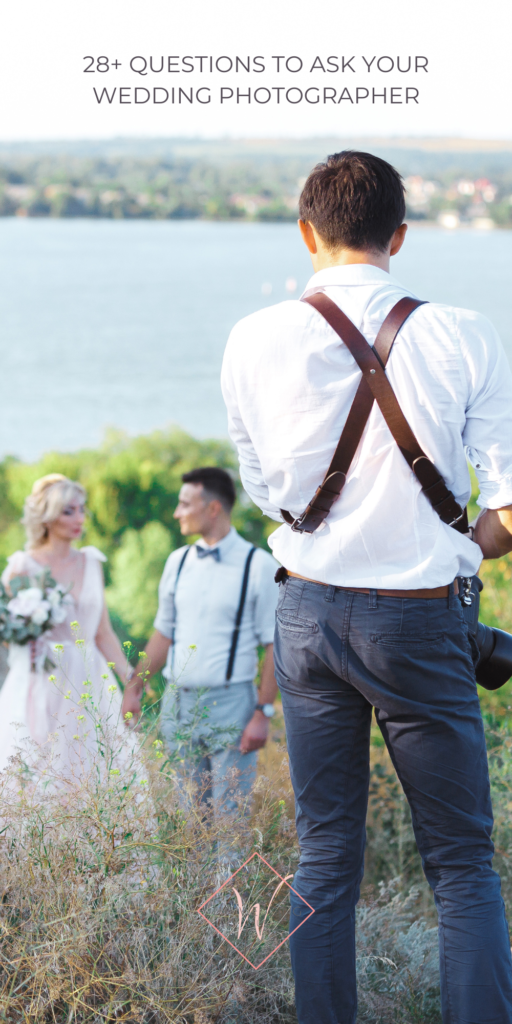 26. Will you be using natural light or artificial lighting during the wedding?
Understanding the photographer's approach to lighting is essential for creating the perfect ambiance and mood in your wedding photos.
Some photographers prefer working primarily with natural light, harnessing the soft and flattering glow of the sun to create romantic and ethereal images.
On the other hand, others may use artificial lighting, such as off-camera flash or strobes, to ensure consistent and well-lit photos, especially during indoor or low-light situations.
Each lighting approach has its unique advantages, and the photographer's choice may depend on the specific wedding venue, time of day, and your personal preferences.
Discussing this aspect will help you envision how your wedding photos will look and ensure that the lighting style aligns with the overall atmosphere you want to create for your special day.
27. How do you handle photo retouching, and do you offer any special editing services?
The photo retouching process is an essential part of creating polished and beautiful wedding images. When discussing this with your potential wedding photographer, inquire about their editing techniques and the level of retouching they provide.
A skilled photographer will have a balanced approach, enhancing the photos while preserving the natural beauty and authenticity of the moments captured.
They should be able to remove blemishes, correct color and exposure, and ensure a consistent and cohesive look throughout the entire collection.
Additionally, ask if they offer any special editing services, such as black and white conversions, vintage filters, or artistic effects, to add a creative touch to certain shots.
While retouching can enhance the final images, it's essential to find a photographer who maintains a timeless and classic editing style, ensuring your wedding photos remain a cherished treasure for years to come.
28. What is the payment schedule and cancellation policy?
Understanding the payment schedule and cancellation policy is crucial for both couples and photographers to ensure a transparent and smooth working relationship. Inquire about the photographer's preferred method of payment and the timeline for deposits and final payments.
Many photographers typically require a retainer or deposit to secure their services, with the remaining balance due before or on the wedding day.
Knowing these details upfront will allow you to budget accordingly and avoid any surprises.
Additionally, discuss the cancellation policy in case unforeseen circumstances arise. While no one wants to think about canceling a wedding, life can be unpredictable, and having a clear understanding of the cancellation terms will provide peace of mind.
A professional photographer will have a fair and reasonable cancellation policy that considers both parties' interests and respects the nature of the commitment involved in booking wedding services.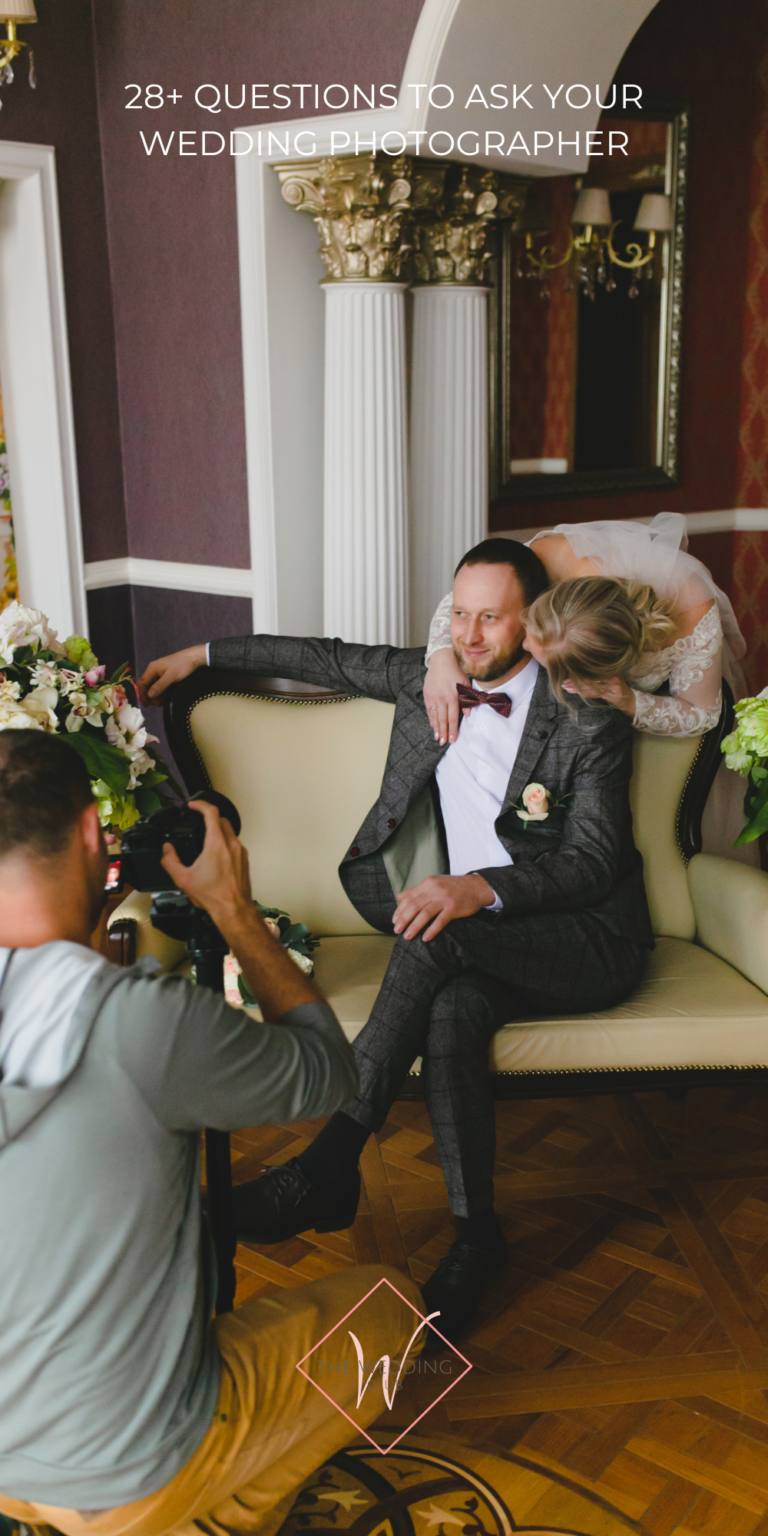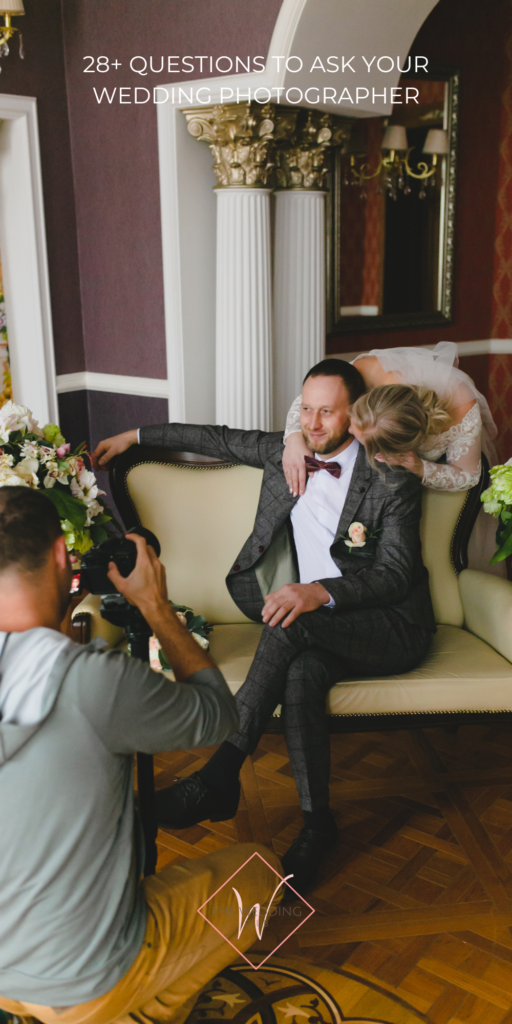 Bonus: Additional Questions to Ask your Wedding Photographer
Need more question ideas for your wedding photographer? Here are some:
Can you provide a breakdown of your photography package and its cost?
Are you familiar with our wedding planner or other vendors we've hired?
How many hours of coverage are included in your standard package?
Can you show us some examples of wedding albums you've created for previous clients?
How long after the wedding will we receive the proofs or digital files?
What is your cancellation and refund policy in case of unforeseen circumstances?
Can you guide us in choosing the best photo locations at our venue?
How do you handle capturing both candid moments and formal shots during the wedding?
Will you be photographing other events on the same day as our wedding?
Do you have any creative ideas or special touches to make our wedding photos unique?
How do you ensure that we feel comfortable and natural in front of the camera?
Can you describe your process for creating a wedding day timeline with us?
Will you be shooting in RAW format for the highest image quality?
Do you offer any additional services like photo booths or videography?
Can you provide a written contract detailing all the terms and conditions?
Are you open to capturing non-traditional or LGBTQ+ weddings?
Can we request specific post-processing styles or color preferences for our photos?
How do you handle privacy and copyright for our wedding photos?
Can you accommodate any specific cultural or religious requirements in your photography?
Do you have backup equipment in case of technical failures during the wedding?
Like this post and found it useful? Share these pins to Pinterest!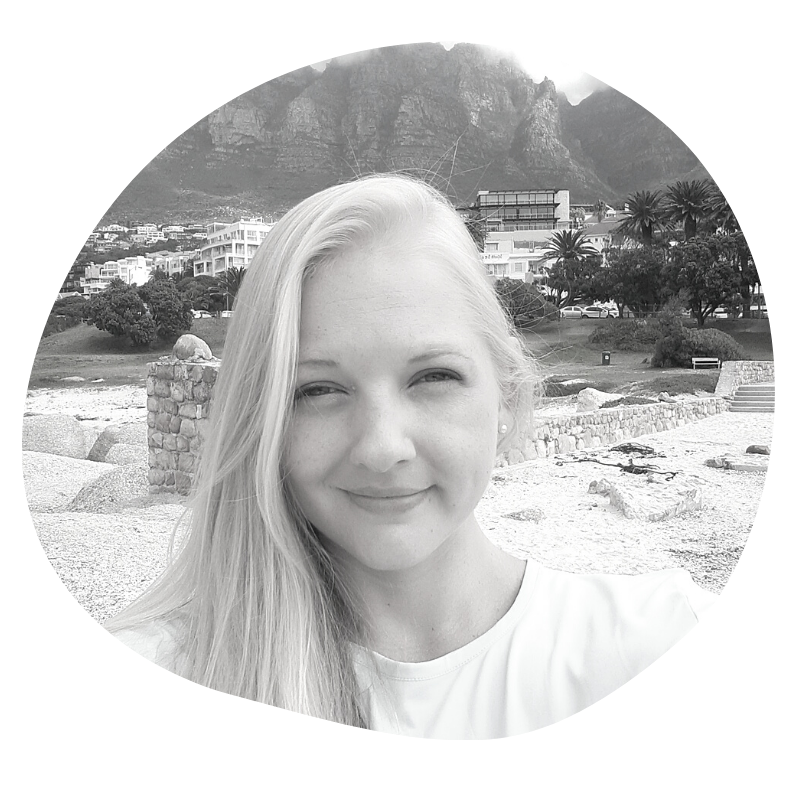 Born in Johannesburg, South Africa, Tanya Viljoen has been an active contributor and planner in the wedding industry since 2016. When not writing useful content for brides and wedding professionals, she can be found designing templates for her Etsy shop, TWCprintables.