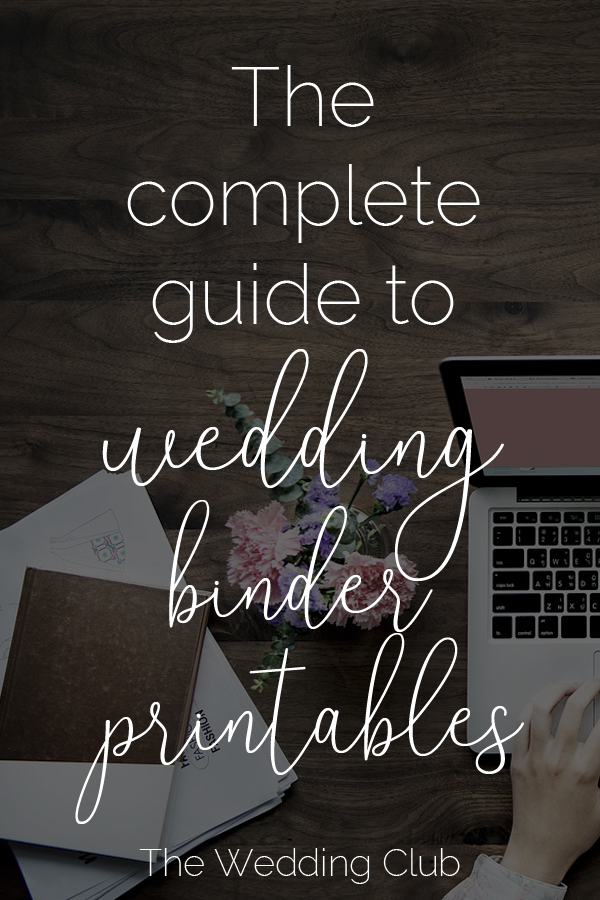 The internet is nearly bursting at the seams with the new 'printables' craze. And yet, we have bumped into so many people who still ask us "what, even, is a printable?" Well, read on for some basics about printables, as well as info about wedding binder printables.
First of all, you need something to put all of your wonderful printables in. We recommend that you create a wedding binder (file), if you haven't already. This binder should then be built up, according to your plans, inspiration and interests for your wedding.

The Complete Guide to Wedding Binder Printables
The Wedding Binder
Some of us have already created a wedding binder since we were teenagers. Everyone's binder looks different. Some prefer a neat file with pockets. Others create theirs like a scrapbook, with notes and images. Other prefer the digital way of pinterest boards and other methods. Whichever way you choose to showcase your ideas, we urge all brides to start this way.
The wedding binder is a file or folder where all of your wedding related ideas and plans go. You can use this file for your real wedding plans, or just for inspiration. All of your notes, images and inspiration should go in there. If you're already busy with your wedding plans, we recommend that you use the binder for all of your official documents as well. Such as contracts with vendors, invoices and official details.
If you're interested in what we normally put in our binders, check out this post.
What is a printable?
Printables have taken the world by storm, because now we don't have to go out and buy physical templates. The nice thing about it is that someone else has taken the effort to create something useful. Printables normally come in PDF format, ready to be printed out and filled in. These are checklists, guides, to do lists and other templates. Printables can also come in MS Word (or a similar) format, so that it can be edited before it gets printed out.
Types of printables
Printables for the home:
 General things like checklists, to do lists, shopping lists, etc.
 Home management printables such as budgets, personal info, plans and goals, etc
Business printables:
Business plans
Goals, stats, etc.
Wedding printables:
This will be all of your wedding related printables such as checklists, timelines, schedules, to do lists, list of duties, planners, contacts, etc. There are so many!
Personal printables:
This normally includes all types of printables for one self such as fitness planners, daily, weekly and monthly planners, appointment printables, etc.
You can shop online for printables that have been professionally and stylishly created, such as those found on Etsy.

One of our latest bundles in our shop, the Wedding Budget Planner Kit, includes many helpful printables to manage all of your wedding expenses. See it here…
Printable wedding checklist
The printable wedding checklist is the most popular of all the wedding printables. It's easy to use and normally has all the required details. There are many different types of wedding checklists. You can find printable wedding checklists via Google search. Also check out our Etsy for some professionally designed and fully detailed checklists.
Also Read:
The Wedding Checklist
Checklists are a common way for us to make sure that everything important is being done. The wedding checklist has many different types, of which the grand wedding checklist is the most common. Click on some of the types to go to our Etsy listings.
Ultimate Wedding Checklist
This checklist goes with the question "Have I included everything in my wedding planning?" It is the most important checklist of all, because it will make sure that you don't miss essential planning details.
You can find our Ultimate Wedding Checklist here.
The photography checklist includes photograph opportunities. This will make sure that you get all the most valuable photographs out of your wedding day. Most photographers choose to work without the list, because they have their own style. But it wouldn't hurt to give this checklist to them, because they will see which important photos you want.
The wedding registry will include all the gifts that you prefer your guests give you. It is unique to each bride, because some already have the most popular things on the list. For example, cutlery and crockery. If you can find a wedding checklist that includes a gift listing guide, we suggest that you get your hands on it immediately!
You can find our Wedding Registry Kit here
This checklist is helpful to make sure you get the most out of your venue. Or, if you are comparing venues, you can use the checklist to eliminate the least wanted one. We have created a special vendor checklist, where you will be able to compare venues, too!
You can find our wedding supplier worksheets here
This checklist also compares vendors. This is based on so many factors. There are so many vendors that are included in this checklist, that we have decided to make it easy for you: We have created a vendor checklist where you can compare all of your wedding vendors' services. You can compare up to 3 vendors at a time. Only print out the ones that you need – click here to see more about this printable.

Décor wedding checklist
This is applicable only to certain venues, because a lot of venues have their own décor. Or, they are already created in a way so that not many décor items should be added. (This is also a cheaper venue option)
Bridal Party wedding checklist
This is mainly a checklist to make sure that everyone does what is expected of them. See the wedding to do list section of this post.
Wedding Checklist Template
The wedding checklist template is starting to become more common. It allows you to edit the checklist items to match your own needs.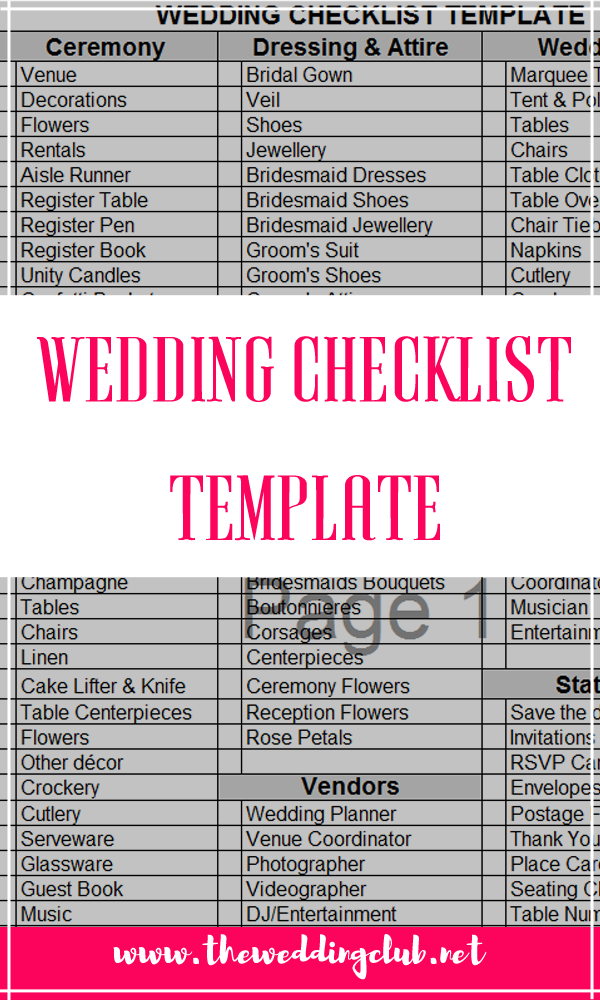 Wedding Timeline Checklist
A timeline checklist is the combination of a wedding timeline and a checklist. The timeline becomes the grand checklist which is used to organize everything for your wedding.
To create a wedding timeline checklist, you need to first create your wedding timeline as detailed as possible. The checklist will then be based on this. A checklist is not as detailed as the timeline or a to do list, but rather created by using keywords. Remember to create boxes next to the listed items, in which you can then place a check mark once the item has been completed.
Detailed Wedding Checklist
Be sure to invest in, or create, a detailed wedding checklist, with everything that needs to happen before the wedding day. You need to double check that everything is included, because if you miss an important detail it might be too late to organize it!
Wedding Budget Checklist
The wedding budget checklist will help you to check off all the important details where finances will be involved. This includes everything that needs to be bought or hired. You will use the checklist simply for checking off if you have paid that certain vendor. You can make it as detailed as possible, by including subcategories and payment intervals. Payment intervals will be useful if you are paying a large amount in chunks, such as, for the venue or photographer.
Head over to our Etsy shop for the full Wedding Budget Planner!
Also Read:
The Wedding To Do List
The wedding to do list is similar to the checklist, but with more detail. It can also be assigned to a specific person, such as a bridal party member.

Managing the wedding to do list
The wedding to do list should preferably divided between members of the bridal party, as well as vendors. This will make the management of the wedding planning easier for everyone. Make sure that people only receive the part of what is expected from them, and not the entire list.
Bridal Party List of Duties
– bride's to do list
– groom's to do list
– best man
– other
Vendor's to do list
This is going to be unique to every bride and wedding. Some vendors offer different services than others, and it should be documented what exactly is expected of them. Nevertheless, everything should be stated in the contract.
Wedding Planner Printable
This can easily be classified as the Mother of All Wedding Printables! This is a full-on planner for the entire wedding. Wedding planners use them for each bride, and brides use them to plan their own wedding. It contains all the necessary checklists, guides, to do lists, budgets, etc. needed to plan a successful wedding.
You can find a wedding planner printable online by Googling, or checking out our Etsy shop – where we sell Wedding Printables!
What should a basic wedding planner include?
The wedding planner printable should at the very least include the following:
A decent wedding budget planner, to manage and track all of your wedding expenses

The bridal shower checklist – which you can give to your maid of honor, or whoever is planning your bridal shower for you

A schedule that is assigned to anyone

The complete schedule of the Wedding Day, which will be an outline of all of the day's events

List of photograph opportunities, which will help the photographer in taking the pictures you want the most (We have a Minimalist Photo Checklist + a pastel colored photo checklist)

A decent timeline, so that you know how many months in advance you need to organize every aspect

A great optional addition is the Seating Plan Editor, where you can decide who sits where, and determine the entire layout of you venue

Popular wedding music is helpful when you can't decide on important songs for your wedding

A decent photography guide which will help you choose the perfect photographer – remember, your photos will be all you have to remind you of those special moments on your wedding day

List of duties for the Maid of Honor – this should be given to her, so that she knows what is expected of her. This should be done with the following, too:

A guide to who is paying for what – this is an important part of your binder, because it will guide everyone who has a say in the wedding budget

Bridal registry guide: A great addition, because it normally includes a checklist of popular or traditional items, as well as a guide to how many gifts you should include in your list

Wedding rental budget – It's the small things like this that will amount to a large chunk of the wedding budget, preferable get one that is in a spreadsheet format

Wedding invitation guide – this will help brides to manage their wedding invitations, by including do's and don't's

The guide to Thank You Notes is optional. This guide helps you to effectively write thank you notes for gifts after you have returned from the honeymoon.

A vendor worksheet – this is very important. It helps you to document all of the vendor details and their duties.

A bonus guide will be the one about important people at your wedding – most people forget to include the flower girl and ring bearer in their plans, until it is too late!
This is just a basic outline of what is normally included.
You can also include a Honeymoon Packing List and a Wedding Day Emergency Kit list in your binder.

Wedding Planning Timeline
The wedding planning timeline is important, because it will help you calculate when to do what. Certain aspects of wedding planning shouldn't be left for too late, and others shouldn't be done too early.
If you need a guide on how to create a wedding timeline, check out this blog post + get a free printable timeline!
Also Read:
Wedding schedule template
The schedule is of utmost importance, because it ensures that everything happens on time.
What is a wedding schedule
A wedding schedule is a time slotted worksheet on which you write down certain events that need to happen. These time slots are normally hourly intervals, or more detailed at, for example, 15 minute intervals.
Why do you need a wedding schedule
You will need a wedding schedule to make sure everything happens, and at the right time. It also helps to assign wedding schedules to inviduals, so that they know what they should do and when.
How to set up a wedding schedule
To set up a wedding schedule, you will have to work either backwards from the cut-off hour, or from the wedding ceremony. You will need a preparation schedule for before the wedding. E.g., bridesmaids getting ready, venue setup, etc. As well as a schedule for during the wedding – when the ceremony starts, photographs, cutting of the cake, etc.
Who needs a wedding schedule
Everyone who plays a major role in the setup and success of your wedding, should have a schedule. This includes members of the bridal party and also vendors. The photographer needs to know when and where he or she should be. The florist or venue setup team will have to know when they can start setting up. Every vendor that is involved on the day of the wedding needs a schedule.
Pro tips for the wedding schedule
A few important tips for your wedding schedule:
The schedule is only a guideline. If you're going to follow the schedule to the letter, the atmosphere moght likely become too stiff and formal.
It is perfectly normal to be either ahead or behind schedule. As long as the photographer gets the most important photos, and the caterer can serve the meals at a decent time, there's no crisis.
If it happens that some special moments didn't happen yet, do either of the following: Pay the additional hourly fee for photos etc. Or, do all of the major things like the cake cutting and throwing of the bouquet before the party starts.

Assigning individual schedules
Make a list of the people who needs a schedule and work out what duties or to do lists they have. For example, if you have 3 bridesmaids, but only two hairstylists and one makeup artist, you will need to time slot your bridesmaids into different times, based on how long it takes to complete one hairstyle and one full faced makeup session. More bridesmaids will take longer to style. It will then be wise to have two or more hairstylists and makeup artists. Remember to time slot yourself, too! The bride's makeup and hair normally takes longer than everybody else's.
When it comes to vendors, you will need to establish if they need to set up before the entire wedding, during the ceremony or after. Maybe it is a vendor who needs to set up a temporary structure the day before, for example a tent and pole structure or extra large marquee tent. Inquire with different vendors how long they will need to set up, based on what you have ordered from them. More flowers and decorations will take more time to set up.
The Wedding Budget
Last, but not least, the wedding budget – an essential part of wedding planning! How can you possibly plan a successful wedding without a decent budget that has been set up? You can't. If you work without a budget, you will likely overspend. Also, if you are on a budget, but haven't allocated your budget to different areas of your wedding planning, you might forget about something, and there won't be any money left to pay for it.
One of our latest bundles in our shop includes an entire kit for creating your wedding budget. Check it out here!
 

Bridal Shower Checklist + Bridal Shower Games, signs and activities
Whether you are planning your own bridal shower, or your bridesmaids are planning it for you, you definitely need a bridal shower checklist. A bridal shower checklist will help you to plan and organize the shower with ease, just make sure that everything is covered in the checklist! We have one here…
Also Read:

It is so important to organize your wedding through checklists and other printables. Printables will help you to record every detail and make sure that you don't miss anything. It can be disastrous when you forgot to organize something important, and you are too close to the wedding date! Be sure to research as much as possible, so that you have enough info to include in your wedding day details!